Los Angeles Soccer:

Danny Koevermans
March, 13, 2012
3/13/12
10:56
PM PT
By
Scott French
| ESPNLosAngeles.com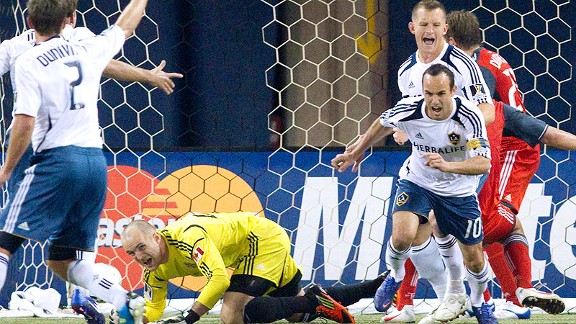 AP Photo/The Canadian Press, Chris YoungLandon Donovan, right, and Galaxy teammates react after his tying goal last week in Toronto.

CARSON -- The Galaxy are in prime position to prevail in their CONCACAF Champions League series with Toronto FC, so long as fatigue doesn't sap their strength at the finish.

That's what happened in their Major League Soccer opener against Real Salt Lake, and for a club expert at focusing solely on the task at hand, they must admit Saturday night's defeat has a certain resonance.




Galaxy coach Bruce Arena took responsibility for the 3-1 loss, saying he should have given more players who featured in last week's quarterfinal first leg in Toronto the night off. Now, he says, he anticipates "heavily" changing his lineup for Wednesday night's decisive clash at Home Depot Center after giving nine players a full 90 minutes twice in the past week.

Might it just be gamesmanship?

"I think their coach has something in his mind and he wants to play what he thinks is the best team," Toronto striker Danny Koevermans said Tuesday evening, following the Reds' session inside HDC. "If he has a big game in quarterfinal first leg, then you play your first team, like the best team he thinks there is, and if you got a home opener [three nights later], you can't do it to your own fans. You have to put in your best team.

"I think he'll do it tomorrow again. Maybe they will say we will rest some guys, but I don't believe it. Tomorrow is a huge game for them also, so I believe tomorrow will be the first XI again from the last two games."

The Dutchman might be on to something. The Galaxy, even Arena, note that three days off between games, as opposed to two last week, is a massive difference. The magnitude of this game -- L.A. needs a victory or a low-scoring draw, 0-0 or 1-1, to advance to a semifinal showdown with rival Seattle Sounders or Mexican Primera Division leader Santos Laguna -- requires a bold move.

"I think the guys are OK, actually," said captain Landon Donovan, who is healthier and stronger than he was a week ago. "There's a few guys who are probably tired, but we had the last two days to recover and today was an easy training session, and then I know guys are really excited for this game. No question it's tough, and we're at a disadvantage in that way, but I think guys are excited for the game. We'll be fine."


March, 8, 2012
3/08/12
6:57
PM PT
By
Scott French
| ESPNLosAngeles.com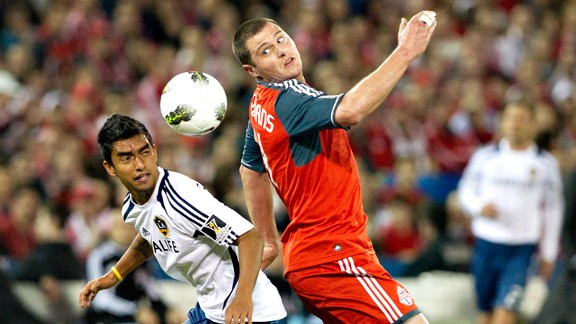 AP Photo/The Canadian Press, Chris YoungThe Galaxy's A.J. DeLaGarza, left, defends against Toronto's Danny Koevermans in Wednesday's game.

TORONTO -- The most concerning thing about the Galaxy's poor start to Wednesday's CONCACAF Champions League quarterfinal opener is how familiar were the breakdowns.

A poorly handled corner kick and an inability to mark a runner on a cross provided Toronto FC a two-goal advantage after just 17 minutes, and although L.A. rallied for a dramatic 2-2 draw in the first leg at Rogers Centre, there was plenty of hand-wringing to follow.

"It was a real shaky start," midfielder Mike Magee said. "Especially since our main goal was to let the game settle down in the first 15 minutes and try not to get their fans involved, so we definitely blew that."

Magee took the blame for the first goal, saying he "should have done better," that he "reacted late and headed it where I thought was out [of danger] and headed it straight to Ryan Johnson, who took it well." Galaxy debutant Andrew Boyens owned up to the second goal, five minutes later, after letting rookie Luis Silva drift behind him to head home Torsten Frings' long cross: "I let my man get away from me."

Major League Soccer's best defensive team last year conceded two or more goals six times in nine preseason games but needed just a fraction of game time to do so when it counted.

"It was our first time with the whole group, but that's no excuse for a corner-kick [goal] and not marking in the box. You can't use that as an excuse ...," center back A.J. DeLaGarza said. "The same mistakes we've been doing in preseason. Corner kicks have been hurting us and not marking in the box."

Todd Dunivant, the most experienced of Galaxy backliners, called the set-piece error "a recurring theme" and "something that we're certainly aware of and trying to fix." The foundations to the mistakes aren't complicated: L.A. spent little time together, as a full team, during a shorter-than-normal preseason, and they're still figuring out how to defend at the back without middle man Omar Gonzalez, last year's MLS Defender of the Year.

"One of the things that was evident was we haven't played together," coach Bruce Arena said. "It's going to take us some time. This is the first time we were able to put this group together on the field. It's going to take some time."


March, 8, 2012
3/08/12
12:36
PM PT
By
Scott French
| ESPNLosAngeles.com
TORONTO -- The evening started with a march, several hundred red-clad, scarf-wielding Toronto FC fanatics falling into line behind a Highlander band -- bagpipes and drums -- for a spirited march from the mall attached to Air Canada Centre down Bremner Boulevard to Rogers Centre.

The jaunt stopped traffic and brought out cameras from tourists, from locals -- even from the construction crew working on the latest skyscraper to dot the glorious skyline of Canada's biggest city.

And the most impressive thing in an entertaining and dramatic 2-2 draw between the Reds and the Galaxy to open their home-and-home CONCACAF Champions League quarterfinal series, without question, was the support the home side received inside the one-time SkyDome.

Some 47,658 crammed into the dome, which had been pressed into service -- thus doubling the crowd count -- because cold winter weather, and likely snow, was going to make BMO Field, Toronto FC's usual home ground, unplayable. (Turned out to be a nice, sunny, quite-warm-by-Toronto-standards kind of day, but who could have known?)

It created an electric atmosphere, which both sides noted in the postgame mixed zone.

A selection of comments:


Galaxy midfielder Mike Magee: "It seemed loud as hell. With the roof on the building and everything, it was hard to hear pretty much anything. I thought they gave [their team] a pretty good push."
Toronto forward Danny Koevermans: "It was amazing. Everyone enjoyed it. It was fantastic. Of course, it's a shame for us -- also for the people -- that [the Galaxy] tied in the last minute. But if you ask me, make BMO bigger or move to here. Because it we can get a home crowd every time 40,000, it would be amazing."
Galaxy defender Todd Dunivant, who spent a year and a half with TFC: "We didn't expect anything less from the fans here. We knew that they were going to come out in droves, and they made a great atmosphere, so I think that it lifted the game."
Toronto defender Torsten Frings: "It was an absolutely great atmosphere. They fired the team up, which made the team play well."
Galaxy coach Bruce Arena: "That was terrific support of their team. The fans deserve a lot of credit for coming out and supporting their team. It's a huge statement for their franchise."

Don't expect anything similar at next week's second leg at Home Depot Center.


March, 6, 2012
3/06/12
6:07
PM PT
By
Scott French
| ESPNLosAngeles.com
TORONTO --
Robbie Keane
and
Landon Donovan
have barely kicked a ball around with their Galaxy teammates. The first game is on plastic, a surface
David Beckham
diplomatically notes is "not ideal." There will be some 45,000 red-clad maniacs screaming for blood.
The Galaxy open their 2012 campaign Wednesday night with as meaningful a match as they're apt to play before November arrives -- future CONCACAF Champions League battles aside -- and there are plenty of angles to consider.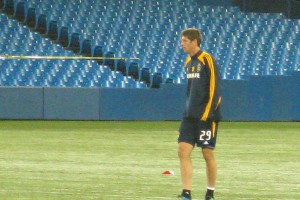 Scott French/For ESPNLA.comWith Omar Gonzalez injured, Andy Boyens, above, is the likely starter on defense in Wednesday's game at Toronto.
The most telling could come at the back, where the hole Omar Gonzalez has so capably filled will be manned by someone else. The big question: Who?

Galaxy coach Bruce Arena said he'll make a decision in the morning, perhaps 10 or 11 hours before L.A. and Major League Soccer rival Toronto FC face off in a quarterfinal first leg in domed Rogers Centre, but that's just coachspeak. All signs are that New Zealander Andrew Boyens will partner A.J. DeLaGarza in central defense.

The rest of the Galaxy lineup ought to look familiar: Josh Saunders in the nets, Sean Franklin and Todd Dunivant as outside backs, the usual crew across midfield -- Donovan, Beckham, Juninho and Mike Magee -- and Keane up top with Edson Buddle, who's back after a year in Germany.





It's as good a lineup as can be seen in MLS, but Gonzalez -- MLS's reigning Defender of the Year, out until at least September because of a torn anterior cruciate ligament -- will be in a luxury suite, watching his teammates in an encounter that, if not quite must-win, should be considered can't-lose.

"Obviously, Omar's going to hurt. There's no question about that," Donovan, L.A.'s captain, said on the eve of the club's trek to Canada's biggest city. "But we've got a system in place, and Bruce has done a really good job with the young guys and with Andrew, getting them ready to fill that role. There will probably be a mixing and matching of some guys, but we still feel confident."

Arena says all of the options -- Boyens, who arrived from Chivas USA in December's re-entry process, and rookie Tommy Meyer are the best of the bunch -- are "ready to play," that "they've had enough" time to figure things out in preseason, that it's "no different than we experienced some years ago" with Gonzalez and DeLaGarza, as rookies in 2009, "where we had to throw them to the wolves."

Except it is different. The Galaxy has never played so significant a match to start their season, Toronto FC looks ready to take huge strides after five mostly forgettable campaigns -- and in Dutchman Danny Koevermans possesses an attacker that Arena calls "the real deal, as good a forward as there is" in MLS -- and Gonzalez's influence at the back cannot be understated. It's the one massive question mark staring down the club as it prepares to defend its MLS Cup and Supporters' Shield titles and become the league's first team to win CONCACAF's club championship since the tournament expanded to its current format in 2008.

"It's been something we've been working on all preseason," said Dunivant said, the most experienced player on the Galaxy backline. "It's no secret that somebody's got to fill the big shoes of Omar. … It's still a work in progress -- it's by no means finished.


November, 8, 2011
11/08/11
12:45
PM PT
By
Scott French
| ESPNLosAngeles.com
The Galaxy received what appears to be a very favorable draw for the CONCACAF Champions League quarterfinals. They were paired Tuesday with Toronto FC, a surprise final-eight side that has never qualified for Major League Soccer's postseason.

A victory would set up a semifinal home-and-home with Mexico's Santos Laguna or the Seattle Sounders, with the Galaxy home for the first leg.

L.A. will open the quarterfinals March 6-8 at BMO Field in Toronto and play the second leg March 13-15 at Home Depot Center. Semifinals dates are March 27-29 and April 3-5, and the final is April 17-19 and 24-26.

Toronto FC went 3-2-1 in Group C, finishing just a point behind reigning Mexican champion Pumas UNAM after beating FC Dallas in a winner-moves-on group finale.

The Reds have found little success in their brief history aside from the Canadian Championship, which determined Canada's entrant to the Champions League, but Dutch manager Aron Winter seems to have built a foundation this year that could profit next spring.

The addition of European stars Danny Koevermans and Torsten Frings and a weeding-out process that saw Winter churn through his roster all season -- he used 41 players in league matches -- led to a decent finish, with just two losses (and only two wins) in the final 11 games.

The Galaxy, of course, are playing in the MLS Cup title game, facing Houston on Nov. 20 at Home Depot Center.

The other side of the bracket has three Mexican clubs, with Morelia -- runner-up to the Galaxy in Group A -- facing defending champions Monterrey and Pumas against El Salvador's Isidro Metapan.


September, 24, 2011
9/24/11
10:12
AM PT
By
Scott French
| ESPNLosAngeles.com
Chivas USA can remain alive in the postseason hunt with a victory Saturday night over Toronto FC, a harder proposition than perhaps it ought to be.

The Goats have never lost to the Canadians at Home Depot Center, but they're long, hard fade down the stretch offers only so much hope. They haven't won in seven games, falling from playoff contender to pretender, and no victories in their final four games would leave them one win short of last year's total.

Last year, you might remember, was disastrous, and Chivas cleaned house afterward, in the front office, on the coaching staff and on the field.

There can be few qualms with the work head coach Robin Fraser and Greg Vanney have done in building a new culture for the club -- the Goats (7-12-11) are on the right path, but patience is required -- but questions about the viability of the front office are growing.

Toronto FC (6-12-12) seems a mirror organization, except the Reds have never gotten things right -- and Chivas was a force in MLS during Bob Bradley's and Preki's tenures as head coach.

That seems to be slowly changing. The Reds have lost just once in their last seven games, and the imprint of Designated Players Danny Koevermans and Torsten Frings, both acquired at the end of June, has been massive.

If Maple Leaf Sports & Entertainment, the club's owner, shows more patience with Dutch coach Aron Winter than it did with his predecessors -- and provides the resources necessary, which it seems to be doing -- Toronto could be competing for the postseason next season.

Right now, both clubs are in the race, but only barely. Either side could be eliminated with a defeat and results elsewhere, and it's really just a matter of time. Miracles can happen, and that's what the Goats and Reds need.