Los Angeles Soccer:

Darren Mattocks
July, 6, 2012
7/06/12
7:19
PM PT
By
Scott French
| ESPNLosAngeles.com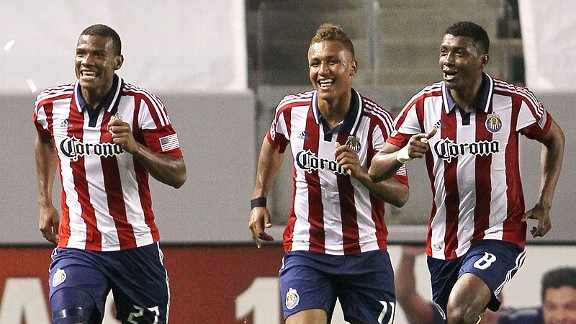 Victor Decolongon/Getty Images Jose Erick Correa, left, and Juan Agudelo, center, have infused Chivas USA with offense, but the team needs more.

CARSON -- The steps Chivas USA has taken this season are apparent in the results the past two months: just one loss in 10 games of every stripe -- and that to Real Salt Lake -- with a march into the U.S. Open Cup's final four.

How much further the Goats still must go is right there, too: They've won just twice against Major League Soccer competition during that span -- and that extends to 10 league games, going back into mid-April.

They've been turning a corner, in the parlance, but where that corner straightens isn't yet clear, it seems. Not everyone agrees.

"I feel like maybe the first month of the season, you could emphasize that," Chivas goalkeeper Dan Kennedy said on the eve of Saturday night's match with the Vancouver Whitecaps (8-4-5) at Home Depot Center. "I feel like the last two months, we've really turned that corner and become a team that can really grind results out.

"I would like to obviously see those results not just being ties."

The Goats (5-7-4) have asserted themselves the past two months as their personality -- a gritty possession team -- has matured with the acquistions of, especially, young forwards Juan Agudelo and Jose Erick Correa. There's a growing dynamism within the group, and as they hit the midpoint of their MLS campaign, the next step in the evolution requires that dynamism to start translating into goals.

Chivas has hit the net only 11 times in 16 games, by far the worst rate in MLS. It has been shut out seven times, scored more than once just twice, and that's not entirely about the scoring struggles at season's start: no goals in two of the last three MLS games.

"We certainly feel like every day we're getting closer to the group understanding what is necessary to create more chances," Chivas coach Robin Fraser said. "We like our group of players. There's this gelling process we certainly feel has to take place and is taking place. The more we see the group, the more we feel like it's coming along."


January, 11, 2012
1/11/12
10:34
PM PT
By
Scott French
| ESPNLosAngeles.com
CARSON -- If there's a can't-miss prospect in Thursday morning's MLS SuperDraft, it's Duke University's Andrew Wenger, a versatile defender/midfielder/forward who last week won the Hermann Trophy as college soccer's top player.

He's almost universally pegged as the No. 2 selection, by the Vancouver Whitecaps, following speedy Jamaican forward Darren Mattocks of Akron, and at least one critic has proclaimed him the best candidate on the board in central defense, as a defensive midfielder -- maybe even as a winger and a forward.

"Everyone has their opinions," said Wenger, a two-time NSCAA first-team All-American who signed a Generation adidas contract with Major League Soccer following his junior season.

The buzz is deafening for the Lilitz, Pa., product, and he admits he has heard a lot of it.

"I think it's pretty hard not to," said Wenger, who is training until Jan. 25 at Home Depot Center with the U.S. under-23 national team -- although he jetted to Kansas City on Wednesday for the festivities. "I mean, I'll listen to it a little bit, and it's kind of interesting and funny from time to time, but at the end of the day, it's just what you can do on the field."

Wenger, 21, can do plenty. He anchored Duke's backline as a freshman and sophomore and was pushed up front last fall, scoring 17 goals with eight assists to lead the Blue Devils to an 11-8-3 record and into the second round of the NCAA tournament. But his best position, he says, might be in midfield.


January, 10, 2012
1/10/12
10:21
PM PT
By
Scott French
| ESPNLosAngeles.com
Final mock drafts should start showing up online any minute now, and nearly all of them will continue to have Jamaican speedster
Darren Mattocks
, a University of Akron sophomore, going to Montreal with the first pick in Thursday's MLS SuperDraft in Kansas City, and Vancouver following by taking defender/midfielder
Andrew Wenger
, a Duke junior considered the one sure thing on the board.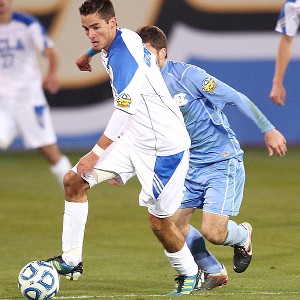 Marvin Gentry/US PresswireUCLA forward Chandler Hoffman could go as high as No. 3 in the MLS SuperDraft on Thursday.
Who goes third? Might be UCLA striker Chandler Hoffman, a Generation adidas player (like Mattocks and Wenger) whose rising stock grew with superb performances in his first two games at the MLS Player Combine, which wrapped up Tuesday in Fort Lauderdale, Fla.

Hoffman, who scored 18 goals to lead the Bruins to the NCAA semifinals, scored an 80th-minute winner to lift adiPower to a 3-2 victory in Friday's combine opener -- moments after forcing a huge save on a breakaway -- and added the first goal in a 2-1 win Sunday.

AdiPower won the tournament with a 3-0-0 record, scoring nine goals behind Hoffman, Maryland forward Casey Townsend, Dartmouth forward Lucky Mkosana and attacking midfielders Kelyn Rowe of UCLA and Luis Silva of UC Santa Barbara.

"It's always good when the roster came out to see I had Kelyn and Luis and then Casey up top with me ...," Hoffman said in a video posted on the Soccer By Ives blog. "It's made my job easy, just combining with them, playing simple and moving the ball."

Hoffman, of course, has played the past two seasons with Rowe, a sophomore also expected to go early in the first round. And Silva (Los Angeles/Salesian HS), another first-round certainty, was Hoffman's summer teammate with USL Premier Development League side Orange County Blue Star.

The Alabaman and Townsend, who is considered the best senior forward (and, with Silva, the best senior) available in the draft, could have been teammates at Maryland -- and their connection at the combines suggests the Terrapins might have won a couple more NCAA titles had he not chosen UCLA.

"Sasho [Cirovski, Maryland's coach], when he was recruiting me, always talked about me and Casey playing together one day," Hoffman told Major League Soccer's website. "Who knew it would be today?"


December, 29, 2011
12/29/11
2:34
PM PT
By
Scott French
| ESPNLosAngeles.com
UCLA has lost a second underclassmen to Major League Soccer, but it wasn't like it was unexpected. Kelyn Rowe, who looked seriously at turning pro following his freshman season a year ago, is the league's fifth Generation adidas signing.

Rowe, the Pacific 12 Conference's Player of the Year, joins All-American forward Chandler Hoffman in MLS's developmental program and could be a top-three selection in the Jan. 12 MLS SuperDraft.

Rowe, 20, an attacking midfielder from Federal Way, Wash., has extensive youth national team experience and is in the U.S. under-23 group preparing for Olympic qualifiers early next spring. He was a third-team All-American as a freshman and amassed 13 goals and 20 assists in two seasons in Westwood. He was the first attacker off the bench as the Bruins marched into the NCAA College Cup final four earlier this month.

"It's every kid's dream to be a professional soccer player, and I'm definitely in that boat," Rowe told MLS's website. "It's a dream come true, so it's a little surreal right now, hasn't quite hit me. I think it will once preseason starts."

He said the opportunity to play against the Galaxy and Chivas USA during his time at UCLA offered a glimpse of what could be.

"We got a little taste what it's like to play at the next level," Rowe said. "But it's going to be hard. It's never easy. The pace of the game is that much faster, the physicality is there, you're playing against guys who have been playing for years at that level."

Rowe and Hoffman had been expected to sign GA pacts, which include funds to complete their degrees and opportunities, because of the program's roster rules, that aren't available to college seniors. GA players do not count against their clubs' roster sizes nor salary caps.


December, 20, 2011
12/20/11
2:02
PM PT
By
Scott French
| ESPNLosAngeles.com
The Galaxy's roster for next season is slowly becoming clearer, it appears, and that's not necessarily a good thing.
David Beckham
might be off for Paris Saint-Germain -- nothing concrete on that yet -- but might L.A. also have to do without
Juninho
and
Omar Gonzalez
?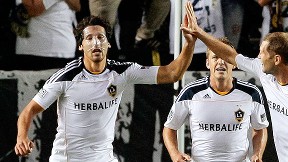 AP Photo/Bret HartmanOmar Gonzalez was MLS defender of the year.

Sambafoot, a website covering Brazilian soccer, reports that Juninho, Beckham's midfield partner for the Galaxy, has signed a three-year contract extension with Sao Paulo FC.

Juninho, 22, spent the past two seasons with the Galaxy on loan from Sao Paulo, and there's no indication that another loan deal can't be done. The Galaxy had been seeking to purchase his contract, and Juninho last month expressed a desire to return to L.A.

"I'm very happy here," he said a few days after the Galaxy's MLS Cup triumph over Houston. "This is a family right now, and after winning the cup, everybody is happy. I'm very secure here. I have my wife here and a lot of friends."

Sao Paulo has not announced a deal on its website, and Galaxy coach/general manager Bruce Arena was not available for comment Tuesday.

Gonzalez, 23, the MLS Defender of the Year, has attracted attention in Mexico and in Europe, and Britain's Sky Sports reports that there "is major interest from the [English] Premier League." Beckham, the report said, has helped, giving rave reviews of the defender in discussions with his contacts in the English game.


December, 12, 2011
12/12/11
5:34
PM PT
By
Scott French
| ESPNLosAngeles.com
Paris Saint-Germain's pursuit of Galaxy midfielder David Beckham is "95 percent complete," French sports daily L'Equipe reports, citing inside sources at the club.
No such word from Beckham or his representatives, and the English superstar hinted during the Australian leg of the Galaxy's postseason tour that he wouldn't be making a decision, much less announcing one, until after Christmas.
Read more on the story, and the Galaxy's negotiations with defender/midfielder Sean Franklin and midfielder Juninho, here.
WORTH NOTING:
The Galaxy are looking to sign a "couple" of academy players to Home Grown Player contracts, and Arena said it could happen in the "next week or two." Possibilities include U.S. youth national-team veterans
Mario Rodriguez
(North Hollywood/Poly HS) and
Jose Villareal
(Inglewood/Leuzinger HS). ... Arena on trading goalkeeper
Donovan Ricketts
to Montreal: "We had to make [an economic] move with Donovan Ricketts. Donovan Ricketts we would have loved ot keep here at the Galaxy, no question about it. But he was an asset. He was sough after, and we were able to move him, saving us money on the cap and with the allocation dollars we received [in the trade], too."
ELSEWHERE:
More news from around the league:
Mexican forward Omar Bravo is leaving Sporting Kansas City after one season to sign with Mexico City giant Cruz Azul.
Seattle transferred Swedish midfielder Erik Friberg to Malmö FF, one of Sweden's top clubs.
Andres Mendoza, released by Columbus, is headed to Mexican club Atlante.
Forward Darren Mattocks, a University of Akron sophomore who could be the No. 1 selection in next month's MLS draft if he signs a Generation adidas contract, is likely to sign in Scandinavia, his agent told Soccer By Ives.
Colorado promoted former NBA and Derby County exec Tim Hinchey from chief marketing officer to president.
September, 4, 2011
9/04/11
7:45
AM PT
By
Scott French
| ESPNLosAngeles.com
NORTHRIDGE -- Cal State Northridge, like Cal State Fullerton before it, took a physical approach against defending NCAA champion Akron on Saturday night. For the first 18 minutes, at least.

By then, the Matadors had racked up four yellow cards, with one defender sent off with two of them. Their showdown with the second-ranked Zips should have been over.

Instead, CSUN combined a dangerous counterattack with a superb backline performance led by Joe Franco (Monrovia/St. Francis HS) and several outstanding saves by goalkeeper Michael Abalos (San Juan Capistrano/Santa Margarita Catholic HS), taking Akron deep into overtime before finally succumbing, 2-1, in a thrilling, at times frantic finale of its Labor Day Classic.

There was a little star power in the crowd. Galaxy defender Sean Franklin (Palmdale/Highland HS), a Northridge alum, was honored before the game, and Chivas USA teammates (and Akron products) Zarek Valentin and Ben Zemanski sat a few rows below former U.S. national-teamer Brian Quinn, whose son Aodhan plays for the Zips.

Akron (2-0-1), in a little bit of rebuild mode after sending seven players to Major League Soccer this year, prevailed on Scott Caldwell's 106th-minute goal after Israeli freshman Yarden Azulay pulled the Matadors (1-2-0) even to force overtime, turning a midfield steal in the 82nd minute into a quick 1-on-1 opportunity, then chipping brilliantly into the upper-left corner.

"It's hard enough to play with 11 players against Akron, let alone 10," Northridge coach Terry Davila said. "[Akron isn't] as mature as they were last year. We do that to them last year, you know, it would be a different story. ... We felt like we could play with them. Its just the attitude with our team. Good things are about to come for this team. Hopefully, this can be a turning point in our season."

Northridge, which dropped their tournament opener in overtime to UNLV, went behind seven minutes after Nicholas Hamilton picked up his second yellow card, with star forward Darren Mattocks finishing from midfield leader Caldwell's feed.

The Zips rolled up huge advantages in shots (24-8) and shots on goal (14-1) and held a good deal of possession, but they couldn't put Northridge away -- and by the end, they were down to 10 men, too, with freshman defender Bryan Gallego dismissed with his second yellow card in the 83rd.

"Credit to Northridge," said Akron coach Caleb Porter, whose team struggled against tournament winner Fullerton's physical approach in a scoreless draw in Thursday's classic opener. "They came and they fought hard and they didn't die. I think that says a lot about their group. ... I think our guys dug deep as well.


December, 12, 2010
12/12/10
7:06
PM PT
By
Scott French
| ESPNLosAngeles.com
GOLETA -- Akron should have won the NCAA men's soccer title a year ago. The Zips made amends Sunday, dominating top-ranked Louisville in the College Cup final at UC Santa Barbara and holding on for a 1-0 triumph.

Louisville (20-1-3), massively outplayed, especially in the second half, was unfortunate not to win. The Cardinals were denied a clear penalty kick midway through the first half and nearly netted a late winner, halted only by two desperation saves.

Akron (22-1-2), which fell on penalties to Virginia in last year's final, dictated nearly every phase of play in the second half, using a weaving passing game to trigger waves of attacks and spend most of half in or in front of Louisville's box.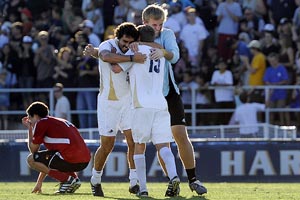 AP Photo/Mark J. TerrillScott Caldwell, second from left, found the net in the 78th minute Sunday to help Akron win its first national title in any sport.


It led to eight corner kicks in the half, and Scott Caldwell finished off one of them in the 79th minute.

Bests, worsts and so forth:

BEST PLAYER: Darlington Nagbe's finishing touch was off, but he was at the heart of Akron's attack all day, opening space for teammates and teaming with playmaker Anthony Ampaipitakwong to connect the dots through Louisville's defense. He set up chances by Michael Nanchoff and Darren Mattocks and fired just wide of the post, but our favorite moment: Nagbe, surrounded at midfield, twirls out of trouble and streaks forward, feeding Kofi Sarkodie on the right flank. The sequence ended with a foul, and the Zips did nothing with the free kick.

Three more we liked: Austin Berry, the backbone of Louisville's backline; Ampaipitakwong, the faux-hawked maestro who makes the Zips zip; and Nanchoff, the left-footer next to "Ampai" whose crosses cause havoc.


December, 9, 2010
12/09/10
12:14
AM PT
By
Scott French
| ESPNLosAngeles.com
College soccer's top team? It's Akron, regardless of what the rankings say. (And the rankings say the mighty Zips are No. 2, so close enough.) And college soccer's best team is seeking a return to the the NCAA Division I College Cup final -- and its first championship -- at this weekend's final four at UC Santa Barbara.
Chivas USA midfielders
Blair Gavin
and
Ben Zemanski
are the resident experts on the Zips (20-1-2), and they're doing all they can to be in Goleta for Friday night's semifinal against Michigan (17-4-3) -- or at least, they hope, a title-game clash Sunday against No. 1 Louisville (19-0-3) or North Carolina (16-3-4).
Gavin (who arrived in Akron from Phoenix via the U.S. U-17 residency in Bradenton, Fla.) and Zemanski (a hometown boy) wrapped up their college careers in last year's title game, in which Akron -- No. 1 and unbeaten -- was toppled by Virginia on penalty kicks after a 0-0 draw.
The Zips have soccer pedigree. They went to the 1986 final and have been in the NCAA Tournament 10 of the past 13 seasons. But they've been something else since
Caleb Porter
(an Indiana University product who played in four MLS games in three seasons with San Jose and Tampa Bay in the late '90s) took charge in 2006, going 88-12-11 the past five seasons -- and they're 43-1-2 the past two years and 60-3-8 the past three.
Our view: It's a combination of talent -- MLSers
Steve Zakuani
(Seattle) and
Sinisa Ubiparipovic
(New York) are Akron products, too, and watch for
Anthony Ampaipitakwong
, junior
Kofi Sarkodie
and freshman
Darren Mattocks
soon -- and Porter's superb guidance that has made Akron into a powerhouse. But we went to Chivas' rookie stars for the real scoop.
Three questions:
1. WHAT MAKES AKRON SOCCER SO SPECIAL?
ZEMANSKI:
"I think Caleb has everyone believing that they are the best team in the country and that at the end of the day, they'll find a way to win and achieve their goals. ... It means a lot to the community. The whole community is behind Akron soccer, doing everything they can to support Caleb and bring Akron it's first team national championship. We're not a BCS school. We're a small school that's not recognized a lot for their sports, but Akron has earned the tight to be recognized as a powerhouse in soccer. We're not just a small school when it comes to soccer."