Los Angeles Soccer:

David Moyes
February, 18, 2012
2/18/12
3:56
PM PT
By
Scott French
| ESPNLosAngeles.com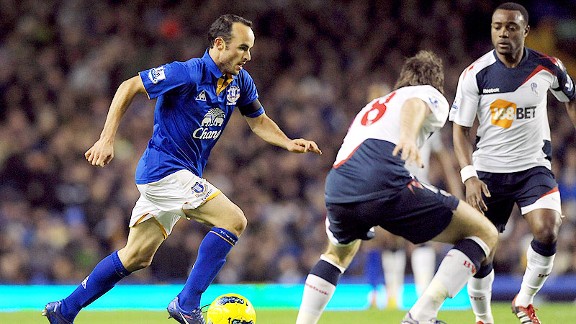 Paul Ellis/Getty ImagesLandon Donovan proved to be a quality addition to Everton during his loan spell with the English club.
Landon Donovan's last game in an Everton uniform, at least for the time being, arrived a week ago, it turns out.

A bout with flu forced the Galaxy's captain to miss Saturday's F.A. Cup fifth-round clash with visiting Blackpool, but the Toffees' sparkplug wasn't required. Roysten Drenthe provided a lead after 48 seconds and Denis Stracqualursi doubled the advantage five minutes later en route to a 2-0 victory.

Donovan, Everton's Player of the Month for January, heads back to California on Sunday after the final game of his loan deal, next Saturday against Liverpool, was postponed because Everton's archrival is playing in the League Cup final the following day.

"Of course, I'll miss [being at Everton]. How would you not want to be part of this?" Donovan told English broadsheet The Guardian last week. "But I'd be lying if I said I wasn't excited about laying on a beach on Monday."

He also has a Galaxy medical exam on Monday and will join teammates later in the week in Tucson, where the final stage of the club's preseason includes four games in the Desert Diamond Cup exhibition tournament. L.A. opens its season March 7 in a CONCACAF Champions League quarterfinal first leg at Toronto FC, then meets Real Salt Lake in a March 10 Major League Soccer opener at Home Depot Center.

Galaxy teammate Robbie Keane finishes his loan deal with Aston Villa with next week's English Premier League game at Wigan Athletic.

Donovan, who had a successful loan to the Toffees two years ago, was again outstanding in blue, contributing six assists in nine appearances in two competitions -- he assisted six of 10 Everton goals heading into Saturday's match -- and adding a needed dimension to a struggling attack from his spot on the right side of midfield. The highlights were EPL victories over first-place Manchester City and Everton, then in fourth.


January, 15, 2012
1/15/12
8:43
PM PT
By
Scott French
| ESPNLosAngeles.com
Landon Donovan's a hit, again, in his second loan stint to Everton, and his performance in Saturday's 1-1 English Premier League draw at Aston Villa has Toffees fans again clamoring to acquire the Galaxy captain on a full transfer.
Donovan became a fan favorite in a terrific loan spell at Goodison Park two years ago, and he's picked up more or less where he'd left off in four appearances since joining the Liverpool-based club at the end of December.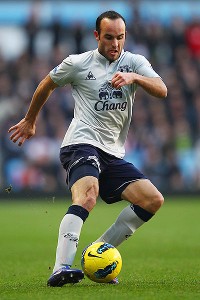 Clive Mason/Getty ImagesLandon Donovan of Everton in action during the Barclays Premier League match between Aston Villa and Everton at Villa Park.
He's stepped into Everton's lineup, on the right flank, and brought tremendous energy and creativity. The high point was a superb through ball for Victor Anichebe to finish and win a share of the points against Aston Villa, for which Galaxy teammate Robbie Keane was starting a short-term loan.

His effort won praise from Everton boss David Moyes, who looked into acquiring the U.S. star two years ago but found his price, based in part on his marketing value in America, a bit too steep.

"Robbie Keane and Thierry Henry [with Arsenal on loan from the New York Red Bulls] have come back to the Premier League from America, and they need a bit of time to settle because of having a break since the end of the MLS," Moyes told media. "But Landon has come in and played three or four 90-minute games already on the bounce since he arrived, and that says a lot. It's a testament to the professional he is.

"He was the best player on the pitch at Villa. His work rate was terrific. I played him on the right, left, then down the middle because he was the one who looked as if he had the energy. We've never had the chance to take him off in games because we need him so much with his running and the quality he has on the ball."


January, 14, 2012
1/14/12
12:27
PM PT
By
Scott French
| ESPNLosAngeles.com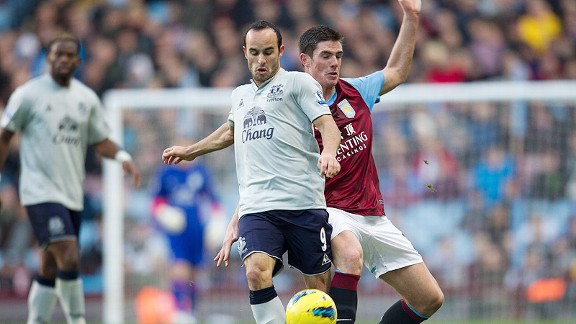 Neville Williams/Aston Villa FC/Getty ImagesLandon Donovan's manager thought Donovan was the best player on the pitch.
Landon Donovan was atop his game and Robbie Keane made his return to the English Premier League as the Galaxy teammates contributed to their sides in Everton's 1-1 draw Saturday at Aston Villa.

Donovan, the Galaxy captain, set up Victor Anichebe's 69th-minute equalizer to cap his best performance since joining Everton on loan two weeks ago, and he should have had another assist on a superb first-half cross for Louis Saha.

Keane, making his Aston Villa debut after his loan deal from the Galaxy was finalized Thursday, came on in the 81st minute for Stephen Warnock and was energetic up front as he searched in vain for a late winner.

Donovan again started on the right flank but moved to the left side when Anichebe replaced Royston Drenthe in the 61st minute. He brilliantly fed Anichebe following a lengthy run, cutting in from the left and pushing the ball past four Villa defenders to leave the Nigerian forward one-on-one with goalkeeper Shay Given.

Darren Bent had given Aston Villa a 56th-minute lead.

Almost as nice was Donovan's sprint down the right wing in the 23rd minute to collect Tim Cahill's pass and the first-time curling cross into the goalmouth that Saha, pulled by Villa defender Alan Hutton, couldn't get his head onto. Saha probably deserved a penalty, but referee Mark Clattenburg let it go.

"I thought Landon was the best player on the pitch today," Everton manager David Moyes told media. "He has come over here from Galaxy, completed the full 90 minutes, and it is a testament to the professional he is."


December, 30, 2011
12/30/11
2:37
PM PT
By
Scott French
| ESPNLosAngeles.com
Landon Donovan's eight-week loan spell at Everton began Friday, with the Galaxy's captain participating in his first training session with the Toffees.
Donovan, who will be with the Liverpool-based club through its Feb. 25 clash at archrival Liverpool, officially starts his second stint with Everton on Sunday, although he's not expected to get onto the field until Wednesday's match against Bolton at the Toffees' Goodison Park.
"Who wouldn't want to come back to this?" Donovan gushed to the club's website. "The minute I stepped off the plane two years ago and watched Everton's F.A. Cup game with Carlisle United, I felt wanted, I felt respected, and that resonates and stays with you. When I had the opportunity this year, I had no doubt it could work out.
"It feels like coming home, and it feels like family. It's an easy place to come to. From the kit man to the media people, everyone is friendly and happy, and they're excited to be a part of this club. It's infectious. I almost feel like a kid."
Donovan, 29, spent 10 weeks with Everton two years ago, scoring twice in 13 games and winning admirers at the club and throughout the EPL with performances that led to the club's player-of-the-month honor for January 2010.
It was a game-changer for Donovan's image. The EPL is widely considered the world's best league, and the most pointed criticism of the U.S. national team star had been that he'd never succeeded -- and didn't seem to want to try -- at the highest club level.
"I know exactly what I am getting into and exactly what is expected of me, and, hopefully, I can fit in," Donovan said. "Sometimes I think life is about expectations. Last time, there was zero expectations, so I can only make up from that. I understand there is some level of pressure and expectation, but all footballers deal with that. I don't worry about that.
"I want to enjoy my two months here, and the way I play, I think I can help the team."
December, 19, 2011
12/19/11
10:55
PM PT
By
Scott French
| ESPNLosAngeles.com
Landon Donovan's big Christmas present this year goes to Everton, where he heads next week to begin a two-month loan.
Everton manager
David Moyes
says the Toffees are looking forward to the return of the Galaxy captain, who was so good in a 10-week spell with the English Premier League club two years ago.
And if Donovan wants to make the move a little more permanent, well ... here's what Moyes had to say when he appeared on the "ExtraTime Radio" podcast Monday at Major League Soccer's website.
"We really liked Landon last time," said Moyes, who will have Donovan for nine, 10 or 11 games, depending on F.A. Cup success, from Jan. 4 through Feb. 24. "I think it would have cost us a lot of money to bring him in -- Landon was one of MLS's biggest stars and, obviously, a top Galaxy player. I think if Landon was ever going to come back to Europe, this would probably be the time to do it, because of his age, et cetera.
"Who knows? The plan is only to bring him here a couple months. I've not got any longer plans to do any more than that. But, you know, if Landon said to me, 'I'd like to do it,' and his form was good enough and he could manage it, I wouldn't be against it. But if I was going to do hat, the first people I would contact would be
Bruce
[
Arena
, the Galaxy's head coach and general manager] and the MLS."
Everton sure could use some of what Donovan provides -- Moyes pinpoints skill, speed, attitude and experience -- after a 5-8-2 start, good for 14th place, in the EPL this season. The Toffees have scored just 16 goals in 15 league games (only two rivals have fewer) and have just one in their past three outings, and the boss says he "could consider playing him up front" as well as on the right, where he was stationed in the first Everton loan, or on the left.
Donovan was a big hit during the 10-week stint in 2010, scoring twice in 13 games, winning the club's player-of-the-month award his first month there, and engineering a shift in perceptions -- following earlier Bayer Leverkusen and Bayern Munich failures -- about his toughness and ability to play at the highest club level.
December, 15, 2011
12/15/11
2:49
PM PT
By
Scott French
| ESPNLosAngeles.com
Nobody's quite sure where
David Beckham
will be next month, but
Landon Donovan
, we know, will be in England.
The Galaxy's captain is returning to Everton on a two-month loan deal and will miss the bulk of the MLS Cup champions' preparations for the 2012 campaign. He'll be eligible to play for the Toffees on Jan. 4 against Bolton will return to Los Angeles following their Merseyside derby clash at Liverpool on Feb. 25.
The Galaxy play the first leg of their CONCACAF Champions League quarterfinal series with Toronto FC on March 7 in Toronto. They open their Major League Soccer season three days later at Home Depot Center in Carson, Calif.
Read the full story here.
December, 24, 2010
12/24/10
12:10
PM PT
By
Scott French
| ESPNLosAngeles.com
As David Beckham was musing to reporters in England last weekend about finding a club for a short-term loan, he said he naturally would prefer to play at home.
"I have always missed playing in [England's] Premier League since I left it almost eight years ago," the English midfielder said after an awards ceremony in Birmingham. "It is a great league and one of the most competitive in the world. Maybe one day I will come back here, but I have always said it will only be for [Manchester] United.
"I'm not holding my breath on that one."
Good thing. Man United manager
Alex Ferguson
told Sky Sports on Friday that he has no interest in bringing Beckham, 35, back to his original club.
"I don't think so. with David at his age," Ferguson said. "I have never signed a player at that age, have I?"
Well, there's always Arsenal, right?
"I would consider signing David Beckham," Gunners boss
Arsene Wenger
told
The Sun
newspaper, "but we have [
Theo
]
Walcott
, [
Samir
]
Nasri
, [
Tomas
]
Rosicky
, [
Andrei
]
Arshavin
and (
Emmanuel
)
Eboue
who can play on the flanks."
Everton's
David Moyes
expressed interest, but Beckham said no thanks, and former England coach
Sven-Goran Eriksson
admits he tried to arrange a loan to Leicester City. There are reports in England that Tottenham -- the club Beckham's grandfather supported -- would like to bring him in, and Turkey's Besiktas and Sydney FC in Australia are open to Becks, too.
The Galaxy isn't so keen on Beckham departing on loan next month. Coach
Bruce Arena
has made it clear he expects Beckham present when camp opens in late January.
December, 20, 2010
12/20/10
4:37
PM PT
By
Scott French
| ESPNLosAngeles.com
David Beckham was adamant during the Major League Soccer season that he would not be seeking a loan agreement this winter, using the time to rest and prepare for the final season of his five-year deal with the Galaxy.

It appears he's changed his mind.

Beckham, who was out of action for six months after snapping an Achilles' tendon last March while on loan to AC Milan, told reporters in England that he plans to go somewhere next month.

"I won't be going back to AC Milan this time because it is not possible to go onto the roster for such a short length of time," Beckham said after picking up a lifetime achievement award at the BBC Sports Personality of the Year ceremony in Birmingham, England. "But I will be going back somewhere, as I want to keep myself fit and keep myself in with a chance of getting called up for England again. To do that, I have to be somewhere, so fingers crossed I can sort something out."

The Galaxy had no comment.

Beckham spent the second half of the 2008-09 season with AC Milan and wasn't eligible to rejoin the Galaxy until July 2009; his second deal to Milan would have kept him away from L.A. until after the World Cup.

He wasn't explicit in what form of a loan deal he was hoping for. Landon Donovan, who acknowledged last month he might consider returning to England on loan, spent 10 weeks with Everton early this year before joining the Galaxy before the 2010 season kicked off.

L.A. will begin preseason in mid- to late January. Its MLS opener is March 15 at Seattle.

At least three English clubs are vying to take Donovan on loan. London-based Fulham (which features American forward/midfielder Clint Dempsey) and Newcastle United have expressed interest, and Everton manager David Moyes, who'd love to bring the Galaxy captain back after his sensational run for the Liverpool-based club.

Moyes acknowledged that he's spoken to Donovan and is hoping for a decision by next week. Moyes last month said he be interested in bringing in Beckham, too, but the English superstar says he'd only return to the English Premier League if he could return to Manchester United, most unlikely.
November, 27, 2010
11/27/10
7:16
AM PT
By
Scott French
| ESPNLosAngeles.com
Landon Donovan admits that once he's had a month of rejuvenation, he might be up for another loan deal, and if he is, then Everton's where he wants to go.
The Galaxy forward from Redlands (Redlands East Valley HS) was spectacular during a 10-month spell at the Liverpool-based English Premier League club last winter, scoring twice in 13 appearances and winning the club's Player of the Month award for January.
Now Everton manager
David Moyes
is pursuing
David Beckham
.
Moyes said Saturday, he'd love the bring Beckham to the Toffees on loan this winter and that club captain
Phil Neville
, a close friend of Beckham's since their days at Manchester United, might be able to persuade him to consider the idea.
"I hope that if David wanted to come, he would give me a call," Moyes, who played briefly with Beckham when the star winger was on loan to Preston North End in 1995, told the English media. "He only needs to call me or Phil Neville. He knows how to get hold of Phil and he knows how to get hold of me.
"We would have to look into it financially. But if he came and said to me. 'I would like to come and play,' then I would have to go to the chairman and ask if we could make it work by selling enough replica shirts."
Beckham has repeatedly said he has no interest in a loan deal next year, that he would prefer to rest and then join Galaxy preparations early next year for the 2011 season. He went to loan to AC Milan the past two seasons, suffering a ruptured Achilles' tendon last March that sidelined him until September.
Donovan said before the Galaxy's departure for Saturday's friendly against the Newcastle Jets in Australia that he wasn't yet prepared to mull over loan possibilities.
"If you ask me today, I'd probably say no, because my body is exhausted," he said last week. "If you ask me in two months, I'd probably say yes, because I'd be excited again.
"Once I come down from all this, see how my body feels, then I can figure it out."