Los Angeles Soccer:

Davy Arnaud
June, 20, 2012
6/20/12
11:49
PM PT
By
Scott French
| ESPNLosAngeles.com

CARSON -- Chivas USA has been stung four times this year by late goals that cost it a win or a draw, so there was great enjoyment derived Wednesday night from getting a a winner near the finish.

Juan Pablo Angel's looping, off-balance header from Jorge Villafaņa's cross in the 82nd minute delivered to the Goats a 2-1 victory over expansion Montreal, prodding them to within one point of fifth place following a performance that did much to alleviate the disappointment of last weekend's loss to Real Salt Lake.

Alejandro Moreno also scored, after Juan Agudelo connected with Cesar Romero's corner kick in the 14th minute, and Chivas (5-7-3) grabbed points for the fifth time in their last six Major League Soccer encounters.

"Now that feels a little better, doesn't it," said goalkeeper Dan Kennedy, who had to deal with a few scrambles in his box -- one immediately after Angel's goal in heavy smoke from a supporters group's celebrations behind his net -- but not a whole lot else. "That was good. Really, that game was there for the taking, and we've talked all week just about winning, and we found a way to win tonight.

"Just a class finish by Juan. That's what he is who he is: goals like that."

The Goats were more aggressive in the final third -- their primary focus as the season nears its midpoint -- and got more from its wide play, even with lead wingers Ryan Smith out because of a concussion and Laurent Courtois on the bench.

"We've been trying to emphasize with the wide players that we need to get the ball in the box more, because at the end of the day that's where you score goals," said Angel, who netted just his third goal of the season and his 71st in 5 1/2 MLS seasons. "And today we have a great cross by Cesar out of a corner kick and we score, and then another cross, another goal.

"I think today was a game where we probably crossed the ball more than we ever have. At the end of that day, that's what we have to do, and we have to do it consistently."

Montreal (4-8-3) was just as good as the Goats, for the most part. Not as dangerous, perhaps, but deserving of a point after Felipe Martins beat an otherwise excellent Ben Zemanski to finish Davy Arnaud's serve just before halftime.

That answered Chivas' goal, which went to Moreno after Agudelo raced past Zarek Valentin to volley Romero's corner kick off the Goats' captain, who was squared up with a defender in the goalmouth.


May, 12, 2012
5/12/12
7:19
PM PT
By
Scott French
| ESPNLosAngeles.com

The Galaxy offered a nice-sized view of what's been going wrong all year and a little of bit of where they want to be, and as bad as they began Saturday's visit to Montreal, they looked very good by the finish.

David Beckham scored on a second-half free kick as L.A. rallied from an early deficit for a 1-1 draw with the Impact, a result that can be considered fortuitous -- the Galaxy deserved absolutely nothing for its first 45 minutes -- or another in a long line of disappointments. Maybe a little of both.

The Galaxy (3-5-2, 11 points) might have scored four or five goals if not for the presence of their former goalkeeper Donovan Ricketts, who made huge diving stops on Landon Donovan and Marcelo Sarvas and shined in a quick sequence to deny Donovan and Robbie Keane to reward the Impact (3-5-3, 12 points) with a point.

"I think [we] played well in the second half, and I think the difference in the game was probably Ricketts, came up with some big saves for Montreal to keep them in the game," Galaxy head coach Bruce Arena said on the club's television broadcast. "I thought the way our guys went out in the second half and got after it and got the ball on the ground and started passing and moving, we were a different team."

Might it be, finally, the stride forward that starts L.A. on the expected path following a horrendous first two months to the season marked by muddy, imprecise play, defensive miscues and struggles to match foes' intensity in battle?

"After the second half, yeah, I believe it is," Beckham said on the Galaxy telecast. "Just because we worked hard. We're going through a tough time at the moment, where we're not getting the results, we're not getting the run of the green. But I think we've got character. We've got a lot of pride. I think we showed that in the second half, and we played a lot better. Hopefully, we can push on from here."

The first half was a reminder of how bad things have been. The Galaxy, the numbers say, had a lot more of the ball, they just couldn't do anything with it. Montreal dominated the duels, continually built toward L.A.'s box and was in charge almost from the start, after Davy Arnaud delivered just eight minutes in.

It was another defensive error, or a couple of them, that led to the goal. Dan Keat, whom L.A. is converting from holding midfielder to central defender, got his chance in the middle -- it was his second first-team appearance this year and just his second MLS start in all -- and it didn't go smoothly.

Keat was caught flat-footed when A.J. DeLaGarza failed to adequately deal with a long ball from Impact defender Nelson Rivas, which bounced to Arnaud, who with just a couple of touches was past the New Zealander and honing in 1-on-1 with goalkeeper Brian Perk, an unexpected starter, who hesitated coming off his line. Arnaud's finish was precise.


November, 28, 2011
11/28/11
3:03
PM PT
By
Scott French
| ESPNLosAngeles.com
The Galaxy have traded goalkeeper
Donovan Ricketts
to the Montreal Impact for allocation money, the club announced Monday afternoon.
Ricketts, whom coach
Bruce Arena
signed in December 2008, was MLS's Goalkeeper of the Year in 2010 but was limited by injury and international duty to just 15 games this season. The Jamaican giant was supplanted as L.A.'s No. 1 netminder by
Josh Saunders
late in the season and, although healthy, did not play in the Galaxy's four playoff victories.
Read the full story here.
May, 14, 2011
5/14/11
12:50
PM PT
By
Scott French
| ESPNLosAngeles.com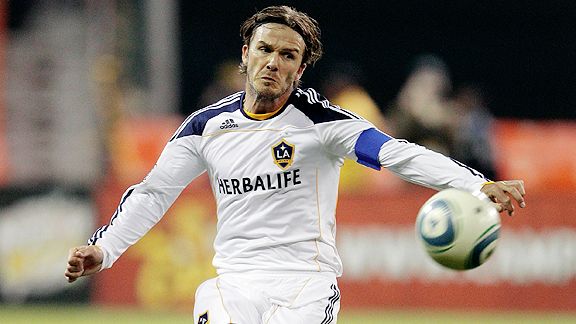 Rob Carr/Getty ImagesDavid Beckham and his Galaxy mates are looking to finish an opponent off.
David Beckham watched his Galaxy teammates give up a late equalizer Wednesday at Philadelphia from the comfort of his home, left behind to rest as L.A. delves more deeply into a congested schedule that will surely test its depth.
Doesn't mean he liked it, and he sure wasn't happy with the finish, but the English midfielder is enthused by the Galaxy's form and is looking to return to the lineup Saturday night with a win over Sporting Kansas City at Home Depot Center.
A victory would end a three-game winless streak that has been prolonged by the Galaxy's difficulty in finishing its chances, a recurring theme through the first two months of the Major League Soccer season.
"We have to finish teams off," Beckham said Friday. "We're not winning as many games as we'd like to. The biggest thing is finishing teams off. We're playing well, but we need to get that second or third goal."
L.A. has scored more than once just twice, in successive wins April 17 at Chicago (2-1) and April 23 at home against Portland (3-0). They've had four 1-1 draw, all results that would have been different had the Galaxy been more clinical in front of the net.
Beckham noted last week's draw with New York.
"In the first half, we found a way of getting through them," he said, "and once we found that, we had three or four or five really good chances, and we didn't put them away, and, obviously, it costs you at the end of the day.
"So we have to find a way of beating teams and keeping pressure up for the full 90 minutes. Because the game is about 90 minutes, and more sometimes, and you have to play through that."
With Beckham sitting out, Galaxy coach
Bruce Arena
changed up his system, turning his usually fairly flat 4-4-2 alignment into a 4-3-1-2, with
Landon Donovan
sitting underneath forwards
Juan Pablo Angel
and
Miguel Lopez
. They were dominant most of the night, but a poor back pass from
Sean Franklin
gifted Philly catalyst
Danny Mwanga
an 83rd-minute goal, and the returned home with one point rather than three,
"It's always difficult watching games you want to be in involved in," Beckham said. "I think the guys did well. I think it shows the strength of our squad, because we had [different] players going in and a new formation, as well, and I think that was the positive side of it."
March, 19, 2011
3/19/11
12:12
PM PT
By
Scott French
| ESPNLosAngeles.com
Jimmy Conrad expects his first few minutes wearing a Chivas USA jersey in a real game will be a bit emotional, but that has nothing to do with the red and white stripes.

His tenure with the Goats begins Saturday night at Home Depot Center, and he couldn't envision a better first foe: Sporting Club Kansas City, the team he spent the past eight seasons leading from the rear.

The four-time Best XI center back was one of the most consistent performers and a fan favorite with the Kansas City Wizards, as Sporting previously was known, but head coach Peter Vermes informed him late last fall that he was no longer in the club's plans.

It worked out for Chivas USA, which acquired the former Temple City High School and UCLA standout in December's re-entry draft, and for Conrad, who is the backline anchor on a Goats team looking to build something special behind new head coach Robin Fraser.

That doesn't necessarily lessen the sting.

"There's a lot of reasons I want to win this game, regardless of the opponent," Conrad said this week. "But it'd be nice [to beat K.C.] Anyone that's been let go from one team and now think that they didn't want you anymore, you obviously want to stick it to them a little bit. … I'm human.

"But after a few minutes of the game, once we get started, then its just another game, a matter of making good soccer decisions and organizing and putting guys in good spots and let everything else kind of fall where it goes."