Los Angeles Soccer:

Dayro Moreno
December, 24, 2011
12/24/11
8:21
PM PT
By
Scott French
| ESPNLosAngeles.com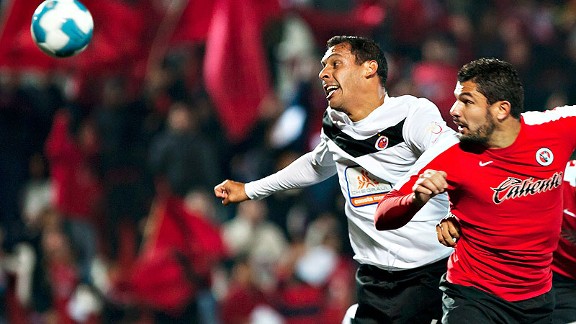 Club Tijuana Xoloitzcuintles de Caliente Captain Javier Gandolfi, right, anchors the Xolos' backline.
Counting down the 11 biggest 2011 stories in Southern California soccer ...

Fans of the Mexican Primera Division have always been in fairly decent shape around these parts. We get every single game on television, which ought to sate the throngs of Chivas, America, Pumas, Morelia, Santos and Cruz Azul fans roaming in and around L.A.

Want to see a genuine top-tier Mexican game in person? You were out of luck without a flight or long, long, long drive south, at least until this past summer, when Club Tijuana made its Primera Division debut.

The Xoloitzcuintles (a Mexican hairless dog), owned by Baja political/business maestro Jorge Hank's family, have in five years evolved from the ruins of so many failed lower-division Tijuana clubs into a cause célèbre in Mexico's third-largest city, a point of civic pride and a conduit that connects this metropolis of 1.5 million with the rest of its country -- and increasingly with legions of soccer fans north of the border.

Tijuana followed last December's triumph in the second-tier Liga de Ascenso's Apertura (or autumn) championship with a run to the Clausura (spring) final. After losing in that series to Irapuato, the Xolos won another, triumphing in the playoff between the two champs to grab one of the 18 slots in the top division -- the premier league, no question, in CONCACAF.

Already, they've welcomed Guadalajara, Morelia, Pachuca and Tigres to Estadio Caliente. The Clausura kicks off Jan. 6, and Monterrey and Santos visit next month, Cruz Azul in February, and America in March.

They take them on with a fine side led by Brazilian-born midfielder Leandro Augusto, former Mexican national-teamer Fernando Arce, Argentine captain Javier Gandolfi, and Colombian forwards Dayro Moreno and Duvier Riascos. Three Americans, all with Mexican ancestry, also are in the first team: San Diego's Joe Corona and newcomers Edgar Benitez, from New Mexico, and Texan Greg Garza.

The primary goal is survival. One team is relegated to the Liga de Ascenso at the end of each Clausura, and it's all based on points per games over three years (six Apertura and Clausura campaigns). Tijuana went 3-5-9 and finished 15th in its first Primera League season, a roller-coaster affair in which it needed seven home games to win in front of its frenzied fans but went unbeaten in the final eight games after Antonio Mohamed's midseason appointment as head coach.

Only three teams lost fewer games -- first-place Guadalajara, regular-season runner-up Cruz Azul, and third-place UANL Tigres, who went on to win the championship -- but only last-place Atlas won less, and the Xolos sit 16th on the "percentage" table, tied with Atlas and just a fraction ahead of Estudiantes Tecos. They need to stockpile points to remain in the top tier.

That's essential. The club has big plans. It has been slowly expanding and upgrading Estadio Caliente, which is adjacent to Hank's massive Caliente casino in Tijuana, with plans to boost capacity from about 20,000 -- with every seat typically filled -- to at least 33,000.

The club is building an academy program, and it is extending its reach beyond Baja, beyond San Diego and into Orange County and Los Angeles. The Xolos are looking to compete with the Galaxy and Chivas USA for the best talent in the region -- and for fans. The push could immeasurably alter the soccer landscape around here.
August, 30, 2011
8/30/11
10:06
PM PT
By
Scott French
| ESPNLosAngeles.com
Monterrey paid tribute to those who lost their lives in last week's brazen drug-cartel attack on a casino in the city, organizing a white-out for its Mexican Primera Division showdown with Santos Laguna.
The Rayados, playing just two days after the arson attack, encouraged fans to wear white and the players released white balloons to honor the 52 killed and send a message that Mexicans are tired of the violence and want to see positive, peaceful change.
It worked for the club, too. Goals by
Luis Perez
and
Humberto Suazo
led Monterrey to a 2-0 triumph, ending a four-game stretch in which it was beaten by San Luis and Guadalajara in league play and the Seattle Sounders in the CONCACAF Champions League.
1. CHANGING AMERICA?
Seems about time for Club America's bosses to cut ties with
Carlos Reinoso
, whether or not that would be the wisest move. The underachieving Aguilas, riding a string of disappointments despite always possessing some of Mexico's best talent, have won just two of six games in the Apertura and slipped to 11th overall with a 2-0 defeat at Pachuca.
It's too early to panic -- America (2-2-2) is just one point out of the top eight with 11 games to go -- but that hasn't stopped the club before, and there's a growing disillusionment with the Chilean Reinoso, who is in his third stint as Aguilas boss.
Rumors are swirling, but he says he's going nowhere, that the speculation that he'll be dismissed is "normal" and doesn't bother him.
"I work here for free because I love America. Who wouldn't want to be here?" he told Mexican media this week. "I'm not leaving. We know and believe and want to succeed -- and we will succeed. We will achieve the objectives, which is to qualify for the playoffs and then fight for the title. ... America fans want the best for America, and the dream of all America fans is to be champion. So we are aware that we need to improve, that we must be in the final."
August, 22, 2011
8/22/11
11:50
PM PT
By
Scott French
| ESPNLosAngeles.com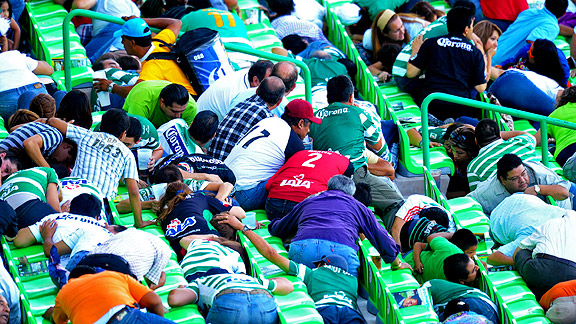 AP Photo/El Siglo de TorreonFans of soccer club Santos take cover between the stadium seats as they hear shooting outside the stadium in Torreon, Mexico.

Scenes of terror and turmoil unfolded at Santos Laguna's Estadio Corona in the most newsworthy event in the Mexican Primera Division last weekend, as gunshots rang out during the Guerreros' showdown with Morelia.

Players dropped to the turf, then scrambled off the field, and fans escaped from the stands and onto the stadium floor or ducked under seats after a series of explosions -- from outside the Torreon stadium, it turned out -- went off late in the first half Saturday.

Nobody at the game was hurt, but the stadium was evacuated and the match suspended amid great chaos. No word yet on when it will be rescheduled.

According to Mexican media, the trouble began when a pickup truck, allegedly carrying drug-cartel members, sped through a checkpoint and was chased by police. Once the truck was cornered, outside the stadium, a gun battle broke out. Part of the stadium afterward was pockmarked by bullet holes.
1. UPGRADE AT TIGRES:
UANL Tigres has one of the deepest, most talented sides in Mexican soccer and -- under former Chivas USA youth director
Dennis te Kloese
, who has brought to suburban Monterrey a handful of very promising players from Southern California -- possibly the country's best development set-up, although those connected to Pumas UNAM and Guadalajara can make convincing arguments otherwise.
No question, the club will contend for the Primera Division's fall Apertura title, especially once the attack catches up, as it should, to Brazilian manager
Ricardo Ferretti
's masterful defensive plan.
August, 8, 2011
8/08/11
10:27
PM PT
By
Scott French
| ESPNLosAngeles.com
Club Tijuana deserved more than it got from its opening-game loss to Morelia, and the Xolos gave mighty Monterrey a scare in week two, opening a two-goal lead and holding onto a tie until two quick, late goals knocked them down.
Couldn't hope for much more at Santos Laguna, the best team to start the Mexican Primera Division season, after routs of Pachuca and Atlante, right? Hardly. Tijuana's first top-tier triumph was one to remember.
San Diego's
Joe Corona
, looking more and more like someone who should be in Philadelphia this week, played linkman as the Xoloitzcuintles (1-2-0) overcame a first-half deficit for a 3-1 victory.
Jose Sand
scored the 54th-minute winner and set up two more:
Fernando Arce
's fine equalizer just before halftime and
Dayro Moreno
's finale in the 64th.
The Dogs will be back home Sunday, taking on Puebla at Estadio Caliente.
1. FIRST WINS: There were eight winless sides, out of 18, after the first two rounds of Primera play. All eight, Tijuana included, notched first victories during last week's "doble jornada," so now there are 13 teams with one win. That's 13 teams with three or four points.
August, 2, 2011
8/02/11
4:22
PM PT
By
Scott French
| ESPNLosAngeles.com
Santos Laguna and Monterrey, who met in last year's Apertura final in Mexico's Primera Division, are smoking foes. Rising Guadalajara's approach is more measured. And reigning champ Pumas UNAM is defying expectations.
They're the four sides that have won in each of the first two weekends of the current Apertura, and three of them faces a difficult slate in this week's "
doble-jornada
."
Santos, atop the standings with a plus-6 goal difference -- Atlante last weekend was the Guerreros' second three-goal victim -- have it easier, taking on promoted Club Tijuana, which continues to seek its first Primera victory.
Pumas, which dismantled its side after winning the Clausura in May, has shut out both of its opponents, San Luis and Morelia. Things get much tougher this week: Monterrey on Wednesday in Mexico City and Saturday at Chivas.
1. XOLOS XLIP AGAIN: Tijuana so dominated the Liga de Ascenso most of last season, and it added real quality with the jump to the Primera Division, so perhaps expectations for the Xoloitzcuintles' first campaign in the top division were a tad high? Too early to tell. Their early schedule certainly has done favors.