Los Angeles Soccer:

Diego Barrera
June, 14, 2012
6/14/12
10:46
PM PT
By
Scott French
| ESPNLosAngeles.com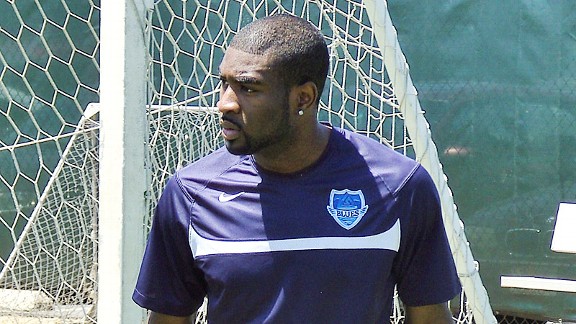 L.A. BluesBright Dike has scored twice for the Blues since arriving on loan.
The message out of Fullerton is simple: Don't overlook Dayton.

Ohio's Dutch Lions haven't won a USL Pro game this year, and they only won two of 24 last year, but the L.A. Blues are leery as they prepare for a two-game set this weekend.

"It's not going to be easy," Blues head coach Charlie Naimo told ESPN Los Angeles in advance of Friday night's 7:30 meeting at Cal State Fullerton. "The USL Pro is pretty tight this year. There are no blowouts. We've seen enough now and know [Dayton] is as good as anybody."

Dayton, it should be noted, is 0-5-5. That makes the second-year club 2-21-11 in almost a season and a half -- numbers that hardly seem frightening -- but the number combination that matters most, that demonstrates what the Lions can do, is 2-1: the score in their U.S. Open Cup upset at Major League Soccer's Columbus Crew.

The Dutch Lions are 3-0 in the Open Cup and set for a quarterfinal showdown June 26 at Sporting Kansas City. They're 3-1-2 in all competitions over the past 3½ weeks -- the lone loss by a goal to second-place Charleston -- after halting the Rochester Rhinos' string of shutout victories with a 1-1 draw nearly a month ago.

The Blues (3-3-2), who are returning to action after a three-week break, won the season's first meeting May 11, a 1-0 decision in Ohio, and Dayton had the better of play for good stretches of the action. It's a possession team with some dynamism, as the name might suggest -- rather like the Blues.

"Thinking of Dayton, the first thing that comes to mind is the Dutch philosophy of keeping possession and knocking the ball around, which is somewhat similar to ours," Blues winger George Davis IV, who played last year for Dayton, told his club's website. "That seems to have worked really well for them lately, given the run they're on with those Open Cup wins and having been so tough to beat in the league.

"When you add in the fact that they haven't won a league game, that makes them very dangerous. They have every reason to believe in themselves and at the same time are dying to get their first three points, which is a powerful combination."

Former Chivas forward Maykel Galindo will play his first match at full strength after using the break to recover from a foot injury, and Naimo is looking forward to seeing him teamed up front with Bright Dike, who has tallied twice in four games since joining the Blues on loan from MLS's Portland Timbers.


May, 29, 2012
5/29/12
2:43
PM PT
By
Scott French
| ESPNLosAngeles.com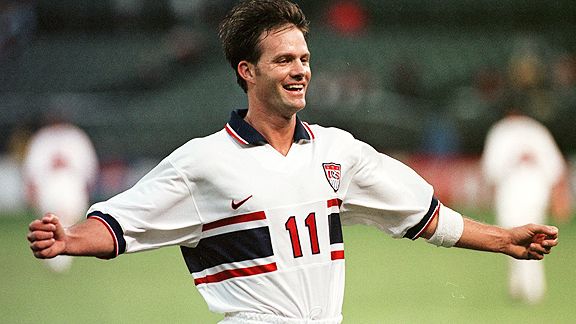 Monica M. Davey/AFP/Getty ImagesEric Wynalda back when he was scoring goals for the U.S. National Team.
Eric Wynalda, one of the finest strikers America ever produced, has built a team somewhat in his own image, and it's taking on America's soccer establishment with impressive results.

Thousand Oaks' Cal FC, a collection of misfit players with undeniable talent, have already conquered two better-fancied clubs in the 99th edition of the U.S. Open Cup, and Major League Soccer's Portland Timbers, on Wednesday night, could be next.

Wynalda, a first-ballot National Soccer Hall of Fame inductee who played in three World Cups, starred in Germany and scored the first goal in MLS history, knows that it's possible.

"We didn't enter this competition because we thought this would be fun," the former goal-getter from Westlake Village, known to a new generation of fans as an at-times acerbic commentator on Fox's soccer coverage, told ESPN Los Angeles. "We really have high hopes. We set goals, we achieve them and we re-set."

Wynalda's got, as he puts it, "a bunch of guys that everybody knows who they are." There's former UC Santa Barbara star Danny Barrera (Thousand Oaks/Westlake HS), who trialed with the Chicago Fire during MLS's preseason after a stint in Serbia. And there's Artur Aghasyan, who has played with Real Salt Lake and been on trial a couple of times with Chivas USA. And Richard Menjivar (Panorama City/Monroe HS), a Cal State Bakersfield standout who impressed with El Salvador's U-23s during CONCACAF's Olympic qualifiers.

UCLA alum Eder Arreola (Chino Hills/Chino Hills HS), who was drafted in January by the Houston Dynamo and trained with Chivas USA, is with the club. So is former Galaxy/L.A. Blues defender Mike Randolph (Chino Hills/Ayala HS) and Cesar Rivera (Pomona/Garey HS and Mt. San Antonio College), who led the Blues in scoring last year. And goalkeeper Derby Carrillo (La Mirada/St. John Bosco HS and Cal State Dominguez Hills), whom El Salvador's national team has targeted.

And hopefuls such as Danny's brother, Diego (Thousand Oaks HS/Loyola Marymount), former U.S. youth national-teamer Pablo Cruz (Azusa), defenders Hector Espinoza (Garden Grove/Santiago HS and Santa Ana College) and Beto Navarro, and others.

They're all good players who have been overlooked or dismissed or something, and Wynalda's goal is to showcase their talents and help them find paths to the professional careers he thinks they deserve.

That's the whole point of Cal FC, which grew out of Wynalda's experiences the past couple of years working with Mexican third-tier club Murcielagos, which employed for a time current Chivas USA forward Cesar Romero.

"I think the one thing I could say," Wynalda said, "is I have a very high opinion of some of these guys, but I'm the minority when it comes to that. People just aren't seeing what I see."


May, 22, 2012
5/22/12
10:39
PM PT
By
Scott French
| ESPNLosAngeles.com
Eric Wynalda put together a team with a simple, perhaps unachievable goal: win the U.S. Open Cup.
Thousand Oaks' Cal FC took another step toward that Tuesday night, routing USL Pro side Wilmington Hammerheads, 4-0, in North Carolina to advance to the third round of the nation's oldest soccer competition, in which it will face Major League opposition.
Danny Barrera
scored twice from assists by his brother,
Diego
, and the U.S. Adult Soccer Association side earned a date next week with the Portland Timbers.
Wynalda, an American soccer legend and first-ballot National Soccer Hall of Famer from Westlake Village, was on hand to guide Cal FC after missing last week's first-round win over Premier Development League champion Kitsap Pumas while he was in Munich preparing for Fox's coverage of the UEFA Champions League final. Wynalda is a studio analyst on Fox soccer broadcasts.
"Tonight was a good demonstration of what the guys are capable of, at times good and bad," Wynalda told the Wilmington (N.C.) StarNews. "All in all, I'm very happy with them. I think they've come together remarkably, in a very short span of time."
The Barrera brothers hooked up in the 25th and 57th minutes, the first on a corner kick. Former Real Salt Lake forward
Artur Aghasyan
made it 2-0 in the 35th and
Pedro Ferreira-Mendes
added another on a 79th-minute free kick.
The game in Portland will be played next Wednesday.
In the other East Coast game involving a local team:
Carolina RailHawks 6, PSA Elite (Irvine) 0:
The Galaxy is headed to North Carolina after the RailHawks, from the second-tier North American Soccer League, crushed the USASA Region IV champs in Cary, N.C. Carolina will be home for next Tuesday's third-round clash against the reigning MLS champion.
Brian Shriver
scored a club-record six goals, with a first-half hat trick, to lead the Railhawks.
Zack Schilawski
and
Amir Lowery
also tallied for Carolina.