Los Angeles Soccer:

Dustin McCarty
February, 13, 2012
2/13/12
9:39
PM PT
By
Scott French
| ESPNLosAngeles.com
The Galaxy made their first cuts of preseason Monday, releasing second-year defenders Ryan Thomas and Dustin McCarty and dropping supplemental draft Stephen Posa from camp.
Thomas, out of Stanford, and McCarty, from North Carolina, were supplemental picks in 2011. They were the least-used rookies last year and faced an uphill fight to make this year's roster, with head coach
Bruce Arena
bulking his list to 37 players, including non-contracted invitees, with room for no more than 30 as of March 1.
Thomas (Claremont/Claremont HS), a left back who played on the left side of midfield in two game appearances this preseason, saw action in one Major League Soccer match as a rookie, playing the final 13 minutes in L.A.'s loss at Houston in the Oct. 23 regular-season finale. He also appeared in friendlies against Real Madrid and the Philippines' national team and scored a goal with an assist in eight MLS Reserve League starts.
McCarty, the younger brother of New York Red Bulls midfielder (and sometimes-U.S. national-teamer)
Dax McCarty
, played in friendlies against Manchester City and the Philippines and in eight MLS Reserve League matches. He had played in two of the Galaxy's three preseason games after dealing with a hamstring injury at the start of camp.
Posa lost a numbers battle in an increasingly deep and dynamic Galaxy attack. The returns of forward Edson Buddle and midfielder Juninho and acquisition of midfielder Kyle Nakazawa, all in the past two weeks, left no room for the San Diego State product. Posa was energetic (and won a penalty kick) in two preseason-game appearances.
October, 23, 2011
10/23/11
10:35
PM PT
By
Scott French
| ESPNLosAngeles.com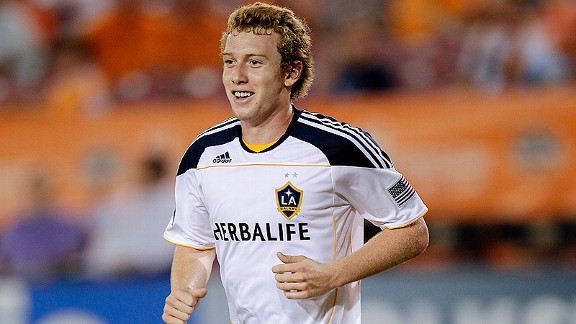 Bob Levey/Getty ImagesJack McBean, 16, is all smiles after scoring his first goal in his MLS debut for the Galaxy.

HOUSTON -- The game had long been over, since Bobby Boswell's shot inside the right post less than three minutes into the second half provided the dominant Houston Dynamo a two-goal cushion, but the Galaxy found something to like -- to really, really like -- near the finish of a 3-1 defeat in their regular-season finale Sunday night.

Rookie forward Jack McBean, a 16-year-old high school junior making his first Major League Soccer appearance -- in the starting XI, no less -- took a square ball from Chad Barrett, following Michael Stephens' through ball, with a virtually open net staring him down.

He took a touch, lined up, and fired into the net.

There are a lot more goals due from the teen sensation from Newport Beach, but most of them are still a few years off. This one wasn't beautiful and it meant nothing in terms of the result, but McBean is going to remember this night the rest of his life. So might his teammates.

McBean's strike in the 88th minute was the most visible reward for L.A. (19-5-10) in a match that mattered little but offered a big opportunity to rest key players in advance of next weekend's playoff opener and give some youngsters some first-team action.

Gregg Berhalter called it "something special" and said everyone was "ecstatic on the bench," and fellow rookie Dan Keat, a midfielder who was impressive in his first MLS start, agreed.

"It's fantastic," Keat said. "He's a great kid, and he's worked hard since he's come in. Seeing him play in his first game and getting a goal, it's great for him. And, hopefully, he keeps pushing on from here and uses it as a building block for a long career."

McBean, of course, was thrilled.

"I took that touch, which if I'd missed it, it could have been not the best decision, but, thankfully, it went in," he said. "I was happy to score, but bittersweet because we didn't get the win."

McBean has played in MLS Reserve League games and for the Galaxy's Academy sides, and he said playing at the league's top level was "obviously a lot different from the level I'm used to playing in. The atmosphere, the players, everything was a lot more intense, a lot more physical play. It's going to take me awhile to get used to, but to get out there was a lot of fun."


July, 31, 2011
7/31/11
7:55
PM PT
By
Scott French
| ESPNLosAngeles.com
VANCOUVER, British Columbia -- Let's be clear about this up front: The Galaxy wants to win its games in Major League Soccer's Reserve League.
That it has done so just once in seven outings isn't a problem.
Victory No. 2 probably should have arrived Sunday, when the Galaxy let a two-goal advantage disappear in a draw with the Vancouver Whitecaps.
Curt Onalfo
, L.A.'s reserve-team coach, liked enough of what he saw to consider that a positive result.
"There's a lot of things you're accomplishing with the Reserve League," Onalfo said after the 2-2 draw at Empire Field. "Obviously, any time you step on the field, you want to win. Today's we're disappointed we didn't get three points, because we had a two-goal lead, and we had a chance to bury it, to make it 3-1 or 3-0, for that matter."
That, he says, is "the learning process," which might be the most important of the three primary aims of Reserve League play: developing the younger talent on the roster.
"It's better it happens in reserve games," Onalfo said, "so when you're ready for the first team, you're honed and polished."
The Galaxy (1-5-1) got the opportunity to hone several youngsters, starting a backline with three of the four slots occupied by rookies (
Dan Keat
and
Dustin McCarty
in the middle and
Ryan Thomas
on the left), getting a very good showing from rookie midfielder
Hector Jimenez
and giving two Academy kids -- one a new arrival from Mission Viejo-based Pateadores' U.S. Development Academy championship squad -- a little action against real pros.
They also saw trialist
Paulinho Le Petit
in a game situaton, and he wasn't bad, scoring the first goal, in the 31st minute, and coming close to netting another.
"He's a solid player," Onalfo said. "Strong physically, good in the air. Good technique. Solid player."
Jimenez, the Bell Gardens product out of Cal, was superb while playing in central midfield for the first time with the Galaxy and scored the second goal, from
Jack McBean
's feed, six minutes into the second half.
Long Tan
scored both goals for the Whitecaps (0-3-2), in the 60th and 71st minutes, and
Nizar Khalfan
nearly got a 90th-minute winner, forcing a diving save from second-year goalkeeper
Brian Perk
.
June, 20, 2011
6/20/11
5:43
PM PT
By
Scott French
| ESPNLosAngeles.com
It's been a difficult campaign for veteran defender Gregg Berhalter, who sees his playing career nearing its end and wishes he could spend more of the remaining time on the field rather than the trainer's room.
The center back, who will be 38 in August, missed the second half of preseason and most of the first three months with a knee injury and didn't make play in a league game until the final minutes of the Galaxy's victory Saturday night at Colorado.
On Monday, he saw 90 minutes for the third successive MLS Reserve League game and, even better, scored the first goal in a 2-1 triumph over the Vancouver Whitecaps on L.A.'s training field outside Home Depot Center's main stadium, volleying home
Paolo Cardozo
's 27th-minute feed.
"It's been very disappointing [this year]," Berhalter said afterward. "The knee injury took a lot longer than I thought. The preseason was going great, and it's part of it. At some point, you think, listen, you're getting toward the end and you want it to go like a storybook, you know? But it's not always going to happen. You have to deal with what's given to you, and that's what I'm doing right now."
Berhalter has been a major contributor to the Galaxy since signing with MLS in 2009 following 15 seasons in Holland, England and Germany. But he was sidelined with an unexplained injury or virus last August and saw only incremental action at the end of the regular season and in the MLS playoffs.
He was added to
Bruce Arena
's coaching staff during the offseason, so he's had had plenty of work to do while rehabbing his knee and preparing to step in when called upon.
"That's been the positive side, that I was still able to help the team in a certain way, so I'm thankful for that," he said. "But personally, not being on the field, I've thought about that. I played my first 10 minutes in 18 games [on Saturday]. It's disappointing for me, personally, but you still try to stay positive and work hard, and hopefully things will come."
April, 24, 2011
4/24/11
8:42
PM PT
By
Scott French
| ESPNLosAngeles.com
The Galaxy's dominance of the Portland Timbers extended into Sunday afternoon's MLS Reserve League meeting, but it lasted less than a half-hour.
Once
Michael Stephens
, the most influential player to begin the match, was sent off for a last-man foul in the 28th minute, the Timbers found their legs, started linking passes and took advantage of their opportunities for a 3-1 victory in a league opener at Home Depot Center's Track and Field Stadium.
Rookie forward
Spencer Thompson
, out of UC Irvine, scored two of the Timbers' goals, and former Santa Barbara High School standout
Rodrigo Lopez
assisted a pair.
Jovan Kirovski
, the Galaxy captain, slotted into central defense, his "first real game" he's played at the position.
"I think I can play there," he said. "We're short on central defenders, and I can do the job there. So it's fun. I had fun playing there."
Both teams used experienced lineups, each with at least a half-dozen players who wouldn't look out of place in the first teams. Included: Galaxy Designated Player
Juan Pablo Angel
, who faded after an energetic first 25 minutes and departed at halftime.
SEEING RED:
Stephens, teamed with
Paolo Cardozo
in central midfield, was outstanding both ways and provided a foundation to the Galaxy's possession game. Until he was red-carded, for dragging down
Ryan Pore
just outside L.A.'s box while trying to make up for a give-away, the game had been played overwhelmingly between the midfield line and Portland's box.
February, 15, 2011
2/15/11
6:47
AM PT
By
Scott French
| ESPNLosAngeles.com
The Galaxy left L.A. for Arizona on Sunday. When they return next week, they hope to be a different team.
A 10-day camp in Tempe will include three games against Major League Soccer opposition, advanced training sessions and a lot of get-to-know-you time for a team that's blending club veterans with rookies and new arrivals, and there are plenty of both.
"They're around each other all day, so they get to know each other a little bit better, build a little bit of a team spirit," coach
Bruce Arena
said before departure. "In all honesty, that's what [Arizona] is."
They're hardly the only team that thinks so. A dozen clubs will spent time in Arizona during the preseason, including eight of nine from the Western Conference. Six are currently training there.
Among them: Chivas USA, which is working out in Casa Grande, between Phoenix and Tucson. It's assistant coach
Greg Vanney
's old digs -- he ran the soccer operations, and Real Salt Lake's Arizona academy, at Grande Sports World before joining the Goats -- but that's not the only lure. Six clubs are using the 45-acre, six-field complex that's adjacent, niftily, to a golf resort.
The work is serious. This is where L.A. will begin in earnest its tactical preparation for the upcoming season while moving well beyond the basic ball work that has dominated early training sessions.
"I think we want to make a little bit more progress in Arizona than we [have] in the first couple of weeks [at Home Depot Center]," said Arena, whose team will play at Seattle in the March 15 league opener. "That's the time to take a step forward, and then, obviously, when we come back from Arizona, we have three weeks to get ready for the opening game."
Said defender/assistant coach
Gregg Berhalter
: "The first week is fitness, then it's ballwork, then it's focusing on getting the first part of the game. And I think the Phoenix part is going to be concentrating on looking at some more of the details."
GAMES IN PHOENIX:
The Galaxy is training at Arizona State's soccer stadium -- all sessions are closed to spectators -- and have games scheduled there Wednesday against Colorado and Sunday against Vancouver. L.A. and Vancouver will meet again next Tuesday at the 18-field Reach 11 Sports Complex in Phoenix.
January, 18, 2011
1/18/11
3:31
PM PT
By
Scott French
| ESPNLosAngeles.com
The Galaxy built some lower-roster depth, Chivas USA picked up two prospects who lasted longer than expected, and UC Irvine sent three players in Major League Soccer during the league's
Supplemental Draft
held Tuesday.
UC Santa Barbara defender
Michael Boxall
-- initially considered a potential first-rounder in last week's SuperDraft, but his stock dropped after a poor combine (and because, as a New Zealander, he counts as a foreign player -- was the top pick in Tuesday's proceedings, going to Vancouver.

UC Irvine forward
Spencer Thompson
went to Portland with the No. 2 pick, forward
Amani Walker
joined Chicago with the ninth selection, and midfielder/defender
Corey Attaway
(Chino/Chino Hills HS) was taken by Seattle during the second round.
Stanford's
Ryan Thomas
(Claremont/Claremont HS) was selected with the second of the Galaxy's two first-round picks.
"I was watching the draft online and it was a shock to me to be picked by the Galaxy," Thomas told Stanford's website. "I grew up in L.A. and would go to watch the Galaxy games at the Rose Bowl, and now I am going to get to play on that field."
The Galaxy, of course, moved from the Rose Bowl to the Home Depot Center in 2003, but it still plays the occasional friendly in Pasadena.
Loyola Marymount midfielder
Rafael Baca
(Lawndale/Animo Leadership HS) wasn't selected and is available to attend any MLS camp as a free agent.
The supplemental's three rounds effectively were rounds 4, 5 and 6 from Tuesday's draft, and most teams used their selections for prospects who will be needed with restoration of the reserve league.
GALAXY
L.A.'s picks:
DANIEL KEAT:
New Zealand national-teamer, a four-time All-Ivy League pick and an All-American as a junior, was a savvy, aggressive central midfielder at Dartmouth who might be better suited to wing play in MLS.