Los Angeles Soccer:

Earl Edwards
May, 29, 2012
5/29/12
11:56
PM PT
By
Scott French
| ESPNLosAngeles.com
VENTURA -- The way its Major League Soccer brethren were dropping games left and right, Chivas USA couldn't be too disappointed after capturing its U.S. Open Cup opener Tuesday night, even if the performance left plenty to be desired.
The Goats got an early goal, from
Cesar Romero
, and withstood heavy pressure at times to pull out a 1-0 victory over the Ventura County Fusion and advance to a fourth-round meeting next week in North Carolina.
The Fusion, an amateur powerhouse from the Premier Development League -- and featuring former Chivas midfielder
Rodrigo Lopez
and two players, Kennedy Chongo and Daniel Steres, who were with the Goats during preseason -- were the better side much of the night but couldn't beat
Tim Melia
, the No. 2 goalkeeper, despite creating more opportunities than Chivas.
"In a single-elimination tournament, the most important thing is to win, and these games are tough," Goats coach
Robin Fraser
said. "The 'underdog' really treats it like it's a huge game, and certainly we need to as well, but as you can tell by tonight with seven teams losing in the MLS, these are difficult games.
"So to come out and win and move onto the next round is the most important thing."
An expected SuperClasico showdown with the
Galaxy was dead
before kickoff -- L.A. was one of seven MLS clubs to lose against lower-division competition -- so Chivas has a date next Tuesday in Cary, N.C., with the Carolina RailHawks.
"[Playing the Galaxy] is what we expected," said Chivas winger
Ryan Smith
, an Englishman, "but this is like the F.A. Cup back home. You don't know who's going to win because it's who turns up on the day. I'm glad L.A. are out."
Chivas managed only a couple of chances and tested Ventura's goalkeeper, UCLA's
Earl Edwards
, only once, on Romero's 13th-minute goal. He took a through ball from
Juan Agudelo
, and his low shot nutmegged Edwards from right of the net.
It was Romero's first goal for Chivas' first team, but his 12th in all for Chivas, including preseason, MLS Reserve League and reserve friendlies.
"I've been knocking on the door [of the first team]," said Romero, who has played sparingly the past six week. "Every day is a new day for me, and every day I train and work hard for the main goal which is to start on the first team."
May, 22, 2012
5/22/12
10:45
PM PT
By
Scott French
| ESPNLosAngeles.com
FULLERTON -- Might there be no better soccer team in the country from the 91st minute on than the Ventura County Fusion?

After scoring four goals in overtime to win their U.S. Open Cup opener last week over the Fullerton Rangers, the Premier Development League powerhouse netted two on Tuesday, dispensing with the L.A. Blues in a second-round clash.

Francisco Lopez scored his second goal of the game in the 107th minute -- 17 minutes into the extra period -- and Travis Bowen, Chivas USA forward Tristan Bowen's brother, added another with four minutes to go, and the Fusion stunned the USL Pro club, 3-1, before a sparse crowd at Fullerton College's Sherbeck Field.

Their reward: a third-round showdown next Tuesday night against Chivas USA at Ventura College, pending expected U.S. Soccer approval of the site.

Francisco Lopez converted an extremely iffy penalty kick to force overtime, and UCLA goalkeeper Earl Edwards made a save on Allan Russell's penalty kick for a Blues win in the 85th minute, but there was no doubt which side was more deserving.

With Rodrigo Lopez, a former Chivas USA and the Portland Timbers midfield, running the field, the Fusion absorbed heavy early pressure, gave up an own goal after just 13 minutes, and spent the rest of the game outbattling the Blues all over the field.

"And now we have a home game against Chivas, which we really relish," said Fusion head coach Ole Mikkelsen, who watched the final 23 minutes of overtime from just outside Ventura County's locker room after he was sent off for angrily protesting a call. "I have to say, I thought we were [the better team]. We came out slow, which is to be expected: They're a pro team, they play together every day, they're more comfortable with each other.

"Unfortunately, a miscommunication led to that own goal -- those things happen. It could have buried us, but we kept battling, we added some rhythm, and as soon as we got that first goal, I knew that we were in it, and I knew we had a chance to take it from them."


December, 24, 2010
12/24/10
4:00
PM PT
By
Scott French
| ESPNLosAngeles.com
Our countdown of 2010's top 10 soccer stories and newsmakers -- from a Southern California slant -- continues.
Stories/No. 8: UCLA's fabulous freshmen
It was an odd (and some might say off) year for college soccer in the Southland:
UCLA's women didn't come close to an eighth straight trip to the NCAA College Cup final four (USC's disappointed, too)
UC Santa Barbara's men never got a chance to try to win a championship at home (deserving Akron celebrated on the Gauchos' field)
UC Irvine's stirring fall finished just short (what a run by the Anteaters' women) and with a stunning snub (how did their men, top 10 all year, not get an NCAA Tournament bid?)
Let's not even mention the lower divisions, Azusa Pacific's women (NAIA semifinalists) aside.
The best team in these parts, and that wasn't clear until season's end, was UCLA's men, who needed nearly half the season to figure things out, then came up just shy of the program's 13th final-four appearance.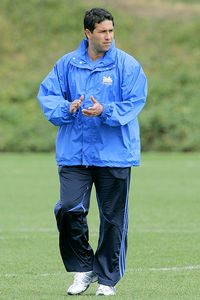 Courtesy of UCLA Athletics
UCLA coach Jorge Salcedo has one of the most talented collection of young players in the nation.

No surprise they needed time to find their feet: The Bruins had the finest collection of freshmen in the country, and their sophomores were pretty good, too. They might be the NCAA's No. 1 team when the season opens next fall, but their window for winning a title ought to be short: The players Bruins coach (and former Galaxy and UCLA midfielder)
Jorge Salcedo
brings to Westwood are so good, they rarely last more than a couple of years before going pro.
And this year's youngsters might be the Bruins' best. Included were an All-American midfielder (
Kellyn Rowe
), a forward who turned down pro offers to come to UCLA (Fontana's
Victor Chavez
) and another forward coveted by top programs everywhere (Newport Beach's
Reed Williams
). Two top defenders (Dove Canyon's
Joe Sofia
and Laguna Niguel's
Patrick Matchett
) sneaked in under the radar. And maybe the best of the lot (goalkeeper
Earl Edwards
) saw no action, sitting behind a top veteran (junior
Brian Rowe
).
Seven freshmen played considerably and the class accounted for most of the goals (23 of 40, with Chavez's 10 tops on the team) and assists (27 of 52, with Rowe's 10 tops on the team).
UCLA went 16-5-1, absorbing a big loss early (5-1 to Indiana) and another defeat in front of the biggest crowd ever to watch a soccer game at a university field (2-0 to UC Santa Barbara in front of 15,896), then taking off on a 14-2 spree into the NCAA quarterfinals. They held two two-goal leads before succumbing, 5-4, to No. 1 Louisville in the snow.