Los Angeles Soccer:

Edgar Benitez
December, 24, 2011
12/24/11
8:21
PM PT
By
Scott French
| ESPNLosAngeles.com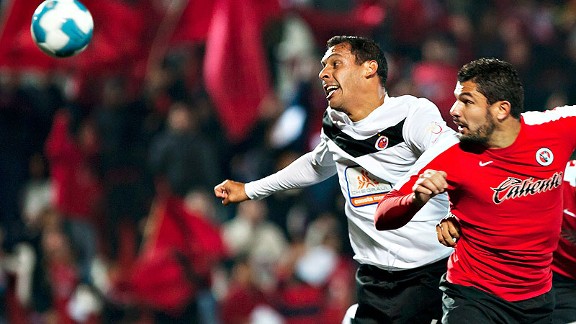 Club Tijuana Xoloitzcuintles de Caliente Captain Javier Gandolfi, right, anchors the Xolos' backline.
Counting down the 11 biggest 2011 stories in Southern California soccer ...

Fans of the Mexican Primera Division have always been in fairly decent shape around these parts. We get every single game on television, which ought to sate the throngs of Chivas, America, Pumas, Morelia, Santos and Cruz Azul fans roaming in and around L.A.

Want to see a genuine top-tier Mexican game in person? You were out of luck without a flight or long, long, long drive south, at least until this past summer, when Club Tijuana made its Primera Division debut.

The Xoloitzcuintles (a Mexican hairless dog), owned by Baja political/business maestro Jorge Hank's family, have in five years evolved from the ruins of so many failed lower-division Tijuana clubs into a cause célèbre in Mexico's third-largest city, a point of civic pride and a conduit that connects this metropolis of 1.5 million with the rest of its country -- and increasingly with legions of soccer fans north of the border.

Tijuana followed last December's triumph in the second-tier Liga de Ascenso's Apertura (or autumn) championship with a run to the Clausura (spring) final. After losing in that series to Irapuato, the Xolos won another, triumphing in the playoff between the two champs to grab one of the 18 slots in the top division -- the premier league, no question, in CONCACAF.

Already, they've welcomed Guadalajara, Morelia, Pachuca and Tigres to Estadio Caliente. The Clausura kicks off Jan. 6, and Monterrey and Santos visit next month, Cruz Azul in February, and America in March.

They take them on with a fine side led by Brazilian-born midfielder Leandro Augusto, former Mexican national-teamer Fernando Arce, Argentine captain Javier Gandolfi, and Colombian forwards Dayro Moreno and Duvier Riascos. Three Americans, all with Mexican ancestry, also are in the first team: San Diego's Joe Corona and newcomers Edgar Benitez, from New Mexico, and Texan Greg Garza.

The primary goal is survival. One team is relegated to the Liga de Ascenso at the end of each Clausura, and it's all based on points per games over three years (six Apertura and Clausura campaigns). Tijuana went 3-5-9 and finished 15th in its first Primera League season, a roller-coaster affair in which it needed seven home games to win in front of its frenzied fans but went unbeaten in the final eight games after Antonio Mohamed's midseason appointment as head coach.

Only three teams lost fewer games -- first-place Guadalajara, regular-season runner-up Cruz Azul, and third-place UANL Tigres, who went on to win the championship -- but only last-place Atlas won less, and the Xolos sit 16th on the "percentage" table, tied with Atlas and just a fraction ahead of Estudiantes Tecos. They need to stockpile points to remain in the top tier.

That's essential. The club has big plans. It has been slowly expanding and upgrading Estadio Caliente, which is adjacent to Hank's massive Caliente casino in Tijuana, with plans to boost capacity from about 20,000 -- with every seat typically filled -- to at least 33,000.

The club is building an academy program, and it is extending its reach beyond Baja, beyond San Diego and into Orange County and Los Angeles. The Xolos are looking to compete with the Galaxy and Chivas USA for the best talent in the region -- and for fans. The push could immeasurably alter the soccer landscape around here.
July, 25, 2011
7/25/11
10:43
PM PT
By
Scott French
| ESPNLosAngeles.com
Baja futbol fans enjoyed a historic couple of hours Saturday night at Estadio Caliente: The debut of top-flight soccer in Mexico's forgotten metropolis.
Tijuana, the country's third-largest city (with 1.65 million residents, in the 2010 census), has resided outside Mexico's sporting consciousness, all because it has lacked a Primera Division soccer team -- or the deep pockets willing to spend what's necessary to play with the big boys.
Enter
Jorge Hank
, the controversial former Tijuana mayor and self-proclaimed billionaire, who in 2007 formed Club Tijuana, which became more than successor to a lengthy line of lower-division failures. The goal, professed from the start, was to play in the top league, and it happened Saturday night, when the newly promotos Xoloitzcuintles debuted in an Apertura opener against Morelia, the runner-up in last spring's Clausura tournament.
A full, festive crowd at Caliente, a short drive south of the border, watched their heroes go down, 2-1, on a late, questionable penalty kick.
San Diego's
Joe Corona
scored the Xolos' goal with a rebound, and good thing. Of three attackers near the ricocheting ball, Corona was the only one clearly onside.
Joao Rojas
drew the penalty kick in the 81st minute, clipped from behind by Tijuana backline leader
Javier Gandolfi
-- or so it looked. Replays indicated Gandolfi expertly twisted around Rojas and poked the ball away before there was contact.
Miguel Sabah
was precise from the spot, and the Monarcas spoiled the party, but the Xolos' supporters saw something they hadn't in more than a year: a home defeat.
1. PA-CHOKE-A
Pachuca is the popular pick to zoom back into the title-game picture and steal the prize, product of nice makeover that has Tuzos fans thinking about an 11th major trophy (a sixth league title, to go with five CONCACAF Champions League and a Copa Sudamericana triumph) since 1999.
January, 11, 2011
1/11/11
11:59
AM PT
By
Scott French
| ESPNLosAngeles.com
Atlas, the worst team in the fall, opened the second half of the Mexican Primera Division season with a stunning romp that underscores coach Benjamin Galindo's savvy eye for talent.
The Guadalajara-based club, which made several major additions to its roster during the winter break, opened the spring Clausura on Saturday with a 5-0 domination of visiting Morelia.
Gerardo Espinoza
matched his Apertura goals total, scoring twice, to lead the Zorros. Former Chicago Fire defender
Wilman Conde
scored in his Mexican League debut, and 19-year-old
Christian Diaz
(in his first top-tier game in more than a year) and
Daniel Osorno
(with his first of the season) also tallied.
"I congratulated the guys in the locker room because [there was] not a single player who did not have a good performance. It speaks well of the commitment that exists with the team," Galindo told reporters afterward.
"It's a good win which gives us confidence, but that's all. What we have to do is keep working with the same commitment that we had during the preseason."
Atlas went through three coaches in a 3-10-4 fall campaign, but Galindo, a former Mexican national-teamer, went shopping in four countries to strengthen the club. Conde, Brazilian midfielder
Lucio Flavio
(from Botafogo) and midfielder
Lucas Ayala
(from UANL Tigres) contributed to the win Saturday.
BIG BOYS BEATEN:
America got robbed. Monterrey got jobbed.
America, a sure title contender, saw two perfectly good goals erased on mistaken offside calls in a 2-0 home loss to Pachuca, which got goals midway through each half by
Yulian Anchico
and then
Edgar Benitez
.
Monterrey, which last month won the Apertura title, was outclassed at home by San Luis, also 2-0 -- with the Gladiadores' first goal, by
Osmar Mares
in the 71st minute, clearly offside.
Juan Carlos Medina
's sweet chip in stoppage, with the Rayados down a man, doubled the advantage.
November, 9, 2010
11/09/10
12:07
PM PT
By
Scott French
| ESPNLosAngeles.com
America is peaking at the best possible time. Toluca is crumbling when it counts. The impact on the Mexican Primera Division's Apertura campaign is massive.
The Aguilas clinched a berth in the eight-team playoff
Liguilla
with a 1-0 victory at Atlante, courtesy of
Matias Vuoso
's eighth goal of the season, and head into their final regular-season outing -- against Mexico City rival Pumas UNAM -- with three-game winning and six-game unbeaten streaks.
They've pulled through last month's attacking drought, in which they were shut out by first-place Cruz Azul, second-place Monterrey and archrival Guadalajara, scoring seven times in their past three games -- and that should be eight.
Pavel Pardo
converted a stoppage-time penalty kick against Atlante, but referee
Paul Delgadillo
ordered a retake for encroachment, and Potros goalkeeper
Moises Muñoz
saved Pardo's second attempt.
America, which is atop Group 2 and fourth overall, behind Santos Laguna on goal difference (plus-8 to plus-7), appears to have shored up its defensive problems, and the relationship among Vuoso, playmaker
Daniel Montenegro
and former Toluca star
Vicente Sanchez
has solidified just when it most matters.
"We're there, and we were able to get there," America coach
Manuel Lapuente
said after Saturday night's victory, according to
Reforma
. "We're playing well … we've finished the league well, although we have a game against Pumas to play, and we cannot lose at home. We're going to put a lot of effort into that game. This isn't over until it's over, and we're going to fight to climb one spot higher."