Los Angeles Soccer:

El Salvador national team
July, 2, 2011
7/02/11
8:27
PM PT
By
Scott French
| ESPNLosAngeles.com
Two international friendlies appear headed to the Southland, including a Home Depot Center appearance by the U.S. national team.
ESPN The Magazine
's
Doug McIntyre
wrote on Twitter
that the U.S. will face Costa Rica on Sept. 2 at HDC. U.S. Soccer announced Saturday
it would play Belgium
in a friendly at Brussels on Sept. 6 but did not mention a Sept. 2 game.
Meanwhile, American-born Salvadoran defender
Steve Purdy
, who plays for the Portland Timbers,
tweeted
that El Salvador will face Ivory Coast in Los Angeles -- we'd expect the Coliseum -- on Aug. 10.
Elsalvadorfc.com
, a website that covers Salvadoran soccer, also reported the game.
Expect announcements soon.
June, 19, 2011
6/19/11
9:24
PM PT
By
Scott French
| ESPNLosAngeles.com
Bob Bradley and the U.S. national team answered their critics Sunday with an exquisite performance, dominating Jamaica to set a rematch with Panama in the CONCACAF Gold Cup semifinals.
Jermaine Jones
' deflected volley at the start of the second half made the difference in the 2-0 triumph, and without the deflection -- and an unfortunate red card -- the opening quarterfinal in Washington would have gone to overtime and perhaps penalty kicks.
Galaxy goalkeeper
Donovan Ricketts
was
that
good -- easily the best player on the field, making six saves ranging from merely great to oh-my-God sensational to prevent the Yanks from ringing up an impressive scoreline.
Clint Dempsey
added a late goal, benefiting from the red card to Houston Dynamo defender
Jermaine Taylor
and the Reggae Boyz's need to push forward in search of an equalizer.
Panama, which stunned the U.S. in group play, did its part in the nightcap, winning on penalties after rallying for a 1-1 draw with El Salvador, which was supported by a vocal crowd of 45,423 at RFK Stadium in Washington.
A ninth-minute hamstring injury to
Jozy Altidore
, who was stretchered off the field with his face buried in his hands, marred a U.S. triumph that should -- but won't -- subside calls to end Bradley's tenure. The Manhattan Beach-based coach has always had his critics, but he's been particularly under fire after a disastrous showing in the pre-Gold Cup friendly with Spain was followed by poor performances against Panama and Guadeloupe.
Some of the criticism is on target. The U.S. has a knack for going behind early -- we saw it at the World Cup last year, and with better finishing Guadeloupe and Jamaica would have joined Panama with a quick lead. In a sport in which comebacks are difficult, it's a major concern, and it points to problems with preparedness.
The U.S. performance against Jamaica answers so many questions, and if it's something Bradley's boys can build upon -- if it is imbedded in the fabric of the team rather than a wonderful one-off -- it could open a path to unprecedented play and, perhaps, success.
But let's not get ahead of ourselves. As good as Jamaica has been in this Gold Cup -- watch out for the Reggae Boyz in World Cup qualifying! -- Mexico is a different animal, and El Tri won't sit back and counter, as the Jamaicans tried to do.
Play with this kind of verve, with all the possession and interchange, against Mexico -- and then against the Europeans and South America's giants -- and we might have something here.
A quick look at the 15th day in the region's nations championship:
SALUTING JONES:
Jones, the German-born and -bred son of an American serviceman, offered a Father's Day military salute after he volleyed Taylor's clearance from 25 yards to give the U.S. a 49th-minute lead.
June, 14, 2011
6/14/11
10:30
PM PT
By
Scott French
| ESPNLosAngeles.com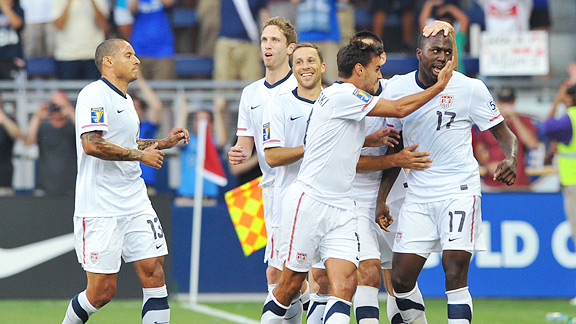 Stan Honda/AFP/Getty ImagesThe U.S celebrates Jozy Altidore's goal in a 1-0 victory Tuesday over Guadeloupe.

The follies in front of the net got worse for the U.S. national team Tuesday night, but they couldn't derail the Yanks from the business at hand: nailing down a CONCACAF Gold Cup knockout-stage berth that should have come far more easily.

Jozy Altidore's stirring strike to the upper-right corner in the ninth minute was enough for a 1-0 victory in Kansas City, Kan., that gave the Americans second place in Group C and a quarterfinal date Sunday with Jamaica in Washington.

El Salvador also got through to the quarters, qualifying when Panama rallied in stoppage time to tie Canada, 1-1, in the first game of the doubleheader. The Canucks were eliminated as all five Central American teams advanced from the group stage.

Panama's surprising victory Saturday over the U.S. had minimal impact on the bracket, merely giving the U.S. a tougher quarterfinal foe (Jamaica rather than El Salvador) but one it will be expected to defeat. Anything other than a U.S.-Mexico final on June 25 at the Rose Bowl would be a surprise, although the Jamaicans were more impressive than the Americans in group play -- and Mexico looks, frankly, unbeatable by anyone else here.

That includes the U.S., which looked far sharper while dominating Guadeloupe than it did against Panama, especially at the back, but was incomprehensibly sloppy in front of the net.

Big news off the field, too, with word that doping tests Friday at UCLA on the five suspended Mexican players all turned out negative for clenbuterol, a drug for treating respiratory diseases in horses that can build muscle. The players are requesting analysis of their "B" samples from the May 21 tests in Mexico.

A quick look at the 10th day of group play in the region's nations championship:

U.S. DOES JUST ENOUGH: Altidore offered a goal-of-the-tournament candidate (actually, a runner-up candidate; nothing will beat Mexican winger Andres Guardado's volley Sunday), but the Yanks could do little else right when they had a chance. They blew at least three sure-thing opportunities -- and those by Landon Donovan and, twice, Clint Dempsey, their surest finishers -- and were thwarted by Guadeloupe's fine goalkeeper Franck Grandel.


June, 12, 2011
6/12/11
9:59
PM PT
By
Scott French
| ESPNLosAngeles.com
None of that U.S.-style underachieving for Mexico.
Sure, El Tri are missing six players -- five of them in doping intrigue -- and Sunday's foe was one of the best they'll come up against in the CONCACAF Gold Cup, but it mattered not at all in a one-sided Group A decider.
Andres Guardado
scored two spectacular goals and the Mexicans netted three by the 26th minute en route to a 4-1 romp over Costa Rica at Soldier Field in Chicago, which nonetheless qualified for the quarterfinals by finishing second in the group.
El Salvador also won big, demolishing Cuba, 6-1, with a series of superb goals to position itself for one of the at-large berths into the tournament's knockout stage.
A quick look at the eighth day of group play in the region's nations championship:
MASTERFUL MEXICO:
El Tri hasn't been slowed by its troubles, looking unbeatable while routing all three Group A foes. Sunday's victory was the most impressive, given the quality of the opposition and their overwhelming dominance in building a 4-0 first-half advantage.
All four goals were outstanding, with
Rafa Marquez
's powerful 17th-minute header from
Pablo Barrera
's corner kick and Barrera's fine finish from a nifty give-and-go with
Carlos Salcido
in the 38th sandwiching Guardado's wonder strikes.
June, 9, 2011
6/09/11
10:03
PM PT
By
Scott French
| ESPNLosAngeles.com
Mexico came in short-handed, but it made little impact in El Tri's second game in the CONCACAF Gold Cup, a 5-0 dismantling of Cuba on Thursday night in Charlotte, N.C., that sent them through to the quarterfinals -- as if that were ever in doubt -- and left them on the verge of the Group A title.
Five players, including starting goalkeeper
Guillermo "Memo" Ochoa
and defender
Francisco Javier Rodriguez
, were dropped from Mexico's squad
after testing positive for a performance-enhancing substance
, but
Javier "Chicharito" Hernandez
and
Giovani Dos Santos
scored two goals apiece to lead its second successive five-goal romp.
Costa Rica needed a last-second goal from
Randall Brenes
to draw, 1-1, with El Salvador in the first game of a doubleheader that drew 46,000-plus to Bank of America Stadium.
DRUG CHEATS?:
A Mexican federation official said it was likely Ochoa, Rodriguez and three other players -- defender
Edgar Dueñas
and midfielders
Christian "Hobbit" Bermudez
and
Antonio "Zinha" Naelson
-- ingested tainted chicken or beef before testing positive for the banned anabolic agent clenbuterol.
All five were dropped from the team, pending an investigation, with
Alfredo Talavera
stepping into the nets for Ochoa and captain
Rafa Marquez
returning to the starting XI in place of Rodriguez.
June, 5, 2011
6/05/11
9:46
PM PT
By
Scott French
| ESPNLosAngeles.com
Group A favorites Mexico and Costa Rica were big winners in Texas tournament openers as day one of the CONCACAF Gold Cup failed to provide much in the way of competition.
Both romped to 5-0 victories Sunday in front of 80,000-plus at Cowboys Stadium in Arlington, Texas, to take command of the group, setting up already a June 12 showdown in the group finale in Chicago.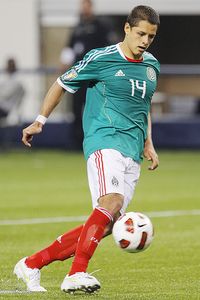 AP Photo/Brandon WadeMexico's attacker Javier Hernandez shoots a penalty kick against El Salvador's Goalkeeper Miguel Montes, during the second half of the CONCACAF Gold Cup soccer match against El Salvador.

A quick look at the first day of group play in the region's nations championship:

CHICHA-GOL-GOL-GOL: Javier "Chicharito" Hernandez capped Mexico's 5-0 drilling of El Salvador with a hat trick -- his 15th, 16th and 17th international goals, in just 24 appearances -- but things were far tighter than that suggests.

El Tri didn't score until a fortunate bounce off Efrain Juarez provided a 55th-minute lead, and they netted three more in the next 12 minutes.

Worth noting: Aldo de Nigris tallied less than a minute after coming on as a second-half substitute, and Hernandez wrapped his trio with a penalty kick deep in stoppage after El Salvador's Marvin Gonzalez was red-carded for bowling him over.

TICOS TOO FAST: Costa Rica's 5-0 rout of Cuba was even more emphatic, with the Ticos repeatedly sprinting past the islanders' backline and making the runs count.

All five goals came on quick counterattacks, the last four from through balls or passes over the top that left, in order, Real Salt Lake's Alvaro Saborio, Marcos Ureña (with his second of the evening), Heiner Mora and Mora again one-on-one with Cuban goalkeeper Odelin Molina.

The finale was the goal of the night, with Joel Campbell smashing Mora's cross first-time from an abrupt angle into the top corner at the far post.

DAY 2 HIGHLIGHT: Jamaica and Honduras both have designs on semifinal berths or better. Expect them to impress like Mexico and Costa Rica, be disappointed if they don't.
SUNDAY
Group A (at Cowboys Stadium, Arlington, Texas)
Costa Rica 5 (Ureña 9, 46, Saborio 41, Mora 47, Campbell 71), Cuba 0
Mexico 5 (Juarez 55, de Nigris 58, J. Hernandez 60, 67, pen. 93+)
Att: 80,108
MONDAY
Group B (at Home Depot Center, Carson)

Jamaica vs. Grenada, 6 p.m.
TV:
Galavision
Honduras vs. Guatemala, 8 p.m.
TV:
TeleFutura (KFTR/Channel 46)
TUESDAY
Group C (at Ford Field, Detroit)

Panama vs. Guadeloupe, 3 p.m.
TV:
Galavision
United States vs. Canada, 5 p.m.
TV:
Fox Soccer Channel and TeleFutura (KFTR/Channel 46)