Los Angeles Soccer:

Eric Brunner
August, 24, 2011
8/24/11
11:25
PM PT
By
Scott French
| ESPNLosAngeles.com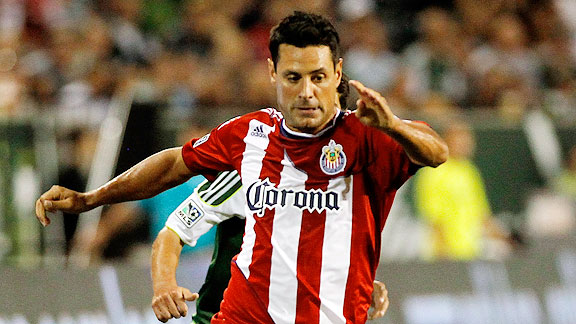 Jonathan Ferrey/Getty ImagesChivas USA's Ante Jazic gets in front of Portland's Sal Zizzo as they battle for the ball in Wednesday's game.
As far as Chivas USA has progressed in its first season under
Robin Fraser
, and as impressive as the Goats often have been -- especially when they get their possession game going -- Wednesday's loss exposed an ugly truth.
After 26 games, Chivas sits behind the Portland Timbers, whose first season in Major League Soccer has perhaps too often been characterized as farce.
The Timbers (9-12-5, 32 points) looked very serious in completing a home sweep of the L.A. clubs, using
Eric Brunner
's header from a corner kick at the end of the first half to pull out a 1-0 triumph, their third successive home victory, before the usual crazies at sold-out Jeld-Wen Field.
Portland vaulted past Chivas (7-9-10, 31 points) into sixth place in the Western Conference and into 11th in the overall standings, just outside the playoff zone, with eight games to go. There's a battle among eight clubs, all within five points, for sixth through 13th places.
Chivas started slowly again, as in Seattle and Colorado, with Portland having all of the ball most of the first half. If not for goalkeeper
Dan Kennedy
's usual heroics, the Goats would have been behind early and out of the game by halftime.
Instead, they nearly made it to halftime even -- until Brunner deposited
Mike Chabala
's cross inside the far post from a 44th-minute corner kick.
By then, Fraser had already burned two of his three substitutions --
Michael Lahoud
and
Paulo Nagamura
had to leave with injuries -- and he used his last one to bring on
Justin Braun
in the 60th minute. His energy sparked Chivas' attack, and the Goats dictated play most of the rest of the way, nearly pulling even on three occasions:
August, 4, 2011
8/04/11
12:14
AM PT
By
Scott French
| ESPNLosAngeles.com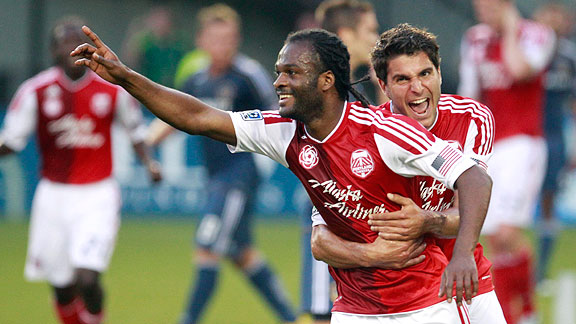 AP Photo/Rick BowmerTimbers forward Jorge Perlaza celebrates with teammate Sal Zizzo, right, after scoring during the first half of their game with the Galaxy.
PORTLAND, Ore. -- The Galaxy faces FC Dallas on Saturday in a showdown between Major League Soccer's two best teams, and good thing: They want to put Wednesday night behind them as quickly as they can.
L.A. was beaten every which way possible in its first visit to the Rose City, a 3-0 romp by the Timbers -- a loss far more one-sided than that score might suggest -- halting a 14-game unbeaten streak that's been going since a May 1 defeat at Dallas.
It might have been the Galaxy's worst performance of the season, and it was surely the lowly Timbers' best. Fine goals by
Mike Chabala
and
Jorge Perlaza
gave Portland control before halftime, and L.A.'s second-half adjustments didn't make a whole lot of difference.
Eric Brunner
's header, after he beat
Sean Franklin
to
Sal Zizzo
's corner kick in the 68th minute, ended all doubt.
The Galaxy (12-3-9) were beaten to nearly every ball, were overrun everywhere on the field, and the one number that speaks loudest is this one: Zero, as in how many shots they managed in the first half.
"I'm surprised in the way we played," said
David Beckham
, who delivered a few nice crosses that failed to connect. "We're not a team that usually gets outworked or out-hustled, but if you perform like that, you deserve to lose like that.
"We got home a little embarrassed because of the result, but at the end of the day, it's the first game we've lost in three months. We've been on a good run. It had to end somewhere."
It was over right from the start. Portland spent most of the first half in and around L.A.'s box, and when the Galaxy gained possession, they couldn't hold it for more than a pass or two.
"From minute one, it seemed like they were on the front foot and we were one the back foot, and we could never regain our confidence," Galaxy left back
Todd Dunivant
said. "[That's what happens when you] play positively and aggressively."
It was as bad a loss, by margin, as the 4-1 debacle March 26 at Real Salt Lake, but at least that one came against what was, at that moment, probably the finest MLS side ever to take the field. These Timbers (7-10-4) hadn't won at home since May 21, six games in all, and had surrendered leads three times in that span.
"I asked the guys from the first minute to try and outrun them every inch of the field, and I think we did that tonight," Portland coach
John Spencer
said. "It's a very pleasing result, obviously, after the way things have been going. I think we showed a massive amount of character tonight."
Galaxy coach
Bruce Arena
was ready to move on.
"You have to throw it behind you," he said. "If you dwell on this, you're not going to win any more games. We were beat tonight, and there's absolutely no excuses."
A quick look at the Galaxy's loss:
BEST PLAYER:
All 11 Timbers are worthy, but we're going to single out forward
Kenny Cooper
, who is going through a tough time in Portland. The former FC Dallas striker returned from a difficult spell in Germany as the Timbers' new star, and Spencer has been shopping him around, looking for the best deal he can find.
June, 5, 2011
6/05/11
6:30
PM PT
By
Scott French
| ESPNLosAngeles.com
Tristan Bowen's return to action after two months away with an ankle injury brought him a new position, a new set of challenges and, best of all, a goal. An important one, too.
The 20-year-old attacker from Van Nuys headed home a
Mariano Trujillo
feed Sunday as Chivas USA, down to 10 men for more than an hour, rallied for a 3-3 MLS Reserve League draw with the Portland Timbers at Home Depot Center's Track and Field Stadium.
The strike trimmed the Timbers' advantage to 3-2 in the 63rd minute, and
Victor Estupiñan
scored from another Trujillo pass five minutes later to deliver a share of the points.
Bowen, who has be sidelined with a sprained ankle since the first week of April, was on the game-day roster Saturday, for the 1-0 victory over the Timbers in MLS play, for the first time since March 26. He played 68 minutes Sunday atop the midfield diamond, just behind Estupiñan and fellow forward
Chris Cortez
.
"It felt good, getting in there and getting a run with the guys," said Bowen, who came to Chivas in an offseason trade from the Galaxy. "I was a little bit gassed in the first half, but I caught my second wind going into the second half."
By then Chivas was down a man -- Cortez, who scored the first goal, was ejected after punching Timbers defender
Eric Brunner
in the 28th minute -- and behind, 2-1.
Eddie Johnson
's second goal of the game, two minutes into the second half, made that 3-1.
No problem.
"We fought hard," Bowen said. "We went down a man early in the game. It's nothing we don't practice in our regular sessions, so it was more of another exercise."
So was Bowen's move to central midfield. He's played up top and on the flank and said he was "a bit surprised" when asked to take on the role. Chivas head coach
Robin Fraser
said it was a move with Bowen's future in mind.
"It's important for Tristan [to be back]," Fraser said, "and he played more in the middle of the field, and he had to make more decisions and that sort of thing, which is important in his growth. I thought he did well."
March, 29, 2011
3/29/11
11:44
PM PT
By
Scott French
| ESPNLosAngeles.com
Chivas USA's third outing under Robin Fraser was not unlike the first two, except for the red card.
The Goats played with great clarity at times, stringing together passes like a poor man's Real Salt Lake. And they defended well. Creating chances? Well, that just doesn't seem to part of their skill set yet.
The Portland Timbers, playing their first competitive home game as a Major League Soccer franchise, pulled out a 2-0 triumph in Tuesday's U.S. Open Cup qualifier on a wet, windy evening at the University of Portland's Merlo Field. Late goals by
Jack Jewsbury
and
Eric Brunner
made the difference, sending the home side to a second-round qualifier next month at San Jose.
Chivas, already missing five clear starters and two others expected to contribute, were down to 10 men after
Andy Boyens
picked up yellow cards in the 36th and 43rd minutes, the first for persistent infringement, the second -- accompanied, of course, by a red card -- after muscling Kenny Cooper to the ground.
Again, it was too much to overcome, and Chivas USA, despite solid play in certain areas in all three games, is 0-3 under Fraser -- and have not held a lead yet this season.
A quick look at Chivas' loss:
BEST PLAYER:
Several impressed, no one more so than Portland right back
Steve Purdy
, who was superb defensively -- he made several big plays and prevented Chivas from creating from
Marcos Mondaini
's work on the flank. We also liked
Kalif Alhassan
and
Peter Lowry
in midfield and Jewsbury off the bench for the Timbers.
Chivas' best: Choose among Ben Zemanski, solid in just his second start in central defense; University of Portland alum
Heath Pearce
, excellent at left back and, after Boyens' expulsion, in the middle; and especially
Justin Braun
, who was Chivas' chief attacker most of the night.
February, 3, 2011
2/03/11
2:59
PM PT
By
Scott French
| ESPNLosAngeles.com
The Portland Timbers opened training at Oxnard College earlier this week and meet the Ventura County Fusion -- the reigning Premier Development League Southwest Division champion -- in a friendly Friday night at Ventura College.
The Timbers, preparing for their Major League Soccer debut, conclude their So Cal stay with a closed-door match Tuesday afternoon against the Galaxy at Home Depot Center.
Here's a quick look at the Timbers:
WHO ARE THEY?
One of two Pacific Northwest expansion teams that, like the Seattle Sounders before them (but more so), emerges from longstanding organizations -- and even lengthier histories. The original Timbers, of course, played in the old North American Soccer League; this club was formed in 2001 and has spent the past 10 years in whichever league constituted the second tier of American pro soccer.
THE MAN IN CHARGE
Scotsman
John Spencer
, a compactly built pit bull of a forward for 15 years in Britain, Hong Kong and MLS, takes on his first head-coaching job after serving as Dominic Kinnear's top assistant with the Houston Dynamo for 4½ seasons.
Spencer was a Rangers FC product who toiled for Chelsea and Everton (and others) in England and Scotland (and 14 times for Scotland's national team), then wrapped up his playing career with four fine seasons (and two MLS Best XI awards) with the Colorado Rapids.
THE STAR PLAYER
There isn't one, although there soon will be. Rookie forward/midfielder
Darlington Nagbe
, the No. 2 overall selection in last month's draft, could be something very special, although he's likely -- unlike former University of Akron teammate
Steve Zakuani
up in Seattle -- to seek to avoid the spotlight.
Caleb Porter
, his college coach, told
The Oregonian
Nagbe is "a very humble, soft spoken and genuine kid with a big heart," and Spencer said: "Every time you talk to him, you walk away thinking he's someone you would be happy if your daughter brought him through door and said, 'Hey dad, this is who I'm marrying.' You go up to your room and think, 'Thank God she brought home a good one.' That's probably the highest compliment I could pay the kid."