Los Angeles Soccer:

Eriq Zavaleta
July, 6, 2012
7/06/12
7:19
PM PT
By
Scott French
| ESPNLosAngeles.com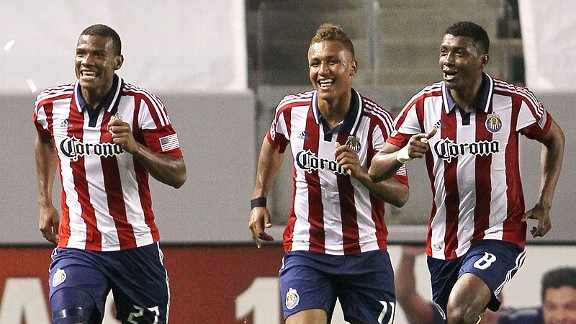 Victor Decolongon/Getty Images Jose Erick Correa, left, and Juan Agudelo, center, have infused Chivas USA with offense, but the team needs more.

CARSON -- The steps Chivas USA has taken this season are apparent in the results the past two months: just one loss in 10 games of every stripe -- and that to Real Salt Lake -- with a march into the U.S. Open Cup's final four.

How much further the Goats still must go is right there, too: They've won just twice against Major League Soccer competition during that span -- and that extends to 10 league games, going back into mid-April.

They've been turning a corner, in the parlance, but where that corner straightens isn't yet clear, it seems. Not everyone agrees.

"I feel like maybe the first month of the season, you could emphasize that," Chivas goalkeeper Dan Kennedy said on the eve of Saturday night's match with the Vancouver Whitecaps (8-4-5) at Home Depot Center. "I feel like the last two months, we've really turned that corner and become a team that can really grind results out.

"I would like to obviously see those results not just being ties."

The Goats (5-7-4) have asserted themselves the past two months as their personality -- a gritty possession team -- has matured with the acquistions of, especially, young forwards Juan Agudelo and Jose Erick Correa. There's a growing dynamism within the group, and as they hit the midpoint of their MLS campaign, the next step in the evolution requires that dynamism to start translating into goals.

Chivas has hit the net only 11 times in 16 games, by far the worst rate in MLS. It has been shut out seven times, scored more than once just twice, and that's not entirely about the scoring struggles at season's start: no goals in two of the last three MLS games.

"We certainly feel like every day we're getting closer to the group understanding what is necessary to create more chances," Chivas coach Robin Fraser said. "We like our group of players. There's this gelling process we certainly feel has to take place and is taking place. The more we see the group, the more we feel like it's coming along."


April, 24, 2011
4/24/11
8:42
PM PT
By
Scott French
| ESPNLosAngeles.com
The Galaxy's dominance of the Portland Timbers extended into Sunday afternoon's MLS Reserve League meeting, but it lasted less than a half-hour.
Once
Michael Stephens
, the most influential player to begin the match, was sent off for a last-man foul in the 28th minute, the Timbers found their legs, started linking passes and took advantage of their opportunities for a 3-1 victory in a league opener at Home Depot Center's Track and Field Stadium.
Rookie forward
Spencer Thompson
, out of UC Irvine, scored two of the Timbers' goals, and former Santa Barbara High School standout
Rodrigo Lopez
assisted a pair.
Jovan Kirovski
, the Galaxy captain, slotted into central defense, his "first real game" he's played at the position.
"I think I can play there," he said. "We're short on central defenders, and I can do the job there. So it's fun. I had fun playing there."
Both teams used experienced lineups, each with at least a half-dozen players who wouldn't look out of place in the first teams. Included: Galaxy Designated Player
Juan Pablo Angel
, who faded after an energetic first 25 minutes and departed at halftime.
SEEING RED:
Stephens, teamed with
Paolo Cardozo
in central midfield, was outstanding both ways and provided a foundation to the Galaxy's possession game. Until he was red-carded, for dragging down
Ryan Pore
just outside L.A.'s box while trying to make up for a give-away, the game had been played overwhelmingly between the midfield line and Portland's box.
February, 25, 2011
2/25/11
9:37
PM PT
By
Scott French
| ESPNLosAngeles.com
The guy hammering balls to the upper-V in Chivas USA's postgame training session Friday afternoon looked vaguely familiar, but putting a name with a face wasn't so simple. Good thing Goats coach
Robin Fraser
was around.
"You joking?" Fraser said when asked the identity of the club's newest trialist. "None of you [media] guys know? ... Uh, helluva goal scorer in this league 12 years ago."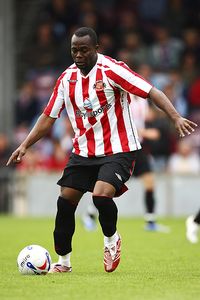 Michael Steele/Getty ImagesStern John is back in MLS trying to earn a spot with Chivas USA.
Ah. Trinidadian striker Stern John, probably the finest forward to play in Major League Soccer's first half-decade, when he netted 44 goals over the 1998 and 1999 seasons for the Columbus Crew. John, now 34, took off for England after the '99 campaign and has suited up for nine clubs there, mostly below the Premier League, and scoring at a decent rate in stints with Nottingham Forest, Birmingham City, Coventry City and Southampton.

John, who played last season for Crystal Palace and on loan for Ipswich Town, is coming off a knee injury and not yet ready for game action, but there was no questioning the power and accuracy of his shot.

"He was really looking for an opportunity to get in with a club," Fraser said. "As you can tell, he doesn't look like he's necessarily quite ready, but when a guy who's scored goals in places he has [comes along], you take a look at him."

John, who as a young MLS player impressed with his quickness, power and knack in front of the net, was just fantastic in 1998, scoring an MLS-best 26 goals. He then tied for the league lead with 18 in 1999.

"One of [MLS's best]. Absolutely one of them," said Fraser, who was a center back for the Galaxy when John was in the league. "I know I had my battles with him, and it was funny: Carlos [Llamosa, a Chivas USA assistant coach and former MLS defender] said the same thing, and then Jimmy [Conrad] afterwards said the same thing. We've all had to deal with him for sure."

Also new in camp is Argentine midfielder Marcos Mondaini, 26, who came out of Boca Juniors' academy and has played, on loan from the Buenos Aires giant, for Ecuadoran clubs Emelec and Barcelona, for Nacional in Uruguay and most recently for Colombia's Atletico Nacional. He played the final 29 minutes on the right flank in Friday's 0-0 draw with D.C. United at Home Depot Center.

"He's just a player I've kind of watched for a while," Fraser said. "Quick, crafty ... definitely an interesting player who's done pretty well in a couple different countries. We're just going to see where it goes and see how it is and see how he fits into the group and how he does."

A club official said Friday night that Mondaini likely will be signed in the next few days.


February, 12, 2011
2/12/11
10:35
PM PT
By
Scott French
| ESPNLosAngeles.com
Chivas USA had three new faces on the field for its scrimmage Saturday against the Seattle Sounders, and perhaps the most promising is an asset from Robin Fraser's appointment as head coach.

And we're not expecting him to make Chivas' roster.

Eriq Zavaleta, a U.S. under-20 national-teamer and high school senior from Westfield, Ind., was on Goats' backline for the final 30 minutes of the 1-0 defeat in Casa Grande, Ariz.

Zavaleta, who will be a freshman at Indiana next fall, moved last month from Real Salt Lake's academy in Arizona to Chivas USA's academy. His uncle is former Galaxy defender Greg Vanney, who had been director of RSL's Arizona outfit before coming in as Fraser's second-in-command just after New Year's.

He's certainly a prospect. He's got size (6-foot-1), experience (two years at U-17 residency in Florida, starting job for the U.S. at the 2009 U-17 World Cup in Nigeria) and accolades (NSCAA, ESPN Rise and Parade All-America, considered the class of '11's top defender).

And no matter how good he looks, no matter what he does, during Chivas' weeklong stay in Arizona, there's no chance, near as we can tell, that he'll be on the roster come April 19's Major League Soccer opener against Sporting Kansas City.

As we understand it, he does not qualify as a "Home Grown Player" -- clubs may sign players who have been in their academy systems for at least a year -- and would be dispersed into the league by lottery were he to sign a Generation adidas contract.

And it was only Monday that Indiana announced its recruiting class, with Zavareta.

OTHER TRIALISTS: Midfielder Guillermo "Memo" Torres, younger brother to U.S. national team midfielder Jose Francisco Torres, and Colombian defender Jimmy Asprilla also played the final 30 minutes for the Goats.

Asprilla, 30, who was at right back, has spent his career in South America and mostly at home, with three stints for Once Caldas, two more with Deportivo Cali and most recently with Millonarios. Torres most recently was with Pachuca in Mexico, his brother's club.