Los Angeles Soccer:

Ernesto Carranza
February, 4, 2011
2/04/11
10:13
PM PT
By
Scott French
| ESPNLosAngeles.com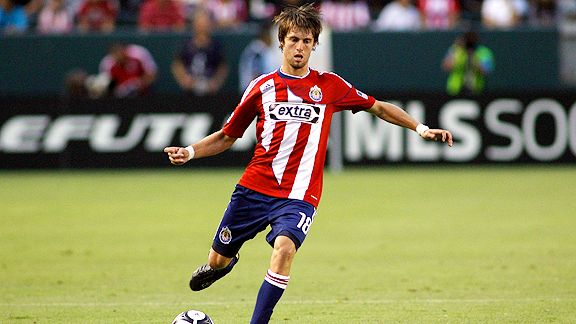 Jeff Golden/Getty ImagesChivas USA's Blair Gavin said of being injured last season: "Mentally, it was exhausting."
Blair Gavin's long road back to health is nearly complete, and he's itching to get back on the field -- in a real game.

He hasn't played, not for real, since a hamstring injury prematurely ended his rookie season with Chivas USA last August, but he has gleaned insight from the frustration and has come into preseason camp in superb fitness, ready to take the final step in his rehabilitation.

"I'm feeling good and strong, feeling a lot better ...," Gavin said Friday following the Goats' first training session since returning from a nine-day team-building trek in Paso Robles. "I was off for a long time, so my offseason was working to get back to this point, and so when I came into preseason, why not be the fittest guy and continue from there. So I've been working at it awhile now."

Gavin, 22, a gifted, versatile midfielder who was enjoying a tremendous first campaign before he suffered a deep strain to his left hamstring, an injury that he tweaked twice before the Goats finally shut him down with about a month to go in the season, spent much of his offseason in Phoenix, his hometown, working with Athletes' Performance on "the mechanics of running ... so I'm not pulling on my hamstring as much."

He headed in January to Bradenton, Fla., where he used to be in residence with the U.S. under-17 team, working for two weeks with IMG Soccer Academy director Tom Durkin and his staff on ballwork, then headed to L.A. as Chivas began preparations for the 2011 season.

New Goats coach Robin Fraser has had his team working primarily on fitness since camp opened Jan. 20, and Gavin has been one of the standouts.

"He looks great. He looks absolutely great," Fraser said. "His fitness is fantastic. He has a truly competitive mentality where the more that's heaped upon him, the harder he tries. ... I liked Blair Gavin before we came in [last month as coaches], and I liked him [at the University of Akron], and I've been even more pleasantly surprised at how good his feet are and some of his ideas. He's a very, very promising player."


January, 20, 2011
1/20/11
10:21
PM PT
By
Scott French
| ESPNLosAngeles.com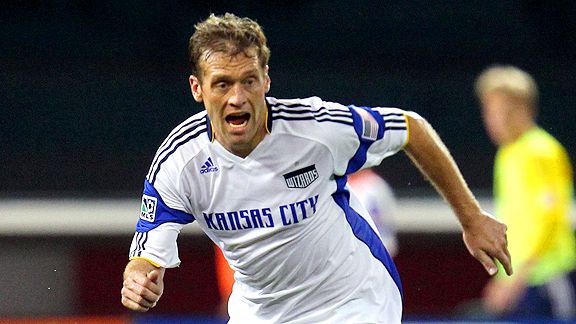 Ned Dishman/Getty ImagesJimmy Conrad, who spent last season in Kansas City, could be a valuable veteran presence for Chivas USA in 2011.

Chivas USA opened camp Thursday with physicals and initial meetings, and the Goats begin on-field preparations Friday morning at the Home Depot Center with a new coach and, in many ways, a new club.

Robin Fraser takes charge as the club takes stock, and he brings with him a coaching philosophy that could provide a foundation for Chivas to return to, and surpass, the glories of 2006-09.

The club was perhaps Major League Soccer's most stylish at the time, and a title run in 2007 -- with Maykel Galindo's breakthrough and Ante Razov's cerebral play up top -- would have been appropriate. Chivas has never won a playoff series.

Fraser is looking to quickly turn last year's losers into contenders. Chivas went 8-18-4 and finished last in the Western Conference after losing its veteran core of players to departures and retirement.

Here's what you need to know heading into preseason camp:

WHAT'S NEW?



Not quite everything, but nearly everything that matters. The management side has been gutted, with only co-owner/president
Antonio Cué
(and his brother,
Lorenzo
, not officially with the club but a major part of its braintrust) still standing.
The new face of the organization is Fraser's. The first-time head coach -- a former Galaxy star lauded for his work as an assistant coach at Real Salt Lake -- and his staff (including former Galaxy and UCLA star
Greg Vanney
) say they have a plan in mind, a sort of total-football approach to team harmony, that will supplant the foundation that crashed last year.
The arrival of two veterans -- central defender
Jimmy Conrad
(Temple City/Temple City HS and UCLA), acquired in the re-entry draft, and forward
Alejandro Moreno
, a former Galaxy striker picked up in a trade -- will play well into Fraser's team building, bringing veteran savvy and, especially Conrad, leadership qualities that the club lacked last year.
The Goats were masterful at the draft, pulling in five genuine prospects. Defender
Zarek Valentin
, the No. 4 overall pick (a central defender at Akron who will move to the right for Chivas), is considered can't-miss, and fellow first-rounder
Victor Estupiñan
, from Ecuador, is a most enticing forward. Their ability to contribute immediately will be crucial, but both are long-range selections.
Tristan Bowen
(Van Nuys), who will be 20 on Jan. 30, arrives after a promising second season with the Galaxy. Three more draftees -- midfielders
Jon Okafor
(Brown) and
Ernesto Carranza
(Sacramento State) and defender
Curtis Ushedo
(Alabama-Birmingham) -- will battle for roster spots. So will former Chivas USA winger
Francisco "Panchito" Mendoza
, who will join training as a non-roster guest.
January, 12, 2011
1/12/11
9:17
PM PT
By
Scott French
| ESPNLosAngeles.com
The Galaxy would need to make a deal, maybe a big one, to move into prime territory and snag one of the two big prizes in Thursday's Major League Soccer SuperDraft (ESPN2, 9 a.m.), and we're certainly not expecting that.

Darlington Nagbe
, a creative forward who has the kind of star quality his former University of Akron teammates
Steve Zakuani
and
Teal Bunbury
brought to the league in the past two drafts, would be a wonderful addition for a club looking for attacking talent. So would central midfielder
Perry Kitchen
, Nagbe's Akron teammate, the other can't-miss player up for grabs.
The Galaxy doesn't pick until No. 16, when they'll have a choice of several prospects with potential, a few who might be ready to contribute quickly, one of two who might fill real needs.
The Galaxy's draft:
SELECTIONS:
3 (1st round, No. 16; 2nd, No. 34; 3rd, No. 50)
PRIMARY NEEDS:
A two-way midfielder and a forward with real potential, but also depth in midfield -- especially on the wings -- and along the backline.
POTENTIAL TARGETS:
Big (6-foot-4), versatile North Carolina midfielder
Stephen McCarthy
or two-way Duke midfielder
Cole Grossman
would be perfect, but they'll likely be gone by the 16th pick. ... If Cal center back
A.J. Soares
is still around, nab him. ... Stanford's
Bobby Warshaw
can play in midfield or in the back. ... Akron attacking midfielder
Anthony Ampaipitakwong
could develop into something special with the right mentoring -- and could still be available. ... Ecuadoran forward
Victor Estupinan
was a combine standout. ... Akron center back
Chris Korb
would be a good second-round pick, if he lasts to 34. ... Sacramento State midfielder
Ernesto Carranza
, Loyola Marymount winger
Rafael Baca
or UC Irvine forward
Amani Walker
could be there in the third round.
November, 22, 2010
11/22/10
12:48
AM PT
By
Scott French
| ESPNLosAngeles.com
Chandler Hoffman
tallied twice as UCLA rolled into the third round of the NCAA Division I men's tournament Sunday, scoring four second-half goals in a 4-1 victory over visiting Sacramento State.

The eighth-seeded Bruins (15-4-1) will be home next Sunday against Dartmouth (12-6-1), which beat Notre Dame, 2-1, in overtime.
UCLA took command of a tight game as Hoffman scored in the 55th minute and freshman
Reed Williams
(Newport Beach/Corona del Mar HS) in the 58th. Hoffman, who has scored in four straight games, got his second in the 73rd, and freshman
Victor Chavez
(Fontana/A.B. Miller HS) made it 4-0 in the 85th.
Ernesto Carranza
scored for Sacramento State (11-5-7) in the 87th.
"We started out the game a little bit slowly," UCLA coach
Jorge Salcedo
told the school's website. "I thought some of the guys seemed nervous, and it took us a little bit to get going, but in the second half, how can you not be happy with four goals? Our production in front of goal in the second half was very good."