Los Angeles Soccer:

Fabian Johnson
August, 16, 2012
8/16/12
9:35
PM PT
By
Scott French
| ESPNLosAngeles.com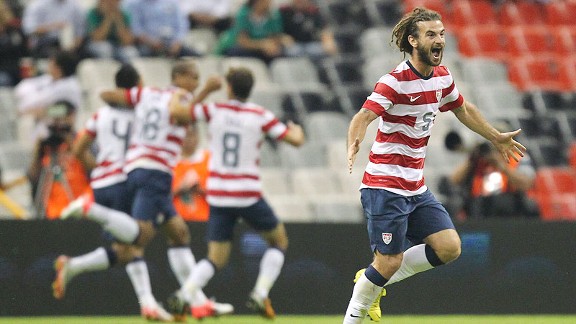 Marcos Delgado/Clasos.com/LatinContent/Getty ImagesKyle Beckerman of the U.S. team celebrates a goal during a friendly soccer match between Mexico and USA on Tuesday. The U.S. won 1-0.
MEXICO CITY -- The United States hopes its historic victory at Estadio Azteca is a precursor of sorts, but nobody is mistaking it as a shift in the balance within the region's primary rivalry. The gap separating the Americans from Mexico remains intact, and the only questions concern how great is the chasm and what must be done to bridge it.



Mexico's focus on youth development has created a golden generation of players and could signal El Tri's arrival among the truly elite in international soccer. Last weekend's gold-medal triumph at the London Olympics, with their under-23 team, follows successes by the U-17s (World Cup titles in 2005 and 2011) and the U-20s (third place at last year's World Cup), and the impact on the full national team -- the one that could, for real, be competing for the spoils in Brazil in two years -- has been profound.

Mexico's destruction of the U.S. at last year's CONCACAF Gold Cup final at the Rose Bowl, built on the sublime talent of Giovani Dos Santos, Javier "Chicharito" Hernandez and Andres Guardado, was product of Mexico's reaction to the Americans' dominance in the series for nearly a decade from 2000.

Now the U.S. must respond in kind.

"I think Mexico deserves a big compliment," coach Jurgen Klinsmann said in advance of the Yanks' 1-0 victory in Wednesday's friendly. "What they've done the last three or four years is tremendous. They've identified a way they want to play, and everybody dedicates themselves to that style of play. ...

"There is a gap. It would be foolish not to recognize that."

The U.S. went 10-2-2, with both losses at Azteca and one of the victories from the 2002 World Cup, over a span of about 8½ years. That dominance, star forward/midfielder Landon Donovan notes, was while "we had a group of us together for five, six, seven, eight years, and they were kind of in flux." The roles shifted: The U.S. team is now in transition under Klinsmann.

He took charge a year ago after that Gold Cup defeat and is working toward creating a system and a style that will emphasize attacking soccer, a necessity for success in a landscape that has been altered by Spain's success the past five years. He's also altering the makeup of an aging squad, especially at the back. The Americans' great youngsters aren't so young anymore; Donovan is 30.

Mexico's most important figures aren't yet in their primes. Chicharito is 24, Giovani 23. Defender Hector Moreno is 24. Guardado, a relative veteran, is 25. More than a dozen more first-team pool players are younger than 25.

The U.S. also has a promising young contingent -- Jozy Altidore and Brek Shea are 22, Terrence Boyd 21, Danny Williams 23 and Fabian Johnson 24 -- and several others under 25 who might or might not pan out as international players.

"It's hard to quantify a gap," Donovan said. "We're kind of a little more in flux now, but the hope is that in two years we've closed that gap and we're [like Mexico] a well-oiled machine."

The 2014 World Cup is the Americans' chief focus, but the real view is longer. Whatever success the U.S. has enjoyed has been about belief and power, not technical and tactical acumen, although there have been great improvement in both areas since the 1994 World Cup changed everything. Klinsmann, a legendary German striker who has called Orange County home for more than a decade, is looking to alter the foundation of how the U.S. plays, and that requires a philosophical shift.


August, 16, 2012
8/16/12
12:43
AM PT
By
Scott French
| ESPNLosAngeles.com
MEXICO CITY -- It was an historic victory, the first by the United States at Estadio Azteca in a series that dates to the 1930s, and those responsible couldn't have been more pleased with what they achieved.

The Americans got a superb performance from their backline, at least two heroic saves from Tim Howard and one fortuitous goal to claim a 1-0 triumph Wednesday night over Mexico.

And they weren't shy about proclaiming how important was the result ... even if didn't really mean a thing.

"At the end of the day, we won't win any trophies for winning tonight or won't get any points for it," said Galaxy captain Landon Donovan, who made an imprint defensively before departing at halftime. "But considering the history, and who knows what happens in the future, [a first win here] can never happen again. We're going to enjoy it tonight."

They should. Beating Mexico at Azteca is nearly impossible: It has happened only once in an official game, a World Cup qualifier against Costa Rica in 2001, and in a handful of friendlies. Indeed, this was just the third defeat for El Tri in an international exhibition since 1973.

That the U.S. squad didn't perform particularly well -- defense aside -- is beside the point.

"It's a wonderful moment, because winning a game against a very, very good Mexico team that we have lots of respect for, at Azteca Stadium, that means a lot to us.," said U.S. coach Jurgen Klinsmann. "Obviously, when we analyze the game, we'll find many, many things that we want to do better. Obviously, in the first half, we had big problems to keep the ball, to get the ball into zones up front, but Mexico, too, had no chances in the first half at all. Second half, they had more chances, really more chances, than we had, and it became difficult."

"I think it's important for us to understand that we can compete with big teams at their stadiums, at their locations," he said. "Very special occasion and we want the players to appreciate that. I want the players to take it all in, because you never know if you can have an occasion like that. That's what we told the players. We said you have nothing to lose, give it all you have. Can we play better? Yes. Can we play technically cleaner? Yes. But moments like this are really important."

The U.S. generated nearly no offense until the 80th minute. Brek Shea, who had been on the field all of two minutes, ran from the left flank past Mexico right back Severo Meza and winger Elias Hernandez and into the box. He then sent the ball into the goalmouth, where it bounced around a little until Terrence Boyd's backheel put it on the goal line. And Michael Orozco Fiscal, who had come off the bench three minutes earlier, poked it home.

"I never thought that would happen," said Orozco Fiscal, an Orange Countian who plays for San Luis in Mexico. "It's a dream come true."

That aside, the Americans struggled to possess the ball, couldn't connect passes and for the most part -- save for performances by Jermaine Jones in midfield, Howard in the net and, especially, Geoff Cameron and Edgar Castillo on the left side of the backline -- failed to offer a whole lot.

There were reasons for the lack of chemistry: Pachuca's Jose Torres was out of position in midfield; Fabian Johnson, a natural left back, was on the right side; and Santos Laguna's Herculez Gomez was often stranded up top in a 4-2-3-1 formation until Boyd joined him at forward in the second half; more than half the first-choice lineup wasn't present. Mexico applied heavy pressure, especially in midfield, and would have won if not for Cameron (who owned Javier "Chicharito" Hernandez in the first half, stopping him cold three times), Club Tijuana's Castillo (a statement-making performance) and Howard (who flew to stop Hernandez twice after Orozco Fiscal's goal).

The U.S. insists things were better than they appeared.


June, 8, 2012
6/08/12
10:16
PM PT
By
Scott French
| ESPNLosAngeles.com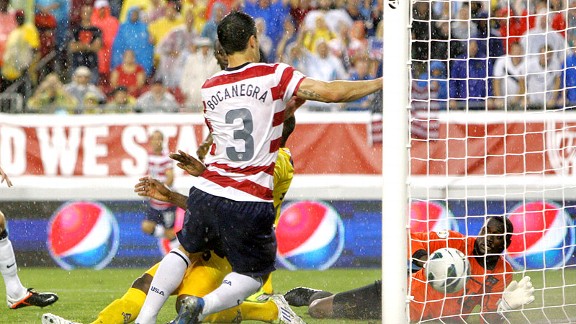 Andy Mead/Icon SMIAlta Loma's Carlos Bocanegra scored the first goal for the U.S. on Friday night.

The U.S. opened its World Cup campaign with a tighter-than-desired 3-1 victory over rising Caribbean minnow Antigua & Barbuda, and Carlos Bocanegra made one of the deepest impressions.

The American captain, 33, scored the first goal and gave a solid performance at left back, his former position -- and a problem spot for the U.S., at least on this occasion.

Bocanegra, circling to the far post, knocked home the remains of a Landon Donovan corner kick to give the U.S. and eighth-minute lead. It was the 13th international goal for the former UCLA star from Alta Loma, equaling Hall of Famer Marcelo Balboa's U.S. mark for defenders.

Balboa, from Cerritos, starred for the U.S. at the 1990 and 1994 World Cups, was part of the 1998 team and made 128 appearances in a 12-year national team career. Bocanegra, who plays for Rangers in Scotland, has played 105 internationals since debuting for the U.S. in 2001.

Bocanegra is a center back who started his career as a left back, and he moved to the flank Friday when Jose Francisco Torres -- employed on the left with Fabian Johnson and Edgar Castillo unavailable because of injury -- went down with an ankle injury in the 54th minute.

If Johnson can't return from a calf injury in the next few days, Bocanegra is likely to start on the left in Tuesday's qualifier at Guatemala.

Donovan, the Galaxy captain from Redlands, set up two goals -- he also drew the foul for Clint Dempsey's penalty just before halftime -- in an otherwise quiet performance, and former Galaxy star Herculez Gomez netted the third goal for the U.S.

U.S. grades can be found here.

2014 WORLD CUP QUALIFYING
CONCACAF
Third round
Group A
United States 3 (Bocanegra 8, Dempsey 44, Gomez 72), Antigua & Barbuda 1 (Byers 65)
Jamaica 2 (Phillips 40, Johnson 46), Guatemala 1 (Pezzarossi 92+)

Group B
Mexico 3 (Salcido 11, G. Dos Santos 15, og Rodrigues 51), Guyana 1 (og Moreno 62)
Costa Rica 2 (Saborio 10, Campbell 15), El Salvador 2 (Gutierrez 23, Romero 54)

Group C
Cuba 0, Canada 1 (Occean 54)
Honduras 0, Panama 2 (Perez 64, 80)
August, 29, 2011
8/29/11
7:09
PM PT
By
Scott French
| ESPNLosAngeles.com
MANHATTAN BEACH -- Chivas USA defender Heath Pearce is out, and Yorba Linda's Chris Pontius is in.

The U.S. national team on Monday made two substitutions on its 24-man roster for Friday's game at Home Depot Center against Costa Rica and next week's friendly in Brussels against Belgium, replacing Pearce and FC Dallas defender Zach Loyd with D.C. United attacker Pontius and Birmingham City's Jonathan Spector.

Pearce suffered a hamstring injury in Chivas' loss Saturday night to Real Salt Lake -- he said trainers told him they believe it is torn, but no word yet on what tests determined -- and Loyd is nursing a hamstring strain.

Pontius (Servite HS and UC Santa Barbara), 24, who was in the U.S.'s January 2009 camp at HDC, can play several attacking positions and has been employed primarily on the left wing with D.C. He has scored a career-best seven goals in his third season with the club.

DEALING WITH BRADLEY: U.S. coach Jurgen Klinsmann was asked Monday during a roundtable discussion with L.A. soccer media whether it was uncomfortable coaching Michael Bradley, the son of Bob Bradley, Klinsmann's predecessor, who was dismissed from the job last month.

Bradley, whom Major League Soccer's website reports is finalizing a deal to join Italian Serie A club Chievo Verona before Europe's transfer window closes Wednesday, was a starting midfielder for the U.S. in Klinsmann's debut, a 1-1 draw Aug. 10 with Mexico in Philadelphia.

"It was not complicated at all," Klinsmann said. "I called him up and said, 'Michael, first of all, I have the highest respect for Bob. He did a great job, and I will touch base with him down the road. ... I definitely want to sit down with Bob and pick his brain and have a soccer talk.'

"I told him I'm there simply to help him."

JOHNSON CAN'T PLAY: German-born defender/midfielder Fabian Johnson, who plays at 1899 Hoffenheim, is not yet eligible to play for the U.S. -- he represented Germany at the 2009 UEFA U-21 Championship, and FIFA must grant approval for his switch to his father's homeland.