Los Angeles Soccer:

Faryd Mondragon
January, 30, 2012
1/30/12
4:16
PM PT
By
Scott French
| ESPNLosAngeles.com
The New England Revolution thought so much of Kelyn Rowe, they thought they'd won the SuperDraft when they snagged him with the No. 3 overall selection earlier this month.

Maybe they did.

Rowe, who signed a Generation adidas contract with MLS after his sophomore season at UCLA, enjoyed a sensational debut in the Revs' preseason opener Saturday night in Casa Grande, Ariz. His cross set up Sainey Nyassi's 38th-minute goal to start a 2-1 victory over Premier Development League side FC Tucson.

Rowe's service from the flank was outstanding all game, and the opportunity to play -- in two 35-minute periods that opened the 115-minute game -- provided a real introduction to the MLS game.

"It was definitely hard," Rowe, who started the match, told the league's website. "We're playing with a bunch of new guys, we haven't played together that much, this is the first time the starting lineup played together. So the first 35, we just kind of got used to each other, found spacing in between, and you saw it work together in the second half. I've been working on my crossing, and definitely it's been something I've showed that I can do well here."


August, 14, 2011
8/14/11
1:24
PM PT
By
Scott French
| ESPNLosAngeles.com
CARSON -- Deadline arrives Sunday night for the Galaxy to complete a reported deal with Irish forward Robbie Keane, and if you're looking for a concrete sign, how about this: Juan Pablo Angel wasn't around for the team's training session Sunday morning at Home Depot Center.
Any deal with Keane will require L.A. to relinquish one of its Designated Players, and
Landon Donovan
and
David Beckham
aren't going anywhere. Angel, a disappointment with a $1 million base salary, is odd man out.
Where,
Bruce Arena
was asked, is Angel?
"He's not here today," the Galaxy's head coach and general manager replied.
Will he be in training Monday?
"Possibly."
And possibly not. The summer transfer window closes Sunday at 8:59 p.m. PT, and Angel would have to be gone before Keane officially is added to the roster. Is L.A. looking to deal him?
"We have no comments at this time on any player moves," Arena said. "We're hoping to have some stuff to announce in the next 24 to 48 hours."
Keane, Ireland's national team captain, is looking for a place to play after falling out of favor with Tottenham manager
Harry Redknapp
. He was hoping to move to another English Premier League side, but only Blackburn was interested, and Keane turned down a move to second-tier Leicester City.
Reports emerged Friday from England that Keane had agreed to a two-year deal worth about $9 million with the Galaxy and was en route to Los Angeles to sign a contract. Subsequent reports were that a deal has not been signed, and Irish newspaper
Independent
said an agreement appeared to be hung up on Keane's insistence on a three-year contract.
The Galaxy's policy, Arena reminded media, is to not comment on prospective players until they've signed with the club.
"I have no comments about any player," he said. "I think our policy since I've been here is to not talk about players that are with other clubs or names that are just fantasyland out there until we actually acquire a player. That's the only time we comment. And you kn that's been our consistent history. Once something changes, we'll let you know, and it'll be accurate."
Keane is expected to insist he be loaned to an English club during MLS's offseason, which would enable him to keep his place with Ireland's national team.
"Robbie is desperate to get to the European Championship finals with Ireland next year, and he won't let anything get in the way of that," a source "close to the player" told Irish Central, a website affiliated with
Irish Voice
newspaper and
Irish America
magazine. "He is interested in playing in America -- he has said that previously -- but only if he can play in Europe when their season ends to stay sharp for the Irish team."
Irish Central also reports that the Galaxy are in talks to play a November friendly in Dublin, probably against Shamrock Rovers, if they sign Keane.
If signed, Keane is expected to become MLS's third-highest-paid player, after the Galaxy's David Beckham ($5.5 million base salary, $6.5 million guaranteed compensation) and New York's Thierry Henry ($5 million and $5.6 million).
There's talk Angel is moving around the corner, to Chivas USA. Messages left for Goats general manager Jose Domene and head coach Robin Fraser were not immediately returned.
Philadelphia goalkeeper Faryd Mondragon, Angel's Colombian countryman, posted on
his Twitter account
Sunday that Angel might show up in a Union uniform. His series of four tweets:
"Seria un sueño hecho realidad tener a mi "hermano" @JUANPABLOANGEL jugando para el Filadelfia Union, encajaria perfecto en nuestro equipo!!!" (Translation: "It would be a dream come true to have my 'brother' @ JUANPABLOANGEL playing for the Philadelphia Union, [he would] fit perfectly into our team!"
"Its just a personal wish, just saying, you never know!!! DOOP!!!"
"Sorry its all I CAN tell right now!!!"
"i am convinced that the @sonsofben [the Union's primary supporters' group] will love him since day1 they r the best and most passionate fans from all the league! DOOP!"
UPDATE (2:15 p.m.)
: Sky Sports reports that Tottenham has accepted an offer from the Galaxy for Keane, and that the Irish forward will be joining the Galaxy if he agrees with L.A. on a contract.
May, 11, 2011
5/11/11
9:56
PM PT
By
Scott French
| ESPNLosAngeles.com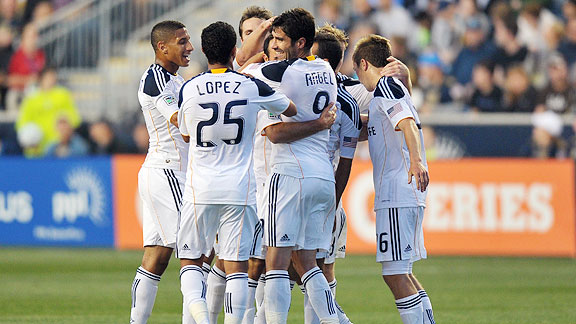 Drew Hallowell/Getty ImagesGalaxy players celebrate a first-half goal by Landon Donovan in Philadelphia on Wednesday.
Landon Donovan
scored again, his fifth goal in four games -- his fifth Galaxy goal in succession -- and that should have been enough for the Galaxy to claim victory in a hit-and-run trek to Philadelphia.
Sloppy finishing, a call that didn't go their way and a miscue at the back cost L.A. (4-2-5) in a 1-1 draw Wednesday night with the Union in Chester, Pa.
"We were well in control ..." Galaxy coach
Bruce Arena
said after
Sean Franklin
's giveaway gifted Union forward
Danny Mwanga
an 83rd-minute equalizer. "The result is very disappointing. We should have won this game by two or three goals. We missed a bunch of chances, the referee missed the penalty on the goalkeeper, we had plenty of chances to get to 2-0.
"We made a mistake at the end, and it cost us a goal, but, having said that, we were certainly in position to score two or three goals. But it is disappointing."
Donovan scored on a nice follow up midway through the first half after
Juan Pablo Angel
lost possession in the box, and L.A.'s dominance through the first 60 or 70 minutes certainly deserved better reward. Union goalkeeper
Faryd Mondragon
made several huge saves -- the best on a
Chris Bichall
blast in the 63rd minute -- Angel failed to effectively manage his chances, and referee
Andrew Chapin
might have awarded the Galaxy a penalty kick after Mondragon knocked down his Colombian countryman Angel after he stumbled with the ball when left one-one-one.
"It was a penalty, without a doubt," Angel said, "and I think if you ask Faryd, he would say it was a penalty. But at the end of the day, the ref didn't give it, and so it wasn't."
Donovan's goal was his 108th in MLS regular season, bringing him even with Real Salt Lake coach
Jason Kreis
for third on the all-time list. Ahead of them: former D.C. United star
Jaime Moreno
(133), Columbus forward
Jeff Cunningham
(132) and former Chivas USA forward
Ante Razov
(114).
A quick look at the Galaxy's victory:
BEST PLAYER: Omar Gonzalez
was exquisite from start to finish, winning balls and playing outstanding positional defense at the back -- he was part of the reason
Sebastien Le Toux
never got involved -- and providing constant danger as a target on set pieces, heading just over the crossbar twice.