Los Angeles Soccer:

FC Gold Pride
December, 25, 2010
12/25/10
7:59
AM PT
By
Scott French
| ESPNLosAngeles.com
Our countdown of 2010's top 10 soccer stories and newsmakers -- from a Southern California slant -- continues.
Stories/No. 7: Sol starts a trend
The L.A. Sol set the standard in Women's Professional Soccer's inaugural campaign in almost every regard, with the league's most professional organization, the most sponsorship and merchandising revenue, the best fan experience (in the league's best stadium) -- and, especially, on the field.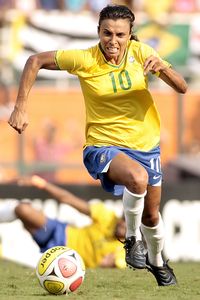 Rodrigo Coca/Getty ImagesThe Sol's lone season was a memorable one because it included Brazilian star Marta.
The Sol, featuring Brazilian superstar Marta and local heroine Shannon Boxx (Redondo Beach/South Torrance HS), went 12-3-5 in 2009, easily capturing WPS's regular-season title. They likely would have won the championship if not for a controversial red card not quite a half-hour into the final.

The team would never play another game. The team folded on Jan. 28 after negotiations with a potential new ownership group fell apart.

It began a trend in the league, and not a good one. Saint Louis Athletica, which posted the second-best regular-season record in year one, dissolved just six weeks into the 2010 campaign, and Bay Area-based FC Gold Pride -- winner of the 2010 title with Marta and Boxx leading arguably the finest women's team ever assembled -- packed up shop in November.

A month later, the Chicago Red Stars went on hiatus, with plans to return in 2012. The Washington Freedom, the lone survivor from the late, great 2001-03 Women's United Soccer Association, nearly went under, too.

What's left? A six-team league, entirely on the East Coast for 2011. The San Francisco-based front office has been all but scuttled, and survival remains uncertain, perhaps unlikely. Yet there are groups angling to join in 2012 and beyond, including one that wants to put a team in Orange County.

The Sol lost somewhere around $3 million in 2009. Anschutz Entertainment Group, which owned half the team and paid about 90 percent of the bills, pulled out -- as planned, it turned out -- after the first season, and Blue Star LLC, a partnership that included L.A. Blues owner Ali Mansouri and Australian actor Anthony LaPaglia, couldn't afford to run things on its own.

The league took control of the club in November 2009 and had a new owner, never identified, all but signed, sealed and delivered. That owner pulled out in mid-January, and the Sol was dead a week later.


December, 9, 2010
12/09/10
6:08
PM PT
By
Scott French
| ESPNLosAngeles.com
Ali Riley, the Rookie of the Year in Women's Professional Soccer, has a new club.
Riley (Pacific Palisades/Harvard-Westlake School), a left back out of Stanford University who plays for New Zealand's national team, agreed to contract terms Thursday with the expansion Western New York Flash, which will play in Buffalo and Rochester.
Riley became a free agent when WPS champion FC Gold Pride folded last month.
Gold Pride's other starting outside back,
Kandace Wilson
(Los Angeles/Walnut HS and Cal State Fullerton), and star forward
Christine Sinclair
, a Canadian national-teamer, also agreed to terms with the Flash.
November, 30, 2010
11/30/10
7:22
AM PT
By
Scott French
| ESPNLosAngeles.com
The Bay Area-based group that will field professional women's teams in Orange County and the Bay Area next year, with plans to place an O.C. club in Women's Professional Soccer in 2012, hopes to have a greater impact than just competing for championships.
They'd like to help transform women's pro soccer in America.
That's part of what's behind the venture announced Monday, to compete next season in the Women's Premier Soccer League. The OC Sol and Bay Area Sol would be the first fully professional clubs in the WPSL, one of two national semiprofessional women's leagues in the U.S., and their ownership group envisions a stronger connection among the leagues and WPS.
That could have a profound impact on the future of pro soccer in this country.
"I do [believe WPS is viable], but I subscribe to the view that there should be layers of professionalism -- and of semiprofessionalism, if you wish ...," said
Paul Haley
, a Bay Area business consultant and the face of Soccer Partners LLC, the Walnut Creek-based group behind the new Sol enterprise. "We're motivated to see more than one league or division for professionals to play in."
November, 17, 2010
11/17/10
10:37
PM PT
By
Scott French
| ESPNLosAngeles.com
A bid by a group headquartered in the Bay Area to bring FC Gold Pride to Orange County fell through, but Women's Professional Soccer could be headed to Southern California soon. Perhaps real soon.
A meeting of the group's chief investors and strategists is scheduled Friday, and on the agenda is discussion whether to wait until 2012 to start a WPS franchise -- the likeliest option -- or make a play to bring in a team next season.
WPS announced Tuesday that it had six clubs, all on the East Coast, lined up for its 2011 campaign and was giving the Chicago Red Stars another month to secure the necessary funding to continue. Gold Pride, which scorched the competition en route to the championship in the league's second season, folded Tuesday, and its players -- including Brazilian superstar
Marta
-- became free agents.
Gold Pride's potential survival, with a move likely to Cal State Fullerton's Titan Stadium, fell apart apparently over financial matters, although a league official offered no such reasons during a teleconference Wednesday.
"We did have several conversations with a group, a couple of groups in Los Angeles and Orange County, [about trying] to take over Gold Pride," said
T. Fitz Johnson
, owner and CEO of WPS's Atlanta Beat, chairman of the league's board of governors and head of the league's expansion committee. "We just couldn't get over the hump of getting everybody on the same page in time for 2011."
November, 16, 2010
11/16/10
11:05
AM PT
By
Scott French
| ESPNLosAngeles.com
Shannon Boxx is looking for a new home. FC Gold Pride, which the imposing midfielder from the South Bay helped to Women's Professional Soccer's title in September, disbanded Tuesday after failing to find the investment required to continue.
The Bay Area-based team follows the L.A. Sol and Saint Louis Athletica into oblivion. The Sol folded last January and Saint Louis' demise arrived seven weeks into the 2010 season. Boxx was on both clubs' rosters when they disbanded.
An effort by a group of investors to purchase part or all of Gold Pride and move the club to Orange County fell through. The group is one of two in Southern California seeking a WPS franchise for 2011.
Gold Pride, which played in Santa Clara in 2009 and in Hayward last year, put together the most impressive collection of talent the women's game has seen and posted a 16-3-5 record, finishing 17 points ahead of second-place Boston. The club routed Philadelphia, 4-0, in the title game.
The roster starred Brazilian superstar
Marta
-- the two-time WPS MVP -- Canadian striker
Christine Sinclair
and Boxx (Redondo Beach/South Torrance HS), plus WPS Rookie of the Year
Ali Riley
(Pacific Palisades/Harvard-Westlake School). Other local players were forward
Kiki Bosio
(Mission Viejo/Santa Margarita Catholic HS and Capistrano Valley HS), defender
Kandace Wilson
(Los Angeles/Walnut HS and Cal State Fullerton) and midfielder
Rosie Tantillo
(USC).
November, 2, 2010
11/02/10
12:11
AM PT
By
Scott French
| ESPNLosAngeles.com
As the U.S. marches toward another Women's World Cup appearance and Canada and Mexico seek to join the Americans, what's going on in Cancun -- site of CONCACAF's ongoing qualifying tournament -- isn't the only thing on players' minds.

All of the U.S. players, several of the Canadians and a couple of the Mexicans are keeping an eye on what's going on with Women's Professional Soccer. Champion FC Gold Pride and the Washington Freedom, a Women's United Soccer Association survivor that is the only team to reach the WPS playoffs in both seasons, are desperately seeking investment to stay alive.

A report over the weekend that both teams would fold Monday was premature, but the possibility they'll become the third and fourth teams in the second pro U.S. league to disband isn't remote by any means. Gold Pride GM Ilisa Kessler on Monday told the San Jose Mercury News that "it's do-or-die week for us." Freedom president Mark Washo was quoted in The Washington Post: "We're approaching the 90th [minute], hoping for extra time."