Los Angeles Soccer:

FC Krasnodar
June, 27, 2011
6/27/11
12:06
PM PT
By
Scott French
| ESPNLosAngeles.com
FC Krasnodar, which features Pasadena's Yura Movsisyan on its frontline, heads into the Russian Premier League's summer break sitting in ninth place, among 16 clubs, with a .500 record and hopes that it can make a move when the games resume in another month.
Movsisyan, who has three goals in 11 league appearances since arriving from Danish club Randers last winter, started his fourth and fifth successive games over the past week. Krasnodar (5-5-6) lost Wednesday to Terek Grozny -- the Chechens were victorious in their first game after
Ruud Gullit
's dismissal -- and tied Sunday with Anzhi Makhachkala.
BRADLEY'S RETURN:
U.S. national team midfielder
Michael Bradley
, whose family is based in Manhattan Beach, is back with Borussia Moenchengladbach after new Aston Villa manager
Alex McLeish
decided to let his loan deal expire.
Bradley joined the English Premier League club on loan at the end of January but played in just three games in nearly four months while in Birmingham.
'Gladbach limped to 16th of 18 clubs in the Bundesliga last season, going 10-18-6, then won a promotion/relegation playoff to remain in the top tier.
"I've got a year left on my contract there, so we'll see what happens," Bradley told media last week. "If something comes up that's good for 'Gladbach and good for me, I'll look at it. Otherwise, it's another year at 'Gladbach."
F YURA MOVSISYAN (Pasadena/Pasadena City College)
Club: FC Krasnodar (Russia, Russian Premier League)
Last week: Started, played 90 minutes, with a 28th-minute yellow card, as the ninth-place Bulls (5-5-6) were beaten, 2-0, Wednesday by Terek Grozny; started, played 88 minutes in a 2-2 draw Sunday vs. Anzhi Makhachkala
Season: 11 league games (6 starts) with 3 goals, 12 games (6 starts) with 3 goals in all competitions
Next: July 24 at 15th-place Spartak Nalchik (2-8-6)
June, 18, 2011
6/18/11
1:34
PM PT
By
Scott French
| ESPNLosAngeles.com
Pasadena's Yura Movsisyan scored again and FC Krasnodar captured two more victories in a wild week in the Russian Premier League highlighted by former Galaxy head coach Ruud Gullit's dismissal for loving the Chechen nightlife.

Movsisyan scored in the third minute of Krasnodar's 4-2 victory Tuesday over Volga Nizhny -- his second in as many games -- and the Byki (5-4-5) added to it a 1-0 triumph Saturday at archrival Kuban Krasnodar.

That's three in a row for the Bulls -- and three successive starts for Movsisyan, who has three goals in nine league appearances since joining the club in late January.

"I am very happy for the goal I scored. This was an important victory," Movsisyan told Russian media. "If we lost points, we would fall behind on the table. It was necessary to win.

"I don't know how many goals I will score. I don't like to make predictions, but I will do everything for our team to win. I will do my best to score as many goals as possible."

Next up for Krasnodar is Terek Grozny, which fired Gullit after Tuesday's loss at FK Amkar Perm -- to nobody's surprise. The Dutchman, an iconic midfielder and one of the world's finest players of the 1980s and 1990s, has a spotty managerial career, including a tumultuous nine months in L.A.

Gullit won just three times in 13 games for Terek, and only once in the last six, and Terek's owner, Chechen leader Ramzan Kadyrov, said before Tuesday's defeat that a loss would end his tenure. He accused Gullit of "thinking about bars and discos" rather than his duties.

Gullit, who says his "presence put Terek Grozny on the map; nobody had ever heard of the club," learned he'd been canned from the Dutch media.

"This is all such a crazy story," he told Dutch tabloid AD. "I don't know if I've been fired, but I've already said goodbye. I really have to laugh. I knew this was no ordinary country and no ordinary football league. But it's all been too bizarre for words.

"First the president threatens me, then we lose by a last-minute own goal, and then I find out from Holland that I'm fired. What can I do other than see the humor in it all? I knew I would be dismissed even if we'd won."


May, 9, 2011
5/09/11
2:32
PM PT
By
Scott French
| ESPNLosAngeles.com
Rangers FC was supposed to be sniffing after archrival Celtic FC by now, two points off the pace with two games to go and virtually no hope of claiming their 54th Scottish title this year.
Now the Blues, with Fontana's
Maurice Edu
a midfield fixture, are a week away from claiming a third successive championship.
Celtic's shock midweek loss at Inverness Caledonian Thistle gave control of the Scottish Premier League race to its Glasgow rival, and Rangers responded with an emphatic 4-0 rout Saturday of third-place Hearts. The Blues are 28-5-3, one point ahead of Celtic (27-4-5), and huge favorites Tuesday against Dundee United and in Sunday's league finale at Kilmarnock.
"Points can still be dropped, and we knew that possibility still existed, so it was an extra boost when [Celtic's] result came through on Wednesday," Edu told Rangers' website. "It was an extra incentive, of course, but, regardless, we would approach all the games in the same manner, because if we don't win our games, then what happened elsewhere would be irrelevant.
"Them dropping points has given us the edge and put us back on top, so now it's up to us to go out there and secure another title. It's in our hands again, and we want to make sure that it's after the last game that we're celebrating."
Edu has had his ups and downs this season, with form and injury, but has played in integral role in Rangers' campaign. He said that the team seemed to be "peaking at the right time."
"The run in is so crucial, and now we're definitely showing a good level of confidence and consistency," he said. "That's so important during this stretch of the season … We know what's at stake, having been in this position in the last two years, too. We have that little bit of experience, and I think that's helping us."
TAYLOR TO THE RESCUE:
Irvine's
Matt Taylor
netted his fourth multigoal game of the season to lead Rot Weiss Ahlen to a critical 4-3 triumph Saturday over Rot Weiss Erfurt that pulled it out of the German third division's relegation zone with one game to go.
March, 16, 2011
3/16/11
11:26
PM PT
By
Scott French
| ESPNLosAngeles.com
Fontana's Maurice Edu has emerged as a force in central midfield this season for Scottish giant Rangers FC, taking on more responsibility in attack and contributing mightily to the club's bid to win four trophies.
The Blues are out of one competition, ousted from the Scottish Cup by "Old Firm" archrival Celtic, but two championships are within grasp -- and a showdown Thursday at home against Dutch power PSV Eindhoven could send them to the last eight of the UEFA Europa League.
They can win the Scottish League Cup title Sunday, when they take on Celtic for the fifth time since New Year's, and are in command in the Scottish Premier League despite sitting two points behind Celtic in the standings.
And Edu (Etiwanda HS), whose stoppage-time goal three weeks ago sent Rangers past Sporting Lisbon and into the round of 16 in Europe's No. 2 club competition, is basking in his opportunity to play an important role for a storied European club against top competition.
"It's great getting the chance to play against the best teams in the world and test yourself against them," Edu, a U.S. national team midfielder who played in last summer's World Cup, told Major League Soccer's Web site this week. "You dream of playing in these competitions, so I'm just glad it's become a reality for me."
Injuries, mostly, limited Edu to 19 league starts in his first year and a half with Rangers, but he's made 27 starts -- and scored five goals -- in all competitions since the season kicked off last August. The goal against Sporting Lisbon was the biggest, by far, guaranteeing the SPL a second automatic berth in the lucrative UEFA Champions League.
"At the beginning of the season, the manager [
Walter Smith
] challenged me to get a few more goals ...," Edu said. "He's encouraged me to get forward and make late runs to support the strikers. I've been fortunate to grab a few goals. I like it because I've always seen myself as a box to box-type player. Hopefully, I can add to my tally before the end of the season."
He'll get his chance against PSV, which Rangers held to a scoreless draw in the first leg last week in Eindhoven. That gives the Blues the advantage heading into their home leg, but a tie with goals would send PSV through.
March, 8, 2011
3/08/11
12:20
PM PT
By
Scott French
| ESPNLosAngeles.com
Sacha Kljestan has been in and out of RSC Anderlecht's lineup since joining the club from Chivas USA last summer, and things are going south again.
He's featuring less and less as the reigning Belgian champion hits the pivotal part of the schedule, and if that's just part of being a young pro in a competitive European environment, it doesn't make it any easier.
"It's tough to deal with," Kljestan, who has started just one off Les Mauves' eight games since the Jan. 23 return from winter break, told Major League Soccer's Web site last week. "I played 4½ years and I think I started every game but one in MLS. It takes some adjustment, but I think I have a good mentality. I fight for my place every week, and whether I'm in the lineup or not, I support my teammates. I think my coaches and teammates recognize that."
Kljestan (Huntington Beach/Huntington Beach HS) supported his teammates from the bench in both legs of the UEFA Europa League round-of-32 loss to Ajax Amsterdam, and he didn't feature in Friday's showdown with Genk, which is tied on points with Anderlecht (both are 18-3-7) but ahead on goal difference atop the Belgian Jupiler League standings.
The club is winless in its last four games and outscored, 8-1, in that span -- after a two-month stretch with nine successive shutouts. Kljestan, of course, started during part of that streak, then sat for three games, then returned as a late substitute in two more. He's played just 54 minutes in Anderlecht's last nine games, getting 45 in his lone start, a 2-0 debacle at Westerlo two weeks ago.
Kljestan sees the bigger picture. He's experiencing Europe -- he and his fiancee, model
Jamie Lee Darley
, have enjoyed trips to London and Paris -- and working on his game, with hopes of going to a bigger club and playing a big role with the U.S. national team.
"We have a healthy competition in training for selection every week. I think it's making me a better player -- but obviously, I want to be on the field to help my team the most," he told the MLS Web site. "Every day in training, I have to test myself a little more, and I think I've become a better 90-minute player in all aspects.
"In MLS, I played as more of an attacking midfielder. Here I've played as more of a defensive midfielder, so that part of my game has improved. At the end of the year, I'll be able to say that my game has become more well-rounded."
OLD FIRM LOSS:
Fontana's
Maurice Edu
and Rangers FC is out of the Scottish Cup following a 1-0 loss Celtic in last week's fifth-round replay, the Blues' second defeat to their Old Firm rival in 11 days.
February, 21, 2011
2/21/11
6:28
PM PT
By
Scott French
| ESPNLosAngeles.com
Rangers FC's back-to-back Scottish Premier League titles might not get another "-to-back." Sunday's 3-0 loss in the fourth of seven "Old Firm" meetings this season with archival Celtic FC has left Gers on the verge of elimination in two competitions.
And the Bhoys can end Rangers' title hopes in two more competitions, too.
Gary Hooper
scored twice in the first 28 minutes Sunday at Celtic Park as Celtic's lead over Rangers (18-4-2) reached eight points, 64-56. The Blues, with Fontana's
Maurice Edu
a constant in central midfield, have two games in hand, but another loss could leave a gap too great to be bridged.
"Celtic deserved to win the game -- I don't think we can have any complaints," Rangers manager
Walter Smith
told reporters. "Our possession and defending was poor. It was as disappointing an Old Firm game since [returning to the club in 2007 after a decade away]. … The pressure is now on us to try and get a level of consistency in our game to make sure that when the next Old Firm game comes round, we're in better shape."
There are three more Old Firm meetings to go: in a March 2 Scottish Cup fifth-round replay at Celtic Park, in the March 20 Scottish League Cup final at Hampden Park, and at Rangers' Ibrox home in the championship bracket during the SPL season's final phase. Celtic is 2-1-1 in the first four this season, with two successive SPL wins.
Rangers has won 53 Scottish League titles, but not three in a row since a string of nine ended in the 1997-98 season. Celtic has 43. The last time a club other than Rangers or Celtic won? 1985 (Aberdeen).
Rangers' first priority: getting past Sporting Lisbon in the Europa League's round of 32, a task made more difficult by last week's draw at Ibrox.
EUROPA LEAGUE:
Neither Rangers nor Belgian champ RSC Anderlecht managed the kind of result their were looking for in the Europa League's knockout openers. At least Rangers remains alive.
February, 14, 2011
2/14/11
6:11
PM PT
By
Scott French
| ESPNLosAngeles.com
Maurice Edu's Rangers FC and Sacha Kljestan's RSC Anderlecht return to European action this week with the resumption of the UEFA Europa Cup, the continent's No. 2 club competition.
Scottish champion Rangers is home against Sporting Lisbon and Belgian titlist Anderlecht plays host to Ajax Amsterdam on Thursday as the knockout stage begins with round-of-32 first legs. All second legs will be a week from Thursday.
Fontana's Edu, who last month returned from a knee injury, has been a fixture in central midfield for the Blues, who joined the Europa League fray after finishing third, at 1-2-3, in group play in the first-tier UEFA Champions League.
Sporting won its Europa League group and is 7-3-0 in the competition, but that was last fall. The club is in crisis after selling top star
Liedson
, then firing sporting director
Costinha
when he railed publicly against the move. The president is leaving, chief creator
Marat Izmailov
is looking for a new home, and manager
Paulo Sergio
seems to be cracking under the pressure.
Huntington Beach's Kljestan, who has been in and out of Anderlecht's lineup (and has been a late substitute the past two weeks after sitting out the previous two), went 2-3-1 in Europa group play; Ajax, like Rangers, falls from the Champions League after finishing a point behind AC Milan in its group.
If Rangers reaches the round of 16, French club Lille or Holland's PSV Eindhoven will be the foe. Anderlecht's opponent would be Russian power Spartak Moscow or Switzerland's FC Basel.
The full Europa League slate:
Tuesday
Manchester City (England) at Aris Thessaloniki (Greece)
Thursday
Ajax Amsterdam (Netherlands) at RSC Anderlecht (Belgium)
Sporting Lisbon (Portugal) at Rangers FC (Scotland)
Villarreal (Spain) at Napoli (Italy)
Sporting Braga (Portugal) at Lech Poznan (Poland)
Dynamo Kyiv (Ukraine) at Besiktas (Turkey)
FC Twente (Netherlands) at Rubin Kazan (Russia)
VfB Stuttgart (Germany) at Benfica (Portugal)
Paris St.-Germain (France) at BATE (Belarus)
Liverpool (England) at Sparta Prague (Czech Republic)
Spartak Moscow (Russia) at FC Basel (Switzerland)
Zenit St. Petersburg (Russia) at Young Boys Berne (Switzerland)
CSKA Moscow (Russia) at PAOK Thessaloniki (Greece)
FC Porto (Portugal) at Sevilla (Spain)
PSV Eindhoven (Netherlands) at Lille (France)
Bayer Leverkusen (Germany) at Metalist Kharkiv (Ukraine)
CHAMPIONS LEAGUE:
The first four of eight round-of-16 series begin this week in the UEFA Champions League. Tottenham visits AC Milan and Schalke 04 plays at Valencia on Tuesday; Barcelona plays at Arsenal and Ukraine's Shakhtar Donetsk at AS Roma on Wednesday. The other four series begin next week.
BRADLEY'S FIRST:
Manhattan Beach's
Michael Bradley
made his English Premier League debut Saturday, struggling to make an impact as a second-half substitute in Aston Villa's 1-1 draw at Blackpool.
February, 7, 2011
2/07/11
6:08
PM PT
By
Scott French
| ESPNLosAngeles.com
Michael Bradley took the field, where he was greeted with cheers by Aston Villa's faithful, but was in suit and tie for Saturday's English Premier League clash with visiting Fulham.
The U.S. national team midfielder, whose family lives in Manhattan Beach, had to put off his debut with his new club until his International Transfer Certificate arrives from Borussia Moenchengladbach.
So he instead was introduced the crowd before kickoff, saluting all three sides of Villa Park, and then watched U.S. teammate
Clint Dempsey
beat former UCLA goalkeeper
Brad Friedel
to lift Fulham to a 2-2 draw.
"I have spoken to people, and the first thing they always say about Villa Park is the heritage of the ground," Bradley told Aston Villa's Web site. "They talk about Villa Park being a traditional stadium, with a great atmosphere, and they always say the fans are tremendous, they make loads of noise and they are really loud.
"I can't wait to play to get out there and play now. I am just excited to be here and ready to get going. That's why I have come to play in the Premier League. I want to play at the highest level and test myself in the biggest of games."
He'll likely make his club debut Saturday at Blackpool and hope to make his first home appearance two weeks later against Blackburn. His goal: Make the kind of impact former Irish star
Roy Keane
made in the EPL.
"I have watched all sorts of games from when I was little, and watched midfielders, obviously," Bradley told the
Guardian
. "The one I looked up to was Roy Keane and the job he did at Manchester United. The way he was able to be the engine and heart of their team and help them be successful was something to aspire to."
January, 31, 2011
1/31/11
5:52
PM PT
By
Scott French
| ESPNLosAngeles.com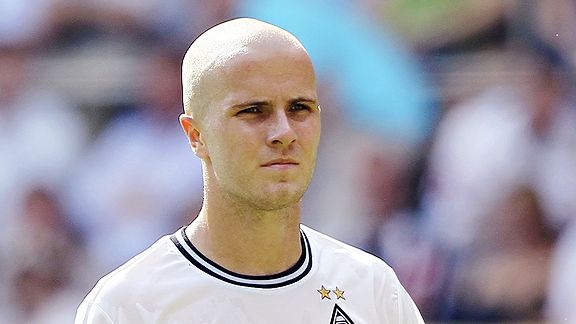 Christof Koepsel/Getty ImagesMichael Bradley, son of U.S. coach Bob Bradley, left Borussia Moenchengladbach for Aston Villa on Monday.
There were a lot of clubs looking closely at Michael Bradley, but as soon as the U.S. national team midfielder got word that Aston Villa was interested, his departure from Borussia Moenchengladbach was a done deal.
The 23-year-old midfielder, the son of U.S. coach
Bob Bradley
, on Monday joined Villa, arriving on loan until summer.
The Birmingham-based club, mired in a disappointing English Premier League campaign, has an option to purchase Bradley's contract, which runs until summer 2012. The announcement follows by days Pasadena's
Yura Movsisyan
's move
from Danish club Randers to Russian Premier League side FC Krasnodar
.
Bradley, whose family lives in Manhattan Beach, won't be cleared to play in Villa's game Tuesday against Manchester United, but he could debut Saturday against U.S. teammate
Clint Dempsey
and Fulham.
"Within the last week or so I heard that the manager [
Gerard Houllier
] was interested in bringing me here," Bradley told Aston Villa's Web site. "From the moment I heard that, I was really excited and really just hoping that everything could get done. For me, the Premier League is the best league in the world. You watch a game in the Premier League, and the speed of the game, the pace and the power all stand out.
"To have the opportunity to come here and test myself at the highest level, week in and week out, is incredible, and to try to take the things I do as a player and make them count at the highest level -- it's a great challenge."
Bradley's father was linked to the Aston Villa managerial job until Houllier, a former French national team coach, was hired in early September. The club is owned by Cleveland Browns owner
Randy Lerner
and features three other Americans: goalkeepers
Brad Friedel
and
Brad Guzan
and defender
Eric Lichaj
.
Bradley, who signed with MLS's MetroStars (now the New York Red Bulls) at 16, moved to Holland's Heerenveen at 18 and joined Gladbach in 2008 on a $3.43 million transfer, has quickly risen in international soccer. He enjoyed a breakthrough World Cup in South Africa and was one of few pluses this season for the German club, which sits at the bottom of the Bundesliga standings.
Bradley's representatives asked for a transfer during the Bundesliga's winter break, Gladbach technical director
Max Eberl
told German newspaper
Express
, and there was immediate interest from England's Sunderland, Turkey's Galatasaray, Italy's Palermo and several Bundesliga clubs.
Reports Friday had Bradley headed to Galatasaray on a $6.8 million transfer, but he spent the weekend in England finalizing details and taking a medical exam.