Los Angeles Soccer:

Frank Klopas
May, 4, 2012
5/04/12
11:40
PM PT
By
Scott French
| ESPNLosAngeles.com
CARSON -- Chivas USA took care of their first need Friday night, finally finding the net in a home game. It took 383 minutes and came from the penalty spot, courtesy of Juan Pablo Angel.
That was supposed to spark the Goats to some real home success, but another hit-and-mostly-miss performance -- marked by many of the same troubles -- led to another home defeat.
Marco Pappa
scored a superb goal in the third minute of stoppage time to deliver to the Chicago Fire a 2-1 victory, handing Chivas their fifth one-goal loss in as many matches at Home Depot Center.

"Not a whole lot to say, really," said
Robin Fraser
, who dropped to 5-12-5 in home games as Chivas head coach. "Bitterly disappointing to give up a goal in the dying seconds to lose at home. It's a bitter pill to swallow for sure."
Their season-worst third successive loss left them 3-6-0, and things aren't going to get any easier. The next five games, through mid-June, are against a Major League Soccer murderers' row: at San Jose, home against the Galaxy, at New York, home against Seattle, home against Real Salt Lake.
Fraser changed his formation, heavily altered his lineup and gave four players their season debuts -- two of them, Colombian defender
John Alexander Valencia
and newly arrived Colombian forward
Jose Erik Correa
, their MLS debuts -- but Chivas' game ebbed and flowed, with moments of great clarity obscured by extended spans in which they created very little.
They got the goal in the 23rd minute, with Angel converting after rookie
Austin Berry
, making his MLS debut, dragged down Alejandro Moreno just inside the Fire box. Berry made up for it about two minutes later, volleying a chip from
Sebastian Grazzini
inside the left post after a throw-in was cleared.
The Goats did enough to earn a point, but Pappa crushed those aspirations following a sequence on the right flank with
Federico Puppo
, firing across the goal and inside the left post from about 22 yards.
"[It's great] any time you can score a goal like that late and put three points in a difficult place," said Fire coach
Frank Klopas
, who was confined to a luxury suite while serving a one-game suspension. "It took a special player to make a special play at the end."
Kennedy was, as always, outstanding, making three big saves -- including back-to-back stops on Grazzini and
Dominic Oduro
in the 62nd minute. There was nothing he could do on Pappa's winner.
May, 1, 2012
5/01/12
7:25
PM PT
By
Scott French
| ESPNLosAngeles.com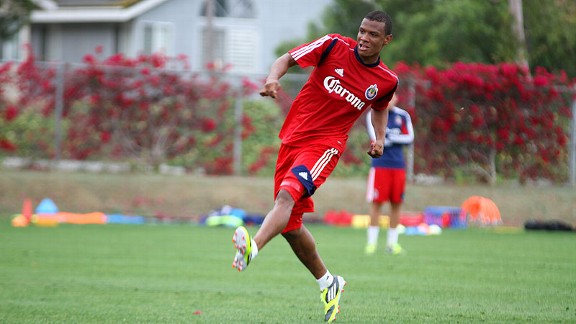 Juan Paz/Chivas USAColombian forward Jose Erik Correa joined Chivas USA's camp this week.

CARSON -- Chivas USA hopes Jose Erik Correa possesses what it needs, and so does he.

"I want to score a lot of goals," the young Colombian forward said through an interpreter after Tuesday's training session at Home Depot Center, his second with the Goats since arriving on an end-of-the-window transfer two weeks ago. "That's one of the characteristics of a forward, and [I want to] do things the best way I can so the coaches and staff are happy with me and the team continues to grow in the league."

Chivas needs those goals to grow -- it's scored a league-worst four in eight games while otherwise playing rather decent soccer -- and Correa, a burgeoning Colombian national teamer who was tearing up his country's top league, provides an intriguing option up front, hopefully sooner than later.

He's only 19, or 21 -- his official papers say he's a teen, word within the club is he's not -- and needs to adjust to his first experience abroad.

"He's certainly an interesting player," Chivas head coach Robin Fraser said. "He's got a good build and a good workrate and a good attitude so far. He's a hard-worker, he's got good pace, he can hold the ball up well. He's a good athlete."

Correa, who scored six goals in his final seven games with Boyaca Chico and last month was called into Colombian national team coach Jose Pekerman's domestic-player camp, the first step toward World Cups and Copa Americas, has characteristics of a target striker but the speed and skill to play as a second forward, too. He could feature as early as Friday night's game against the Chicago Fire at Home Depot Center, Fraser said, depending on "how quickly he adapts to the team and his teammates ... and how he performs in practice."

Correa says he "thanks God" for the opportunity to come to Major League Soccer, that it's a "very important step for me" and "one of the best things to happen in my life and in soccer."

"This is a great place to be able to take the first step toward trying to get to Europe or to stay here and make a name for yourself in MLS ...," he said. "I believe I have grown a lot [in the past year]. If they wouldn't have seen that evolution in me, I wouldn't be here. That's one of the things I admire about myself, that every day I want to be a better player."


July, 10, 2011
7/10/11
12:10
AM PT
By
Scott French
| ESPNLosAngeles.com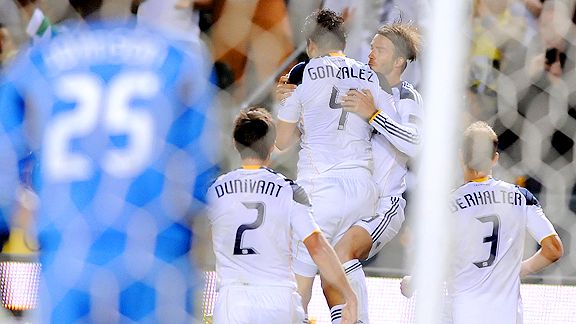 Christopher Hanewinckel/US PresswireDavid Beckham celebrates his corner-kick goal with Omar Gonzalez after giving the Galaxy a 2-1 lead.

CARSON, Calif. -- David Beckham remembers the last time he curled in a corner kick for a goal. It was 16 years ago, during a brief loan spell to Preston North End early in his glorious Manchester United career.

The one before that? That's tougher.

"I'm not sure I've scored another one," he said, "since I was playing Sunday-league football as a kid."

He scored one Saturday night, threading it low through a crowd and into the far-post netting in the 65th minute to send the Galaxy (10-2-9) to a 2-1 triumph over the Chicago Fire at Home Depot Center.



He set up L.A.'s other goal from a corner kick, too, finding
Landon Donovan
for a header at the far post in the 58th minute, as the Galaxy extended their unbeaten streak to a dozen games and joined FC Dallas as the only Major League Soccer clubs to post double-digit wins this season.
The victory came in a tough encounter in which the Fire (2-5-12) had the better of play for long stretches, taking advantage of a somewhat makeshift lineup forged by a growing injury crisis that sent four more players -- including
A.J. DeLaGarza
, who suffered a scary head injury in the Fourth of July draw with Seattle -- to the sidelines, joining the likes of starting goalkeeper
Donovan Ricketts
and three others.
It was a meaningful match for Beckham, who played sparingly last week after missing the previous two games because of a fractured spine. He wasn't expecting to go the full 90, but he gritted through from start to finish, bringing great energy, improving the level of L.A.'s passing -- and delivering those two corners for goals.
"He's a warrior, man," praised Donovan, who pulled even with New York's
Thierry Henry
for the league lead in goals with his ninth of the season. "Since he's been here, he's played through a lot of injuries. He's spent a lot of time off the field, so I think he wants to do everything he can this year to play as much as possible, and he's playing through a lot of pain. I'm impressed."
Beckham has been in pain, but he felt pretty good Saturday night, and that was apparent with his set pieces, which provided L.A.'s only legitimate scoring opportunities.
Gregg Berhalter
nearly finished a Beckham corner at the near post in the third minute, Donovan got above
Gonzalo Segares
to nod back across the goalmouth and into the far-post netting to give the Galaxy the lead, and Beckham's winner arrived just three minutes after
Cristian Nazarit
got between Berhalter and
Todd Dunivant
to head home a
Patrick Nyarko
cross that tied the score.
"I felt on Thursday I had a lot of pain in my back, and Friday I woke up, and it got 90 percent better," Beckham reported afterward. "And this morning I woke up with hardly any pain.
"I didn't expect to play 90 minutes, but, you know, I think with 25, 20 minutes to go,
Bruce
[
Arena
] said, 'I'm going to give you five minutes,' and I seemed to get a second wind. I told him that, and he left me on. Thankfully, I did, because I got the goal."
There was good news on DeLaGarza: A battery of tests showed he did not suffer a concussion when Seattle's
Fredy Montero
kicked him in the head Monday -- he's been diagnosed with a bruised face -- and Arena said he thought the versatile defender would be ready to go for L.A.'s next league game, July 20 against Columbus.
Forward
Chad Barrett
(sprained ankle) and right back
Sean Franklin
(hamstring strain) weren't available, and midfielder
Mike Magee
was scratched because of a tight hamstring. Center back
Omar Gonzalez
, who sustained a hip pointer against Seattle, went the full 90 and played well.
A quick look at the Galaxy's victory:
July, 9, 2011
7/09/11
1:07
PM PT
By
Scott French
| ESPNLosAngeles.com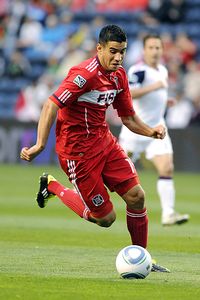 David Banks/Getty ImagesThe Chicago Fire's Orr Barouch grew up in Woodland Hills in the San Fernando Valley.
Orr Barouch knew where he stood. On a roster of 30 players, he was a lot closer to No. 30 than No. 1. Meant solely for reserve games. It's all about the future, you know?

Wrong.

The teen striker from Woodland Hills has impressed beyond expectations -- at least his own -- and is quickly evolving into one of the most exciting young players in Major League Soccer. He's turned unexpected time off the bench with the Chicago Fire into a growing body of work, scoring two goals (and coming oh-so-close to three more) and claiming starts in a couple of games.

He's got a homecoming on Saturday night, his second in as many weeks, when the Fire faces the Galaxy at Home Depot Center, and he's ready to show off what he can do for about 70 friends and family.

"They're all in the first three rows," he reported on the eve of the game. "So I'll be able to hear them."

Barouch, 19, was born in Israel, moved to the San Fernando Valley when he was 5 and grew up playing for local teams and in two high-powered clubs: West Valley Samba/Real So Cal and Chivas USA's academy. He returns to L.A. after two years in Mexico, with suburban Monterrey club UANL Tigres, which in March sent him on loan to the Fire.

It's been a bit of a whirlwind since, with a solid preseason leading to appearances off the bench from the first match -- he's made it onto the field for all but two league games -- and an expanding role within the Fire's dynamic attack.

"He's one of the players where he's always ready for the big moment," said Fire head coach/technical director Frank Klopas, who was a forward on the 1994 U.S. World Cup team and with clubs in Greece and MLS. "Even though he's a young player, he plays with a lot of confidence. He's very smart with his movement, he can create opportunities off the dribble for himself. He always finds good spots, is always involved in the box, finding opportunities. ... He's a guy that wants to make things happen, who wants the ball in difficult situations."

He has speed and touch rare for a forward of his size -- 6-foot-2, 190 pounds -- and vision that has enabled him to quickly build chemistry with fellow Fire forwards Dominic Oduro, Diego Chaves and Cristian Nazarit and wingers Marco Pappa and Patrick Nyarko.

It helped him score the tying goal in a mid-May draw at Toronto FC, another in a U.S. Open Cup qualifying final triumph at San Jose, and build to starting roles last month in ties with Real Salt Lake and the New York Red Bulls, two of the league's giants. That's more than he expected.

"I felt I had to prove myself [when I joined the Fire in preseason], like anywhere else I go, you know?" Barouch said. "Anywhere you go, you have to prove yourself, and I had to show myself to the coaching staff 'cause, I mean, they knew me, but the didn't really know me.

"Being young, I thought I was just going to be a reserve player. I thought we'd have 28, 29 players on the roster, and I was going to be No. 27. So to be in the 18 [-player game-day rosters], yeah, I was pretty happy. But it was all because I worked hard and the coaches gave me confidence and believed in me."

L.A. STORY: Barouch grew up with a soccer ball at his feet. His father, Haim, had been a goalkeeper in Israel, and he was kicking away before his family packed up for L.A.