Los Angeles Soccer:

Freddy Adu
June, 26, 2012
6/26/12
10:35
PM PT
By
Scott French
| ESPNLosAngeles.com
Chivas USA has reached the U.S. Open Cup semifinals for the second time in club history. A familiar foe awaits.

The Goats will meet three-time defending champion Seattle Sounders, who won the meeting in the semis two years ago, on July 10 in Tukwila, Wash. The Sounders toppled the San Jose Earthquakes, 1-0, in Tuesday's semifinal in San Francisco.

Jose Erik Correa's second goal of the evening, nearly four minutes into stoppage, lifted Chivas to a 2-1 victory over USL Pro side Charlotte Eagles at Cal State Fullerton.

The Philadelphia Union and Sporting Kansas City will meet in the other all-MLS semifinal after cruising past opposition from the third-division USL Pro.

The Union scored three times in the first half-hour en route to a 5-2 romp over the Harrisburg City Islanders; Sporting received goals three minutes apart early in the second half from Graham Zusi and C.J. Sapong to pull away to a 3-0 victory over the Dayton Dutch Lions.

Philadelphia will be home for the July 11 clash. The U.S. Open Cup final will be played Aug. 7 or 8.

A quick look at the three quarterfinal matches not involving Chivas USA:


March, 26, 2012
3/26/12
9:56
PM PT
By
Scott French
| ESPNLosAngeles.com
Dramatic finishes first dangled and then jerked away from the U.S. a trip to the London Olympics on a devastating evening for American soccer.
The Americans' under-23 national team rallied from a second-half deficit against El Salvador in the Group A finale and stood just seconds from the victory required to advance to CONCACAF's Olympic qualifying semifinals when a long-range shot -- and another goalkeeping miscue -- forged a 3-3 draw that ended U.S. hopes.
Jaime Alas
' 30-yard blast more than four minutes into stoppage bounced off prematurely diving
Sean Johnson
and into the net Monday night in Nashville, Tenn., giving El Salvador (1-0-2) the group title and a March 31 semifinal showdown with the No. 2 team from Group B -- Honduras is expected -- for one of the region's two berths at this summer's London Games.
Canada (1-0-2), which on Saturday beat the U.S., 2-0, claimed A's other final-four berth with a 1-1 draw against Cuba and likely will face Mexico for an Olympic berth.
Keeping tabs on the road to London:
The U.S. (1-1-1), an overwhelming favorite to join Mexico in the 16-team London field, failed to qualify for the second time in three Olympics as a revived attack -- Philadelphia's Freddy Adu, FC Dallas' Brek Shea and German-born Terrence Boyd the instigators -- could not overcome subpar defending nor poor management by coach Caleb Porter.
The day had held so much promise. The Americans, expecting a winner-takes-all semifinal against Mexico should they win, were given a different path to London when Cuba's
Maykel Reyes
scored in the 91st minute to pull even with Canada. A victory would give the U.S. the top spot in Group A and prevent, almost certainly, the need to beat Mexico for an Olympic berth.
Then Boyd, a Borussia Dortmund forward, scored after 59 seconds. Things could be going no better.
March, 22, 2012
3/22/12
8:48
PM PT
By
Scott French
| ESPNLosAngeles.com
Joe Corona
's hat trick led the United States' under-23 national team sprinted to an easy victory in its opener in the CONCACAF Olympic qualifying tournament, and Canada held on for a draw with El Salvador in the other Group A game.
Keeping tabs on the road to London:
AP Photo/Mark HumphreyJoe Corona had a big game to lead the U.S.'s rout of Cuba.

WHAT HAPPENED?
Corona, who chose to play for the U.S. after attending a camp with Mexico's pre-Olympic team, scored three goals as the Americans grabbed a four-goal lead by halftime en route to a 6-0 rout of Cuba in Nashville.
Corona, who was born in Los Angeles, raised in San Diego and plays for Club Tijuana in Mexico's Primera Division, tallied in the 11th (volley after a chest trap), 40th (one-time finish inside the right post) and 88th (inside the left post after two 1-2s with
Mix Diskerud
) to send the U.S. atop Group A.
New York Red Bulls forward
Juan Agudelo
, with a can't-miss header, and Philadelphia Union midfielder
Freddy Adu
, with a forceful blast, also scored goals, and FC Dallas winger
Brek Shea
was a force on the left flank, setting up the second and third strikes for the U.S.
February, 29, 2012
2/29/12
11:07
PM PT
By
Scott French
| ESPNLosAngeles.com
Rarely, if ever, has there been a day quite so golden for U.S. Soccer -- involving multiple teams -- as was Wednesday.
Consider:
The full men's national team beat Italy for the first time -- and in Italy, in Genoa -- as Clint Dempsey finished from Jozy Altidore's finish up top. Also splendid: midfielder Michael Bradley and German-born left back Fabian Johnson.
The U.S. women's national team won its Algarve Cup opener in Portugal, dominating Denmark, 5-0, as Diamond Bar's Alex Morgan scored two more goals -- her 17th and 18th in 34 international games -- and assisted another by Hermosa Beach's Abby Wambach. UCLA products Sydney Leroux (goal) and Lauren Cheney (assist) also contributed in the scoring.
The U.S. under-23 national team, preparing for the Olympic qualifiers in March, outclassed Mexico's U-23s, 2-0, in Frisco, Texas, on goals two minutes apart by Juan Agudelo and Freddy Adu.
One more international event to report, from Tuesday night. UCLA looked good in holding Mexico's under-20 national team to a scoreless draw at Birmingham High School in Van Nuys.
January, 13, 2012
1/13/12
11:27
PM PT
By
Scott French
| ESPNLosAngeles.com
CARSON -- The foundation Jurgen Klinsmann and Caleb Porter are building this month at Home Depot Center will support U.S. Soccer's primary men's teams through what could be a pivotal year for the sport in America.

The start of qualifying for the 2014 World Cup and the London Olympics dominate the calendar, but as important as results might be, more crucial is the steps forward the national team looks to take in Klinsmann's first full year in charge and the role the under-23 national team will play in developing talent for the top side.

The teams tangoed late Friday afternoon on Glenn "Mooch" Myernick Field, right outside HDC's main stadium, with the full nats -- starting the So Cal portion of their annual January camp -- scoring four times in 15 minutes late in the first half for a 4-0 victory over the U-23s.

They'll scrimmage one more time at HDC before Klinsmann's group returns to Phoenix for next weekend's friendly against Venezuela, with University of Akron coach Porter's younger group, which is preparing for the Olympic qualifiers in March, sticking around through Jan. 25.

The national team has the usual January collection of top MLS talent and secondary players from European leagues with winter breaks, with two midfielders from the 2010 World Cup side (New England's Benny Feilhaber and Eintracht Frankfurt's nearly forgotten Ricardo Clark) and two players from the preliminary World Cup squad (Chivas USA defender Heath Pearce and Real Salt Lake goalkeeper Nick Rimando).

They've been working the past 10 days in Phoenix, with a lot of fitness work, and will focus on technical and tactical work before the games Jan. 21 against Venezuela and Jan. 25 at Panama.

"This scrimmage gives us an idea of how they are comfortable on the field," Klinsmann said afterward. "How they shift. How they take a couple of guidelines that we gave them and implement them. And now we can real the players a bit better. Because you never know when you get a fresh group coming in how their understand is of each other, how they read reach other. We know about their personal capabilities, but not in the context of a team, so that's why we need those games to see that.

"And then we can go ahead and modify training sessions and talks where we kind of want to guide them towards on the tactical side as an entire team together."

There is some crossover between the national team and the U-23s. Freddy Adu, who has been called into only one full camp under Klinsmann after a stirring performance in the CONCACAF Gold Cup title-game loss last summer, is the most prominent name on the roster, but the most important players are with Klinsmann's bunch.

Juan Agudelo, the 19-year-old New York Red Bulls forward, is the most significant -- Klinsmann calls his abilities "special" -- and Sporting Kansas City forward Teal Bunbury are age-eligible for the Olympic team, and so is FC Dallas winger Brek Shea, who is drawing considerable interest from Europe. D.C. United's Bill Hamid and Chicago's Sean Johnson, both goalkeepers, also can make the U-23 roster.


August, 12, 2011
8/12/11
5:02
PM PT
By
Scott French
| ESPNLosAngeles.com
CARSON -- Chivas USA had another chance to improve its attack through Major League Soccer's allocation process, and it again declined.
This time it was midfielder
Freddy Adu
, returning to Major League Soccer older (at 22), wiser and with four not particularly satisfying years in Europe on his résumé, and Philadelphia nabbed him as soon as the Goats turned him down.

"There was some interest, but we were unable to work out the circumstances to make it happen," Chivas head coach
Robin Fraser
said Friday. "It is what it is and we move on."
Adu arrives on a free transfer from Portuguese powerhouse Benfica, and he will not count this season as a Designated Player. The Goats, sitting atop MLS's allocation table, had right of first refusal, and financial aspects of the deal apparently led them to decline.
Reports had co-owner
Jorge Vergara
, who is based in Guadalajara, making the decision, but Fraser said he didn't know the circumstances and general manager
Jose Domene
declined to comment through a club spokesman.
"Every single player has different circumstances surrounding either how that player come in or how he impacts a team or how he impacts the salary cap ...," Fraser said. "I don't know exactly how it all went down, but in the end we just weren't able to do it."
Chivas also turned down attacking midfielder
Benny Feilhaber
, who signed in April with New England after the Goats and Philadelphia passed on his services. Chivas cited an inability to make the deal work financially.
The Goats have just brought in two players, French midfielder
Laurent Courtois
and Brazilian defender
David Junior Lopes
, and are pursuing an attacking player before MLS's summer transfer window closes Sunday.
The league has told teams to submit paperwork by the close of business Friday to ensure approval is made before the deadline. Fraser said "there's a possibility of getting something done" and that his understanding is that "this weekend is do or die." The club could continue to bring in players who are out of contract.
Adu signed at 14 with D.C. United, spent a season with Real Salt Lake and has been with Portuguese power Benfica since 2007 -- spending almost all of his time there on loan, to France's AS Monaco, Portugal's Belenenses, Greece's Aris and Turkish second-division side Caykur Rizespor.
He made a triumphant return to the U.S. national team for the CONCACAF Gold Cup and was part of
Jurgen Klinsmann
's roster for the U.S.-Mexico game Wednesday night. He'll reunite with Philadelphia coach
Peter Nowak
, who was his coach at D.C.
LOPES READY TO GO:
Lopes' International Transfer Certificate came in Friday, and he will be eligible to play in Chivas' game Saturday at Seattle.
June, 25, 2011
6/25/11
5:36
PM PT
By
Scott French
| ESPNLosAngeles.com
The biggest question U.S. fans have been asking in advance of Saturday's CONCACAF Gold Cup final has been answered: Yes, Landon Donovan is back in the starting lineup.

Where is he playing? Only a select few know, and they aren't saying.

"The team is not providing that information," national team spokesman Michael Kammarman said shortly after lineups were distributed in the Rose Bowl press box about an hour before the U.S.-Mexico game is set to kick off.

Head coach Bob Bradley, it appears, doesn't want anyone to know what his alignment will be nor who will fill which roles, at least in attack.

Forward Juan Agudelo is back on the bench, so Bradley's primary options up top, of the 11 players in the lineup, are Donovan and Clint Dempsey. The U.S. has used a 4-2-3-1 formation the last two games.

The big surprise in the starting XI is Freddy Adu, who made his first appearance in nearly two years in Wednesday's semifinal victory over Panama, starting the sequence that led to the game's lone goal, by Dempsey.

Donovan came off the bench in the last two games. He was kept out of the lineup for the quarterfinal last weekend in Washington against Jamaica after attending his sister's wedding in Southern California the day before, and the U.S. played so well in that match that Bradley made no changes for the Panama game.

Sacha Kljestan, who started the last two matches, is on the bench for the Mexico game.

Defender Carlos Salcido (heel) and winger Andres Guardado (ankle), who were questionable with injuries, are in Mexico's lineup.

The full lineups:

U.S.: Tim Howard; Steve Cherundolo, Clarence Goodson, Carlos Bocanegra, Eric Lichaj; Michael Bradley, Jermaine Jones; Alejandro Bedoya, Freddy Adu, Clint Dempsey; Landon Donovan.

Mexico: Alfredo Talavera; Efrain Juarez, Rafa Marquez, Hector Moreno, Carlos Salcido; Pablo Barrera, Israel Castro, Gerardo Torrado, Andres Guardado; Giovani Dos Santos, Javier Hernandez.
June, 22, 2011
6/22/11
10:55
PM PT
By
Scott French
| ESPNLosAngeles.com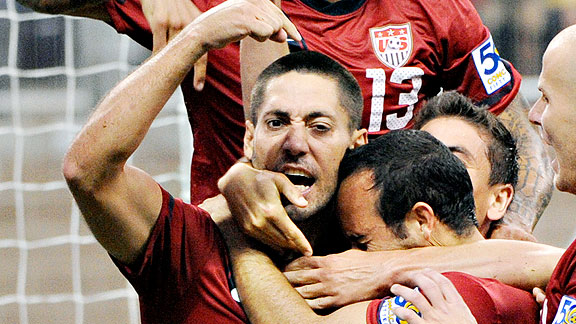 AP Photo/Dave EinselClint Dempsey and his U.S. teammates celebrate his goal in a 1-0 win over Panama.

It wasn't simple, but the U.S. and Mexico came through in Wednesday's CONCACAF Gold Cup semifinals in Houston to confirm their heavily anticipated showdown Saturday evening at the Rose Bowl.

The U.S. pulled out a 1-0 triumph over Panama as Clint Dempsey knocked home a brilliant feed from Landon Donovan in the 77th minute to send the Yanks to a record fourth successive title-game appearance in the region's nations championship.

Mexico needed overtime goals from Aldo de Nigris and Javier "Chicharito" Hernandez to conquer Honduras, 2-0, in the nightcap in front of 70,267 spectators at Reliant Stadium. Will the extra 30 minutes provide a boost for the Americans, who spent less time on the field and were finished 3½ hours earlier than their archrivals?

CONCACAF officials announced Wednesday that the game at the Rose Bowl, slated for a 6 p.m. kickoff, is a sellout. It will be the first meeting between the U.S. and Mexico in Southern California since October 2000.

The teams have met in four previous finals, with Mexico winning in 1993 (4-0), 1998 (1-0) and 2009 (5-0) and the U.S. prevailing four years ago, a 2-1 thriller sending the Yanks to the 2009 FIFA Confederations Cup, where they stunned Spain and nearly toppled Brazil in the final.

Saturday's winner will claim a berth in the 2013 FIFA Confederations Cup in Brazil, a precursor to the World Cup the following summer.

A quick look at the 18th day in the Gold Cup:

LANDON AND FREDDY SHOW: Donovan came off the bench again and Freddy Adu made his first appearance in the tournament, and they teamed with Dempsey to propel the U.S. to avenge its group-stage loss to Panama and advance to its eighth final since CONCACAF went to the Gold Cup format in 1991.


January, 31, 2011
1/31/11
5:52
PM PT
By
Scott French
| ESPNLosAngeles.com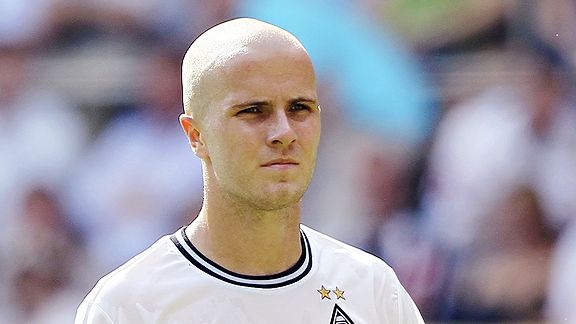 Christof Koepsel/Getty ImagesMichael Bradley, son of U.S. coach Bob Bradley, left Borussia Moenchengladbach for Aston Villa on Monday.
There were a lot of clubs looking closely at Michael Bradley, but as soon as the U.S. national team midfielder got word that Aston Villa was interested, his departure from Borussia Moenchengladbach was a done deal.
The 23-year-old midfielder, the son of U.S. coach
Bob Bradley
, on Monday joined Villa, arriving on loan until summer.
The Birmingham-based club, mired in a disappointing English Premier League campaign, has an option to purchase Bradley's contract, which runs until summer 2012. The announcement follows by days Pasadena's
Yura Movsisyan
's move
from Danish club Randers to Russian Premier League side FC Krasnodar
.
Bradley, whose family lives in Manhattan Beach, won't be cleared to play in Villa's game Tuesday against Manchester United, but he could debut Saturday against U.S. teammate
Clint Dempsey
and Fulham.
"Within the last week or so I heard that the manager [
Gerard Houllier
] was interested in bringing me here," Bradley told Aston Villa's Web site. "From the moment I heard that, I was really excited and really just hoping that everything could get done. For me, the Premier League is the best league in the world. You watch a game in the Premier League, and the speed of the game, the pace and the power all stand out.
"To have the opportunity to come here and test myself at the highest level, week in and week out, is incredible, and to try to take the things I do as a player and make them count at the highest level -- it's a great challenge."
Bradley's father was linked to the Aston Villa managerial job until Houllier, a former French national team coach, was hired in early September. The club is owned by Cleveland Browns owner
Randy Lerner
and features three other Americans: goalkeepers
Brad Friedel
and
Brad Guzan
and defender
Eric Lichaj
.
Bradley, who signed with MLS's MetroStars (now the New York Red Bulls) at 16, moved to Holland's Heerenveen at 18 and joined Gladbach in 2008 on a $3.43 million transfer, has quickly risen in international soccer. He enjoyed a breakthrough World Cup in South Africa and was one of few pluses this season for the German club, which sits at the bottom of the Bundesliga standings.
Bradley's representatives asked for a transfer during the Bundesliga's winter break, Gladbach technical director
Max Eberl
told German newspaper
Express
, and there was immediate interest from England's Sunderland, Turkey's Galatasaray, Italy's Palermo and several Bundesliga clubs.
Reports Friday had Bradley headed to Galatasaray on a $6.8 million transfer, but he spent the weekend in England finalizing details and taking a medical exam.
November, 27, 2010
11/27/10
1:10
AM PT
By
Scott French
| ESPNLosAngeles.com
Still nothing official from Rangers FC on midfielder Maurice Edu, who went down with a knee injury Nov. 10 and hasn't been seen since.
Initial word was the knock was "minor," but he's undergone two scans and missed three games -- including this week's UEFA Champions League loss to Manchester United -- and it's uncertain when he'll be back.
Don't expect him for Sunday's Scottish Premier League clash at Dundee United, and we'll see about next week's game against Hearts.
"Sucks being injured," Edu tweeted earlier this week.
Edu (Fontana/Etiwanda HS) missed last weekend's 3-2 win over Kilmarnock --
Kenny Miller
scored a hat trick, giving him 18 goals this season -- as Rangers (12-1-1) maintained a three-point lead on Celtic atop the SPL standings, and he was merely a spectator as
Wayne Rooney
's late penalty kick lifted Man United to a 1-0 triumph Wednesday.