Los Angeles Soccer:

Gallos Blancos
October, 4, 2011
10/04/11
4:43
PM PT
By
Scott French
| ESPNLosAngeles.com
Defending champ Pumas UNAM is back on top of the Mexican Primera Division standings after adding to crosstown rival America's misery.
Luis Fuentes
' goal 10 minutes into the second half of Saturday's Clasico Capitalino stood up for a 1-0 triumph at Estadio Olimpico Universitario and boosted the Cats (6-3-2) from fifth in the standings, past Jaguares, Cruz Azul, Guadalajara and UANL Tigres.
Pumas is 5-0-1 the past three weeks, all competitions, after failing to win in its previous seven matches.
A rich race for the regular-season title and eight playoff berths looks set with six games to go. Pumas' lead on Jaguares is just a point, Tigres, Cruz Azul and Guadalajara are just another point back, and three more teams are another point behind. Another five clubs are two or three points out of the top eight.
Not in that group of contenders is America, which hasn't won since Aug. 21 and sits 16th in the standings with a 2-5-4 record.
1. CHANGE FOR CHIVAS
The September skid that knocked Guadalajara from the top of the Apertura standings down to fifth has cost technical director
Jose Luis Real
his job.
Chivas on Monday canned Real and replaced him with former Mexican national-teamer
Fernando Quirarte
, a center back who played 11 seasons for the club in the 1970s and '80s and has coached at Santos Laguna, Atlas and Jaguares.
The Goats have won just once in six games since late August, and Saturday's loss to Gallos Blancos was their second in a row at home and extended their winless streak to four games. They were 5-0-1 after beating Monterrey on Aug. 20 and have fallen behind Pumas, Jaguares, Tigres and Cruz Azul, but just two points off the lead.
August, 16, 2011
8/16/11
5:47
PM PT
By
Scott French
| ESPNLosAngeles.com
Enough about how Pumas UNAM was supposed to fold after gutting its lineup in the glow of last May's celebration for winning the Mexican Primera Division's spring Clausura championship.
The Cats, on a youth movement, haven't lost a step and head into Jornada 6 on the Apertura slate with 11 points, enough to pip Guadalajara atop the table. They're doing it with defense, too, just like they used to before
Ricardo Ferretti
took his clamp-down game to UANL Tigres (and promptly posted the best regular-season mark in the Clausura).
Only two goals have been scored on on Pumas, one of them in last week's 1-1 draw with Santos -- rising star
Oribe Peralta
followed his great goal for Mexico against the U.S. with the opener in Mexico City.
Eduardo Herrera
brought Pumas even in the 80th.
1. TEAM TO BEAT: Pumas might be No. 1 in the standings, but No. 1 in Mexico's heart (sorry, America) is Guadalajara -- and it increasingly looks like Chivas could claim a record 12th Primera Division title this fall, and their first since 2006.
Even manager
Jose Luis Real
is admitting so -- and publicly, too.
"We have the attributes to be the best team in the tournament," he told the Mexican media Tuesday, in advance of Guadalajara's showdown this weekend with third-place Monterrey. "The team is proving it can play, and we want to take it further, but it's a long tournament."
March, 17, 2011
3/17/11
4:18
PM PT
By
Scott French
| ESPNLosAngeles.com
It's in no way certain that the winner of the Monterrey-Cruz Azul home-and-home will claim CONCACAF's club championship next month. Real Salt Lake, for one, has other ideas.
But the Mexican clubs' dominance in the competition, especially since the format change to group play/knockouts for the 2008-09 season, suggests that the Rayados or Cementeros will keep the trophy south of the border.
Monterrey is the odds-on favorite after eclipsing Cruz Azul, 2-1, in Wednesday night's semifinal first leg at its Estadio Tecnologico.
Neri Cardozo
and
Sergio Santos
scored the goals as the Rayados improved to 8-0-1 in the tournament.
They'll head to Mexico City for the April 6 second leg needing no more than a draw to reach the final. A 1-0 loss, however, would eliminate them on away goals.
Real Salt Lake, the first MLS team to reach the semifinals under the new format, won its home leg against Saprissa and takes a 2-0 lead into the April 5 decider in Costa Rica.
Mexican clubs have claimed 27 of 48 CONCACAF club championships -- Cruz Azul has five, but it's lost in the past two finals -- 10 of the past 14 and have a five-year winning streak going. Four of the past five finals have been all-Mexico affairs, including both "League"-era title series. Atlante won 2009 and Pachuca last year captured its third trophy in four years.
ACUNA MATATA:
Calexico's
Isaac Acuña
scored again, his third goal in five appearances, to help Gallos Blancos de Queretaro (3-5-2) to a crucial 2-1 victory over visiting Puebla.
March, 1, 2011
3/01/11
11:37
PM PT
By
Scott French
| ESPNLosAngeles.com
Look who's becoming a star. Calexico's Isaac Acuña, who had played all of four minutes of Mexican Primera Division futbol before Feb. 12, scored for the second successive week as Gallos Blancos de Queretaro battled to hold off Necaxa in the relegation fight.
Acuña, 21, took his time this week, not tallying until the seventh minute in a 1-1 draw Saturday with mighty Cruz Azul. He scored just three minutes into Gallos Blancos' 2-0 victory at Santos a week earlier. He debuted for the club, and made just his second top-flight appearance, the week before that.
Queretaro overcame two red cards to snare a point in a testy battle. There were four yellow cards in the first five minutes, and
Raul Ferro
was dismissed before a dozen minutes were up, which led to Acuña's departure in the 31st minute for tactical reasons.
The relegation battle appeared done when Gallos Blancos beat Necaxa on Jan. 29, but it has reignited as the streaking Rayos have posted three successive wins -- 1-0 over Santos Laguna last week -- and gone unbeaten in four games since
Sergio Bueno
took over after the loss to Queretaro.
"We must be aware of the situation, that we are still at the bottom of the percentage table and we need points ...," Necaxa midfielder
Paulo Cesar Chavez
told reporters this week. "The reality is we're the last in the percentage table, and it is urgent. We need to get out of there."
Gallos Blancos lost twice after beating Necaxa, and Acuña's productivity has helped keep the club from the bottom spot in the relegation table, a points-per-game standings over three full (fall/spring) seasons.
How close is it? If Necaxa wins at Cruz Azul and Gallos Blancos loses at Monterrey on Saturday, the Rayos will no longer be in the basement. The lowest team at the end of the season heads to Liga de Ascenso.
GAME OF THE WEEK:
America beat Toluca, 4-3, in a dynamite encounter that featured four goals in the first eight minutes of the second half -- two apiece, the last a gorgeous strike by America's
Daniel Montenegro
for a 3-2 advantage.
PLAYOFF REALITIES:
Pumas UNAM (5-0-3) and UANL Tigres (5-1-2) put some distance on the field with lopsided home victories, and, barring collapse, are headed to the postseason.
So is Cruz Azul (4-2-2) and, increasingly it seems, Morelia (4-1-3). Everyone else? We'll see.
February, 22, 2011
2/22/11
4:51
PM PT
By
Scott French
| ESPNLosAngeles.com
Calexico's
Isaac Acuña
is starting to flower, following his first Primera Division appearance in nearly a year with a game to remember.
Acuña, 21, scored in his first start in Mexico's top league to lead Gallos Blancos de Queretaro (2-4-1), who started the week at the bottom of the Clausura standings, to a stunning 2-0 triumph at Santos Laguna (3-3-1).
Acuña scored in the third minute -- he took a pass from
Eder Borelli
as he slipped past the backline, dribbled past goalkeeper
Oswaldo Sanchez
and knocked the ball into the open net -- and fed
Carlos Bueno
for the second goal just before halftime.
Santos' fans answered with jeers after a second successive 2-0 home loss, and coach
Ruben Omar Romano
, who guided the Torreon-based club into the Apertura final, was dismissed after cameras caught him making an offensive gesture to fans, after which he criticized the supporters.
"His behavior went against the values that the club stands for and promotes, which is why the decision was taken to end our working relationship with immediate effect," the club said in an announcement on its Web site. Said club president
Alejandro Irarragorri
: "This is a deeply hurtful decision, but we must be consistent with our values and responsibility as a model team. Ruben reacted negatively to pressure from the fans, and that's something we can't cover up."
Fellow Argentine
Diego Cocca
, 38, was hired to replace Romano. Cocca, a former right back who counts Atlas, Veracruz and Gallos Blancos among the nearly dozen clubs for which he toiled, previously has managed three Argentine clubs, most recently La Plata's Gimnasia y Esgrima.
Acuña, who is with Queretaro on loan from America, played 35 minutes in a 5-0 loss Feb. 12 to Toluca. He made his debut last April 10, playing five minutes for America in a victory over Jaguares.
SINCE 5-0:
The most alarming result of the Clausura occurred in week one, when Atlas, the worst team in the fall Apertura, throttled a decent (or so we thought) Morelia side, 5-0. After three games, Atlas had matched its fall win total and sat atop the overall table.
January, 24, 2011
1/24/11
11:35
PM PT
By
Scott French
| ESPNLosAngeles.com
UANL Tigres has teased before with poor returns, so nobody is proclaiming the club from suburban Monterrey as some new-found power, least of all manager Ricardo Ferretti.
"I think it's premature -- we are on day three, and things have gone well, but I think it's premature to talk of this is our tournament …," Ferretti told the Medio Tiempo Web site after Tigres' last-minute 2-1 victory Sunday over Club America at Estadio Azteca. "This dream is based on a lot of hard work, dedication, dedication, commitment."
Ferretti is in his third stint as Tigres boss -- the took them to the 2001 Invierno final and 2003 Clausura semifinals -- and knows well the their spotty history. They haven't won a playoff game since 2005, a span of 10 seasons, and haven't qualified for the postseason the last four seasons, falling just short in the fall Apertura.
With Los Alamitos'
Jonathan Bornstein
(Los Alamitos HS/UCLA) already contributing, Tigres is atop Group 1 and third in the overall standings with a 2-0-1 mark. The former Chivas USA captain has started the last two games, playing in midfield, and nearly scored Sunday.
Tigres toppled America (0-2-1) when
Hector Mancilla
finished a great burst by
Damian Alvarez
in stoppage time. They rallied from a two-goal deficit to tie Gallos Blancos, 2-2, in the Clausura opener and topped Necaxa, 1-0, on a PK in their second game.
HOT FOOT:
Pumas UNAM tops Group 3 with a 1-0-2 record behind
Juan Carlos Cacho
, the deadliest striker in the Primera Division. Cacho scored two more superb goals -- volleying home
Martin Bravo
's feed and with a smash to the upper-left corner -- as Pumas UNAM rallied from a two-goal deficit but couldn't hold on in a 3-3 draw with Cruz Azul.
January, 11, 2011
1/11/11
11:59
AM PT
By
Scott French
| ESPNLosAngeles.com
Atlas, the worst team in the fall, opened the second half of the Mexican Primera Division season with a stunning romp that underscores coach Benjamin Galindo's savvy eye for talent.
The Guadalajara-based club, which made several major additions to its roster during the winter break, opened the spring Clausura on Saturday with a 5-0 domination of visiting Morelia.
Gerardo Espinoza
matched his Apertura goals total, scoring twice, to lead the Zorros. Former Chicago Fire defender
Wilman Conde
scored in his Mexican League debut, and 19-year-old
Christian Diaz
(in his first top-tier game in more than a year) and
Daniel Osorno
(with his first of the season) also tallied.
"I congratulated the guys in the locker room because [there was] not a single player who did not have a good performance. It speaks well of the commitment that exists with the team," Galindo told reporters afterward.
"It's a good win which gives us confidence, but that's all. What we have to do is keep working with the same commitment that we had during the preseason."
Atlas went through three coaches in a 3-10-4 fall campaign, but Galindo, a former Mexican national-teamer, went shopping in four countries to strengthen the club. Conde, Brazilian midfielder
Lucio Flavio
(from Botafogo) and midfielder
Lucas Ayala
(from UANL Tigres) contributed to the win Saturday.
BIG BOYS BEATEN:
America got robbed. Monterrey got jobbed.
America, a sure title contender, saw two perfectly good goals erased on mistaken offside calls in a 2-0 home loss to Pachuca, which got goals midway through each half by
Yulian Anchico
and then
Edgar Benitez
.
Monterrey, which last month won the Apertura title, was outclassed at home by San Luis, also 2-0 -- with the Gladiadores' first goal, by
Osmar Mares
in the 71st minute, clearly offside.
Juan Carlos Medina
's sweet chip in stoppage, with the Rayados down a man, doubled the advantage.
December, 17, 2010
12/17/10
9:27
PM PT
By
Scott French
| ESPNLosAngeles.com
Of the many spots on the lineup card in which Chivas USA needs an upgrade, goalkeeper isn't one of them -- and, as always, there are a ton of fine netminders in the U.S. if it was.
But
Jorge Vergara
, one of the club's owners -- also owner of big Chivas: Club Deportivo Guadalajara -- says the Goats are getting a new one from Mexico.

Vergara told ESPN Deportes radio that
Sergio Arias
, one of Mexico's most promising young netminders, will be joining Chivas USA next season.
Arias, who will be 23 in February, was one of the backups to Guadalajara starter
Luis Michel
during the Mexican Primera Division's fall Apertura, but he hasn't yet made his first-team league debut for the club.
The 6-foot-2 keeper emerged from Guadalajara's youth system and starred on the Mexican side that won the FIFA U-17 World Cup in 2005 and played for Mexico at the 2007 Panamerican Games. He made 36 appearances on loan to second-tier Dorados de Sinaloa in 2007-08.
Arias was set to join Gallos Blancos de Queretaro in Mexico's Primera Division on loan, but Vergara said the agreement was canceled "because we needed him to go to Chivas USA, we want the goalkeeper at Chivas USA."
Zach Thornton
, 37, has been Chivas USA's No. 1 goalkeeper since 2008; he was MLS's Goalkeeper of the Year in 2009.
Dan Kennedy
(Yorba Linda/El Dorado HS and UC Santa Barbara), who missed the last 2½ months of last season with a torn biceps muscle and all of 2009 with a knee injury, is a worthy backup.
And we like
Kevin Guppy
(Chino Hills/Chino Hills HS and Cal State Northridge), an MLS pool goalkeeper (available to any team requiring one) who saw action for the Goats last year.
Arias clearly has a future with Guadalajara, but he needs games, and Vergara's hope is he'll get them with Chivas USA. This is how the relationship between the clubs should work, with our Goats taking top prospects on loan from the mother club, but a playmaking midfielder, sturdy defender or steady finisher up top would be a better value.
November, 24, 2010
11/24/10
6:49
AM PT
By
Scott French
| ESPNLosAngeles.com
Miguel Herrera is returning home, more or less, to turn Atlante's fortunes around. The veteran coach, who played for the Potros and then guided them through five campaigns in 2002-04, was hired Tuesday by the Cancun-based club.
"I'm home, and I'm grateful," Herrera said when presented to the media. "I know the institution well, and I have confidence to reach our goals."
Atlante has reached the Mexican Primera Division playoffs just once since winning the 2007 Clausura championship and finished this fall's Apertura campaign in 16th of 18th clubs, with a 4-9-4 record. Herrera takes over for Argentine
Eduardo Bacas
, who in September stepped in for
Rene Isidoro Garcia
, who took over last summer for longtime coach
Jose Guadalupe Cruz
.
Atlante won the CONCACAF Champions League title in 2009 and finished fourth in last year's FIFA Club World Cup. But it has struggled domestically the past five years and sits fourth from the bottom in the relegation index, the six-season formula that determines which club drops to the second-tier Liga de Ascenso at the end of each Clausura tournament.
"Our priority," club president
Miguel Angel Couchonnal
said, "is to get out of this mess."
And so the Potros -- the Colts -- are bringing Herrera home.
The former defender, a fiery player and emotional coach, started and ended his playing career with the club, which relocated from Mexico City to Cancun in 2007. He spent four stints with Atlante, then guided it to a 38-28-31 record and three playoff appearances after he was hired as head coach in February 2002.
He left the club after the 2004 Clausura and guided Monterrey for all or part of seven tournaments, taking the Rayados to Primera Division title home-and-homes in the 2004 Apertura (losing to Pumas UNAM) and 2005 Apertura (losing to Toluca).
He was unable to save Veracruz from relegation two years ago, and was dismissed in August from Estudiantes Tecos. He had been in charge of the Guadalajara-based club since September 2008.
NEW DATES:
The Mexican federation altered the originally reported dates and times for the semifinals in the Primera Division and Liga de Ascenso. All first legs will be Thursday and all second legs Sunday.
Here's the schedule (all times Pacific):
Primera Division
First leg (Thursday)

Santos Laguna at America, 5 p.m.
Monterrey at Pumas UNAM, 7 p.m.
Second leg (Sunday)

America at Santos Laguna, 4 p.m.
Pumas UNAM at Monterrey, 6 p.m.
Liga de Ascenso
First leg (Thursday)

Club Tijuana at Albinegros de Orizaba, 5 p.m.
Veracruz at Irapuato, 6:50 p.m.
Second leg (Sunday)

Albinegros de Orizaba at Club Tijuana, 1 p.m.
Irapuato at Veracruz, 5 p.m.
ETC.: Santos' Oribe Peralta is out for the rest of the playoffs after fracturing his foot at the end of Los Guerreros' quarterfinal triumph over Jaguares. … Uruguayan coach Gustavo Matos will succeed Argentine Angel David Comizzo as head coach of Queretaro's Gallos Blancos. … Tomas Boy will return as Morelia's coach; he said last month he did not plan to be back. The former Mexican national team midfielder has been in charge of the Monarcas since February 2009. … Former Toluca goalkeeper Hernan Cristante, 41, says he's looking into possibilities in Major League Soccer. … Salvador Cabañas' wife told a Paraguayan radio station that her husband, a star striker who hasn't played since he was shot in the head at a Mexico City nightspot 10 months ago, is owed $1.3 million in back wages and benefits by America and will sue if ongoing negotiations do not lead to a settlement.
November, 9, 2010
11/09/10
12:07
PM PT
By
Scott French
| ESPNLosAngeles.com
America is peaking at the best possible time. Toluca is crumbling when it counts. The impact on the Mexican Primera Division's Apertura campaign is massive.
The Aguilas clinched a berth in the eight-team playoff
Liguilla
with a 1-0 victory at Atlante, courtesy of
Matias Vuoso
's eighth goal of the season, and head into their final regular-season outing -- against Mexico City rival Pumas UNAM -- with three-game winning and six-game unbeaten streaks.
They've pulled through last month's attacking drought, in which they were shut out by first-place Cruz Azul, second-place Monterrey and archrival Guadalajara, scoring seven times in their past three games -- and that should be eight.
Pavel Pardo
converted a stoppage-time penalty kick against Atlante, but referee
Paul Delgadillo
ordered a retake for encroachment, and Potros goalkeeper
Moises Muñoz
saved Pardo's second attempt.
America, which is atop Group 2 and fourth overall, behind Santos Laguna on goal difference (plus-8 to plus-7), appears to have shored up its defensive problems, and the relationship among Vuoso, playmaker
Daniel Montenegro
and former Toluca star
Vicente Sanchez
has solidified just when it most matters.
"We're there, and we were able to get there," America coach
Manuel Lapuente
said after Saturday night's victory, according to
Reforma
. "We're playing well … we've finished the league well, although we have a game against Pumas to play, and we cannot lose at home. We're going to put a lot of effort into that game. This isn't over until it's over, and we're going to fight to climb one spot higher."
November, 4, 2010
11/04/10
11:55
PM PT
By
Scott French
| ESPNLosAngeles.com
With two weeks to go in the Mexican Primera Division's Apertura season, here's where we stand in the battle for the eight playoff berths:
WHO'S IN:
Cruz Azul, Monterrey and Santos Laguna -- Nos. 1, 2 and 3 nearly all season -- claimed spots during last week's "doble jornada"; the Cementeros are guaranteed a top-two seed, and Monterrey is on the verge of wrapping up the other.
So last week's showdown at Estadio Tecnologico was perhaps a title-series preview, and, in a small surprise, first-place Cruz Azul (11-2-2) romped to a 4-2 victory, handing the second-place Rayados (9-1-5) only their second defeat in 33 regular-season matches over 51 weeks.
Cesar Villaluz
, part of Mexico's 2005 U-17 World Cup-winning side, scored twice for the victors.
So ... who's the team to beat should both reach the final? Go with Monterrey, which won last year's Apertura. Cruz Azul has lost in the past two Apertura finals and in the past two CONCACAF Champions League finals.
October, 26, 2010
10/26/10
5:03
PM PT
By
Scott French
| ESPNLosAngeles.com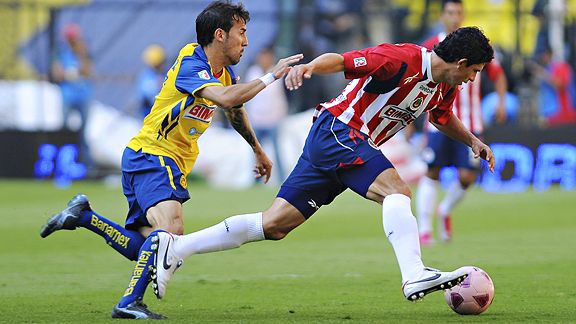 Jaime Lopez/Getty Images
Vicente Sanchez, left, of America vies for the ball with Jonny Magallon of Chivas during Sunday's game.
The rule of thumb is you play to win at home and to tie on the road, but Sunday's 0-0 draw at America in the 206th edition of Mexico's "Super Clasico" wasn't enough for Guadalajara, which faces a difficult path to get into the Primera Division's Apertura playoffs.
Chivas (3-3-7) are fourth in Group 1 and 11th overall, and they're only two points behind eighth-place America (4-3-6), which held onto its spot in the playoff zone despite its third successive draw. But the Goats finish with a brutal schedule, with games in this week's "doble jornada" against fifth-place (and reigning champion) Toluca and at third-place Santos Laguna, followed by showdowns with No. 1 Cruz Azul on Nov. 6 and at No. 2 Monterrey on Nov. 13.
Six clubs -- Pumas UNAM, Morelia, Pachuca, Puebla, Gallos Blancos in addition to Guadalajara -- are within three points of a top-eight slot, and only Cruz Azul and Monterrey are assured of playoff berths, realistically if not mathematically.
"Now we depend on what other teams do, and that is a very complicated position,"
Jose Luis Real
, Guadalajara's head coach, told the media following Sunday's draw. "But we can't surrender -- we are going to try to qualify. As long as we are alive, we will fight for the postseason."
Chivas have won just once in its last eight games and have picked up only seven of 12 points against the division's three worst clubs: They lost at Atlante in August, beat crosstown rival Estudiantes Tecos in early September, managed only a 2-2 draw with Atlas, their other Guadalajara rival, the first weekend in October, and beat Necaxa last week.
In games against eight of the nine clubs battling for the final four postseason berths -- Toluca is the ninth -- the Goats are 0-2-6, 0-2-2 at home.