Los Angeles Soccer:

George Kuntz
January, 9, 2012
1/09/12
10:09
PM PT
By
Scott French
| ESPNLosAngeles.com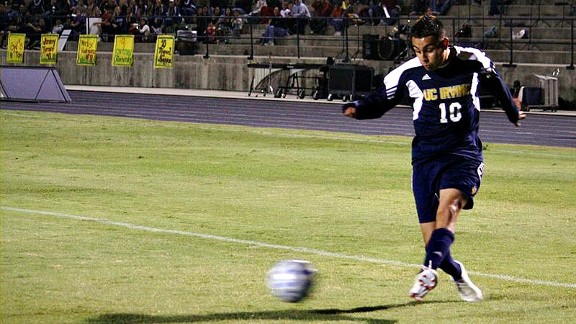 UC Irvine Sports Information UC Irvine All-American Miguel Ibarra is participating at the MLS pre-draft Player Combine in Fort Lauderdale, Fla.
George Kuntz has seen some amazing things in nearly four decades as an accomplished player and coach, but when he tries to describe what's special about Miguel Ibarra -- what qualities he might bring to a Major League Soccer club -- he's at a loss for words.

"I wish I could give you some footage, some highlights [on video]," said Kuntz, who has coached Ibarra the past two seasons at Big West Conference powerhouse UC Irvine. "It's hard to explain how he punctuates dramatic moments in games."

Like in September, when Ibarra, a diminutive midfielder from Lancaster, careened through Wisconsin's "redwoods" to set up an overtime winner for the Anteaters. Or in November, when he took on Cal Poly's defense, weaving past and walking the ball into the net to provide another win.

Kuntz can nearly wax poetic on Ibarra's performances against UC Santa Barbara, which UCI twice beat last fall to win the Big West regular-season and tournament titles, or how he came back from a blow that had knocked him out of the NCAA tournament opener against St. Mary's to create the goal that forced overtime. Or countless occasions on the training field.

"All these punctuation goals," Kuntz said. "The guy creates and scores goals. What I like about his play is how [Barcelona's Lionel] Messi dribbles inside and slips the forward in -- Miguel does that both from the right and the left side, or he can take guys down the line.

"He's got extraordinary speed. His cardio ... there are very few guys who can run at the level of speed with and without the ball that he has over a long period of time."

Those skills and the work honing them have led accolades and opportunity. His mesmerizing trickery won him first-team NSCAA Division I All-America plaudits last month and an invitation to the MLS's pre-draft Player Combine, which wraps up Tuesday in Fort Lauderdale, Fla.

Ibarra (Lancaster HS), 21, He says he "definitely was not expecting" either honor, but the first was a sign that "all the hard work paid off, just an amazing feeling" and the second "an opportunity, and I have to work hard for it and give it all I have."

Ibarra, 5-foot-7 and just 135 pounds, offers something very rare for the club that selects him in Thursday's MLS SuperDraft, Kuntz says, so long as they understand what it is he does. He's drawn comparison to 2010 MLS Rookie of the Year Andy Najar, D.C. United's teen sensation, and Kuntz sees in him a little Irving Garcia, the UCI product who withered in the wrong system after he was drafted by the New York Red Bulls two years ago.

"Whoever gets him, if they're going to use him like [New York utilized] Garcia, they probably don't want to pick him up," Kuntz said. "If you don't give a player like this freedom, you're going to limit your own goalscoring opportunities. Used the right way -- as a wide player or a playmaker, an attacking player who has defensive responsibilities but also players around him [to pick up the defensive slack], he can wreak havoc."


September, 12, 2011
9/12/11
9:42
AM PT
By
Scott French
| ESPNLosAngeles.com
UC Irvine had final-four aims a year ago, when head coach George Kuntz's talented, senior-heavy team climbed into the top 10 before an upset loss to Cal State Fullerton in the conference tournament and a poor RPI kept it out of the NCAA tournament, one of the most stunning omissions we've seen in the men's soccer brackets.
Expectations this fall aren't so towering. The Anteaters were picked fourth in the Big West Conference's preseason coaches poll, behind UC Santa Barbara, Cal Poly and Fullerton.
Might want to rethink that.
Irvine is off to a 6-0-0 start for the first time in school history after rallying twice from first-half deficits, then pulling away to a 4-2 non-conference victory Sunday at Midwest power Illinois-Chicago.
Enrique Cardenas
(Coachella/Coachella Valley HS) scored in the 58th minute and
Christopher Santana
in the 77th to lift the Anteaters, who are No. 9 in the National Soccer Coaches Association of America men's Division I rankings.
UIC (2-1-2) went ahead twice, on goals off corner kicks by
Zach Kaleta
in the fourth minute and
Craig Krzyskowski
in the 22nd, but UCI answered immediately both times, through
Christian Hernandez
(Palmdale/Palmdale HS) in the 13th and
Jonathan Rivas
(Norwalk/Santa Fe HS and Cerritos College) in the 24th.
In other men's action:
Ryan Lee and Chandler Hoffman scored first-half goals to lead UCLA (2-2-1) past 10-man Loyola Marymount (2-3-0). The Bruins dominated the game, outfiring LMU, 13-4; the Lions were handicapped when Logan McDaniel (Palmdale/Quartz Hills HS) was red-carded in the 14th minute, just 23 seconds after Lee tallied.
Jesse Escalante (Placentia/Valencia HS) and Nick Posthuma (Pasadena/St. Francis HS) scored to lead Cal State Fullerton (4-0-1) past San Francisco, 2-0, to win UNLV's event, the Titans' second tournament championship in as many weekends.
Cal State Northridge (2-3-0), just seven minutes from victory, surrendered three goals in 97 seconds and lost, 3-1, to New Mexico in the decisive encounter of the Lobos' tournament. Gustavo Villalobos (Van Nuys/Birmingham HS) tallied for the Matadors in the 35th minute.