Los Angeles Soccer:

George Larsen
December, 4, 2011
12/04/11
2:11
PM PT
By
Scott French
| ESPNLosAngeles.com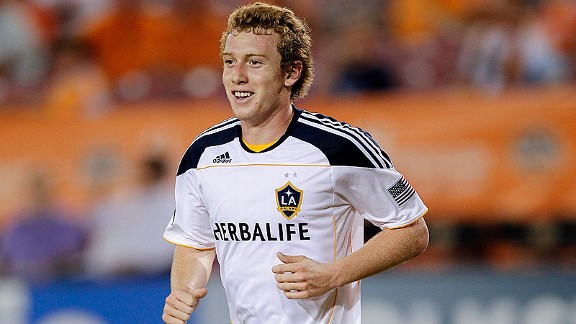 Bob Levey/Getty Images
Jack McBean turned pro at 16, a prospect so bright the Galaxy wanted to begin working with him now.
CARSON --
Scotty McBean
knows
Landon Donovan
has taken his son under his wing, that
David Beckham
offers him encouragement, that
Robbie Keane
cracks him up.
He knows because he sees it when he visits Galaxy training sessions or when he attends the team's family events. But hear about it? Remember,
Jack McBean
is 16.
"Jack doesn't say much," Scotty reports. "He's pretty tough to get information out of."
Ah, teenagers. It's easy to forget just how young Jack McBean is. He'd only be a junior at Corona del Mar High School in Newport Beach, not 17 for another week and a half, if it weren't for his facility on a soccer field -- and the huge upside scouts see in him.
That's why he turned pro at 16, a prospect so bright the Galaxy wanted to begin working with him now, and offered enough cash and incentives to convince his parents to allow it to happen. He wraps up his first season with the club this week as a maturer person, stronger player.
"I go out to practice and watch," Scotty McBean says. "It's unbelievable to see my son out there with these guys. They treat him great, and I think he's starting to feel he's part of the squad. When you're starting, I'm sure it's 'I'm 16, and what's this all about?' Now I see him joking with the team.
"He's really good with you guys [in the media], says the right things. I'm sure he's good with his friends and his teammates. And he's really good at his [community] appearances, that I can see. He loves playing with the little kids -- I think he's very genuine at these events."
LEARNING EXPERIENCE:
What Jack McBean does say is he's having a lot of fun.
"It's been really good," he says. "To come in here and feel at home, it's been awesome. I'm really thankful to all the guys and
Bruce
[
Arena
] and all the staff, all the veterans. All the guys have been really helpful and nice through the whole year. It's been fun."
February, 25, 2011
2/25/11
11:58
AM PT
By
Scott French
| ESPNLosAngeles.com
Brian Ford knows well how good Jack McBean is on a soccer field, but he finds the notion that his longtime friend and teammate has signed a pro contract -- and with the Galaxy, no less -- stunning.
"It's like a
Freddy Adu
story," Ford said. "But if there's anyone to do it, it would be Jack."
McBean, just 16 and a high school sophomore, is expected to arrive in Galaxy camp next week, soon after Sunday's CONCACAF U-17 Championship title game in Jamaica. It's the start of a process that, in another four or five years or so, might have the striker squarely on the street to stardom.

McBean
His biggest fans are the ones he's left behind, his friends and teammates at Corona del Mar High School in Newport Beach, and they're trying to win a championship without him. It's not easy.

"When he said he was going to leave, we supported it 100 percent," Ford, a UC Davis-bound defender, said after a victory earlier this week sent the Sea Kings into Friday's CIF Southern Section Division 3 quarterfinals. "It's inspiring, but we've just got to worry about ourselves. Once Jack left, we started to realize: 'Hey, it's not about him, it's about us as a team, too,' so we've got to do our own thing, with or without Jack."

Corona del Mar had McBean, just a freshman, for runs to CIF Southern Section and Southern California Regional titles last year, but that was a big, powerful, experienced side -- UCLA's Reed Williams was the marquee player -- that just overpowered opponents. This year's team (15-2-7), which plays Friday at Santa Maria (with a showdown against fellow Regional titlist Paramount looming in the semifinals), has had to find its own path after losing, for all intents, seven starters from that group.

"It's been a challenge, but I think we've grown through it," said Sea Kings coach George Larsen, who also coached McBean and four of his CdM teammates to a national championship last summer with Slammers FC's U-16 team. "You know, last year we kind of got hot and stayed hot all the way through, whereas this year there was more of a learning process, there was more of a learning curve.

"It was about setting the proper expectations, because there's a tendency to want to compare yourself to last year. That's kind of been the tone of us, is just saying, 'Hey, you don't have to go defend what you won last year. You're not defending anything -- just be the best team we can be this year, come together, and whatever happens happens. You know?"

McBean joined the Galaxy's academy program last August, after the Slammers' triumph, and when he accepted an invitation late last fall to join the U.S. under-17 national team's residency in Bradenton, Fla., his time with Corona del Mar was done.

It was a little bittersweet, acknowledged junior defender Jack Gorab, to see him go.