Los Angeles Soccer:

Giovani Dos Santos
August, 16, 2012
8/16/12
9:35
PM PT
By
Scott French
| ESPNLosAngeles.com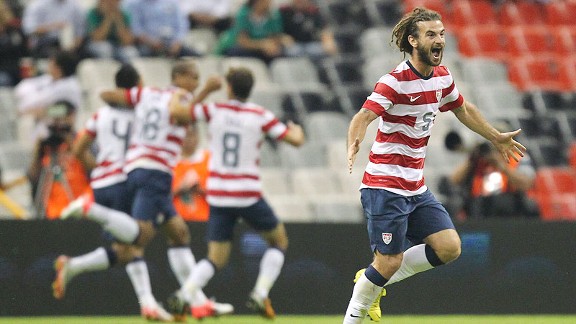 Marcos Delgado/Clasos.com/LatinContent/Getty ImagesKyle Beckerman of the U.S. team celebrates a goal during a friendly soccer match between Mexico and USA on Tuesday. The U.S. won 1-0.
MEXICO CITY -- The United States hopes its historic victory at Estadio Azteca is a precursor of sorts, but nobody is mistaking it as a shift in the balance within the region's primary rivalry. The gap separating the Americans from Mexico remains intact, and the only questions concern how great is the chasm and what must be done to bridge it.



Mexico's focus on youth development has created a golden generation of players and could signal El Tri's arrival among the truly elite in international soccer. Last weekend's gold-medal triumph at the London Olympics, with their under-23 team, follows successes by the U-17s (World Cup titles in 2005 and 2011) and the U-20s (third place at last year's World Cup), and the impact on the full national team -- the one that could, for real, be competing for the spoils in Brazil in two years -- has been profound.

Mexico's destruction of the U.S. at last year's CONCACAF Gold Cup final at the Rose Bowl, built on the sublime talent of Giovani Dos Santos, Javier "Chicharito" Hernandez and Andres Guardado, was product of Mexico's reaction to the Americans' dominance in the series for nearly a decade from 2000.

Now the U.S. must respond in kind.

"I think Mexico deserves a big compliment," coach Jurgen Klinsmann said in advance of the Yanks' 1-0 victory in Wednesday's friendly. "What they've done the last three or four years is tremendous. They've identified a way they want to play, and everybody dedicates themselves to that style of play. ...

"There is a gap. It would be foolish not to recognize that."

The U.S. went 10-2-2, with both losses at Azteca and one of the victories from the 2002 World Cup, over a span of about 8½ years. That dominance, star forward/midfielder Landon Donovan notes, was while "we had a group of us together for five, six, seven, eight years, and they were kind of in flux." The roles shifted: The U.S. team is now in transition under Klinsmann.

He took charge a year ago after that Gold Cup defeat and is working toward creating a system and a style that will emphasize attacking soccer, a necessity for success in a landscape that has been altered by Spain's success the past five years. He's also altering the makeup of an aging squad, especially at the back. The Americans' great youngsters aren't so young anymore; Donovan is 30.

Mexico's most important figures aren't yet in their primes. Chicharito is 24, Giovani 23. Defender Hector Moreno is 24. Guardado, a relative veteran, is 25. More than a dozen more first-team pool players are younger than 25.

The U.S. also has a promising young contingent -- Jozy Altidore and Brek Shea are 22, Terrence Boyd 21, Danny Williams 23 and Fabian Johnson 24 -- and several others under 25 who might or might not pan out as international players.

"It's hard to quantify a gap," Donovan said. "We're kind of a little more in flux now, but the hope is that in two years we've closed that gap and we're [like Mexico] a well-oiled machine."

The 2014 World Cup is the Americans' chief focus, but the real view is longer. Whatever success the U.S. has enjoyed has been about belief and power, not technical and tactical acumen, although there have been great improvement in both areas since the 1994 World Cup changed everything. Klinsmann, a legendary German striker who has called Orange County home for more than a decade, is looking to alter the foundation of how the U.S. plays, and that requires a philosophical shift.


December, 29, 2011
12/29/11
5:18
PM PT
By
Scott French
| ESPNLosAngeles.com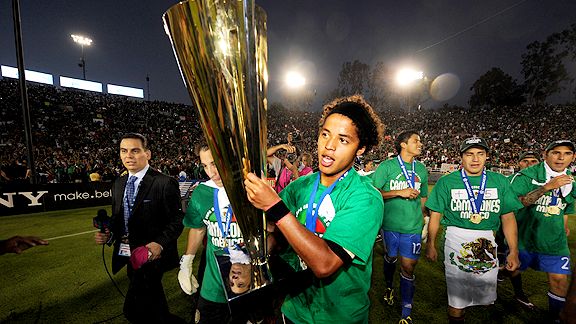 Robyn Beck/AFP/Getty ImagesGiovani Dos Santos carries the trophy after Mexico's Gold Cup victory at the Rose Bowl in June.
Counting down the 11 biggest 2011 stories in Southern California soccer ...

The United States had enjoyed pronounced dominance over its rival south of the border for a good decade, going 10-4-2 in showdowns with Mexico since 2000 -- with three of those losses in smoky, towering Mexico City and the other when the Yanks brought a beyond-reserve team to the 2009 CONCACAF Gold Cup.

Yet it was clear, in the vibrancy of El Tri's game leading to and through the early encounters in last June's regional nations championship, the positions had changed.

If confirmation was required, it arrived June 25, when Mexico spotted the Americans two goals, then sprinted past their stunned foe again and again en route to a 4-2 triumph in the Gold Cup final in front of 93,420 at the Rose Bowl.

It wasn't unexpected -- this Mexico side, guided by Jose Manuel "Chepo" de la Torre, is special, potentially the first in CONCACAF that really could contend for a World Cup title -- but the magnitude of the result shook the U.S. national team program to its foundations. Much hand-wringing over how to close the talent gap, followed by head coach Bob Bradley's dismissal a little more than a month later, and then German legend Jurgen Klinsmann's appointment, with the attendant new ideas, different eyes and a demeanor that is nothing like Bradley's.

The U.S. national team is in transition, which likely will continue into and perhaps beyond the next World Cup. Mexico, meantime, is on the rise, bolstered by a young, golden generation led by Javier "Chicharito" Hernandez, 23, and Giovani Dos Santos, 22. El Tri play with so much speed, both of foot and of thought, and with so much skill, with passing options at every moment leading to devastating chances that are put away.

We saw that in illuminating detail in the final, at least after Michael Bradley and Landon Donovan provided the Yanks a 2-0 lead by the 23rd minute. Giovani was in charge the rest of the way as Mexico caught up by halftime, went ahead on Pablo Barrera's strike five minutes into the second half and finished off with a piece of magic from Giovani, who chipped inside the upper-left post after a cheeky bit of keep-away from U.S. goalkeeper Tim Howard.

Giovani is the most prominent of players to come from the 2005 Mexican team that won the FIFA U-17 World Cup, a prize Mexico captured again this year. More Mexicans are playing in Europe, and at bigger clubs, and impressive talent continues to emerge from the domestic league.

Mexico stands to dominate in the region for some time, perhaps into the next decade -- perhaps forever. The U.S. has long been considered a sleeping (now awakening) giant in the world game, but the real sleeping (now awakening) giant might have been just to the south.
October, 11, 2011
10/11/11
11:08
PM PT
By
Scott French
| ESPNLosAngeles.com
Think of Tuesday's Mexico-Brazil friendly as a celebration of
Oswaldo Sanchez
's career, and as such it was a glowing success.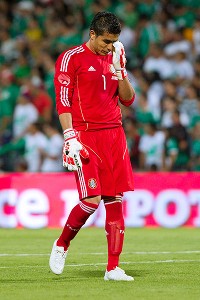 AP Photo/Christian PalmaMexico goalkeeper Oswaldo Sanchez had a rough ending to his farewell game for the national team.
The 38-year-old goalkeeper, making a farewell appearance before his home fans, made several superb saves as El Tri held on to an early advantage for nearly 70 minutes before stunning strikes by Ronaldinho and Marcelo gave Brazil a 2-1 win in Torreon.

Sanchez, Mexico's No. 1 netminder at the 2006 World Cup who hasn't figured much for the national team since Guillermo Ochoa's ascendancy a few years ago, was splendid in his 100th international appearance -- and basked in a glowing reception from fans of Santos Laguna, the club he captains, when subbed off in the final minutes.

The loss was the first with Mexico for technical director Jose Manuel "Chepo" de la Torre, not that that means a whole lot. The game was virtually meaningless, and its timing -- with nothing important nearby; World Cup qualifying doesn't begin until June -- and both clubs' reliance on Europe-based talent softened the intensity.

The highlights were three spectacular goals, including the own goal that gave Mexico a 10th-minute lead. Right-winger Pablo Barrera, one of Mexico's special players, wrapped an attack along the byline with a telling ball from a tight angle. David Luiz stuck out his foot, the ball glanced off it, spinning behind goalkeeper Jefferson and finding the far-post netting.

Ronaldinho's 79th-minute free kick, awarded after Neymar's "performance" convinced Salvadoran referee Marlon Mejia, was a bullet to the upper-right corner. Marcelo beat two defenders in the box before firing the winner into the goal's ceiling in the 84th.

Nothing Sanchez could do about either. His night will be remembered more for two saves on Ronaldinho, both on free kicks.

Three things we saw in Brazil's victory over Mexico:

1. IT'S NOT JUST THE STARS

No question who the big boys were. Nobody was more influential (primarily from set pieces) than Ronaldinho, the biggest name in this game. Univision's coverage featured individual cams on Neymar, the Brazilian teen the world is swooning over, and Javier "Chicharito" Hernandez.


October, 10, 2011
10/10/11
9:06
PM PT
By
Scott French
| ESPNLosAngeles.com
Nothing's on the line except pride and preparation when Mexico's and Brazil's national teams tangle Tuesday night in Torreon, but there's plenty of reasons to tune in.
The friendly between two of the world's finest sides, both fielding representative teams, will air at 6:30 p.m. on ESPN2 and Univision (KMEX/Channel 34). Mexico will counter a skilled Brazilian team with its superstars --
Javier "Chicharito" Hernandez
,
Giovani Dos Santos
and
Rafa Marquez
-- and the knowledge that
Jose Manuel "Chepo" de la Torre
hasn't lost since making his debut as manager in February.
El Tricolor is 10-0-4 under the former national team midfielder.
Here are three reasons to follow the action:
1. 'CHICHARITO' AND RONALDINHO
Hernandez, among the world's most admired strikers since joining Manchester United following last year's World Cup, is finally healthy after taking a few knocks to start the season. He has scored 22 goals in his first 31 appearances for Mexico, and his appearance opposite Brazilian attacker Ronaldinho -- also an iconic superstar, one whose time internationally is dwindling -- is a big deal.
The Brazilians know this.
"He has been standing out in Manchester, his confidence is very high, and he is a very dangerous player," defender
Lucas
, who plays at English Premier League rival Liverpool, told a media gathering in Mexico on Sunday. "He's very fast and can surprise you at any time.
"But there are other players, too. There is a player who is playing for Tottenham [Giovani] who has many qualities, but Chicharito is the great [player from Mexico]."
Ronaldinho returned to Brazil's national team in August -- after a nine-month absence following his exclusion from last year's World Cup team -- and is starring at home, with Flamengo, following a decade in Europe. He spent most of his years on the continent with Barcelona, where his teammates included Marquez and Giovani.
August, 30, 2011
8/30/11
10:06
PM PT
By
Scott French
| ESPNLosAngeles.com
Monterrey paid tribute to those who lost their lives in last week's brazen drug-cartel attack on a casino in the city, organizing a white-out for its Mexican Primera Division showdown with Santos Laguna.
The Rayados, playing just two days after the arson attack, encouraged fans to wear white and the players released white balloons to honor the 52 killed and send a message that Mexicans are tired of the violence and want to see positive, peaceful change.
It worked for the club, too. Goals by
Luis Perez
and
Humberto Suazo
led Monterrey to a 2-0 triumph, ending a four-game stretch in which it was beaten by San Luis and Guadalajara in league play and the Seattle Sounders in the CONCACAF Champions League.
1. CHANGING AMERICA?
Seems about time for Club America's bosses to cut ties with
Carlos Reinoso
, whether or not that would be the wisest move. The underachieving Aguilas, riding a string of disappointments despite always possessing some of Mexico's best talent, have won just two of six games in the Apertura and slipped to 11th overall with a 2-0 defeat at Pachuca.
It's too early to panic -- America (2-2-2) is just one point out of the top eight with 11 games to go -- but that hasn't stopped the club before, and there's a growing disillusionment with the Chilean Reinoso, who is in his third stint as Aguilas boss.
Rumors are swirling, but he says he's going nowhere, that the speculation that he'll be dismissed is "normal" and doesn't bother him.
"I work here for free because I love America. Who wouldn't want to be here?" he told Mexican media this week. "I'm not leaving. We know and believe and want to succeed -- and we will succeed. We will achieve the objectives, which is to qualify for the playoffs and then fight for the title. ... America fans want the best for America, and the dream of all America fans is to be champion. So we are aware that we need to improve, that we must be in the final."
August, 22, 2011
8/22/11
11:50
PM PT
By
Scott French
| ESPNLosAngeles.com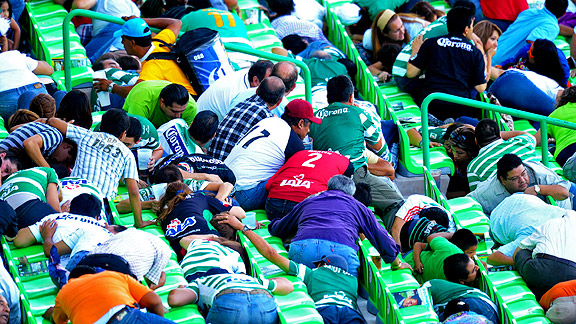 AP Photo/El Siglo de TorreonFans of soccer club Santos take cover between the stadium seats as they hear shooting outside the stadium in Torreon, Mexico.

Scenes of terror and turmoil unfolded at Santos Laguna's Estadio Corona in the most newsworthy event in the Mexican Primera Division last weekend, as gunshots rang out during the Guerreros' showdown with Morelia.

Players dropped to the turf, then scrambled off the field, and fans escaped from the stands and onto the stadium floor or ducked under seats after a series of explosions -- from outside the Torreon stadium, it turned out -- went off late in the first half Saturday.

Nobody at the game was hurt, but the stadium was evacuated and the match suspended amid great chaos. No word yet on when it will be rescheduled.

According to Mexican media, the trouble began when a pickup truck, allegedly carrying drug-cartel members, sped through a checkpoint and was chased by police. Once the truck was cornered, outside the stadium, a gun battle broke out. Part of the stadium afterward was pockmarked by bullet holes.
1. UPGRADE AT TIGRES:
UANL Tigres has one of the deepest, most talented sides in Mexican soccer and -- under former Chivas USA youth director
Dennis te Kloese
, who has brought to suburban Monterrey a handful of very promising players from Southern California -- possibly the country's best development set-up, although those connected to Pumas UNAM and Guadalajara can make convincing arguments otherwise.
No question, the club will contend for the Primera Division's fall Apertura title, especially once the attack catches up, as it should, to Brazilian manager
Ricardo Ferretti
's masterful defensive plan.
June, 25, 2011
6/25/11
11:40
PM PT
By
Scott French
| ESPNLosAngeles.com
Kelvin Kuo/US PresswireThe loss of Steve Cherundolo (6) early seemed to eventually take the U.S. out of its game in a 4-2 loss to Mexico in the Gold Cup final at the Rose Bowl on Saturday.

PASADENA, Calif. -- The seeds for Mexico's stirring comeback and comprehensive victory in the CONCACAF Gold Cup final were planted at the start -- before Michael Bradley's header gave the U.S. an eighth-minute lead, before Landon Donovan doubled the advantage not long after, and well before Giovani dos Santos ran riot, again and again, through the American defense.

Right back Steve Cherundolo was "caught in a tackle" not four minutes into Saturday's showdown at the Rose Bowl, departed seven minutes later, and it was all downhill from there.

Even as the U.S. added to its lead.

Without the German-based defender, who has been to three World Cups and started every U.S. match in 2006 in Germany and last year in South Africa, the Yanks couldn't contend with El Tri's dynamism up front, and Dos Santos, Pablo Barrera, Javier "Chicharito" Hernandez and Andres Guardado repeatedly carved up their archrivals en route to a 4-2 triumph that thrilled the vast majority among the 93,420 on hand and gave Mexico its sixth regional title and a berth in the 2013 FIFA Confederations Cup.

Cherundolo, among the Americans' finest performers during the tournament, rolled his left ankle when he was caught between teammate Jermaine Jones and Dos Santos, and his departure in the 11th minute considerably weakened the U.S. backline and attack on the right flank.

Coach Bob Bradley sent on Jonathan Bornstein at left back, moved 22-year-old Eric Lichaj from left back to right back, and then watched Mexico dictate terms the rest of the way.

How big was the loss?

"Big," said Donovan. "His leadership, his instincts as a defender, his passing ability … it certainly didn't help."

"Losing Steve hurt," goalkeeper Tim Howard said, "because he's a player that's just going to bottle that player up on his side of the field. We didn't expect [him to get hurt]. You have to roll with the punches, but it hurts."

It stung badly. Bornstein, too often isolated on the left, was overrun by Dos Santos and Barrera, Lichaj had few answers for Guardado, and El Tri's ability to create at lightning pace dizzied the Yanks. "They had us twisting and turning," Howard said. "It was tough."

"They're as dynamic as any [Mexico] team I've ever played against," Donovan acknowledged. "They just have a few guys who can change the game in a heartbeat, between Guardado and Barrera and Giovani and Chicharito. They can make special plays. They're explosive, and if you give them a lot of space, they're going to make plays. And especially on a big field like this, it certainly played to their advantage."


June, 9, 2011
6/09/11
10:03
PM PT
By
Scott French
| ESPNLosAngeles.com
Mexico came in short-handed, but it made little impact in El Tri's second game in the CONCACAF Gold Cup, a 5-0 dismantling of Cuba on Thursday night in Charlotte, N.C., that sent them through to the quarterfinals -- as if that were ever in doubt -- and left them on the verge of the Group A title.
Five players, including starting goalkeeper
Guillermo "Memo" Ochoa
and defender
Francisco Javier Rodriguez
, were dropped from Mexico's squad
after testing positive for a performance-enhancing substance
, but
Javier "Chicharito" Hernandez
and
Giovani Dos Santos
scored two goals apiece to lead its second successive five-goal romp.
Costa Rica needed a last-second goal from
Randall Brenes
to draw, 1-1, with El Salvador in the first game of a doubleheader that drew 46,000-plus to Bank of America Stadium.
DRUG CHEATS?:
A Mexican federation official said it was likely Ochoa, Rodriguez and three other players -- defender
Edgar Dueñas
and midfielders
Christian "Hobbit" Bermudez
and
Antonio "Zinha" Naelson
-- ingested tainted chicken or beef before testing positive for the banned anabolic agent clenbuterol.
All five were dropped from the team, pending an investigation, with
Alfredo Talavera
stepping into the nets for Ochoa and captain
Rafa Marquez
returning to the starting XI in place of Rodriguez.
May, 13, 2011
5/13/11
8:04
PM PT
By
Scott French
| ESPNLosAngeles.com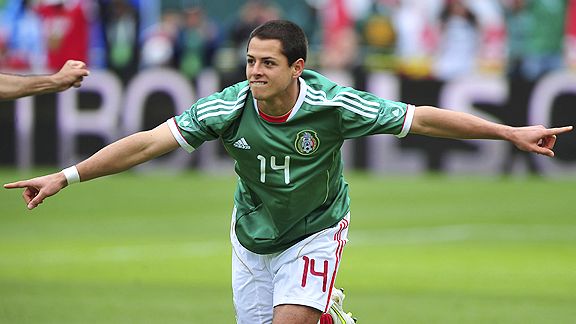 Steve Lopez/LatinContent/GettyImagesMexico Forward Javier Hernandez
Jose Manuel "Chepo" de la Torre has whittled his roster to 23 players for the CONCACAF Gold Cup, and England-based forward Carlos Vela and Pachuca defender/midfielder Paul Aguilar are not among them.
They're the biggest omissions for El Tri heading into the June 5-25 regional nations championship, which will wrap with a Rose Bowl final -- with U.S.-Mexico the anticipated matchup.
The big names are here -- from goalkeeper
Guillermo Ochoa
to backline leader
Rafa Marquez
to attacking stars
Javier "Chicharito" Hernandez
and
Giovani Dos Santos
-- as the Mexicans seek their second straight crown and sixth in 11 tournaments since the Gold Cup was established in 1991.
De la Torre had included Vela, who started two games at last year's World Cup in South Africa, and Aguilar, starter in one, on his 30-man preliminary roster. Also among the 30 but not on the final roster was Guadalajara defender
Jonny Magallon
, who was on the World Cup roster but did not play, and
Jonathan Dos Santos
, Giovani's younger brother, who famously declared he'd never play again for Mexico after he was among the last cuts from the World Cup list.
Vela, who plays for West Bromwich Albion on loan from Arsenal, has seen little playing time during the English Premier League season.
De la Torre has returned Brazilian-born playmaker
Zinha
and Monterrey midfielder
Luis Perez
, who were on the 2006 World Cup team, to the team and promoted several players, including goalkeeper
Alfredo Talavera
, defender
Edgar Dueñas
, midfielder
Jesus Zavala
, and forwards
Aldo de Nigris
,
Elias Hernandez
and
Angel Reyna
, all on whom are on the roster. Zinha, Talavera and Dueñas played for de la Torre at Toluca.
March, 30, 2011
3/30/11
6:56
AM PT
By
Scott French
| ESPNLosAngeles.com
SAN DIEGO -- Javier "Chicharito" Hernandez isn't going to score every time he takes the field, and when he failed to finish Pablo Barrera's feed at the start of Tuesday night's Mexico-Venezuela friendly at Qualcomm Stadium, it signaled he wasn't at his sharpest.
Hernandez, who would have put the ball away on Saturday, when he scored twice in El Tri's victory over Paraguay in Oakland, has become so automatic that it's almost more perplexing when he misses, no matter how difficult the chance.
Hernandez's inability to finish, therefore, had plenty to do with the result: a 1-1 draw that might have flattered Venezuela a little, but not too much. The South Americans' organization and ability to pressure Mexico's backs was impressive; their ability to do so in front of 60,808 green-shirted fanatics is something they can build on when Copa America begins in July in Argentina.
"We have a big wish, to keep moving forward …," Venezuela coach
Cesar Farias
said after the match. "We played against Mexico, which has [so many quality players] like 'Chicharito' and
Giovani Dos Santos
. It's a team that went to the World Cup -- they even have starters on their bench. It's great for us to come here in this stadium, with so many of their fans. It helps us to come to Mexico and get a draw."
Well, we're about 20 miles north of the border, but Qualcomm certainly was part of Mexico on Tuesday, and the place erupted when Dos Santos, from a short corner, chipped for an
Aldo de Nigris
header to give El Tri a 59th-minute lead. There could have been more: Dos Santos hit the right post with a shot that deflected off Venezuela goalkeeper Leonardo Morales in the 68th minute, when it was still 1-0, and
Nestor Calderon
hit the left post in the 84th, when it was 1-1.
Oswaldo Vizcarrondo
scored the Venezuelan goal, a header from
Yohandy Orozco
's corner kick to the near post after defender
Edgar Duenas
was screened away from the play and goalkeeper
Guillermo "Memo" Ochoa
left his line way too late to get to the ball.
Venezuela might have won had Orozco's 35-yard blast two minutes before Vizcarrondo's goal been a couple of inches lower. It slammed off the crossbar.
La Vinotinto for generations was the weakest South American nation in soccer, but they've made big strides the past decade, had a worthy 2010 World Cup qualifying campaign and believe they can do some damage at Copa America, the continent's nations championship.
March, 17, 2011
3/17/11
8:08
PM PT
By
Scott French
| ESPNLosAngeles.com
Mexico's roster for its end-of-March friendlies, including the March 29 date in San Diego, has been released, and sure enough, Carlos Vela and Efrain Juarez are on it.
No surprise: The pair did their penance following the fallout from their roles in an "unauthorized" party after a victory last September over Colombia in suburban Monterrey.
Vela, a forward who plays for West Bromwich Albion in England on loan from Arsenal, and Juarez, a defender on the books at Celtic FC in Scotland, were tagged with six-month suspensions, which kept them out of only one match,
Jose Manuel de la Torre
's debut as head coach last month in Atlanta.
Both return just as preparations begin in earnest for the June 5-25 CONCACAF Gold Cup, and that's no coincidence. The suspension, along with fines to other players, sparked a player protest that led to national teams director
Nestor de la Torre
's resignation; substantial punishment, deserved or not, was never an option.
They're among 23 players, nine based in Europe -- yes, Manchester United's
Javier "Chicharito" Hernandez
and Racing Santander's
Giovani Dos Santos
are included -- headed to California for friendlies March 26 against Paraguay in Oakland and March 29 against Venezuela at Qualcomm Stadium.
Also back is defender
Ricardo Osorio
, from Monterrey, who is aiming for his first appearance since last summer's World Cup. Osorio's gaffe in the round of 16, his last game for Mexico's national team, helped Argentina to a 3-1 victory.
Veteran goalkeeper
Guillermo Ochoa
(America), defenders
Rafa Marquez
(New York Red Bulls) and
Francisco Javier Rodriguez
(PSV Eindhoven), and winger
Andres Guardado
(Deportivo La Coruña) are in their first camp with de la Torre, a former national team midfielder who guided Guadalajara and Toluca to Mexican Primera Division titles.
February, 4, 2011
2/04/11
6:52
PM PT
By
Scott French
| ESPNLosAngeles.com
Jose Manuel "Chepo" de la Torre's first Mexico roster features a healthy share of the regular crew -- the Chicharitos and Giovanis and Torados -- a couple of newcomers among those looking to cement their spot in the player pool, and two old standouts returning to El Tri after absences of almost two years.
Zinha
, Toluca's Brazilian-born playmaker, and
Luis Perez
, a midfielder for Monterrey, were part of Mexico's 2006 World Cup team and contributed during the qualifying campaign for last year's World Cup in South Africa, and their presence for Wednesday's clash against Bosnia and Herzegovina in Atlanta (TeleFutura/KFTR Channel 46, 5 p.m. PT) restores international careers that elapsed when
Javier Aguirre
took charge in April 2009.
Zinha last suited up for El Tri in a 5-1 romp over Bolivia on March 11, 2009, in Commerce City, Colo. Perez made his last appearance in a World Cup qualifying loss at Honduras on April 1, 2009, two days before Aguirre replaced Swede
Sven-Goran Eriksson
.
De la Torre, a former Mexican national team midfielder, was hired Oct. 18 to succeed Aguirre, who resigned after guiding Mexico to the World Cup round of 16. Wednesday's match is his first as El Tri manager.
His roster includes 11 players from the team in South Africa -- including star forwards
Javier "Chicharito" Hernandez
and
Giovani Dos Santos
, both based in Europe, and captain
Gerardo Torrado
, the veteran (three World Cups) holding midfielder from Cruz Azul -- and a half-dozen who were on the roster four years earlier in Germany.
A half-dozen players based in Europe have been called in, but not forward
Carlos Vela
, who was just loaned from Arsenal to fellow English Premier League team West Bromwich Albion, or midfielder
Efrain Juarez
, who plays for Scottish powerhouse Celtic FC. Their six-month suspensions, for their involvement in a team party following a Sept. 7 match against Colombia in Ciudad Juarez, expire next month.
Hernandez (Manchester United), Dos Santos (Racing Santander, on loan from Tottenham), midfielder
Pablo Barrera
(West Ham United) and first-choice defenders
Carlos Salcido
(Fulham),
Francisco Javier Rodriguez
(PSV Eindhoven) and
Hector Moreno
(AZ Alkmaar) comprise the foreign legion.
Toluca goalkeeper
Alfredo Talavera
and Monterrey midfielder
Jesus Zavala
hope to make their international debuts. Talavera is expected to back up Cruz Azul's
Jose de Jesus Corona
, who was a backup at the 2006 World Cup. Five others on the roster have played just once or twice for the full national team.
January, 27, 2011
1/27/11
2:54
PM PT
By
Scott French
| ESPNLosAngeles.com
Mexico's national team is coming to Southern California in March, just not to L.A. El Tri will face Venezuela in San Diego's Qualcomm Stadium on March 29 at 8 p.m. Tickets go on sale Friday through Ticketmaster.
It's the third date on the team's annual U.S. tour, organized by Soccer United Marketing, the marketing arm of Major League Soccer, and it comes on a FIFA international-fixture date, so, theoretically, Mexico will have access to its biggest stars, such as
Javier "Chicharito" Hernandez
and
Giovani Dos Santos
, who play in England.
Jose Manuel "Chepo" de la Torre
will make his debut as Mexico coach in the tour opener, Feb. 9 against Bosnia-Herzegovina in Atlanta.
Mexico has played 19 games at Qualcomm since the early 1990s, going 13-2-4 and averaging about 40,000 in attendance, according to the San Diego Union-Tribune. El Tri last played in San Diego in June 2009, a 0-0 draw with Guatemala.
Mexico's 2011 U.S. tour (all times Pacific):
Feb. 9 vs. Bosnia-Herzegovina at Atlanta, 5 p.m.
March 26 vs. Paraguay at Oakland, 2 p.m.
March 29 vs. Venezuela at San Diego, 8 p.m.