Los Angeles Soccer:

Giovanni Trapattoni
June, 8, 2012
6/08/12
3:13
AM PT
By
Scott French
| ESPNLosAngeles.com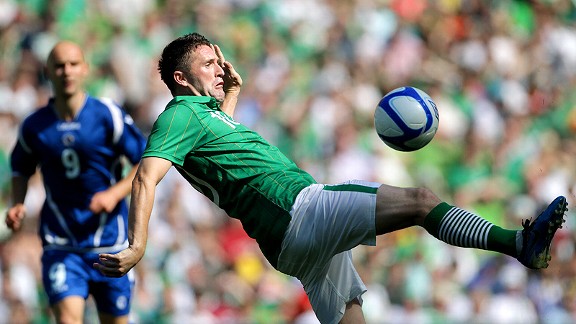 AP Photo/Niall CarsonRobbie Keane will be away from the Galaxy for the next month while competing for Ireland in Euro 2012.

CARSON -- The odds might not favor Ireland as the European Championship begins in Poland and the Ukraine, but that's fine with Galaxy striker Robbie Keane, the Irish's captain and all-time goals leader. He rather likes it that way.

The world's No. 2 soccer tournament kicks off Friday morning L.A. time, and Keane will lead the Irish into Euro 2012 action on Sunday morning, a critical meeting with Croatia before showdowns with the last two World Cup champions.

It's a ferocious challenge, but whatever Ireland lacks in technical brilliance is offset by plenty of grit and guile -- and Italian manager Giovanni Trapattoni's clampdown defensive system.

"We've certainly got the toughest group," Keane told L.A.-based reporters before heading to Europe last month. "We're underdogs, and I think with the national team it's always good -- and we've always done better -- when we're the underdogs. Hopefully, that will be the case."

It's Ireland's first major competition in a decade, since the 2002 World Cup, and its first European Championship appearance since 1988, when Keane was 7 years old. The draw could hardly have been worse.

Spain, the defending European and World Cup champion (and only the third team ever to win the titles back-to-back), is the finest side on the planet and, along with Germany and Holland, the tournament favorite. Italy comes in undervalued and, as always, with a defensive mindset that can boost Azzurri chances. Croatia always is among Europe's most talented teams.

Ireland, based in Poland for Group C play, faces Croatia in Poznan, then takes on Spain next Thursday in Gdansk and Italy on June 18 in Poznan.

"Spain, who are kind of the Barcelona of everyday kind of football, that's going to certainly a challenge," Keane said. "We'll certainly be doing a lot of running, a lot of chasing. Croatia we played against last year, and we're quite even team. Italy is Italy -- they defend very well as a team, but we've got a manager who's Italian, who knows the Italian players inside-out. ...

"We have the toughest group, we know that, we're not stupid, we're not na´ve to think that we've got an easy group, but the thing is when you play these games, there's no easy games regardless who you're playing."

The Irish beat Italy, 2-0, in a friendly last year, and they have a knack for getting results against better-fancied teams. They've lost just twice in 24 competitive games under Trapattoni and might have gone to the 2010 World Cup if not for Thierry Henry's infamous hand ball.


November, 15, 2011
11/15/11
4:42
PM PT
By
Scott French
| ESPNLosAngeles.com
Galaxy forward
Robbie Keane
will be in glorious spirits when he returns Wednesday from Dublin, where Ireland is celebrating after claiming their first European Championship berth since 1998.
Keane played until the 67th minute for Ireland, which advanced to next year's championship in Poland and the Ukraine with a 5-1 aggregate victory over Estonia following a 1-1 draw in Tuesday's second leg.
Keane, who scored twice in Ireland's 4-0 win in Friday's first leg in Tallinn, is scheduled to join the Galaxy's preparations Thursday for the MLS Cup final against Houston on Sunday at Home Depot Center.
"It's a great night for everyone, for the players and the fans -- a night that we'll never forget," Keane, the Irish captain, told media in Dublin. "The team spirit has got us through this campaign, and full credit to everyone in this group. This is what football is all about, moments like this."
Galaxy coach
Bruce Arena
had asked Ireland manager
Giovanni Trapattoni
to
release Keane following Friday's victory
, which gave the Irish an overwhelming advantage in the series. Keane and Trapattoni resisted -- Arena said Monday they were correct, that Keane should remain with his national team -- and Arena pleaded that Keane's minutes be limited.
Croatia, the Czech Republic and Portugal on Tuesday also completed playoff victories to qualify for Euro 2012.
The full field (draw Dec. 2 in Kiev):
Croatia
Czech Republic
Denmark
England
France
Germany
Greece
Ireland
Italy
Netherlands
Poland
Portugal
Russia
Spain
Sweden
Ukraine
November, 14, 2011
11/14/11
8:53
PM PT
By
Scott French
| ESPNLosAngeles.com
CARSON --
Robbie Keane
leads Ireland into its Euro 2012 coronation Tuesday in Dublin. It's the second leg of a playoff against Estonia for a berth in next year's European Championship, but it might as well be a friendly.
With that in mind, yes, Galaxy coach
Bruce Arena
did inquire as to whether the Irish might be willing to relinquish their star striker a few days early, all the better to prepare for Sunday's MLS Cup final against Houston.


The Irish are up, 4-0, after the first leg, two of the goals from Keane, and it would take a collapse of nearly unprecedented proportions to lose that advantage. (
Nearly
, because it happened to the Galaxy once, against San Jose in the 2003 playoffs.)
"I've had contact with Mr. Trapattoni ...," Arena said Monday. "I asked Mr. Trapattoni if he would give it consideration."
Mr. Trapattoni -- that would be
Giovanni Trapattoni
, Ireland's Italian manager -- told Arena no. And Arena says he's right.
"In reflecting on that," Arena said, "I really do believe he belongs with Republic of Ireland for this game, in that he's their captain and they haven't [yet qualified]. I want him to consider limiting his minutes, if it's possible. ...
"They need to do what they need to do to qualify. If there's an opportunity for Robbie to get limited minutes, he will. We're hopeful that happens."
October, 13, 2011
10/13/11
1:39
PM PT
By
Scott French
| ESPNLosAngeles.com
Robbie Keane was acquired in part to help prod the Galaxy to the MLS Cup title, but it's looking like he could miss the entire run.

Keane's injury was diagnosed by Irish national team doctors as a grade-two torn muscle in the back of his thigh, and it could keep him out as long as six weeks -- until the Nov. 20 MLS Cup final at Home Depot Center.

"We'll know more in 10 days," he told British broadsheet The Guardian. "I've got to get another scan, and, hopefully, it settles down and isn't as bad as when I had the first scan done [after aggravating the injury in a European Championship qualifier last Friday], when there was a lot of bleeding. I'll go back to [the Galaxy] and see. It's a four-to-six-week injury, and it will be touch and go."

Keane is due to arrive in Los Angeles on Thursday night.

"We'll know more when he gets back here," Galaxy coach Bruce Arena said Monday. "Can't tell until he gets back here and we have our people look at him."

Keane took an existing injury to Europe for Ireland's final two Euro 2012 qualifying group games and aggravated it while setting up Kevin Doyle in the seventh minute for the first goal in a 2-0 victory Friday in a Euro 2012 qualifier in Andorra. Rather than signal that he needed to come off the field, Keane soldiered on for the full 90 minutes.

"I actually did it on Kevin's goal," Keane said. "The adrenaline gets you through, but straight after the game, I knew that it was a tear. Of course, I would take injections, [but] this is different. It's a muscle injury and not just pain. It's a grade-two tear -- grade-three is the worst.

"It's disappointing, and I'll do my best to get back. The medical facilities are very, very good in L.A., and, hopefully, the doctors over there will get me back."