Los Angeles Soccer:

Graham Zusi
July, 11, 2012
7/11/12
11:15
PM PT
By
Scott French
| ESPNLosAngeles.com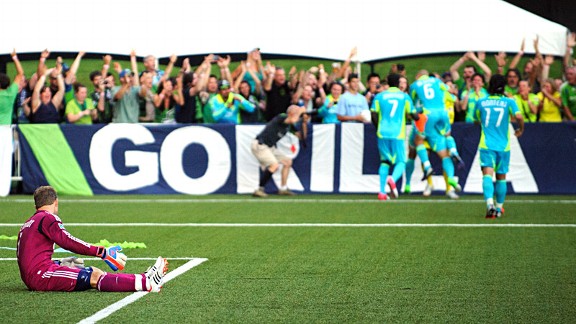 Steven Bisig-US PresswireGoalkeeper Dan Kennedy sits alone after Seattle scored one of its four goals Wednesday.

Chivas USA's quest for a trophy ended the same place its last real quest met its end, where every quest, at least for this trophy, seems to come to a close.

The Goats ran into the Seattle Sounders in Wednesday's U.S. Open Cup semifinals, and if their usual trouble spots -- an inability to create chances, costly mistakes in the worst places -- hadn't put them at a sizable disadvantage, then surely the reigning champs' attacking prowess would have done the trick.

The Sounders advanced to a fourth straight U.S. Open Cup title game -- and perhaps an unprecedented fourth straight triumph -- with a 4-1 romp in Tukwila, Wash., where they are 17-0 in the 99-year-old tournament.

Eddie Johnson gave Seattle a 31st-minute lead, Osvaldo Alonso converted a penalty kick at the start of the second half, and Cesar Romero's strike to halve the deficit with about 20 minutes to go was answered by UC Irvine product Brad Evans and Riverside's Sammy Ochoa near the end.

Chivas, which hasn't won a trophy in its 7 1/2-year history, failed in its biggest match since falling in the semifinals two years ago to the Sounders on the same Starfire Sports Complex turf.

"Early in the game was exactly as we expected it to be: a battle for territory, not giving anything up, getting into good spots," head coach Robin Fraser told ESPN Los Angeles. "I really thought it was going exactly as expected. Then we made a mistake to give up a bad goal, made another mistake for a bad goal to start the second half, then we're chasing the game."

Chivas, despite ample possession, couldn't penetrate, and the service from the wings wasn't good enough. Starfire's narrow dimensions caused problems, and the Goats didn't get off a shot until the 58th minute -- and didn't get off a good one until Romero, who provided a big spark off the bench, made it 2-1 in the 74th.

That has been the recurring theme all season: Chivas has only 17 goals over 21 games in all competitions, and it's not because chances aren't being taken.

"I'd say I'm running short on patience in terms of scoring goals," said Fraser, whose team has been shut out in three of its last four Major League Soccer matches and scored more than once only four times all year, twice against lower-level Open Cup opposition. "We'll just continue to work at it, continue to try to get the ball in dangerous spots."

Seattle will face Sporting Kansas City in the final Aug. 8 at Livestrong Sporting Park in Kansas City, Kan.

Sporting won, 2-0, at Philadelphia, with Jacob Peterson tallying from Graham Zusi's free kick in the 65th minute and -- with Union goalkeeper Zac MacMath pushed forward in search of an equalizer -- Zusi scoring from midfield into an empty net deep into stoppage.


July, 8, 2012
7/08/12
1:57
PM PT
By
Scott French
| ESPNLosAngeles.com
David Beckham and Landon Donovan won the fans' vote for Major League Soccer's All-Star First XI, the first step in selecting the team that will take on European champion Chelsea later this month in Chester, Pa.

MLS on Sunday announced the first 11 players, selected in a 4-4-2 formation, and the list includes New York Red Bulls star Thierry Henry, San Jose striker Chris Wondolowski and reigning league MVP Dwayne De Rosario from D.C. United.

Chivas USA goalkeeper Dan Kennedy lost out to Sporting Kansas City's Jimmy Nielsen for the First XI goalkeeper slot but was among seven players MLS cited as being "close to the leading vote-getters at their positions."

The First XI is not the starting lineup, merely the first 11 players chosen for the team. Commissioner Don Garber has two selections and D.C. United coach Ben Olsen, who will guide the MLS side in the July 25 match, will fill out the remainder of the 18-man game roster, with the announcement of their picks scheduled for next Sunday. Olsen will determine his starters from the 18.

Fourteen additional players will be announced July 25 as all-stars, per the MLS Players Union's Collective Bargaining Agreement with the league, but none will be eligible to play.

Donovan is a 12-time All-Star selection, and Beckham is making his third appearance on the list. Beckham's availability is uncertain; he might be in London for the Olympics, which begin July 25.

Sporting Kansas City placed three players on the First XI, with defender Aurelien Collin and midfielder Graham Zusi joining Nielsen. Former Chivas USA defender Heath Pearce is the second Red Bull on the list, and San Jose also has a second player, defender Steven Beitashour.

Here is the First XI:

GOALKEEPER
Jimmy Nielsen (Sporting Kansas City), Denmark, second All-Star appearance

DEFENDERS
Steven Beitashour (San Jose Earthquakes), U.S., first
Aurelien Collin (Sporting Kansas City), France, first
Jay DeMerit (Vancouver Whitecaps), U.S., first
Heath Pearce (New York Red Bulls), U.S., first

MIDFIELDERS
David Beckham (Galaxy), England, third
Dwayne De Rosario (D.C. United, Canada, seventh
Landon Donovan (Galaxy), U.S., 12th
Graham Zusi (Sporting Kansas City), U.S., first

FORWARDS
Thierry Henry (New York Red Bulls), France, second
Chris Wondolowski (San Jose Earthquakes), U.S., second


June, 26, 2012
6/26/12
10:35
PM PT
By
Scott French
| ESPNLosAngeles.com
Chivas USA has reached the U.S. Open Cup semifinals for the second time in club history. A familiar foe awaits.

The Goats will meet three-time defending champion Seattle Sounders, who won the meeting in the semis two years ago, on July 10 in Tukwila, Wash. The Sounders toppled the San Jose Earthquakes, 1-0, in Tuesday's semifinal in San Francisco.

Jose Erik Correa's second goal of the evening, nearly four minutes into stoppage, lifted Chivas to a 2-1 victory over USL Pro side Charlotte Eagles at Cal State Fullerton.

The Philadelphia Union and Sporting Kansas City will meet in the other all-MLS semifinal after cruising past opposition from the third-division USL Pro.

The Union scored three times in the first half-hour en route to a 5-2 romp over the Harrisburg City Islanders; Sporting received goals three minutes apart early in the second half from Graham Zusi and C.J. Sapong to pull away to a 3-0 victory over the Dayton Dutch Lions.

Philadelphia will be home for the July 11 clash. The U.S. Open Cup final will be played Aug. 7 or 8.

A quick look at the three quarterfinal matches not involving Chivas USA:


May, 25, 2012
5/25/12
10:29
AM PT
By
Scott French
| ESPNLosAngeles.com
Chivas USA's young new star has returned the club after he was dropped from the U.S. national team roster for the "five-game tournament" that begins with Saturday's friendly against Scotland in Jacksonville, Fla., and wraps up with next month's World Cup qualifiers against Antigua & Barbuda and Guatemala.
Juan Agudelo
, a 19-year-old, Colombian-born striker acquired eight days ago in a trade from the New York Red Bulls, has been a regular for the U.S. under
Jurgen Klinsmann
, but his failure to make the cut from 27 to 23 players was not all that surprising. He has just returned from a knee injury and is still seeking his best form, having made only his second start of the season in his Chivas debut in last weekend's SuperClasico victory over the Galaxy.
Agudelo returned to the Goats on Thursday, is scheduled to train Friday morning and be available for Saturday's night's Major League Soccer game against the Seattle Sounders at Home Depot Center.
Also trimmed from the camp roster were Sporting Kansas City midfielder
Graham Zusi
and two German-born players, Hertha Berlin defender
Alfredo Morales
and 1899 Hoffenheim midfielder
Danny Williams
.
Agudelo was the only one of seven forwards in the Orlando, Fla., camp who did not make the roster for three friendlies -- the U.S. plays Brazil on Wednesday in Landover, Md., and Canada next Saturday in Toronto -- and for the qualifiers June 8 against Antigua in Tampa, Fla., and June 12 at Guatemala. The forwards on the list: Galaxy captain
Landon Donovan
, San Jose's
Chris Wondolowski
,
Herculez Gomez
from Mexican champion Santos Laguna, and European-employed
Jozy Altidore
,
Terrence Boyd
and
Clint Dempsey
.
Donovan (Redlands/Redlands East Valley HS) is five local players on the roster. The others are Real Salt Lake goalkeeper
Nick Rimando
(Montclair/Montclair HS and UCLA), Rangers defender
Carlos Bocanegra
(Alta Loma/Alta Loma HS and UCLA), Chievo Verona midfielder
Michael Bradley
(Manhattan Beach), and Rangers midfielder
Maurice Edu
(Fontana/Etiwanda HS). Two San Diegans -- veteran Hannover 96 defender
Steve Cherundolo
and Club Tijuana midfielder
Joe Corona
-- also made the cut.
Here's the full U.S. roster for the five games:
April, 1, 2012
4/01/12
10:42
PM PT
By
Scott French
| ESPNLosAngeles.com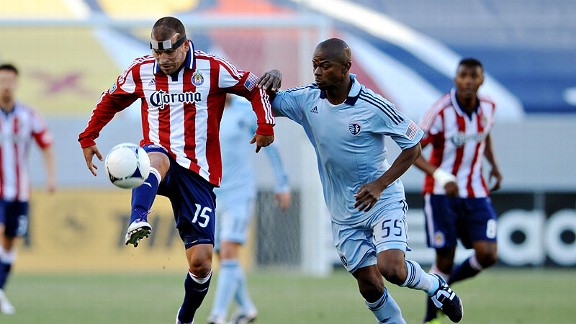 Kelvin Kuo/US PresswireChivas USA forward Alejandro Moreno passes the ball defended by Sporting Kansas City defenseman Julio Cesar.
CARSON -- There's an all-too-familiar quality to all of Chivas USA's matches this year, and that's not a good thing. Tremendous defensive work and decent possession, but few goalscoring chances, one breakdown and that's that.

It happened again Sunday night, when the Goats wasted another solid effort in their third 1-0 loss of the campaign, all at home. Sporting Kansas City took advantage of a letdown right after halftime, then fended off an increasingly direct Chivas attack to improve to 4-0-0, the only perfect record four weeks into the Major League Soccer campaign.

"It's frustrating. I'm frustrated. I know a lot of guys are frustrated," defender Heath Pearce said after Chivas dropped to 1-3-0 to remain at the bottom of the Western Conference standings, behind the Galaxy only on goal difference. "We tried to find some positives in this game, and we've been saying for a while now that we have bright moments and stuff, but at the end of the day, bright moments aren't enough if we're not scoring goals and keeping clean sheets.

"I just feel like we make it really difficult on ourselves every single game."

The Goats have zero margin for error. They've scored just once in four games -- rookie Casey Townsend's finish in last weekend's 1-0 stunner at Real Salt Lake -- so one breakdown or one superb play by the opposition is enough to destroy a firm foundation built on wonderful defending up and down the field.

That breakdown/superb play, a little of both, arrived in the 47th minute. Chivas failed to deal appropriately with a turnover at midfield, providing space for a long Graham Zusi run, almost to the top of the box. He unloaded from there, with the ball caroming off goalkeeper Dan Kennedy's outstretched hands and off the crossbar and high into the air. Zusi outleapt Ante Jazic for the header, sending the ball toward the left post, and C.J. Sapong tucked it home.

Chivas, which dominated the first half-hour but struggled to turn almost constant possession into penetration, went to a direct game from that point, lobbing balls over the top. There were chances, but just one that mattered: Nick LaBrocca hitting the left post following a Laurent Courtois run in the 54th minute.

"Our retention of possession needs to be a lot better," said winger Ryan Smith, who with Laurent Courtois fueled Chivas' attack in the first half. "In the second half, we just kept giving it away. In the first half, we wasn't so bad, we got some chances, but I don't know what happened in the second half. We came out, they got the early goal, we didn't retain possession. That's key. If you don't have possession, you can't get into good areas. You can't just hit it and hope to get on the end of a long ball. Sometimes, you have to keep the ball, move the opposition around, then make a decisive pass or switch a play, but it just didn't happen in the second half."

The Goats put only one shot on frame -- LaBrocca's off the post -- against a team that had surrendered just one shot on goal in two of its first three matches. They had another decent chance just before halftime, when James Riley chipped to Smith at the top of the box, but his touches, the first to pull away from Aurelien Collin and the next to avoid goalkeeper Jimmy Nielsen, took the Englishman beyond the end line.


March, 31, 2012
3/31/12
8:09
PM PT
By
Scott French
| ESPNLosAngeles.com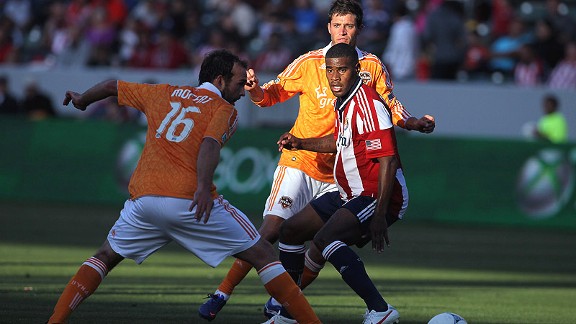 Victor Decolongon/Getty ImagesChivas USA's Rauwshan McKenzie has helped lead a strong defensive effort so far.

CARSON -- Chivas USA last weekend heroically gutted out a victory over Major League Soccer's early Supporters' Shield leader. Now they'll try to do so again, and it will require the same kind of grit.

That's what the Goats are counting on when they meet Sporting Kansas City (3-0-0) on Sunday evening at Home Depot Center, and that's fine by them.



Real Salt Lake dominated Chivas through huge portions of last week's clash in Sandy, Utah, but superb defensive work -- especially by former RSL backup Rauwshan McKenzie and goalkeeper Dan Kennedy -- and a heads-up finish by rookie Casey Townsend delivered to the Goats (1-2-0) a 1-0 triumph.

Sporting K.C., which vaulted over RSL to the top of the overall standings with a comeback victory last weekend over FC Dallas, can be expected to apply similar pressure, and Chivas is ready for it.

"We've got a fight about us. We've got a determination," said midfielder Blair Gavin, asked what's different about Robin Fraser's second Chivas team. "We've got guys who get stuck into tackles, who work hard offensively and defensively. This is Robin's second year, so his ideas are coming in now. He's getting more players he likes and [who] understand his system, and at the end of the day, we've got a lot of winners on this team, and we're going to be fighting for every victory."

That desire to fight is pivotal -- it's built into former U.S. defenders Fraser's and assistant coach Greg Vanney's DNA and that of their teams -- but it won't be enough to contend for a playoff berth in the Western Conference. That will require greater dynamism on attack. With winger Michael Lahoud and striker Juan Pablo Angel dealing with injuries and newcomer Miller Bolaņos still looking to contribute, it's still a ways off.

"We still have a lot of work to do," said midfielder Peter Vagenas, noting that this group has just three competitive games together. "This is a work in progress. The soccer is going to get better and the way we want to play, that's going to get better, but you need time. While you're doing that, you need success, especially in the win department, to validate what you're doing.


December, 22, 2011
12/22/11
2:39
PM PT
By
Scott French
| ESPNLosAngeles.com
Omar Gonzalez, the man most desired by U.S. soccer fans, has made his way onto Jurgen Klinsmann's first January roster.
Teammate
Todd Dunivant
was snubbed.
Gonzalez, Major League Soccer's Defender of the Year, is joined by Galaxy teammate
A.J. DeLaGarza
on the 20-man roster, but the fourth Galaxy backliner,
Sean Franklin
, who was part of the last January camp, also was left home.
Chivas USA defender
Heath Pearce
, who was on the 2010 World Cup preliminary roster, also is on Klinsmann's list, as are So Cal products
Nick Rimando
(Montclair/Montclair HS and UCLA), the Real Salt Lake goalkeeper, and
Benny Feilhaber
(Irvine/Northview HS and UCLA), a New England Revolution midfielder.
The team is missing its Europe-based stars, with just two players (Danish-based defender
Michael Parkhurst
and 2010 World Cup midfielder
Ricardo Clark
, who plays in Germany) brought in, both while their clubs are on winter break.
Camp opens Jan. 3 in Phoenix, heads to Home Depot Center from Jan. 13 to 20, then returns to Arizona for the Jan. 21 friendly against Venezuela at University of Phoenix Stadium in Glendale. The team then heads to Panama for a Jan. 25 match.
The roster, as always, is filled with mostly younger, lesser-experienced MLS players, and if Gonzalez's inclusion, which was expected, is a positive -- fans and media have clamored for the big Texan's involvement with the national team most of this year -- Dunivant's omission is most curious, given the Americans' deficiencies at left back.
Dunivant, 30, is coming off a sensational MLS Best XI campaign with the Galaxy, and the annual January camp -- at least under
Bob Bradley
, Klinsmann's predecessor -- usually has rewarded players coming off outstanding MLS seasons.
Klinsmann's philosophy differs from Bradley's in many respects. He's brought in a smaller group -- just 20 players; Bradley had 24 in last January's camp and 30 in 2010 -- and appears to have a sharper concept of what he's looking for.
"We have an internal ranking of players in each position based on how we want to play, and many of these players are next in line," Klinsmann told U.S. Soccer's website. "The European-based players and the Mexican-based players aren't available, so this is their shot. Their goal has to be to move ahead of the guy in front of him in their position, and the only way they can do that is to show how good they are.
November, 5, 2011
11/05/11
9:31
PM PT
By
Scott French
| ESPNLosAngeles.com
A few hours before the Galaxy and Real Salt Lake kick off at Home Depot Center, the Houston Dynamo and Sporting Kansas City battle for the Eastern Conference title and the other berth in the Nov. 20 MLS Cup in Carson.
You've got questions? We've got answers.
Who are these guys? How did they get here?
Eastern regular-season champ Sporting (15-9-12 including playoffs) won just one of its first 10 games, all on the road, while waiting for the final touches on its glorious new stadium. Since then, the ex-Wizards have been lights-out, going 14-3-9 behind a vibrant attack featuring Mexican star
Omar Bravo
, South Bay product
Kei Kamara
and breakout star
Graham Zusi
. They've won four in a row, with two 2-0 decisions over Colorado in the first round of the playoffs, and are unbeaten in their last seven.
Houston (14-9-13), which won MLS Cup titles in 2006 and 2007 -- the first two seasons after relocating from San Jose -- battled injuries most of the year, then got hot as it got healthy. With MLS assist leader (and MVP hopeful)
Brad Davis
creating from the left and
Geoff Cameron
bolstering a solid defense, the Dynamo are 6-0-1 in their last seven games, a run that led to the No. 2 seed in the East.
What's going to decide this one?
How well Houston handles Sporting's blistering speed and league's-best athleticism will be telling. K.C. attacks in waves, making good use of the flanks to get the ball up top to rising star
Teal Bunbury
and Rookie of the Year slam-dunk
C.J. Sapong
, who have ample pace. Cameron and
Bobby Boswell
are a solid central tandem in the back for the Dynamo, which has in Davis and veteran striker
Brian Ching
potential difference-makers.
September, 5, 2011
9/05/11
9:47
PM PT
By
Scott French
| ESPNLosAngeles.com
The last two games at Livestrong Sporting Park went to the wire, with late equalizers and stoppage-time winners sending Sporting Kansas City, in a marathon homestand at its new digs, to painful, dramatic defeats.
Another strike in stoppage determined Monday's showdown, but this time it was the Galaxy in a world of hurt.
Omar Bravo
converted a 92nd-minute penalty kick as Sporting, its high-pressure attack poking holes in the L.A.'s league-best defense, rallied twice from deficits for a 2-2 Labor Day draw.
It left the Galaxy at 14-3-10, with 52 points, when they should be heading home with 54.
Sean Franklin
, who entered his fourth Major League Soccer campaign without a goal, doubled his 2010 output with strikes in the 25th and 74th minutes, but L.A. gave up two goals on set pieces -- one didn't count, although it should have -- and surrendered the final equalizer when a
Julio Cesar
cross glanced off
Frankie Hejduk
's arm in the 90th minute.
Referee
Ricardo Salazar
pointed to the spot, and Bravo's finish split the points.
"I'm happy I got two goals," Franklin, who volleyed a put-back header from
Omar Gonzalez
for the first and first-timed a diagonal ball from
David Beckham
under Sporting goalkeeper
Jimmy Nielsen
for the second, told the media afterward. "But I wish on the day out team have got three points. ...
"We were definitely frustrated we gave up a penalty kick in the 90th minute. On the day, we'll take a point, but there's definitely three points out there we should have got."
A quick look at the Galaxy's draw:
BEST PLAYER:
Gotta give Franklin some love. He's a natural at right midfield, more so than at right back, always dangerous going forward, and both of his goals were quality.
But Sporting (9-8-10) was the aggressor most of the match, especially at the end, and breakout midfielder
Graham Zusi
was the guiding force. His shot from distance requires attention, but he also pops up in pivotal places and combines well to create opportunities. He was the best man on the field.
BEST GOAL:
The best goal was the one that didn't count.
July, 26, 2011
7/26/11
10:59
PM PT
By
Scott French
| ESPNLosAngeles.com
A Major League Soccer player of some distinction was musing about the league's selections for Wednesday's All-Star Game against Manchester United in Harrison, N.J. (ESPN2 and TeleFutura, 5:30 p.m. PT).
"What'd you think about it?" he asked, then turned his thumb down, toward the ground. "Four guys from Houston?"

The analysis is spot on. How do four players from a mediocre Dynamo side that has underachieved make it to the All-Star Game? Only New York, a very fine side that has underachieved even more violently than Houston, has as many players available to Red Bulls coach
Hans Backe
, who will guide the MLS side.
In all, 32 players have been accorded All-Star status, and 21 of them will play, or at least be available to play, against Man United. (Five pulled out because of injury or conflict; six were non-roster selections required in the collective bargaining agreement.)
There were a lot of very good players enjoying very good seasons left out. Here's our MLS No-Star XI, the best of those who were snubbed:
GOALKEEPER
Stefan Frei (Toronto FC):
We thought Frei could have been the starter for MLS, although there are other very good options (including expected starter Faryd Mondragon from Philadelphia) and, really, Real Salt Lake's Nick Rimando ought to be on the field rather than on the CBA list. Nobody sees as much action as Frei, whose sensational saves have kept Toronto from losing, 8-0, every week.
June, 15, 2011
6/15/11
11:23
AM PT
By
Scott French
| ESPNLosAngeles.com
It was a big weekend for big goals in Major League Soccer -- and, so, a big weekend for online videos of those goals.
Alan Gordon
's
stunning stoppage-time volley
gave Toronto FC a 2-2 draw with the Galaxy, the club Gordon served from 2004 until August of last year.
Also worth seeing: Graham Zusi's
45-yard bomb
in Sporting Kansas City's 4-1 romp at FC Dallas.
Even better was Eric Hassli's
jaw-dropping, eyes-closed, lots-of-luck-and-a-little-pluck volley
off the far post to give Vancouver a 2-2 draw at Seattle.
Wow!
Want to see something all the greater? Check out Portland Timbers manager John Spencer in this
ad for team-jersey sponsor
Alaska Airlines.
This week's rankings:

1. GALAXY (8-2-7, 31 points), Last week: 1
Week 13:
Two leads wiped away -- the last after
Juan Pablo Angel
's would-be stoppage-time winner -- by former L.A. forward Gordon in 2-2 draw with Toronto FC
Remark:
Shutout streak lasts 479 minutes, 42 shy of the team record set at the end of 2009 and start of 2010
Most goals, ever: Landon Donovan
passed
Cobi Jones
last year, now has 79
Next:
Saturday at Colorado, 6 p.m. (Fox Sports West, 8 p.m.)
2. FC DALLAS (7-4-4, 25 points), Last week: 2
Week 13:
Hoops lose the plot in the second half, can't take advantage of K.C. red card in 4-1 home loss to Sporting
Remark:
End of nine-game unbeaten streak comes with fourth loss, matching last year's season total
Most goals, ever:
Real Salt Lake head coach
Jason Kreis
netted 91
Next:
Saturday vs. Chivas USA at Home Depot Center, 7:30 p.m. (Prime Ticket and KWHY/Channel 22)
3. REAL SALT LAKE (6-3-3, 21 points), Last week: 3
Week 13:
Royal Lions can't hold on in 2-1 loss at Columbus, manage 1-1 draw at Philadelphia
Remark:
Every week, another step forward for Garden Grove teen
Luis Gil
, who makes his first start in RSL's midfield
Most goals, ever: Robbie Findley
scored 29 before heading off to Nottingham Forest
Next:
Saturday vs. D.C. United, 6 p.m. (MLS Direct Kick)