Los Angeles Soccer:

Guillermo Ramirez
November, 20, 2011
11/20/11
3:24
PM PT
By
Scott French
| ESPNLosAngeles.com
strong>D.C. United 3, Galaxy 2 (OT)
L.A. takes a 2-0 lead into the final 10 minutes, watches it disappear, then loses to an
Eddie Pope
header four minutes into sudden-death overtime. In a Nor'easter. Without captain
Dan Calichman
, suspended for playoff yellow cards.
D.C. United 2, Galaxy 0

Bad fortune all around. Top defender
Robin Fraser
goes down because of a shoulder injury in the opening minutes, and goalkeeper
Kevin Hartman
whiffs on a back pass to gift D.C. a second goal. And that was it.

San Jose Earthquakes 2, Galaxy 1 (OT)
Mexican star
Luis Hernandez
provides an early lead, but
Landon Donovan
is a 19-year-old star for San Jose, not L.A., and his first MLS Cup strike pulls the Quakes even before halftime.
Dwayne De Rosario
comes off the bench to tally the overtime winner.
Galaxy 1, New England Revolution 0 (OT)
The third trip to Foxborough brings success, finally!
Sigi Schmid
delivered the first MLS Cup crown to the Galaxy in front of an event-record 61,316, with
Carlos Ruiz
's strike 23 minutes into overtime -- just moments after
Winston Griffiths
hit the crossbar from distance for New England -- starting the celebration.
Galaxy 1, New England Revolution 0 (OT)
The Galaxy was the bottom seed for the playoffs, but they went on a run after stunning San Jose in the first round and conquered the Revs again. Guatemalan forward
Guillermo "Pando" Ramirez
-- scoring his first goal on his 62nd shot of the season, worst ratio in MLS history -- was the hero, knocking in a cleared corner kick 17 minutes into overtime.
Real Salt Lake 1, Galaxy 1 (OT)
(RSL wins on penalties, 5-4)
Injuries dogged the Galaxy, with goalkeeper
Donovan Ricketts
and defender
Omar Gonzalez
forced to the sidelines in the second half, and a first-half lead through
Mike Magee
disappeared in the 64th minute, courtesy of
Robbie Findley
.
Nick Rimando
was the difference in the shootout, making two saves to give bottom seed RSL an unexpected title.
October, 21, 2011
10/21/11
4:41
PM PT
By
Scott French
| ESPNLosAngeles.com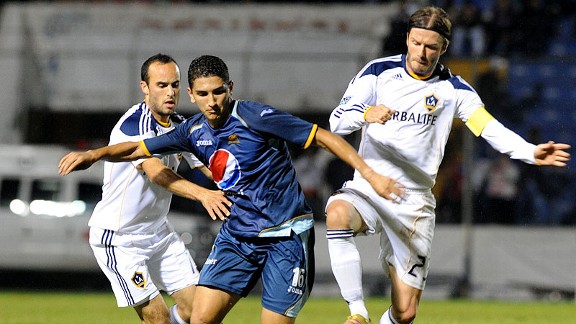 ORLANDO SIERRA/AFP/Getty ImagesWith the win Thursday night, the Galaxy reached next year's CONCACAF quarterfinals.
TEGUCIGALPA, Honduras -- There were several heroes for the Galaxy in Thursday night's CONCACAF Champions League triumph at Motagua. Frankie Hejduk was the last -- and maybe the biggest.
L.A. was holding onto the 1-0 lead forged with Juninho's first-half goal, and the Hondurans, with
Amado Guevara
serving as orchestrator, were throwing everything into their attack.
As the clock neared 90 minutes, Guevara spread the ball wide to
Milton Reyes
on the right, and his inch-perfect cross into the goalmouth found
Guillermo "Pando" Ramirez
with only goalkeeper
Josh Saunders
between him and the net.
Hejduk stepped in, knocked the ball away, and
Jerry Bengtson
fired the loose ball over the crossbar. That was it for Motagua, and the Galaxy were celebrating passage to next year's quarterfinals no more than three minutes later.
"You could tell they were going to get a chance and that was their last one, and, luckily, it was," Hejduk said. "At that point in the game, anything can happen, but this team all year has kept clean sheets, kept games at zeros, and maybe it could have gone either way, but it is a testament to the concentration of guys on the field.
"We were trying to kill off those last minutes of the game. It's never easy [in Central America] to keep games at zero ... but we did a great job as a team defensively."
Ramirez played for the Galaxy in 2005, scoring just one goal -- but what a goal it was: an overtime strike to beat the New England Revolution in the MLS Cup final. He did his best to topple the Galaxy, which had to win to advance to the regional club championship's knockout stage, but the ball bounced up on him, forcing him to take a touch with his chest. That enabled Hejduk to race in from behind, get a piece of the ball and knock it away.
"It was a crazy play, but at the end of the game, those plays happen," Hejduk said. "They had nothing to lose at that point. They were throwing numbers forward trying to get as many guys in the box as they could, but our defense the whole entire night did an incredible job of just killing plays, and that was one of many that we killed off pretty well."
LONG, TOUGH HAUL:
When CONCACAF divied up 16 clubs in the Champions League group draw three months ago, it was clear which was this tournament's "group of death."
That the Galaxy went on to prevail in Group A, against opposition for each of the region's other three dominant countries, is a real accomplishment, especially after what happened last month in Morelia, where
Robbie Keane
's would-be 90th-minute winner was wiped away by an errant offside call, and the Monarcas won in stoppage.
October, 20, 2011
10/20/11
11:47
PM PT
By
Scott French
| ESPNLosAngeles.com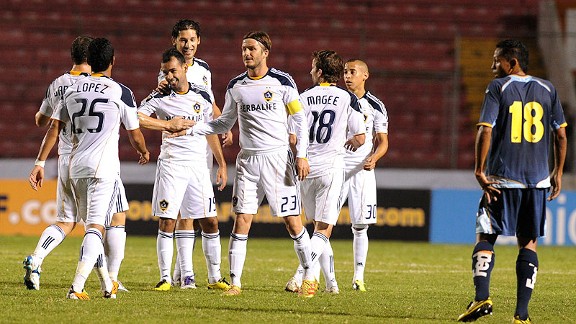 ORLANDO SIERRA/AFP/Getty ImagesGalaxy players celebrate the goal by Juninho that lifted L.A. to a 1-0 victory in Honduras.

TEGUCIGALPA, Honduras -- Juninho has a way with space, time and distance, as he has demonstrated four times in Major League Soccer games this year, so his strike Thursday night against Motagua shouldn't come as a surprise.

The Brazilian midfielder's strike from about 35 yards -- a looping, dipping moment of pure brilliance -- might count as the Galaxy's goal of the year. It certainly was the most important.

Juninho's blast in the 29th minute, along with the superb team defense that followed, provided a 1-0 triumph over a hearty home side at Estadio Tiburcio Carias Andino and sent L.A. to next year's quarterfinals in the CONCACAF Champions League.

The Galaxy (4-2-0) captured the Group A title with the victory and will learn soon -- but no word yet exactly when -- who they will face when the tournament's knockout stage begins, tentatively, late next February. The possibilities: MLS rivals Seattle and Toronto and Salvadoran club Isidro Metapan.

"This was certainly challenging," Galaxy coach Bruce Arena said. "It was a very difficult game, and it's what we expected. We were fortunate to get a great goal by Juninho, and our team understood how to protect the lead in the second half."

A big defensive play in the 90th minute by Frankie Hejduk, a couple of big saves by goalkeeper Josh Saunders, and solid play by center backs Omar Gonzalez and A.J. DeLaGarza in limiting star Motagua striker Jerry Bengston's effectiveness were critical, but it was Juninho that provided the magic.

He has scored four from outside the box in league play, but this one was his nicest from distance. He took a pass from Mike Magee, moved forward into open space, then unloaded a shot that looked as if it would float well above the crossbar.

It took a deceptive path, a rainbow that suddenly and violently dipped, leaving Motagua goalkeeper Donaldo Morales no chance as it tucked into the upper-right corner.

"We're on the bench saying, 'Shoot,' because we see it in practice all the time," said Galaxy captain Landon Donovan, whose quadriceps injury kept him out of the starting lineup but not off the field -- he came on in the 69th minute. "He can strike a ball as well as anybody."

David Beckham, who was greeted warmly and was cheered throughout -- eliciting screams from the large contingent of teenage girls in the stadium -- agreed with the assessment.

"Juninho could do that in every game if he wanted to," he said.


October, 19, 2011
10/19/11
11:37
PM PT
By
Scott French
| ESPNLosAngeles.com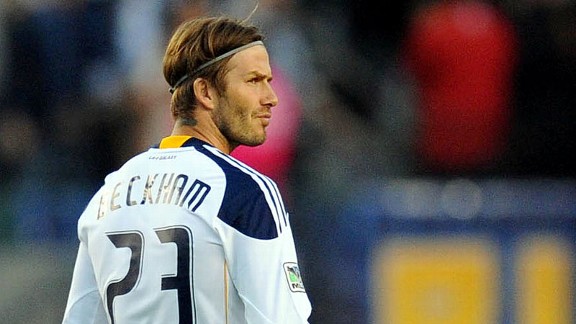 Kelvin Kuo/US PresswireDavid Beckham says of Thursday's CONCACAF Champions League game at Motagua: "These are the games that you want to play in, the ones that matter."

TEGUCIGALPA, Honduras -- This one couldn't be simpler.

The Galaxy needs a victory Thursday night -- nothing else will do -- and the team they've got to beat has won only once since the end of August, sits at the bottom of its league and has dropped all five matches it has played in CONCACAF's Champions League, finding the net in only one of them.

Defending Honduran champion Motagua has nothing to play for in the regional club championship's Group A finale at Estadio Tiburcio Carias Andino, and that might just make them a most dangerous foe.

That's the Galaxy's thinking: This isn't going to be easy, but it's got to be done, no matter who is wearing the shirt, and no matter what is thrown their way.

"It'll be interesting to see, actually," said L.A. captain Landon Donovan, who could miss the game (or start it on the bench) because of a lingering quadriceps injury. "It's a team that's been in a little bit of bad form. I know they're struggling in their league, but if I know those guys, they're prideful, and I'm sure their fans will be excited for the game -- a chance to see David [Beckham] will be exciting -- and my guess is they'll really be up for it.

"Obviously, they're out of the competition, but they're going to want to put on a good show for their fans, so we're going in with the expectation that it's going to be full, it's going to be loud, it's going to be relatively hostile, and it's going to be a hard game."

A victory will send the Galaxy (3-2-0) to next year's quarterfinals. Anything else will end their Champions League campaign, and Costa Rica's Alajuelense (4-2-0) will join Mexico's Morelia (4-2-0) as Group A's qualifiers.

Alajuela and Morelia won their games in Tegucigalpa -- the home team has won every other match in the group -- and if L.A. can do so, it will win A and draw a final-eight assignment against one of three second-place teams: Seattle Sounders or Toronto FC or the runner-up in Group B, which could be the Colorado Rapids, El Salvador's Isidro Metapan or Honduras' Real Espaņa.

"It's winner take all, and that's what you want," left back Todd Dunivant said. "You want to give yourself a chance like that, and we've done that. ... It's not going to be easy, but the other two teams have done it, and we've got to follow in those footsteps."


August, 15, 2011
8/15/11
11:33
PM PT
By
Scott French
| ESPNLosAngeles.com
CARSON -- The Galaxy have home games Tuesday night and next week to open their campaign in the CONCACAF Champions League, and there's not a whole lot of margin for error.
To claim one of two Group A berths in next year's quarterfinals in the region's club championship, the Galaxy must maneuver through a terrifically difficult six games over the next two months, and how they start likely will determine how they finish.
"It's not do or die," defender
Todd Dunivant
said, "but at the same time, it really makes it a lot easier on us if we can get two wins in the first games. We don't want to be chasing it."
Not in this group.
The Galaxy opens at Home Depot Center against reigning Honduran champion CD Motagua, which has more than a dozen players with international experience and two -- 2004 Major League Soccer MVP
Amado Guevara
and defender
Sergio Mendoza
-- who were in South Africa for last year's World Cup.
Next week brings Alajuelense, the reigning Costa Rican champ. The group's fourth team is Morelia, runner-up in Mexico's Clausura last spring. Is this the CCL's "Group of Death"?
"Seemingly,"
Landon Donovan
said. "Certainly, when you look at the other groups, you would say there are some weaker teams in the other groups. ... When we see Motagua, when we see Alajuela, when we see Morelia, we know they're three very good teams. It's going to be a difficult group. There's not going to be a lot that separates the four teams."
The Galaxy is in command of MLS's Supporters' Shield race, and that trophy -- along with the MLS Cup prize, to be awarded Nov. 20 at HDC -- is the club's chief aim this season. Next on the priority list is this tournament, with next year's victor claiming a berth in the 2012 FIFA Club World Cup.
Galaxy coach
Bruce Arena
was asked Monday if getting to the Club World Cup was the goal.
"That's down the road," he said. "But you can't position yourself to be there unless you get out of the group stages. Our first priority in the Champions League is to try to qualify out of group play."
To do so, L.A. almost certainly will need positive results in the first two matches. They'll play only one of their final four at home -- Sept. 28 against Morelia -- and points are hard to come by in Tegucigalpa, Alajuela and Morelia.
December, 29, 2010
12/29/10
11:08
PM PT
By
Scott French
| ESPNLosAngeles.com
The good news for Guatemala: Its foes at next month's Copa Centroamericana aren't going to be as talented as the Club America side it battled Wednesday night in El Reto Aguila in front of 18,632 at the Home Depot Center.
The bad news: The Chapines are going to have to mature, and fast, to contend with those foes.
America romped to a 4-1 triumph in a game much closer than the score suggests -- one goal separated the sides until the 82th minute -- yet just as one-sided as a three-goal victory ought to be.
The Mexico City powerhouse played a first-choice lineup -- all but injured
Rosinei --
in its next-to-last prep before the Mexican Primera Division kicks off its Clausura season the second weekend of January, and it looks ready to make two title runs: in the domestic championship and Copa Libertadores.
The three-pronged attack --
Vicente Sanchez
,
Matias Vuoso
and
Daniel Montenegro
, with midfielders
Miguel Layun
and newcomer
Nicolas Olivera
plus right back
Oscar Rojas
in support -- deserved more than it produced, and veteran
Pavel Pardo
masterfully laid a foundation in midfield for the attackers. And goalkeeper
Memo Ochoa
, America's reigning superstar, handled almost everything the game Guatemalans threw at him.
America went ahead on Vuoso's 19th-minute penalty kick --
Jaime Vides
clipped Sanchez after a superb ball into space from Olivera -- and asserted command on a game-altering, end-to-end sequence about 10 minutes before the end of the first half.
The Chapines' inexperienced lineup had stayed with America the first 35 minutes.
Carlos Figueroa
, one of just five starters with more than 15 caps, was alternately awful and awesome, and he was both at a crucial juncture.
December, 29, 2010
12/29/10
12:04
AM PT
By
Scott French
| ESPNLosAngeles.com
Organizers promise that Wednesday's meeting between Club America and Guatemala's national team is the beginning of an annual series, with the Mexican giant taking on a different "international" team each winter -- and with a trophy at stake.
That aside, the 7 p.m. Home Depot Center clash (ESPN Deportes) is little more than your everyday preseason friendly. The Aguilas, semifinalists in the Mexican Primera Division's fall Apertura, are working toward their Clausura opener Jan. 9 against Pachuca. Guatemala is beginning preparations for the Jan. 14-23 Copa Centroamericana, which will send five teams (of seven competitors) to next summer's CONCACAF Gold Cup.
"It's a very serious game," America coach
Manuel Lapuente
said Tuesday afternoon. "It's our second-to-last game of preseason, and we don't have a lot of time left. We really need this game, because we have to show what we've got for the [Clausura]."
Five things about Wednesday's "El Reto Aguila" encounter:
1. TWO HOME TEAMS?
Neither of these teams are strangers to Southern California, and both have significant followings here. America is, with Guadalajara, one of Mexico's two true giants, and they're making their third 2010 appearance in L.A. Many Guatemalans live in SoCal, and they're getting to see their team for the third time this year, too.
America played two games at HDC during last January's InterLiga event, draws with Estudiantes Tecos and Monterrey, and beat Cruz Azul on July 10 at the Rose Bowl. Guatemala played two Coliseum friendlies, beating El Salvador in March and losing to Honduras in October.
2. AMERICA'S STARS
America made few changes from a side that made a nice late-season run during the Apertura, adding midfielder Nicolas Olivera from Puebla and bringing back defender Rodrigo Iņigo from Gallos Blancos de Queretaro. The big stars: goalkeeper Guillermo "Memo" Ochoa, midfielder Pavel Pardo -- Ochoa is a Mexican national team standourt, Pardo a former El Tri star -- forwards Matias Vuoso, Vicente Sanchez and Daniel Montenegro, and defender Aquivaldo Mosquera.