Los Angeles Soccer:

Gyasi Zardes
June, 26, 2012
6/26/12
2:22
PM PT
By
Scott French
| ESPNLosAngeles.com
The Fullerton Rangers took a huge stride toward the National Premier Soccer League playoffs with Sunday's victory over FC Santa Clarita, a showdown for second place in the Western Division's Southern Conference.

Former Chivas USA/New York Red Bulls forward David Arvizu (Santa Ana/Foothill HS) scored two goals as the Rangers avenged a loss two months earlier in Santa Clarita with a 3-0 triumph at Santa Ana Stadium.

The Rangers (7-3-2) have a two-point advantage over the Storm (6-3-3) with two games to play. Both have matches remaining with the San Diego Flash (9-0-2), which has clinched the Southern Conference title.

The Rangers' NPSL team finished second to the Flash and went to the playoffs last year, when they were affiliated with the Santa Ana Winds.

Arvizu scored in the 17th and 60th minutes and Cuban forward Eder Roldan tallied in the 24th for Fullerton, which has won three in a row and scored at least three times in its past four games. Santa Clarita has won just twice in its past five games, over the division's two worst clubs (Phoenix and North Coast, with a combined 2-18-1 record), and could rue a 1-1 draw at home June 9 with San Diego Boca (4-5-3).

Santa Clarita is likely to vault back to second next weekend, when it faces fading Conejo Valley side FC Hasental (3-7-2), but getting a resullt against the Flash on July 7 is critical to the Storm' playoff hopes. Fullerton plays the Flash in San Diego this weekend, then closes July 8 at home against Boca.

Elsewhere in minor-league soccer:

June, 5, 2012
6/05/12
4:39
PM PT
By
Scott French
| ESPNLosAngeles.com
The W-League's Western Conference title appears to be headed the Pali Blues' way or to the Seattle Sounders. They're the chief contenders just four weeks into the campaign.
Pali completed sweeps of its Southern California rivals, both of them one-goal home wins, to improve to 4-0-0. The Sounders, also 4-0-0, won three games last week with U.S. national team stars
Alex Morgan
,
Hope Solo
,
Sydney Leroux
,
Megan Rapinoe
and
Stephanie Cox
on hand.
Morgan (Diamond Bar/Diamond Bar HS) scored and assisted Lyndsey Patterson's goal in the 3-0 romp Monday night over Colorado Rapids' women's team. Leroux (UCLA) had an assist in a 2-1 win Thursday over the third-place Colorado Rush (3-1-0), a match that sold out the Starfire Sports Complex's 4,500-seat stadium in Tukwila, Wash.
Pali, which is affiliated with the L.A. Blues' men's team (both are coached by
Charlie Naimo
), got goals from
Nikki Washington
and
Liz Bogus
to beat the L.A. Strikers, 2-1, then pulled out a 1-0 triumph over Santa Clarita Blue Heat on Australian national-teamer
Servet Uzunlar
's goal three minutes into second-half stoppage.
The Blues and Sounders meet twice this season: June 20 in Tukwila and in the July 15 regular-season finale at Palisades High School.
Elsewhere in minor-league soccer:
May, 4, 2012
5/04/12
2:06
PM PT
By
Scott French
| ESPNLosAngeles.com
The local clubs in the USL's Premier Development League take the league's name to heart. The objective is developing talent, far more so than winning trophies, although those are nice, too.

There are five L.A.-area teams in the PDL's Southwest Division, including 2009 national champion Ventura County Fusion, which figures to battle defending division titlist Fresno Fuego for the top spot this season, which kicks off in earnest this weekend after Fresno-L.A. Misioneros games the past two weekends.

Most of the clubs are loaded with college players, a few amateurs looking to showcase their talents for the next level and, in some circumstances, pros hoping to step up into one of the country's three fully professional leagues or to a club to the south or overseas. The Southwest Division, along with its conference partner in the Northwest, is a standard-bearer for the PDL, in terms of competition and development.

"First and foremost, [the priority] is to prepare players for the next level," said Fusion coach Ole Mikkelsen, a 1978 UCLA All-American who played in the old North American Soccer League. "We select players primarily on whether or not we think they have the tools to play at the MLS level. We prepare the players first, and win second. It's hard to disconnect the two -- winning gives visibility to get you exposed."

The Fusion and fellow PDL power Orange County Blue Star have sent scores of players on to Major League Soccer and other pro leagues. So has the La Mirada-based Southern California Seahorses, a Christian club that expects to battle the Fusion, Blue Star and Fuego for the division title and two postseason berths.

"All the guys who come to our team are interested in that development part of the league and the team," Seahorses coach Todd Elkins said. "They know they get better. The level is consistently good. Just making the team -- making a team in our region -- you're going to be challenged. We take that very seriously. We want to maximize their time during the summer, making sure [a player] gets everything he can from us.

"We look at it as being a bit of a testing ground. If progressing the ranks is a goal for you, this is a good test to see if that's realistic or not."


February, 9, 2012
2/09/12
3:24
PM PT
By
Scott French
| ESPNLosAngeles.com
Aston Villa's request to extend Robbie Keane's loan deal beyond Feb. 25 has been turned down by the Galaxy, according to reports Thursday in England.

The Birmingham-based club, which acquired Keane in mid-January on a 6 ˝-week loan, asked the Galaxy to allow the Irish striker to remain in England through Villa's March 3 game at Blackburn, English wire service The Press Association and West Midlands daily Express & Star reported without sourcing.

Keane will join the Galaxy following Ireland's European Championship prep Feb. 29 in Dublin against the Czech Republic. The Galaxy plays March 7 in a CONCACAF Champions League quarterfinal first leg at Toronto FC and March 10 in their Major League Soccer opener at Home Depot Center against Real Salt Lake.

Keane has been superb for Aston Villa, anchoring the English Premier League club's attack and scoring three goals in four starts. The club is spending a reported $775,000 for the fee and Keane's salary during the loan.

His final game with Villa will be Feb. 25 at Wigan Athletic.


December, 9, 2011
12/09/11
5:57
PM PT
By
Scott French
| ESPNLosAngeles.com
UC Irvine's Miguel Ibarra and UC Santa Barbara's Luis Silva, two of the nation's finest collegiate midfielders, were honored Friday as first-team Division I All-Americans by the National Soccer Coaches Association of America.
UCLA's
Sydney Leroux
was a
first-team women's selection
as 11 local players received All-America acclaim and 39 collected all-region honors.
Stanford's
Camille Levin
, from Newport Coast (Tarbut V'Torah Community Day School), also was a first-team women's choice
Ibarra (Lancaster/Lancaster HS), a junior, led Big West champion UCI with nine goals along with eight assists. Silva (Los Angeles/Salesian HS) scored 17 goals with 10 assists for the Gauchos.
UCLA goalkeeper
Brian Rowe
and Connecticut midfielder
Carlos Alvarez
(Los Angeles/Salsian HS) were second-team selections, and UCLA forward
Chandler Hoffman
and Cal State Bakersfield forward
Gyasi Zardes
(Hawthorne/Leuzinger HS) were chosen for the third-team.
Ibarra, Silva and Rowe have been invited to Major League Soccer's predraft combine next month in Florida.
UC Irvine defender
CoCo Goodson
and Pepperdine defender
Michelle Pao
are second-team women's selections, and UCLA freshman defender
Abby Dahlkemper
is a third-teamer.
Below are lists of local players selected to All-America and all-region teams:
September, 30, 2011
9/30/11
8:48
PM PT
By
Scott French
| ESPNLosAngeles.com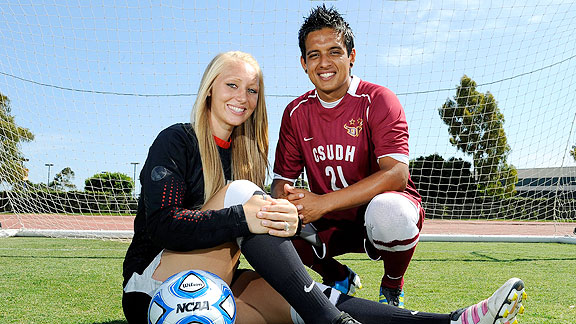 Keadrick Washington/ISOCompleteBilly Gutierrez and Tiffany Hollis are married and also are standouts in soccer for Cal State Dominguez Hills.
Billy Gutierrez is a sparkplug off the bench. Tiffany Hollis is a presence in the nets. Both are crucial players for Cal State Dominguez Hills' soccer programs, which enter every season with national-championship aspirations.
And they're a team.
Gutierrez, a 26-year-old senior defender, and Hollis, 20, a junior goalkeeper, will celebrate 18 months of marriage at season's end -- and they hope, too, for returns to the NCAA Division II tournaments after both teams missed the postseason last year.
The men are off to a 6-2-1 start, with Gutierrez (Huntington Park/Huntington Park HS) the Toros' No. 2 scorer, with a pair goals and three assists. The women (5-4-0) have struggled, ending a four-game losing streak with a 1-0 win Friday at San Francisco State. Hollis (Los Angeles/Lakewood HS) has been a strong suit and was the California Collegiate Athletic Association's player of the week earlier this month.
Soccer provided a foundation for their relationship, and with home life, classes (both major in kinesiology) and the tight ties between the teams (they travel together for CCAA matches), they rarely spend time apart.
"Soccer is a big deal for both of us, because we are always talking about soccer, and that's what brought us together in the beginning ... " Hollis told the school's athletics website. "We know how to find a balance between everything, but it's not easy. We decided to get into this boat together, and now we just have to know how to work through the adversities, remembering what the most important thing is, which is our relationship."
Gutierrez and Hollis met in a soccer class three years ago at Cerritos College, where both played for the Falcons' state-championship sides. They wed in May 2010, arrived in Carson a year ago and played reserve roles for Dominguez Hills, which struggled after winning the men's national title in 2008 and reaching the women's championship game in 2009.
September, 29, 2011
9/29/11
6:23
AM PT
By
Scott French
| ESPNLosAngeles.com
UC Riverside, taking its first real steps forward in men's soccer, posted the biggest victory in program history Wednesday night -- and in front the largest home crowd ever to see the Highlanders play.

Aaron Long (Oak Hills/Serrano HS) and Richie Osborne netted second-half goals as Riverside (6-2-1) upset No. 10 UC Santa Barbara, 3-1, in a Big West Conference opener in front of 2,016 fans, more than triple the previous record.

Cesar Diaz Pizarro (Chino/Ayala HS) also tallied for the Highlanders, who went ahead in the 11th minute, then pulled away after halftime. David Opoku tallied for the Gauchos (6-2-1).

UC Riverside, which is unbeaten in its last six games, is four games above .500 for the first time since the move to Division I a decade ago. This was the third victory over a ranked opponent in that time.

In other men´s action:


Patrick Sigler scored in the 53rd minute, and Cal Poly withstood a 57th-minute red card to hold off No. 7 UC Irvine, 1-0, in a Big West opener. The Anteaters (8-2-0) held an 18-3 shot advantage.
Rafael Garcia (Canoga Park/Canoga Park HS) scored two goals as Cal State Northridge (4-4-1) recorded its second straight 3-0 triumph, winning its Big West opener at UC Davis.
Loyola Marymount (2-7-0) lost its fifth in a row and sixth in seven games, falling, 2-0, at San Diego in a West Coast Conference opener.
Cal State Fullerton (6-1-2) shut down Gyasi Zardes (Hawthorne/Leuzinger HS) in a 0-0 draw with visiting Cal State Bakersfield (4-0-4). Zardes scored 11 goals in the Roadrunners' first seven games.
September, 15, 2011
9/15/11
11:15
PM PT
By
Scott French
| ESPNLosAngeles.com
Cal State Northridge rallied from an early two-goal deficit Thursday night, with
Thomas Ramos
scoring one goal and assisting the net in a 2-2 draw at Cal State Bakersfield.
Ramos scored in the 44th minute and assisted the 60th-minute strike off a corner kick by
Brian Behrdad
(Woodland Hills/Taft HS) to pull the Matadors (2-3-1) even.
Star striker
Gyasi Zardes
(Hawthorne/Leuzinger HS) netted his seventh and eighth goals of the season for Bakersfield (2-0-2), tallying in the 26th and 30th minute.
In other men's action:
Trenton Titus (Chino Hills/Ayala HS) assisted three goals and Carlos Garcia-Partida and Oktay Bulut netted their fourths of the season as Azusa Pacific (4-1-0), No. 7 in the NAIA poll, routed St. Xavier (Ill.), 5-0.
Jorge Serrano (Sylmar/Sylmar HS and College of the Canyons) scored one first-half goal and assisted three more to lead NAIA No. 15 The Master's (6-0-0) in a 7-0 romp over Arizona Christian.
David Taylor scored a hat trick in 13˝ minutes, carrying defending conference champ Claremont-Mudd-Scripps (3-1-0) to a 3-1 victory over Cal Lutheran (0-4-0) in a Southern California Intercollegiate Athletic Association opener.
Whittier (1-3-0) also won its first conference game, a 2-1 win over La Verne (1-2-0) as Srdan Jovanovic's second goal arrived in overtime. Nick Eary scored twice as Redlands (2-2-0) scored six against Pomona-Pitzer (1-3-0). Occidental (1-2-0) also won.
In women´s action:
Erin Edmonds and Traci Lopez scored goals as Pomona-Pitzer (3-0-0) surprised Redlands (2-1-1), ranked No. 19 in the NSCAA Division III poll, with a 2-0 triumph in a SCIAC opener.
Freshman Taylor Will scored twice as defending SCIAC regular-season champ Cal Lutheran (4-1-0) romped, 4-0, over Claremont-Mudd-Scripps (0-1-2). La Verne (2-1-2) also won.
August, 28, 2011
8/28/11
11:36
AM PT
By
Scott French
| ESPNLosAngeles.com
A start-of-the-season showdown between No. 1 and No. 2 failed to fall UCLA's way Saturday. The Bruins, ranked as high as second in the national polls, dropped a rematch with top-ranked Louisville.
An early own goal and All-American
Colin Rolfe
's finish 89 seconds into the second half carried the Cardinals to a 2-0 victory in front of a record crowd of 7,821 at Cardinal Park.
Louisville rallied for a last-minute, 5-4 victory over UCLA in the snow in last year's NCAA quarterfinals. The Cardinals lost to Akron in the Division I title game.
UCLA, with a sophomore-heavy squad expected to contend for a fourth national title -- and its first since 2002 -- were in a hole almost from the start.
Ryan Hollingshead
's attempt to head a sixth-minute
Kenney Walker
cross back to Bruins goalkeeper
Brian Rowe
failed, with the ball bouncing into the net.
Rolfe's strike in the 47th minute put the game out of reach. UCLA struggled to create opportunities against the Louisville defense and managed just two shots on target, both handled easily by
Andre Boudreaux
.
LMU DROPS OPENER: Chris Bettencourt
's goal three minutes into overtime spoiled No. 19 Loyola Marymount's opener, giving Sacramento State a 1-0 triumph over the Lions for the third straight year. LMU outshot the Hornets, 17-8, and took 11 corner kicks but couldn't find the net.
July, 20, 2011
7/20/11
8:01
PM PT
By
Scott French
| ESPNLosAngeles.com
Cal State Bakersfield's Gyasi Zardes scored two first-half goals in the Ventura County Fusion's 2-1 victory over New Zealand's under-20 national team in a friendly Wednesday afternoon at Oxnard College, the Premier Development League team's first victory in five games against foreign opposition.
Zardes (Hawthorne/Leuzinger HS) tallied in the ninth and 35th minutes for the Fusion, which wraps up PDL regular-season play this weekend and then heads into next week's playoffs.
Dakota Lucas
scored in the 26th for the Junior All Whites, who are headed to the FIFA U-20 World Cup in Colombia.
The Fusion has lost four times to English clubs the past five seasons, falling to West Bromwich Albion, 4-2, last weekend. They'll take on Argentina's Independiente on Friday evening at Oxnard College.