Los Angeles Soccer:

Harrisburg City Islanders
June, 6, 2012
6/06/12
3:40
PM PT
By
Scott French
| ESPNLosAngeles.com
Upsets are good for the U.S. Open Cup, so Major League Soccer's difficulties this year parsing through the competition has made for a more exciting and substantial tournament. More steps toward that should be taken.
Soccer by its nature often rewards underdogs: Cal FC's victory over Portland, given the disparity in possession and number of chances, would be impossible in any other major sport (and perhaps any "minor" sport, too), but who didn't enjoy the Thousand Oaks' club's inspirational run to the fourth round -- the Timbers and their fans aside?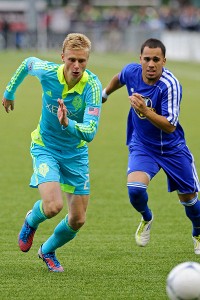 Steven Bisig/US PresswireSeattle's Andy Rose, left, battles against Cal FC midfielder Jesus Gonzalez during Tuesday's U.S. Open Cup game.
Nine MLS clubs, of 16 in the Open Cup, lost to teams from lower divisions, with the Chicago Fire also falling to an amateur team (the Premier Development League's Michigan Bucks). That's what makes the event work. If MLS could sweep aside teams from the second division (North American Soccer League), third division (USL Pro), fourth division (PDL) and lower (U.S. Adult Soccer Association, from which Cal FC came), there's no point to the Cup. Just hold an MLS League Cup.

It would be nice to see a truly blind draw (the pairings are regionalized), and that includes the third-round games, which are tournament openers for MLS clubs. Why can't MLS teams be drawn to play other MLS teams right off the bat? The format favors the big league in that if there were no upsets, all 16 fourth-round teams would be from MLS. How is this a plus?

The best stories in this tournament, the ones we'll remember when it's done, are Cal FC's and the Harrisburg City Islanders'. The USL Pro side's miraculous three-goal comeback in overtime to oust New England in the third round was the game of the Cup. Tuesday night's fourth-round win over New York, also in overtime, had everything going for it: drama, controversy, a stunning end included.

Five MLS teams survived to the June 26 quarterfinals -- Chivas USA, San Jose, Seattle (winner of the last three Open Cups), Sporting Kansas City and Philadelphia -- and it's set up so only one (the Earthquakes-Sounders victor) is guaranteed a semifinal spot. That's about perfect, even if there are no further upsets. And it's likely there won't be. Only once since MLS's 1996 arrival has the tournament winner not been an MLS club. Only three times have both finalists not been from MLS.

The quarterfinal slate:

Charlotte Eagles (USL Pro) at Chivas USA (MLS)
Seattle Sounders (MLS) at San Jose Earthquakes (MLS)
Dayton Dutch Lions (USL Pro) at Sporting Kansas City (MLS)
Harrisburg City Islanders (USL Pro) at Philadelphia Union (MLS)

Our bet for the semis: Chivas vs. Seattle (a rematch of the 2010 semifinals) and Sporting-Harrisburg. Yes, we're going to go with another upset by the City Islanders, who have an official affiliation with Philly.

Here are this week's power rankings:

1. REAL SALT LAKE (9-3-2, 29 points), Last Week: 1
Week 13: Idle.
Latest: Garden Grove's Gil out four weeks with an MCL sprain picked up with the U.S. U-20s.
2011 friendlies: None.
Next: Saturday, June 16, vs. Chivas USA at Home Depot Center (Carson), 7:30 p.m. (Prime Ticket and KWHY/Channel 22).

2. NEW YORK RED BULLS (8-3-2, 26 points), LW: 2
Week 13: Red Bulls fall in overtime to the Harrisburg City Islanders, their second Open Cup loss in three years against the USL Pro club.
Latest: New York treats the Open Cup like a serious competition, unlike last year. Fails to reach the quarterfinals, unlike last year. (Dropped second game in the tournament, just like last year.)
2011 friendlies: July 31 vs. Tottenham (England).
Next: Sunday, June 17 at Chicago, 2 p.m. (NBC Sports Network).

3. SPORTING KANSAS CITY (8-3-1, 25 points), LW: 3
Week 13: Teal Bunbury wraps a a 2-0 Open Cup fourth-round win over Colorado.
Latest: Aurelien Collin's opener in the Open Cup win taken away, changed to a Matt Pickens own goal.
2011 friendlies: Aug. 1 vs. Stoke City (England).
Next: Saturday, June 16, vs. Toronto FC, 5:30 p.m. (MLS Direct Kick).


June, 5, 2012
6/05/12
10:34
PM PT
By
Scott French
| ESPNLosAngeles.com
The U.S. Open Cup quarterfinals are set after a wild fourth round that provided four overtime games and just one major upset, and the biggest story of the round concerns the USL Pro's unexpected success.
All three third-division teams in action Tuesday pulled out victories, all in overtime, to advance to the June 26 quarterfinals in the 99th edition of American soccer's oldest and most prestigious knockout tournament.
The Charlotte Eagles, Dayton Dutch Lions and Harrisburg City Islanders join five Major League Soccer clubs in the final eight, all of them set to take on first-division opposition.
The Islanders pulled off the upset, booting MLS power New York Red Bulls from the competition for the second time in three years.
Sainey Touray
, a former Red Bull, scored his second goal of the night in the 94th minute and rookie
Lucky Mkosana
added another in the 117th for a 3-1 victory.
Harrisburg overcame a three-goal overtime deficit last week to beat the New England Revolution on penalties.
Dayton toppled amateurs Michigan Bucks, 2-1, and Charlotte claimed a 2-1 win at San Antonio, on
Mauricio Salles
' 116th-minute penalty kick, in the USL Pro's only showdown with the second-division North American Soccer League.
Charlotte will play
Chivas USA at Home Depot Center
. Dayton has a date at Sporting Kansas City.
The Philadelphia Union also needed overtime to get past D.C. United in one of two all-MLS clashes.
Yorba Linda's
Steven Lenhart
was the hero for the the San Jose Earthquakes, scoring in the 85th minute to beat the NASL's Minnesota Thunder, 2-1, at Stanford.
Here is a scorelist and schedule:
August, 30, 2011
8/30/11
11:55
AM PT
By
Scott French
| ESPNLosAngeles.com
Backline leader Nelson Akwari, a former Major League Soccer player who fell into the L.A. Blues' lap when he returned to Southern California to complete his degree at UCLA, is part of the USL Pro's all-league team.
So is fellow Bruins product
Maxwell Griffin
, star goalscorer for Orlando City.
That's it for locals on the third-division's list of the top 22 players, released Tuesday, four days before Orlando City meets the Harrisburg City Islanders in the title game. Both are first-team selections.
Akwari, 29, who spent five seasons with the MetroStars, Columbus Crew and Real Salt Lake before moving into the USL's minor leagues, was a calming presence in central defense for the Blues, who went 8-8-9 and reached the USL Pro quarterfinals in their first season.
Griffin (Palmdale/Littlerock HS) scored 10 goals for Orlando City (17-3-6), which won the Commissioner's Cup as regular-season champion and looks to complete the double Saturday at the Orlando Citrus Bowl (Fox Soccer Channel, 4 p.m.).
Defender
Gareth Evans
, a repeat first-teamer for the Wilmington Hammerheads, was with the Blues during preseason but was released before their first game. Former Galaxy defender
Troy Roberts
, with the Rochester Rhinos, is a second-team pick.
August, 22, 2011
8/22/11
4:15
PM PT
By
Scott French
| ESPNLosAngeles.com
The L.A. Blues' long, hard, at times debilitating first campaign fell well short of the goal, their season ending with Friday's loss at Harrisburg, Pa., in a USL Pro playoff opener.

The Blues won four of their first six matches and only four of their final 19 as a heavily back-loaded schedule, iffy team chemistry, struggles to finish chances and an abrupt alteration of style -- following Argentine playmaker Walter Gaitan's June departure -- conspired to derail a talented side.

They wrapped the season 8-8-9 for 33 points, the seventh-best total in the 12-team, third-division competition, and finished third in the National Division after having a way-outside shot to win the group heading into the final week of the regular season. Only three teams, not counting the trio of Puerto Rico-based clubs booted from the league in May for financial reasons, won fewer games than the Blues.

"Disappointing. But what can you say?" head coach Charlie Naimo said after the 3-2 defeat to the Harrisburg City Islanders, who will play Friday at Rochester in the National Division final. "Everybody enjoins to be successful, but at the end of the day, only one team can be.

"I think we could have been better, and I think we talent-wise were as good as most at times, we just couldn't make our own luck."


August, 19, 2011
8/19/11
9:57
PM PT
By
Scott French
| ESPNLosAngeles.com
The ongoing struggle is over for the L.A. Blues, who followed form in their USL Pro playoff opener Friday night by failing to convert chances.
They paid for it with a 3-2 loss in Pennsylvania to the Harrisburg City Islanders, bringing an abrupt end to a perplexing first season that began so promising -- with four wins in the first six games -- and closed with a six-game winless streak.
Former Galaxy midfielder
Josh Tudela
gave the Blues an early lead, and
Erlys Garcia
pulled them even at 2-2 just before halftime, but L.A.'s inability to find the net after conceding to Harrisburg's Brian Ombiji seven minutes into the second half was decisive.
"I think we missed some very easy ones," Blues head coach
Charlie Naimo
told ESPN Los Angeles after the defeat. "We could have scored four goals in the first half, then we give ip two set-piece goals, and that goes against everything we've been improving on.
"It's so disappointing, and in the second half, I think we were the dominant team. We got in the box a lot, and their keeper did a good job keeping the ball out. We had loads of corner kicks, but we couldn't capitalize."
Harrisburg, which will play next Friday at Rochester in the National Division final, out-shot the Blues, 13-10, but surrendered nine corner kicks to L.A., seven after halftime.
Wayward forward
Cesar Rivera
returned from a club-mandated suspension by setting up both Blues goals, with the lead pass to
Jonathan de Leon
for Tudela's 11th-minute strike and the cross for Garcia's stoppage-time header.
Andrew Welker
scored in the 34th and 39th minutes for the City Islanders, who won twice and tied twice in four meetings this season with L.A. Welker scored in three of the games, with four of his team-best 10 goals.
July, 23, 2011
7/23/11
10:04
PM PT
By
Scott French
| ESPNLosAngeles.com
The L.A. Blues escaped the eastern heat with four points, wrapping up a quick two-game trek Saturday night with a 1-1 draw at Harrisburg. Cesar Rivera's team-best eighth goal of the campaign and Nelson Akwari's late save off the goal line were pivotal.

The Blues (7-4-6) extended their unbeaten streak to four games heading into a three-game set next weekend and the following Tuesday in Southern California against stumbling Antigua Barracuda, which has lost seven in a row.

L.A., which won Friday at Richmond, is third in the National Division, six points behind first-place Rochester (10-6-3) and three in back of Harrisburg (8-5-6).

Jason Pelletier gave the City Islanders a 19th-minute lead, scoring directly from a 45-yard free kick. Rivera brought the Blues even just before halftime, finishing from Peter Byers' feed.

Harrisburg had opportunity to win, but Sainey Touray hit the crossbar in the 65th minute and Akwari cleared an Anthony Calvano header off the line at the finish.

Byers was red-carded in the 65th minute after inadvertently elbowing an opponent in the head.
June, 26, 2011
6/26/11
9:11
PM PT
By
Scott French
| ESPNLosAngeles.com
FULLERTON, Calif. -- It's not Walter Gaitan's departure that's given the L.A. Blues the blues, but it hasn't helped. The Argentine playmaker with Mexican top-tier experience was nowhere near Cal State Fullerton's Titan Stadium on Sunday, and head coach Charlie Naimo isn't sure where to find him.

Gaitan, Blues officials acknowledged, left the club about two weeks ago, and nothing's been heard since. Without him, L.A. has won two U.S. Open Cup matches -- it meets the Galaxy in a third-round clash Tuesday night at Fullerton -- and suffered through a disappointing weekend against USL Pro league rival Harrisburg.

The City Islanders vaulted past the Blues and into second place in the National Division with a 2-1 triumph Sunday afternoon that followed a 1-1 draw Friday in Corona. That leaves L.A. (5-3-3) in third place, six points behind first-place Rochester (7-4-3) and three behind Harrisburg (6-4-3). The Blues, of course, have games in hand on both.

Naimo started a makeshift lineup, holding out a few regulars for Tuesday's game, and said afterward he was pleased with most everything but not with his side's ability to finish.

"The mentality's not right on some of these guys," he said. "You get in position to shoot, shoot. And then you give up a crap goal against the run of play and you're chasing the game, and then you come our at halftime, out of the locker room, with no ambition.

"I'm extremely disappointed in our team. I can't say anything less."

Adriano de Lima, brought up from the Blues' reserve team, hit the crossbar just as first-half stoppage began, and had the shot been six inches lower, it might have been a different game.

But Sainey Touray scored seconds later for Harrisburg and, Andrew Welker's deflected shot in the 64th minute made it 2-0. Former Galaxy winger Israel Sesay tallied for the Blues in the 82nd minute; forward Cesar Rivera was red-carded in the 88th.

"I feel bad for the guys that bring the right mentality into the game and really care enough about the win to do what it takes to win," Naimo said. "And you give guys opportunities to play themselves onto the park, and they don't take advantage of it. ... When they're sitting on the bench, they don't need to ask why. I can't look at any player and say, wow, that players bringing it or leaving it [on the field], and that's a problem."

Gaitan isn't bringing anything. Apparently, he wants more money.

"He is in his mind what he thinks he's worth, and he's entitled to that," said Naimo, who added he's had no contract with the midfielder. "But we have a contract, and he wants to choose not to play, that's his thing. But we hold his rights, and if he's going to play anywhere between now and September, it's going to be here. ... If he wants tom play on a team, he's going to be here."
June, 24, 2011
6/24/11
10:42
PM PT
By
Scott French
| ESPNLosAngeles.com
The L.A. Blues played more than an hour with an extra man Friday night, but they needed a comeback to share the points with the Harrisburg City Islanders.

Former Galaxy midfielder Josh Tudela's goal in the 59th minute gave the Blues a 1-1 draw at Centennial High School in Corona, the first of two meetings this weekend with their USL Pro rival.

The Blues (5-2-3) are second in the National Division, three points behind the Rochester Rhinos (6-4-3), who Saturday play host to the Dayton Dutch Lions, the league's worst team. Harrisburg (5-4-3) also is three points back.

L.A. and the City Islanders meet again Sunday at Cal State Fullerton's Titan Stadium. Kickoff is 5 p.m.

Harrisburg played a man down after Jason Hotchkin picked up his second yellow card just before the half-hour mark. The Blues failed to take advantage and fell behind on Andrew Walker's strike in the 53rd minute.

Tudela finished a feed six minutes later from Chukwudi Chijindu, who is with the Blues on loan from Chivas USA.