Los Angeles Soccer:

Harry Redknapp
February, 16, 2012
2/16/12
2:27
PM PT
By
Scott French
| ESPNLosAngeles.com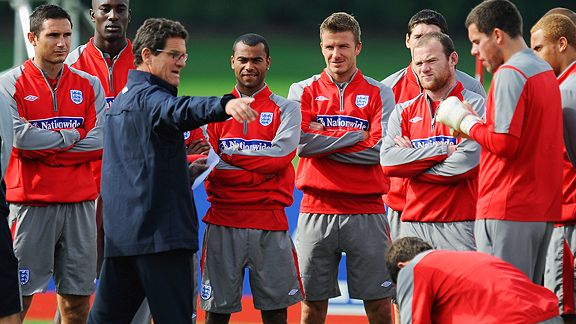 Michael Regan/Getty ImagesFabio Capello coached David Beckham, fourth player from left, among others during his time as England coach.

CARSON -- The choice of captain belongs to the manager, David Beckham said Thursday as he addressed for the first time publicly Fabio Capello's abrupt departure last week as England's national team coach.

Capello, one of the most respected of Italian coaches, resigned last week after The Football Association, the sport's governing body in England, stripped the national team captaincy from Chelsea defender John Terry after a trial date was set on charges that Terry used racist insults during an English Premier League match in November.

The F.A. made the decision without consulting Capello, who blasted the decision in an interview with Italian television before he stepped away from the job four months before the start of the European Championship.

"Obviously, I was surprised just because European Championship's coming up, and after working with Fabio for quite a few years, it's sad that he's stepped down at a critical stage for England," Beckham said following the Galaxy's 3-2 preseason victory over Chivas USA on the club's Home Depot Center training field. "He's done it for his own reasons, and he's a manager that I respect and a person that I respect a lot, and I wish him all the best."

Beckham, who played at Real Madrid and for England under Capello and served as England's captain from the end of 2000 through the 2006 World Cup, was asked whether the choice of captain should be the manager's or the F.A.'s.

"Coach's call. Coach's call," he replied. "You know, I think that's always the case. Obviously a decision was taken to take the captaincy away from John, but, going forward, I'm sure the captain will be picked by whatever manager comes in.

"Now as a nation we have to come together and concentrate first on getting a new manager and then going to the European Championship."

Terry, 31, succeeded Beckham as England's captain, but his tenure has had its controversies. He was dropped as captain in February 2010 after an extramarital affair with former national team defender Wayne Bridge's ex-girlfriend.

Terry was replaced by Rio Ferdinand, whose younger brother, Anton, a Queens Park Rangers defender, Terry is accused of racially abusing last November. Terry was reappointed 11 months ago after an injury to Rio Ferdinand.


January, 12, 2012
1/12/12
1:44
PM PT
By
Scott French
| ESPNLosAngeles.com
David Beckham might have decided to remain with the Galaxy, but he's taking his time making that official.

More than a week after Paris Saint-Germain announced that it would not sign the English superstar -- and that Beckham would be returning to L.A. -- the Galaxy continue to negotiate with their midfield leader.

"We're hopeful we're going to re-sign him," head coach/GM Bruce Arena said Thusday from the MLS SuperDraft. "We're in discussions with David and his representatives, and we're hopeful he'll be playing with the Galaxy."

Is Arena confident Beckham will sign?

"I'll be confident," he said, "when I'm told he has signed a contract."

British broadsheet The Guardian reported Thursday that Beckham's representatives expect him to sign soon with the Galaxy. His contract with L.A. expired on New Year's Eve, and the club has offered him a one-year deal with a rolling mutual option believed to be of comparable value to his original, five-year contract, in which he made $6.5 million in annual average compensation.
December, 30, 2011
12/30/11
12:59
PM PT
By
Scott French
| ESPNLosAngeles.com
French fans continue to prepare for David Beckham's arrival, politicians debate the appropriateness of his would-be salary and Paris Saint-Germain's Qatari owners express confidence the English star's name will be on a contract shortly.

Leonardo, the Parisian giant's sporting director -- "general manager," in American sports terminology -- admits he's not so sure.

Two French newspapers reported last week that Beckham had agreed to an 18-month, $18.7 million deal with PSG, and Agence France Presse reported that he is expected to sign next week in a trip to Qatar, but the Galaxy midfielder's representatives have balked at such claims.

They did so again Friday.

"There is no agreement with PSG at this time," 19 Entertainment said in a statement. "An offer does not make a contract, we continue to hold negotiations with a number of clubs. No decision has been made, and we do not expect one at the moment."

Leonardo said he's not sure Beckham, who also is considering a sixth season with the Galaxy, is coming at all.

"He is in L.A., he has his family over there," the Brazilian told media Friday as he introduced Carlo Ancelotti as PSG's new coach. "We have talked a lot and we are still talking, but I'm not sure it will be done.

"We have a very good rapport with David Beckham, but we never said it was a done deal. We have studied it and we are studying it. It's always been a question of personal matters."


September, 9, 2011
9/09/11
2:17
PM PT
By
Scott French
| ESPNLosAngeles.com
Tottenham wants to sign David Beckham when his Galaxy contract expires at the end of the Major League Soccer season, manager Harry Redknapp told English media Friday.

Beckham, who trained last winter with the north London club, has expressed a desire to continue playing but has said he won't make a decision on his future -- and on whether to re-sign with the Galaxy -- until the season ends in November.

"I don't think you would ever say no to David Beckham," said Redknapp, who would like to bring the midfielder in during January's winter transfer window. "He came and trained with us last year. He was fantastic to have around the place as a player and as a person. He was a top-class professional, and he's the kind of lad you would like around the place. He is someone the young lads look up to, and he is a great role model for anybody."

Spurs tried to bring Beckham in on a loan deal last January, but the Galaxy wouldn't consider it. They allowed their star to train with the club and miss most of the first month of their preseason preparations.

"What are the chances of us signing him? I have no idea," Redknapp said. "I'll be honest. I don't have a clue. I wouldn't know the financial situation or what it would take. I have never discussed it with the chairman. Would I like him here? Of course I would. ... I would welcome him with open arms."

Beckham has said he'd never play for an English club aside from Manchester United, where he started his career, but his maternal grandfather was a Tottenham fan.

"He's definitely still good enough to play in the Premier League," Redknapp told English tabloid The Sun. "He is worth his weight in gold. His game was never about pace, so whether he's quick or not isn't an issue. David's unique quality is his use of the ball and his ability to pick out a player with a pinpoint pass. He is unbelievable and still an exceptional talent."

Queens Park Rangers, another London club, also have expressed interest in signing Beckham.


August, 23, 2011
8/23/11
2:04
PM PT
By
Scott French
| ESPNLosAngeles.com
Brad Friedel finally made his debut for Tottenham, and he wasted no time answering critics who questioned how the London club could spend money to bring in a 40-year-old goalkeeper.
And he did so in a one-sided loss.
Spurs fought gamely for an hour before falling in Monday's clash with defending English Premier League champion Manchester United at Old Trafford, and their 3-0 defeat would have been far worse if not for the able hands of Friedel, an offseason transfer from Aston Villa.
Friedel made 11 stops in an often electric encounter, and he couldn't be blamed for any of the Red Devils' goals, by
Danny Welback
in the 61st minute,
Anderson
in the 76th and
Wayne Rooney
in the 87th.
It was the former U.S. national-teamer's record 276th successive EPL appearance, a streak that dates to 2004 and includes games at Blackburn before his three-year stint at Aston Villa. That meant little to Friedel.
"I don't count the games. I'm just bitterly disappointed with the result," the UCLA product told Tottenham's website. "I don't play for personal accolades. I really don't. I just want to play to help the team win -- and we didn't."
Friedel, who has been in England since 1997, is one of the EPL's most complete goalkeepers, but his age -- he's just the third player over 40 ever to play for Spurs, who were founded in 1882 -- prompted criticism when
Harry Redknapp
signed him to a two-year contract at the start of June.
June, 3, 2011
6/03/11
1:52
PM PT
By
Scott French
| ESPNLosAngeles.com
Former UCLA All-American Brad Friedel's move to Tottenham was finalized Friday, with the 40-year-old goalkeeper signing a two-year contract with the North London giant.
The move was announced on Spurs' website and has been anticipated for most of the past week. His contract with Aston Villa expired when the English Premier League season ended last month, and Villa, Liverpool, West Bromwich Albion and clubs outside England had expressed interest.
"It was a very difficult decision to leave Villa," Friedel's agent,
Tony McGill
, told Sky Sports. "Brad has really enjoyed his time there … but Brad felt the time was right to move on, and he has not been short of offers. The last 48 hours have been hectic."
Friedel, an Ohioan who starred on UCLA's 1990 NCAA title-winning side, spent the past three seasons at Aston Villa and has been in the English Premier League since 1997, previously playing for Liverpool and Blackburn. His departure could give former Chivas USA netminder
Brad Guzan
the starting job with the Birmingham club.
Tottenham finished fifth in the Premier League this season and won a berth in next season's UEFA Europa Cup, Europe's No. 2 club competition.
Friedel is the third goalkeeper with the club, joining 37-year-old Italian
Carlo Cudicini
, who last month extended his contract with the club through 2012, and 30-year-old Brazilian
Heurelho Gomes
, who has been the first-choice keeper. Gomes has been linked with a return to Dutch power PSV Eindhoven after his errors cost Spurs goals in April losses to Real Madrid in the UEFA Champions League and Chelsea in EPL play.
"Brad is a top goalkeeper of real quality who has great experience," Tottenham manager
Harry Redknapp
said in a statement. "It is good to have three such experienced top goalkeepers at the club in Gomes, Carlo and now Brad, and it means we have competition for places, particularly with the number of games we will hopefully face next year both domestically and in Europe as well."
Friedel, who also has played for Turkish giant Galatasaray and in Major League Soccer for the Columbus Crew, made 82 appearances for the U.S. national team from 1992 to 2004 and was on three World Cup rosters, backing up
Tony Meola
in 1994, getting one of three games in 1998 and playing a huge role in the Americans' run to the quarterfinals in 2002.
February, 9, 2011
2/09/11
2:05
PM PT
By
Scott French
| ESPNLosAngeles.com
David Beckham's practice stint with Tottenham wasn't the first time the Galaxy and Spurs have worked together. And apparently it won't be last: the clubs are planning a partnership, L.A.'s ownership's president told reporters in England.
Anschutz Entertainment Group president
Tim Leiweke
, who is involved in Spurs' bid to play in the London 2012 Olympic stadium after the Games, said the teams were forming a strategic partnership which could include player movement between the clubs.
"We have an existing relationship now with Tottenham, where we are beginning to think outside the box on football and how we do things together on football," Leiweke said in a conference call with English media. "Whether that's David Beckham training [with Spurs] or maybe players from Tottenham coming to the Galaxy, [or the clubs] playing games against each other.
"Strategically, you'll see more of an alliance between us and Tottenham."
Leiweke says Beckham, who has trained with Tottenham since Jan. 10 and is slated to return to the Galaxy on Feb. 24, was encouraged to go to the north London club because of L.A.'s relationship with Spurs chairman
Daniel Levy
. Beckham earlier said he looked into training with Spurs, and a potential loan deal, after running into former England national-teamer
Jamie Redknapp
-- Tottenham manager
Harry Redknapp
's son -- while Christmas shopping.
"There are other examples of conversations we've had with Daniel in how to take that kind of cooperation and now extend it to our team in the United States," Leiweke said. "You are going to hear more about that in the future, but part of what has been created here is a strategic alliance between AEG and Tottenham on thinking about how we can be involved in Tottenham the football club."
DEMA DONE?
Ukrainian midfielder
Dema Kovalenko
, who played a huge role in the Galaxy's victory over Seattle in the first round of last year's playoffs but saw the option on his contract declined in December, has told Russian newspaper
Gazeta
he has retired.
"I feel that my body can no longer withstand the load," he said. "Very sore Achilles' tendon, back. Even last year I missed most of the season because of injury. I not so much played as tormented. …
"In the end, the Galaxy asked me to extend my contract on terms that are unacceptable to me. Roughly speaking, the money I would earn would be enough only for rental housing, meals and gasoline. I thought: Why kill yourself and risk your health? … It is better to quit and look for a different occupation."
Kovalenko, 33, said he wanted to treat health-related issues, maybe in Israel or Ukraine, and that "perhaps my health after treatment and rest will improve so much so that I am pulled back on the field."
February, 4, 2011
2/04/11
3:51
PM PT
By
Scott French
| ESPNLosAngeles.com
The Galaxy brought in
Juan Pablo Angel
to score goals. In his first game for the Galaxy, he did his job.
Angel scored the first goal as the Galaxy routed Loyola Marymount, 7-1, in an unannounced scrimmage Friday at the Home Depot Center's track and field stadium, impressively finishing a cross from fellow newcomer
Frankie Hejduk
as L.A.'s first-choice lineup -- or something to close to it -- netted five first-half goals.

Chris Birchall
scored twice on long-range blasts,
Gregg Berhalter
tallied on a free kick and
Juninho
added a goal before halftime.
Jovan Kirovski
and rookie
Paolo Cardozo
, on a penalty kick, scored in the second half, with the Galaxy using a different lineup.
Sophomore-to-be
Connor Hunsicker
scored for LMU.
Galaxy coach
Bruce Arena
teamed Berhalter with
Omar Gonzalez
in central defense, perhaps signaling that
A.J. DeLaGarza
, a second-half central defender, will be stationed elsewhere or be used again this season as a versatile fill-in.
Angel and
Chad Barrett
were the first-half forwards, and newcomer
Miguel Lopez
, on loan from Argentine club Quilmes, started the match as the left-sided midfielder, with
Landon Donovan
on the right. Starting left back
Todd Dunivant
, who was limited in practice earlier this week after offseason sports-hernia surgery, did not play.
The Galaxy lineups:
First half:
Josh Saunders; Sean Franklin, Omar Gonzalez, Gregg Berhalter, Frankie Hejduk; Landon Donovan, Juninho, Chris Birchall, Miguel Lopez; Juan Pablo Angel, Chad Barrett.
Second half:
Brian Perk; Dustin McCarty, A.J. DeLaGarza, Leonardo, Ryan Thomas; Hector Jimenez, Paolo Cardozo, Jovan Kirovski, Michael Stephens; Adam Cristman, Bryan Jordan.
WORTH NOTING:
Tottenham manager
Harry Redknapp
said
David Beckham
would be leaving London on Wednesday to return to the Galaxy -- and that he's interested in signing the English midfielder, who has been training with Spurs the past few weeks, when his contract with L.A. expires next November. "I love the way he plays ...," Redknapp told English media. "David has been fantastic. He is a top-class bloke. He has been great around the place. You would love to have him at your club." ... The Galaxy will meet UCLA in a closed-door scrimmage March 9 at HDC.
January, 11, 2011
1/11/11
11:10
AM PT
By
Scott French
| ESPNLosAngeles.com
David Beckham's training stint with Tottenham started Monday, and he's not nearly satisfied. The Mirror newspaper reports that he's offered to slash his salary if the Galaxy will permit him to join the north London club on loan through March.
Tottenham officials, the newspaper reports, have continued talks with the Galaxy about allowing Beckham to play and are willing to pay 80 percent of his wages during the loan deal.
No response from the Galaxy is expected. They're demanding Beckham, 35, return Feb. 10 to join preparations for the Major League Soccer season.
Tottenham manager
Harry Redknapp
told reporters at training that he still hoped an arrangement could be made.
"It's great to have him here," Redknapp said. "We worked hard to get him here hoping that he could come and play. [Management] grafted away trying to get a deal done where he could play for us. It's a bit complicated, but you never know. We'll see how it goes. …
"He's a fit lad. He looks like he's in great condition, looks like he looks after himself. He's a model professional, so that won't be a problem.
"Whether it will be possible to do it, I'm not sure."
January, 7, 2011
1/07/11
1:51
PM PT
By
Scott French
| ESPNLosAngeles.com
Tottenham manager Harry Redknapp says it's all but a done deal, that an agreement bringing David Beckham to the north London club for two months could be completed this weekend -- just in time for next week's showdown with his former club, Manchester United.

That's great news for Beckham, who has been angling for a loan deal the past three weeks, and it's great news for the Galaxy, no matter how L.A.'s club chooses to spin things.

Beckham, 35, has played very little soccer the past 10 months. He spent five months rehabbing the torn Achilles' tendon he sustained last March while on loan to AC Milan, a month at Home Depot Center preparing for his return, and just a little less than two months in the Galaxy's late-season push to the Supporters' Shield and into Major League Soccer's playoffs.

He was nearing something close to top form when the season ended and has been idle, at least in terms of games, since the Galaxy's end-of-season friendly in Australia.

A lot of L.A.'s players -- Landon Donovan most of all -- needed rest. Beckham needed games.

A deal with Tottenham, which has plans to use him on the right flank, would be a far more valuable preseason heading into the final season on his five-year contract with the Galaxy than drills at Home Depot Center and exhibitions against other MLS clubs.

The English Premier League is the world's best (and Tottenham among the EPL's top clubs), and only Germany's Bundesliga is more competitive among the five "majors" (England, Spain, Italy, Germany, France). And, best of all, the pace of the game in England is similar to the sometimes frantic speed of MLS while requiring greater skill and tactical savvy.

A two-month loan would have Beckham, likely at his best, back in L.A. in time for the March 15 season opener. (Fears of injury are silly, as Galaxy coach Bruce Arena might suggest: He just as easily could be hurt in during MLS preseason or once the season begins.)

Beckham's greatest skill, aside from delivering crosses and free kicks that are right on the mark, is that he's the ultimate complementary player. He's a provider, primarily, whose ability to find teammates in unequaled in MLS. His Galaxy compadres know that it's easy to play with him, and -- as we saw when he returned to the field last September -- the time needed to build chemistry, to make the necessary connections, is extraordinarily short.

Redknapp told reporters Friday that "there's not too much to sort out. I think it will get done. We're sorting out the length of the loan. I don't think it's a financial issue, certainly not from David's point of view."

The Galaxy declined comment, a spokesman saying that the club wouldn't make a statement unless something substantial occurred and that expectations were that no statement would be made Friday.

Maybe Saturday, then. Or Sunday. The sooner the better. Not just for Beckham and Tottenham, but for the Galaxy.


January, 5, 2011
1/05/11
2:34
PM PT
By
Scott French
| ESPNLosAngeles.com
Will David Beckham be in England by the next week?
Silly question. Beckham has been in England the past month, but reports from over there say the Galaxy is willing to deal.
And perhaps the most substantial word on the subject comes from a report in
The Sun
, which claims Beckham and his wife,
Victoria
, have enrolled their sons
Brooklyn
, 11,
Romeo
, 8, and
Cruz
, 5, into a private school near their Beckingham Palace mansion in London.
The Sun
says the boys will start classes Thursday.
The Beckhams live in Beverly Hills, but Victoria -- the former "Posh Spice" from the 1990s pop group Spice Girls -- wants to be in London for the run-up to next month's "Fashion Week," the tabloid reports.
Beckham has been linked most closely with Tottenham Hotspur, the north London club his maternal grandfather cheered on, and Sky Sports, citing "Sky Sports News sources," reported Wednesday that L.A. would consider a loan "only if their terms are agreed" -- and those terms, the broadcaster's Web site says, are financial.
There are now 14 teams, most in England, that have signaled an interest in taking Beckham on a short-term loan, with Tottenham, Blackburn and Newcastle United making the strongest statements of desire.
Tottenham manager
Harry Redknapp
, who has been the most vocal suitor, told reporters Wednesday that a deal must be struck quickly. Spurs played the first of 11 games through March 11 on Wednesday, and "it can't go on too long, because otherwise it would be a waste of time ...," Redknapp said. "It's dragged on a bit, and [the Galaxy] might not let him go. It's 50-50. We need to know, really."
The Sun
says the Tottenham possibility opened when Beckham was Christmas shopping in Harrods in London and ran into
Jamie Redknapp
, a former English national-teamer and Harry's son.
"David spoke to my son, and that's how it all came about," Harry Redknapp said, according to the newspaper. "He told Jamie, 'I'd fancy playing for Tottenham -- I like the way they play.' "
Beckham is seeking a two-month loan deal, which would enable him to report to the Galaxy before the Major League Soccer opener on March 15. Galaxy head coach
Bruce Arena
's only public statement on the matter has been that the 35-year-old midfielder is expected to be in camp when preseason training begins later this month.
January, 4, 2011
1/04/11
5:38
PM PT
By
Scott French
| ESPNLosAngeles.com
Blackburn Rovers FC have joined the pursuit to bring in David Beckham on loan, the English Premier League club's Indian owner has told Reuters, and Tottenham Hotspur is becoming impatient as it awaits word on its bid for the Galaxy midfielder.
Landon Donovan
, meanwhile, has informed Everton supporters he'd like to join the Toffees again next year.
Blackburn joins nearly a dozen clubs that have expressed interest in acquiring Beckham for a short loan stint, to end before the Galaxy's March 15 season opener.
"We have made an effort to get Beckham on loan ...,"
Venkateshwara Rao
, who purchased a controlling interest in Blackburn two months ago, told Reuters. "Nothing has come out of it so far."
Harry Redknapp
, manager of London-based Tottenham, on Tuesday told reporters in England that he needs to know soon whether the Galaxy are willing to make a deal.
"I haven't heard anything for a few days," Redknapp said, according to an Agence France Presse report. "I was looking at (bringing him in for) at least three months, really. If it is a very short-term thing, it can be a problem, as much as I would like him and I am a great fan of his.
January, 1, 2011
1/01/11
1:23
PM PT
By
Scott French
| ESPNLosAngeles.com
Tottenham Hotspur, the north London club David Beckham's maternal grandfather cheered on, started the new year by contacting the Galaxy about acquiring the superstar midfielder in a loan deal.
Spurs manager
Harry Redknapp
told reporters after a 1-0 win Saturday over Fulham that the club wants Beckham and are in contact with the Galaxy.
"[Beckham] just said he's like to come and play here at Tottenham," Redknapp said. "We'd have to [move fast]. I've left it to the people [in Tottenham management]. I've passed it on to them. They're talking to whoever they have to talk to at his club."
Darren Eales
, Tottenham's director of football administration, has contacted the Galaxy, Redknapp said.
A request for comment from the Galaxy was passed on to head coach/general manager
Bruce Arena
, who has not yet responded.
Beckham last season said he wouldn't be accepting a loan deal before the Major League Soccer season opens in March, then reversed himself last month, saying he hoped for a short-term loan to boost the possibility he could play again for England's national team.
He's had no shortage of suitors, but Manchester United -- the club in which he grew up -- had no interest. Beckham had said he had no desire to play for an English club aside from United, but his family's links to Tottenham, which sits fourth in the English Premier League standings and has reached the knockout stage of the UEFA Champions League, apparently has altered his stance.
Redknapp said Tottenham was interested in a three-month loan deal -- Beckham played at AC Milan in 2009 and 2010 on six-month loans -- and that Beckham was needed to back up
Aaron Lennon
, who has supplanted the former England captain as the national team right winger.
"We've got no one else to play on the right," Redknapp told reporters Friday. "[Backup]
David Bentley
keeps picking up injuries on a Friday morning. It's a no-brainer. I'm sure [Beckham] can still do a great job at the top level. Otherwise, I wouldn't bother.
"He isn't going to come here and get big money -- we aren't massive payers at this club -- but he wants to come over here to the freezing cold and play football. Doesn't that tell you something about the boy, that he lives in Los Angeles and might be a billionaire?"
Arena previously said he expects Beckham to be in camp when the Galaxy starts preseason training later this month. L.A. opens the season at Seattle on March 15.