Los Angeles Soccer:

Hector Moreno
August, 16, 2012
8/16/12
9:35
PM PT
By
Scott French
| ESPNLosAngeles.com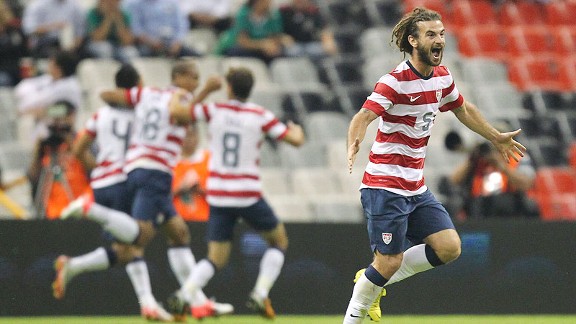 Marcos Delgado/Clasos.com/LatinContent/Getty ImagesKyle Beckerman of the U.S. team celebrates a goal during a friendly soccer match between Mexico and USA on Tuesday. The U.S. won 1-0.
MEXICO CITY -- The United States hopes its historic victory at Estadio Azteca is a precursor of sorts, but nobody is mistaking it as a shift in the balance within the region's primary rivalry. The gap separating the Americans from Mexico remains intact, and the only questions concern how great is the chasm and what must be done to bridge it.



Mexico's focus on youth development has created a golden generation of players and could signal El Tri's arrival among the truly elite in international soccer. Last weekend's gold-medal triumph at the London Olympics, with their under-23 team, follows successes by the U-17s (World Cup titles in 2005 and 2011) and the U-20s (third place at last year's World Cup), and the impact on the full national team -- the one that could, for real, be competing for the spoils in Brazil in two years -- has been profound.

Mexico's destruction of the U.S. at last year's CONCACAF Gold Cup final at the Rose Bowl, built on the sublime talent of Giovani Dos Santos, Javier "Chicharito" Hernandez and Andres Guardado, was product of Mexico's reaction to the Americans' dominance in the series for nearly a decade from 2000.

Now the U.S. must respond in kind.

"I think Mexico deserves a big compliment," coach Jurgen Klinsmann said in advance of the Yanks' 1-0 victory in Wednesday's friendly. "What they've done the last three or four years is tremendous. They've identified a way they want to play, and everybody dedicates themselves to that style of play. ...

"There is a gap. It would be foolish not to recognize that."

The U.S. went 10-2-2, with both losses at Azteca and one of the victories from the 2002 World Cup, over a span of about 8½ years. That dominance, star forward/midfielder Landon Donovan notes, was while "we had a group of us together for five, six, seven, eight years, and they were kind of in flux." The roles shifted: The U.S. team is now in transition under Klinsmann.

He took charge a year ago after that Gold Cup defeat and is working toward creating a system and a style that will emphasize attacking soccer, a necessity for success in a landscape that has been altered by Spain's success the past five years. He's also altering the makeup of an aging squad, especially at the back. The Americans' great youngsters aren't so young anymore; Donovan is 30.

Mexico's most important figures aren't yet in their primes. Chicharito is 24, Giovani 23. Defender Hector Moreno is 24. Guardado, a relative veteran, is 25. More than a dozen more first-team pool players are younger than 25.

The U.S. also has a promising young contingent -- Jozy Altidore and Brek Shea are 22, Terrence Boyd 21, Danny Williams 23 and Fabian Johnson 24 -- and several others under 25 who might or might not pan out as international players.

"It's hard to quantify a gap," Donovan said. "We're kind of a little more in flux now, but the hope is that in two years we've closed that gap and we're [like Mexico] a well-oiled machine."

The 2014 World Cup is the Americans' chief focus, but the real view is longer. Whatever success the U.S. has enjoyed has been about belief and power, not technical and tactical acumen, although there have been great improvement in both areas since the 1994 World Cup changed everything. Klinsmann, a legendary German striker who has called Orange County home for more than a decade, is looking to alter the foundation of how the U.S. plays, and that requires a philosophical shift.


August, 14, 2012
8/14/12
7:12
PM PT
By
Scott French
| ESPNLosAngeles.com
MEXICO CITY -- Landon Donovan is a veteran of the soccer clashes with Mexico, one of the chief figures behind the United States' dominance in the rivalry from 2000 through early 2009 -- and one of the most hated U.S. players, at least on this side of the border.

So he possesses a keen sense of what's what with the region's twin powers, and his take on El Tri's resurgence the past few years, behind a golden generation of young talent, is simple: Mexico is something else, indeed.

"Very good. They're very good," the Galaxy's captain said on the eve of Wednesday night's friendly at Estadio Azteca (ESPN2 and Univision, 5 p.m. PT; coverage beginning at 4:30 p.m.). "They're a well-oiled machine. They know exactly what they're doing, they have a style that they like to play, and when they play at home, they're relentless.

"So, in my opinion, especially when they play here, they're one of the best teams in the world, no question."

That makes this match, the first Azteca friendly between the sides since 1984, a tough proposition for a young U.S. team that is missing a number of key players, including three-quarters of its first-choice backline, midfield anchor Michael Bradley, attacking stars Clint Dempsey and Jozy Altidore, and much of its depth.

Mexico has gone from strength to strength with its national teams, including last year's emphatic triumph over the U.S. in the CONCACAF Gold Cup final -- a result that led to Jurgen Klinsmann's appointment as the Yanks' head coach -- and, just last weekend, a stunning victory over Brazil in the gold-medal match at the London Olympics.

None of the Olympians are on Mexico's roster for Wednesday, but several play key roles for El Tri's full national team, and their success marks another step forward. Donovan wasn't surprised.

"I thought they would win. I really did," he said. "We played that Brazil team [in May], almost the exact same team, and the scoreline was 4-1 [for Brazil], but I wasn't overly impressed with them. I thought Mexico would give them a really hard game."

The full national team is even better, of course -- the roster for this one includes Javier "Chicharito" Hernandez, Andres Guardado, Hector Moreno and Pablo Barrera -- and they've dominated the rivalry since a 5-0 romp over a third-tier U.S. side in the 2009 Gold Cup title game. The last meeting, in Klinsmann's debut a year ago in Philadelphia, was a 1-1 draw.

"The reason Mexico is so good," Donovan said, "is they can play in those games [against great teams], and they do a good enough job to really stifle teams. But what makes them successful is that when they get the ball, they can actually do something with the ball. A lot of times you play a team like Brazil, and you're defending for long stretches of the game. You get the ball and you're tired, you don't make the right pass, and you're under pressure again.


October, 11, 2011
10/11/11
11:08
PM PT
By
Scott French
| ESPNLosAngeles.com
Think of Tuesday's Mexico-Brazil friendly as a celebration of
Oswaldo Sanchez
's career, and as such it was a glowing success.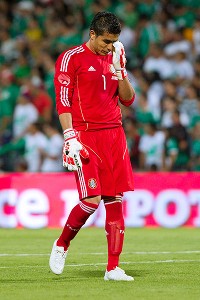 AP Photo/Christian PalmaMexico goalkeeper Oswaldo Sanchez had a rough ending to his farewell game for the national team.
The 38-year-old goalkeeper, making a farewell appearance before his home fans, made several superb saves as El Tri held on to an early advantage for nearly 70 minutes before stunning strikes by Ronaldinho and Marcelo gave Brazil a 2-1 win in Torreon.

Sanchez, Mexico's No. 1 netminder at the 2006 World Cup who hasn't figured much for the national team since Guillermo Ochoa's ascendancy a few years ago, was splendid in his 100th international appearance -- and basked in a glowing reception from fans of Santos Laguna, the club he captains, when subbed off in the final minutes.

The loss was the first with Mexico for technical director Jose Manuel "Chepo" de la Torre, not that that means a whole lot. The game was virtually meaningless, and its timing -- with nothing important nearby; World Cup qualifying doesn't begin until June -- and both clubs' reliance on Europe-based talent softened the intensity.

The highlights were three spectacular goals, including the own goal that gave Mexico a 10th-minute lead. Right-winger Pablo Barrera, one of Mexico's special players, wrapped an attack along the byline with a telling ball from a tight angle. David Luiz stuck out his foot, the ball glanced off it, spinning behind goalkeeper Jefferson and finding the far-post netting.

Ronaldinho's 79th-minute free kick, awarded after Neymar's "performance" convinced Salvadoran referee Marlon Mejia, was a bullet to the upper-right corner. Marcelo beat two defenders in the box before firing the winner into the goal's ceiling in the 84th.

Nothing Sanchez could do about either. His night will be remembered more for two saves on Ronaldinho, both on free kicks.

Three things we saw in Brazil's victory over Mexico:

1. IT'S NOT JUST THE STARS

No question who the big boys were. Nobody was more influential (primarily from set pieces) than Ronaldinho, the biggest name in this game. Univision's coverage featured individual cams on Neymar, the Brazilian teen the world is swooning over, and Javier "Chicharito" Hernandez.


February, 4, 2011
2/04/11
6:52
PM PT
By
Scott French
| ESPNLosAngeles.com
Jose Manuel "Chepo" de la Torre's first Mexico roster features a healthy share of the regular crew -- the Chicharitos and Giovanis and Torados -- a couple of newcomers among those looking to cement their spot in the player pool, and two old standouts returning to El Tri after absences of almost two years.
Zinha
, Toluca's Brazilian-born playmaker, and
Luis Perez
, a midfielder for Monterrey, were part of Mexico's 2006 World Cup team and contributed during the qualifying campaign for last year's World Cup in South Africa, and their presence for Wednesday's clash against Bosnia and Herzegovina in Atlanta (TeleFutura/KFTR Channel 46, 5 p.m. PT) restores international careers that elapsed when
Javier Aguirre
took charge in April 2009.
Zinha last suited up for El Tri in a 5-1 romp over Bolivia on March 11, 2009, in Commerce City, Colo. Perez made his last appearance in a World Cup qualifying loss at Honduras on April 1, 2009, two days before Aguirre replaced Swede
Sven-Goran Eriksson
.
De la Torre, a former Mexican national team midfielder, was hired Oct. 18 to succeed Aguirre, who resigned after guiding Mexico to the World Cup round of 16. Wednesday's match is his first as El Tri manager.
His roster includes 11 players from the team in South Africa -- including star forwards
Javier "Chicharito" Hernandez
and
Giovani Dos Santos
, both based in Europe, and captain
Gerardo Torrado
, the veteran (three World Cups) holding midfielder from Cruz Azul -- and a half-dozen who were on the roster four years earlier in Germany.
A half-dozen players based in Europe have been called in, but not forward
Carlos Vela
, who was just loaned from Arsenal to fellow English Premier League team West Bromwich Albion, or midfielder
Efrain Juarez
, who plays for Scottish powerhouse Celtic FC. Their six-month suspensions, for their involvement in a team party following a Sept. 7 match against Colombia in Ciudad Juarez, expire next month.
Hernandez (Manchester United), Dos Santos (Racing Santander, on loan from Tottenham), midfielder
Pablo Barrera
(West Ham United) and first-choice defenders
Carlos Salcido
(Fulham),
Francisco Javier Rodriguez
(PSV Eindhoven) and
Hector Moreno
(AZ Alkmaar) comprise the foreign legion.
Toluca goalkeeper
Alfredo Talavera
and Monterrey midfielder
Jesus Zavala
hope to make their international debuts. Talavera is expected to back up Cruz Azul's
Jose de Jesus Corona
, who was a backup at the 2006 World Cup. Five others on the roster have played just once or twice for the full national team.