Los Angeles Soccer:

Honduras national team
June, 22, 2011
6/22/11
10:55
PM PT
By
Scott French
| ESPNLosAngeles.com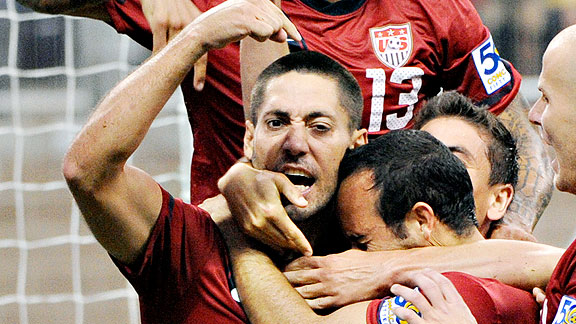 AP Photo/Dave EinselClint Dempsey and his U.S. teammates celebrate his goal in a 1-0 win over Panama.

It wasn't simple, but the U.S. and Mexico came through in Wednesday's CONCACAF Gold Cup semifinals in Houston to confirm their heavily anticipated showdown Saturday evening at the Rose Bowl.

The U.S. pulled out a 1-0 triumph over Panama as Clint Dempsey knocked home a brilliant feed from Landon Donovan in the 77th minute to send the Yanks to a record fourth successive title-game appearance in the region's nations championship.

Mexico needed overtime goals from Aldo de Nigris and Javier "Chicharito" Hernandez to conquer Honduras, 2-0, in the nightcap in front of 70,267 spectators at Reliant Stadium. Will the extra 30 minutes provide a boost for the Americans, who spent less time on the field and were finished 3½ hours earlier than their archrivals?

CONCACAF officials announced Wednesday that the game at the Rose Bowl, slated for a 6 p.m. kickoff, is a sellout. It will be the first meeting between the U.S. and Mexico in Southern California since October 2000.

The teams have met in four previous finals, with Mexico winning in 1993 (4-0), 1998 (1-0) and 2009 (5-0) and the U.S. prevailing four years ago, a 2-1 thriller sending the Yanks to the 2009 FIFA Confederations Cup, where they stunned Spain and nearly toppled Brazil in the final.

Saturday's winner will claim a berth in the 2013 FIFA Confederations Cup in Brazil, a precursor to the World Cup the following summer.

A quick look at the 18th day in the Gold Cup:

LANDON AND FREDDY SHOW: Donovan came off the bench again and Freddy Adu made his first appearance in the tournament, and they teamed with Dempsey to propel the U.S. to avenge its group-stage loss to Panama and advance to its eighth final since CONCACAF went to the Gold Cup format in 1991.


June, 18, 2011
6/18/11
9:41
PM PT
By
Scott French
| ESPNLosAngeles.com
Mexico rallied to keep its Gold Cup title hopes alive and Honduras survived at the spot as CONCACAF nations championship produced its first two semifinalists.

Javier "Chicharito" Hernandez's tournament-best sixth goal, a nifty little backheel in the 66th minute, sent El Tri to a 2-1 triumph over surprising Guatemala. The Chapines scored early and bunkered in, but they couldn't keep Mexico's high-power attack dormant beyond halftime in front of 78,807 in East Rutherford, N.J.

Honduras prevailed in the best game so far in the Gold Cup, clipping fellow Central American giant Costa Rica on penalties after a 1-1 draw. Real Salt Lake's Alvaro Saborio takes the brunt of blame for the Ticos after missing a second-half spot kick and again in the tiebreaker.

A quick look at the 14th day in the region's championship:

CHICHARITO, OF COURSE: Hernandez, the Manchester United star who just turned 23, is CONCACAF's biggest star and best player, and his cheeky winner was his 20th goal in just 27 international matches.

Former Galaxy striker Carlos Ruiz, now with the Philadelphia Union, gave Guatemala a fifth-minute lead, but the Chapines' defensive tactics couldn't close off the Mexicans, who dominated most of the action to advance to Wednesday's semifinals in Houston against Honduras.

Ruiz volleyed over goalkeeper Alfredo Talavera as he fell at the top of the box, a superb use of his body to place the ball inside the right post after beating Rafa Marquez to a long ball into the box.

Aldo de Nigris, a halftime substitute, scored the equalizer less than three minutes into the second half, slipping home a rebound after goalkeeper Ricardo Jerez rejected Hector Moreno's header and defender Carlos Gallardo swept Moreno's follow-up off the goal line.

COSTA RICA SPOT OFF: Honduras reached the final four primarily because its exactness at the penalty spot couldn't be matched by Costa Rica. The Catrachos weathered one penalty kick in regulation and prevailed on the PK shootout at the end when their Central American rival twice struck the crossbar.


June, 13, 2011
6/13/11
10:31
PM PT
By
Scott French
| ESPNLosAngeles.com
Jamaica finished a perfect run through Group B, notching its third shutout in a showdown Monday night with Honduras, and Guatemala romped to claim one of two third-place berths in the CONCACAF Gold Cup's quarterfinals.
San Jose Earthquakes forward
Ryan Johnson
scored the lone goal in Jamaica's triumph, which also sent the Hondurans to the knockout stage, where they will meet the other Central American power, Costa Rica, in Saturday's quarterfinal opener in East Rutherford, N.J.
Jamaica will face the No. 2 team from Group C in Sunday's quarterfinal doubleheader in Washington. The likeliest foe: United States.
Chicago Fire midfielder
Marco Pappa
scored one goal and set up another to lead Guatemala to a 4-0 rout of Grenada in the opener at Red Bull Arena in Harrison, N.J.
A quick look at the ninth day of group play in the region's nations championship:
ROCKSTEADY REGGAE BOYZ:
Jamaica followed shutout victories over Grenada and Guatemala with a 1-0 triumph over the Hondurans, who started just four first-choice players from last year's World Cup squad and lost star forward
Carlo Costly
to a rib injury midway through the first half.
The group title is another achievement for the Reggae Boyz, who failed to reach the final round of qualifying for last year's World Cup, then bounced back to win the Caribbean Championship in January. Outsiders when the tournament began, they'll likely enter the knockout phase as the Gold Cup's No. 2 team, trailing only Mexico on goal difference.
Johnson netted his second goal of the tournament on a wild sequence in the 36th minute. His blast caromed down off the crossbar, smacked Catrachos goalkeeper
Noel Valladares
in the back of the head, and the ball bounced into the net.
June, 10, 2011
6/10/11
8:54
PM PT
By
Scott French
| ESPNLosAngeles.com
Jamaica claimed a quarterfinal berth with another shutout and Honduras found its dormant attack, sticking seven into the net against overmatched Grenada, as Group B in the CONCACAF Gold Cup sorted itself in Miami.

Demar Phillips scored 13 minutes apart in the second half to lead Galaxy goalkeeper Donovan Ricketts and the Reggae Boyz to a 2-0 triumph over Guatemala in the first game of the doubleheader at Florida International University. Carlo Costly had a hat trick and set up another goal in Honduras' 7-1 romp.

Jamaica, which will make its first quarterfinal appearance since 2005, lost Toronto FC defender Dicoy Williams to an eighth-minute leg injury.

CATRACHOS AWAKEN: After failing to score despite a two-man advantage in its group opener Monday night against Guatemala at Home Depot Center, Honduras overcame an early deficit to destroy Grenada behind Costly and Jerry Bengtson, who netted two. Oscar Boniek Garcia assisted goals by both and the stoppage-time finale by Alfred Mejia.

Grenada, 4-0 losers to Jamaica on Monday, looked ready for an upset early, with Clive Murray providing a 19th-minute lead by knocking in his rebound after firing off the right post, the first Gold Cup goal in Spice Boys history. But it was over by halftime -- Bengtson tallied in the 26th, Costly in the 28th and Bengtson again in the 37th -- and the Hondurans added four more, primarily from through balls, from the 67th on. Two of Costly's goals were simple tap-ins.

That's five four-goal-or-worse romps in the Gold Cup's first 10 matches, two by Mexico (5-0 over El Salvador and Cuba), another by Costa Rica (5-0 over Cuba) and the Grenada defeats.

REGGAE BOYZ ON SONG: Looking for an outsider that could reach the June 25 final if the U.S. or Mexico slips up? How about Jamaica, which followed a dominant showing against the Grenadians with another impressive victory. This one was much more difficult, but Phillips scored in the 65th and 78th minute, tucking the ball inside the right post from feeds by Keammar Daley and then New York Red Bulls winger Dane Richards.


June, 6, 2011
6/06/11
11:27
PM PT
By
Scott French
| ESPNLosAngeles.com
Jamaica met expectations but Honduras couldn't, even with a two-man advantage for a good 15 minutes, as the CONCACAF Gold Cup opened Group B play Monday night at Home Depot Center.
The Reggae Boyz hammered Grenada, 4-0, and could have had several more goals in a simple exercise that gave them command of the group heading into encounters with the Central Americans.
Guatemala, which lost two players in the second half to second yellow cards, thrilled most in a crowd of 21,507 by holding off World Cup finalists Honduras in a 0-0 draw.
A quick look at the second day of group play in the region's nations championship:
CARIBBEAN CLUBBING:
On the eve of the Group B openers, New York Red Bulls winger
Dane Richards
said Jamaica was "thinking we're going to play Spain tomorrow. That's how we're looking at the Grenada team."
The Reggae Boyz weren't nearly as sharp as they'll need to be when they come up against the bigger boys in the tournament, but if either team was carrying the World Cup champs' mantle, it was Jamaica.
Ryan Johnson
scored three goals, but only one of them counted as the Jamaicans dominated their Caribbean rival, running up a 23-2 advantage on shots and making Galaxy goalkeeper
Donovan Ricketts
' evening most uneventful.
June, 4, 2011
6/04/11
9:16
PM PT
By
Scott French
| ESPNLosAngeles.com
The CONCACAF Gold Cup begins Sunday, with a Costa Rica-Cuba/Mexico-El Salvador doubleheader in front of a sellout crowd at Cowboys Stadium in Arlington, Texas, and plenty is at stake.
There's the trophy, to be sure, plus the berth in the 2013 FIFA Confederations Cup -- that's the real prize, as the U.S., a 2009 Confederations finalist, can report -- and spirited competition to prepare for the start of qualifying for the next World Cup.
More vital could be the tournament's role in restoring credibility to CONCACAF, which is on its third president in a week after FIFA's corruption scandal exploded in the Caribbean.
HEAVY INTRIGUE:
It's been a wild week in the soccer world, and especially the confederation's New York offices, since a FIFA investigation into charges levied by CONCACAF general secretary
Chuck Blazer
that CONCACAF President
Jack Warner
, of Trinidad & Tobago, and fellow FIFA executive committee member
Mohamed bin Hamman
offered cash to Caribbean officials in exchange for votes in Wednesday's FIFA presidential election.
Warner and bin Hamman were suspended last weekend by FIFA's Ethics Committee -- bin Hamman was forced to withdraw from the election, and
Sepp Blatter
, unopposed, was reelected -- and Barbadan
Lisle Austin
took over as acting CONCACAF president. His first order was to dismiss Blazer, an American, leading to a legal skirmish, with the confederation telling Austin he didn't have the power to fire Blazer and Austin accusing Blazer of trespassing and stealing company resources by continuing at his job.
It hid a head Thursday, with Austin suspended -- and claiming his suspension wasn't legal -- Honduran
Alfredo Hawit
taking charge, and Blazer still on the job. Expect more fireworks shortly.
May, 23, 2011
5/23/11
11:11
PM PT
By
Scott French
| ESPNLosAngeles.com
There's one early-stage CONCACAF Gold Cup doubleheader slated for the these parts, and now we know who's coming.
CONCACAF released all 12 rosters Monday for its nations championship, which begins June 5 and ends with the final -- U.S.-Mexico is hoped for, certainly -- on June 25 at the Rose Bowl.
A Group B twinbill is coming to Home Depot Center on Monday, June 6, with a Caribbean showdown (Jamaica vs. Grenada) at 6 p.m. and a Central American matchup (Honduras vs. Guatemala) at 8.
Honduras' roster features a dozen players from last year's World Cup team, including four who played every minute for the Catrachos (goalkeeper
Noel Valladares
, defenders
Osman Chavez
and
Maynor Figueroa
, and midfielder
Wilson Palacios
), plus Sporting Kansas City left back
Roger Espinoza
, who was raised in Denver, and former Chivas USA midfielder
Ramon Nuñez
.
Guatemala is led by former Galaxy star Carlos Ruiz, now in Philadelphia, and Chicago Fire midfielder Marco Pappa.
The Jamaicans have eight MLS players, including Galaxy goalkeeper
Donovan Ricketts
and former Galaxy defender
Tyrone Marshall
, and 11 based in Europe, nine of them in Sweden or Norway. Grenada has Brooklyn-raised New England Revolution midfielder
Shalrie Joseph
, who would have played in two World Cups already had he chosen to play for the U.S.
April, 6, 2011
4/06/11
9:28
PM PT
By
Scott French
| ESPNLosAngeles.com
The big news in MLS this week was 18-year-old D.C. United midfielder Andy Najar's decision to commit to play for Honduras' national team rather than for the U.S., choosing the country of his birth over the land he's called home since he was 13.
Last year's MLS rookie of the year said he followed his heart, and the decision makes sense: He's a green-card holder but would need at least two years to receive U.S. citizenship and become eligible for the Yanks; with Honduras, he can play in the CONCACAF Gold Cup in June and, if the Catrachos qualify, in next year's London Olympics.
Galaxy head coach
Bruce Arena
, whose team Saturday takes on Najar and D.C., says he hasn't followed the winger's situation, that he has "no background on this whole process with him and his thinking and the two federations that are competing for the player's services," but he's been in the middle of such a tête-à-tête, back when he was the U.S. national team's coach.
Arena and U.S. Soccer pursued New Jersey-born
Giuseppe Rossi
when he was an 18-year-old forward at Manchester United, back in 2005. Rossi's father moved him to Italy, to join Parma's youth program, when he was 12, and the player has gone from success to success and now stars for Villarreal in Spain.
Rossi resisted U.S. entreaties and committed to Italy.
"We did our best to convince him to play with the U.S.," Arena said Wednesday, "but his preference was Italy, and that's the way it goes."