Los Angeles Soccer:

Honduras under-23 national team
April, 2, 2012
4/02/12
10:39
PM PT
By
Scott French
| ESPNLosAngeles.com
Mexico heads to the Olympics as CONCACAF's under-23 champion. Honduras goes to London with two players suspended.
That's the upshot from Monday's title game in the region's Olympic qualifying tournament, in which El Tri prevailed, 2-1, on
Miguel Angel Ponce
's volley late in overtime in Kansas City, Kan.
Marco Fabian de la Mora
also scored for Mexico, which rallied from a deficit after
Romell Quioto
's header gave the Hondurans a 48th-minute lead.
Both sides qualified for the Olympics with semifinal victories Saturday.
Keeping tabs on the road to London:
Mexico fell behind early in the second half, then took over, sending attacking wave after wave at the Honduran defense to net a 75th-minute equalizer and score the winner 26 minutes into overtime.
Quioto gave the Catrachos the advantage by nodding home
Alexander Lopez
's cross, but they were under heavy pressure the rest of the way. Marco Fabian tied the score with a brilliant blast from 28 yards that bent just inside the right post -- his fifth goal of the tournament -- and Mexico failed to win in regulation when the star forward shot wide with an open shot inside the box in the 83rd minute and his Guadalajara teammate
Erick Torres
put a looping header off the crossbar in the 86th.
Honduras goalkeeper
Jose Mendoza
was heroic on several occasions. He required medical attention after appearing to hurt his knee and signaled at least twice to bee substituted off.
Ponce, a Sacramento-born midfielder for Guadalajara, got open at the left post to finish
Israel Jimenez
's cross from the left flank in the 116th minute. The seven-pass sequence occurred when Mexico failed to return the ball to Honduras, which had knocked it out of bounds so a player could receive medical treatment.
March, 31, 2012
3/31/12
9:32
PM PT
By
Scott French
| ESPNLosAngeles.com
Mexico and Honduras are headed to the Olympics in men's soccer after winning semifinal showdowns Saturday at CONCACAF's qualifying tournament in Kansas City, Kan.
Gerson Rodas
scored twice in overtime as Honduras overcame Central American rival El Salvador, 3-2, in the first game of a doubleheader at Livestrong Sporting Park. Mexico claimed its berth at this summer's London Games with a 3-1 victory over Canada.
Mexico is making its 10th men's soccer appearance at the Olympics but just its second in the last four Olympiads. Honduras has qualified for the third time since 2000.
Keeping tabs on the road to London:
Mexico's class was apparent in a deserved victory over the Canadians, with Guadalajara's
Marco Fabian de la Mora
scoring his fourth goal of the tournament, UANL Tigres'
Alan Pulido
netting his fifth and Sacramento-born
Miguel Angel Ponce
, also from Guadalajara, adding a second-half insurance strike.
March, 27, 2012
3/27/12
11:47
PM PT
By
Scott French
| ESPNLosAngeles.com
CARSON -- Everything went according to plan in the final Group B doubleheader in CONCACAF's Olympic qualifying tournament, with Mexico claiming the top spot, Honduras advancing to winner-takes-all semifinals as the No. 2 side -- and both likely to claim berths for the London Games.
Honduras snared its berth in Saturday's semifinals in Kansas City, Kan., with a by-the-numbers 2-0 triumph over Trinidad & Tobago on Tuesday night at Home Depot Center. A victory over El Salvador will send the Catrachos to their third men's soccer tournament in four Olympic games.
It was going to take a miracle to knock Mexico out of the top spot -- El Tri had clinched a semifinal berth Sunday -- and Panama, despite a spirited battle, wasn't going to post the nine-goal win required to do so. It had nearly sewn up a scoreless draw when Guadalajara's
Erick Torres
, making his first appearance of the tournament, scored in stoppage for a 1-0 victory that thrilled most of the 10,061 in attendance.
Keeping tabs on the road to London:
Honduras and Mexico did what was required and little more.
The Catrachos weren't particularly sharp, but they engineered two scoring plays -- one fortunate, the other precise -- to overcome a game T&T side.
Eddie Hernandez
and
Anthony Lozano
assisted each other's goals.
March, 26, 2012
3/26/12
10:58
AM PT
By
Scott French
| ESPNLosAngeles.com
CARSON -- Mexico's plan to qualify for the London Olympics is simple: beat everybody. That would certainly do it, and if El Tri's path grew more strenuous with Canada's upset of the U.S., well, no problem.
That was
Luis Fernando Tena
's take after Mexico overwhelmed Honduras, 3-0, Sunday afternoon at Home Depot Center, becoming the first of the region's under-23 national teams to clinch a final-four berth in CONCACAF's Olympic qualifying tournament.
"We're well aware this will mean nothing if we don't win [in the semifinals in Kansas City, Kan.] on Saturday the 31st," said Tena, Mexico's head coach. "We haven't won anything. We have advanced, and whomever we play, we'll always try to win, of course."
El Tri, which didn't get out of the group stage in a grand failure four years ago, can't claim Group B's top spot until Tuesday's first-stage finale against Panama, but even an unexpected tumble probably wouldn't knock them out of first place.
This is where Mexico was expected to be, but Canada's 2-0 victory Friday night in Nashville, Tenn., twisted everything: The U.S., with a win Monday over El Salvador, probably would finish second in Group A. The Americans and Mexicans were both expected to make it to London; now they'll probably face off for one of CONCACAF's two berths.
"Yeah, I know -- everybody is asking the same question," said Guadalajara's
Miguel Angel Ponce
, who was born in Sacramento. "It really doesn't matter if it's USA or no. We have to keep showing what we've done, and we can beat them."
The U.S. impressively won a Feb. 29 friendly against the Mexicans in Frisco, Texas, but they followed Thursday's 6-0 rout of Cuba with a poor performance at both ends against the Canadians and have not looked nearly as sharp nor as dangerous as has Mexico. El Tri has more top-flight experience and, with New York Red Bulls star
Juan Agudelo
out -- he'll undergo surgery Monday to repair a torn meniscus -- a more dynamic attack.
Beating Canada, which will win Group A with a victory Monday over the winless, goalless, hapless Cubans, is a far simpler task, but Mexico wasn't about to maneuver for the better matchup.
March, 25, 2012
3/25/12
6:53
PM PT
By
Scott French
| ESPNLosAngeles.com
CARSON -- Alan Pulido picked up where Marco Fabian de la Mora left off, scoring a hat trick to lead Mexico's under-23 national team into the semifinals of CONCACAF's Olympic qualifying tournament.
A victory March 31 in Kansas City, Kan. -- likely against the United States -- sends El Tri to London.
Pulido tallied in the 13th and 40th minutes, then netted a third just 41 seconds into the second half as Mexico (2-0-0) routed Honduras, 3-0, Sunday in front of 16,184 cold, wet fans at Home Depot Center to assume command of the Group B race with one last set of doubleheaders remaining.
Panama and Trinidad & Tobago drew, 1-1, in the opener, keeping alive their diminishing hopes to advance.
Keeping tabs on the road to London:
Pulido, from UANL Tigres, scored two superb individual goals in the first half, then first-timed a cross from Cruz Azul's Javier Aquino following Monterrey defender Hiram Mier's long ball up the right flank as Mexico, sharp and explosive, dominated its stiffest group rival.
The victory should be enough to give El Tri the B title -- their goal difference, at plus-9, is too much for Hondurans (1-1-0, with a minus-1 difference) to overcome, even with a lopsided win over Trinidad & Tobago in Tuesday's opener -- and that likely means a showdown with the U.S. (1-1-0), which after Saturday's shocking loss to Canada needs to beat El Salvador (1-0-1) in the Group A finale to ensure a final four berth.
Neither Mexico nor Honduras would relish a winner-takes-all clash with the Americans, but El Tri's form -- and the U.S.'s loss of star striker
Juan Agudelo
-- makes them a substantial favorite if that's the way things play out.
March, 24, 2012
3/24/12
4:48
PM PT
By
Scott French
| ESPNLosAngeles.com
CARSON -- Luis Fernando Tena fêted Mexico's one-sided victory in its Olympic qualifying opener by surveying his squad to see who might be available for game two.

Four Mexicans limped off with injuries during a 7-1 dismantling of Trinidad & Tobago in a Group B opener Friday night, and that's not going to help in Sunday afternoon's showdown with Honduras at Home Depot Center.

The Hondurans also won their opener and have a team, Tena noted before the tournament kicked off, that's capable of winning the group and claiming one of CONCACAF's two berths in the men's soccer event at this summer's London Olympics.

"The team played well," Tena acknowledged after El Tri's under-23 national team, filled with Primera Division standouts, dominated every phase of the match with T&T, opening up huge advantages in shots (35-7), shots on goal (15-2), corner kicks (14-2) and, most important, goals, behind Guadalajara star Marco Fabian de la Mora's hat trick. "We had good possession, a good situation. A lot of times we were unable to finish, but we attacked well."

Unfortunately, Mexico also dominated in players injured. T&T goalkeeper Andre Marchan, without whom the scoreline might have been 15-1, suffered a mild concussion when Toluca's Nestor Calderon, frantically chasing a ball with a 5-0 lead, leapt high in the air and kicked him in the head.

Calderon, perhaps justly, was hurt when he landed, although Tena did not identify the injury nor its extent. Three other midfielders -- Pumas UNAM's David Cabrera and Javier Cortes and Cruz Azul's Javier Aquino -- also "suffered knocks," as Tena put it, and their statuses also are unknown.

"Unfortunately, we did have a lot of knocks," Tena said. "That's going to make us wait until the last minute to see who we can count on [Sunday]. Honduras is obviously the toughest opponent in the group. The game will be very different from today's."

Tena admitted the injuries "make us worry and leave us with a bitter taste."


March, 23, 2012
3/23/12
11:16
PM PT
By
Scott French
| ESPNLosAngeles.com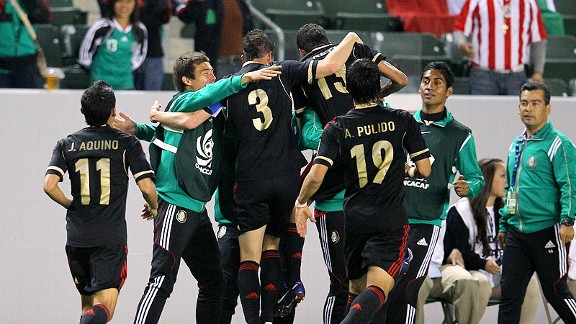 Stephen Dunn/Getty Images)Mexico celebrates one of its seven goals Friday night at Home Depot Center.

CARSON -- Honduras needed a half to find its game. Mexico was on the accelerator from the start. Both posted impressive victories Friday night in CONCACAF Olympic qualifiers at Home Depot Center to set up a showdown Sunday afternoon, likely for the Group B title.

The Hondurans' under-23 national team used a goal early in the second half to take command and another near the finish to nail down a 3-1 triumph over Panama in the opener. Marco Fabian de la Mora had a hat trick and played a crucial role on another strike as Mexico buried Trinidad & Tobago, 7-1, in the nightcap.

Keeping tabs on the road to London:
How good is Mexico? It bettered United States' six-goal start in the region's qualifying tournament for this summer's London Olympics, and it could have been far, far worse.
Mexico spent the entire match in and around the Soca Warriors' box, scored three brilliant goals and might have had another half-dozen or more if not for the efforts of T&T goalkeeper
Andre Marchan
and center back
Daneil Cyrus
.
Marco Fabian, the biggest name on El Tri's roster, and Sacramento-born winger
Miguel Angel Ponce
spearheaded a vibrant attack that expertly and repeatedly maneuvered through T&T's defense, hammering 35 shots. With better fortune, Mexico might have scored 15.
Marco Fabian enabled
Alan Pulido
's opener by getting in Marchan's path for a flicked-on corner kick, then doubled the advantage with a powerful header from Guadalajara teammate Ponce's superb cross from the left wing.
El Tri added five in the second half, the best Marco Fabian's precise finish from the top of the box in the 69th minute and
Israel Jimenez
's 30-yard free kick in the 74th. They padded their lead with three goals from the 85th minute.
The opener wasn't nearly as entertaining, but the match was far more important, likely determining the side that will advance to the semifinals along with Mexico. The Hondurans were worthy winners, taking charge once they began stringing passes after halftime.