Los Angeles Soccer:

Ike Opara
May, 24, 2012
5/24/12
1:15
AM PT
By
Scott French
| ESPNLosAngeles.com
CARSON -- Let's make one thing clear: It wasn't referee Jair Marrufo who cost the Galaxy a victory Wednesday night, when the San Jose Earthquakes rallied from a two-goal deficit for a 3-2 Major League Soccer victory at Home Depot Center.

He just didn't help.

That's what the Galaxy thinks anyway, after a red card to Hector Jimenez and a penalty kick after a hand ball in the box by David Beckham helped fuel the Quakes' comeback.

Everyone agrees that Jimenez's red card was fair. And so, perhaps, was the penalty kick Khari Stephenson converted to tie the score in the 82nd minute. But head coach Bruce Arena noted in his postgame news conference that Marrufo "didn't call anything on their strikers all night" and that the referee's failure to award the Galaxy a penalty kick after San Jose defender Ike Opara handled the ball in his box after falling to the ground, was egregious.

"I'm told," Arena said, "their hand ball in the first half is not a hand ball, even though he basically got both hands on the ball. What can you say?"

Beckham was more direct in his criticism.

"Unfortunately, we had someone in control of the game tonight that, every time we've had him, he wants to be the star, and that's what happens when you have a referee who wants to be on 'SportsCenter,' " he said. "That was disappointing.

"Maybe the decision for the sending off, maybe it was. The penalty? Maybe it was. ... I just turned my back, and my arms were as close to me as they could be. They weren't outstretched -- yeah, it hit my hand, but it could have gone either way. [Opara] falls on the ball in the penalty area, rolls over it a couple of times, touches it with his hand a couple of times. Everyone else sees it apart from the 'star.' "

Strong words, and they'll probably cost Beckham a few dollars once the league gets wind of them. Oh, well. He can afford it.
March, 24, 2012
3/24/12
9:01
PM PT
By
Scott French
| ESPNLosAngeles.com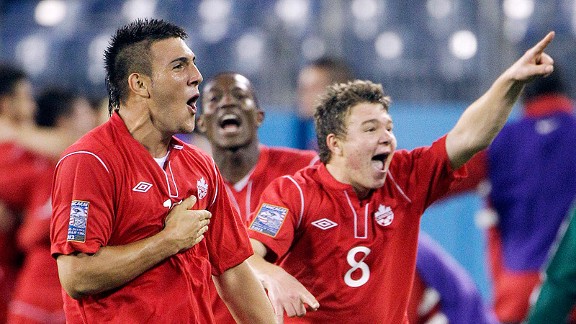 AP Photo/Mark HumphreyLucas Cavallini, left, and Doneil Henry celebrate one of Canada's goals against the U.S.

The bad news arrived for the U.S. under-23 national team before kickoff, and it just got worse. And now the Americans' qualification for this summer's London Olympics is in doubt.

U.S. Soccer announced before the game that star forward Juan Agudelo had suffered a torn meniscus and was returning to the New York Red Bulls for rehab. The team responded with a listless performance against Canada, marked by criminal defensive work on two set pieces that irretrievably altered CONCACAF's Olympic qualifying tournament.

The expected outcome -- that the Americans and Mexico would be the region's representatives in London -- appears almost certainly dead.

Canada tallied twice off corner kicks for a stunning 2-0 victory Saturday in Nashville, and it can win the Group A title with an expected victory Monday over last-place Cuba, a 4-0 loser to El Salvador.

The U.S. needs a victory over the Salvadorans to finish second, which likely would set up a clash with Mexico with an Olympic berth on the line. Form (and Agudelo's absence) suggests the Americans would struggle in such a matchup; one of two upsets -- Cuba over Canada or, Sunday at Home Depot Center, Honduras over Mexico -- would be necessary to avoid the showdown.

Only the semifinal winners March 31 in Kansas City, Kan., qualify for the Olympics.

Keeping tabs on the road to London:
The Americans lacked spark, were outbattled and fell apart defensively, and that was enough for Canada to claim a deserved triumph.
Both goals came from corner kicks on which D.C. United goalkeeper
Bill Hamid
's shortcomings were key.
February, 10, 2011
2/10/11
6:11
PM PT
By
Scott French
| ESPNLosAngeles.com
Uruguayan rookie
Paolo Cardozo
continues to impress for the Galaxy. This time the babyfaced midfielder set up L.A.'s goal in a 1-1 draw Thursday afternoon against San Jose at the Home Depot Center's track and field stadium.
Cardozo, who tallied in the Galaxy's first two preseason scrimmages, perfectly delivered a free kick for
Mike Magee
to nod home in the 84th minute as L.A. (1-0-2) overcame missing cohesion up front to claim another draw against Major League Soccer opposition.
Ike Opara
scored for the Earthquakes (0-1-1), volleying in
Joey Gjertsen
's corner kick in the third minute.
Cardozo, 21, a first-round draft choice from Argentine club Quilmes, has in a week and a half on the field with L.A. demonstrated superb foot skills, attacking savvy and an ability to combine with teammates.

"I think, still, with him, it's a process where he needs to understand us a little better, and we need to understand him," said Galaxy coach
Bruce Arena
, "but I think he's had a couple of good days."
He's so slight -- just 5 feet 5, 135 pounds, and he doesn't look much older than 14 -- and the game in MLS is far more physical than in Argentina, so his ability to get on the field and contribute will depend on how quickly he acclimates.
"He's coming along, he's definitely coming along," Galaxy defender
Gregg Berhalter
said. "He's going to have to get used to the physicality of the league, but I think he'll be fine. … He's tiny, but he's shifty. He's a good player."
Cardozo drew the foul, from Quakes defender
Justin Morrow
, to set up the free kick just to the right of San Jose's box, and he nearly gave L.A. a victory five minutes later, firing just past the upper-left corner.
He gave the Galaxy more attack than they managed from both sets of forwards.
Juan Pablo Angel
and prospective partner
Chad Barrett
haven't started connecting, and Magee seems further ahead than
Adam Cristman
on the second tandem.
February, 7, 2011
2/07/11
1:21
PM PT
By
Scott French
| ESPNLosAngeles.com
The San Jose Earthquakes arrived Sunday for a week of training at Oxnard College, and they've got scrimmages planned against Chivas USA, the Galaxy and the Ventura County Fusion.
The Quakes meet Chivas on Monday afternoon at Home Depot Center Field 4, west of the main stadium. They'll face the Galaxy on Thursday at the HDC track and field stadium and take on the Premier Development League's Fusion on Friday at Oxnard College.
Here's a quick look at the Earthquakes:
WHO ARE THEY?
The Galaxy's former No. 1 rival, before Chivas USA arrived and MLS's original Clash/Quakes hightailed it to Houston after the 2005 season. This model returned to MLS in 2008, with Oakland A's owner
Lew Wolff
(encouraged by super soccer fan/A's GM
Billy Beane
) putting up the money, former star center back
John Doyle
as GM and the return of coach
Frank Yallop
, who guided the previous Quakes to MLS titles in 2001 and 2003. They reached the playoffs last year, knocking off Eastern Conference champ New York to make it to the MLS Cup semifinals.
THE MAN IN CHARGE
Yallop is no stranger to these parts. The English-born Canadian former defender was the Galaxy's head coach the last part of 2006 and during that wasted 2007 campaign, unfairly jettisoned afterward with the Quakes asking for his hand.
Yallop, who's one of the really good guys in MLS, spent 13 seasons with Ipswich Town, played in Tampa Bay in the first three MLS seasons, then worked for the Mutiny and then at D.C. United before taking over in San Jose in 2001. After three seasons and two MLS Cup titles, he became Canada's national team coach, a post he left for the Galaxy job after failing to qualify for the 2006 World Cup.
THE STAR PLAYER
The closest thing San Jose has to a star is forward/midfielder
Chris Wondolowski
, who burst into everyone's consciousness last year (his sixth in MLS) with 18 goals, 10 of them in the final eight games, to swipe the Golden Boot from L.A.'s
Edson Buddle
on the final day of the season.