Los Angeles Soccer:

Iker Casillas
August, 2, 2012
8/02/12
11:44
PM PT

CARSON, Calif. -- David Beckham says he's happy to be back in Los Angeles.

He's happy to be back home with his wife and kids. He's happy to be back with his Los Angeles Galaxy teammates. He's happy to be enjoying the Olympics in London, like the rest of America, on tape delay from the comfort of his living room.

But you can tell he's not really happy, and he has every right to feel that way.

On Thursday night, Beckham was on the field at the Home Depot Center to take on his former team, Real Madrid, in front of 30,317, the largest soccer crowd ever at the stadium. It was, as expected, a lopsided affair that Madrid won 5-1. Beckham set up the Galaxy's only goal with a picture-perfect serve off a free kick that went off the head of David Junior Lopes and past Real Madrid goalkeeper Iker Casillas.

Beckham, however, should be in England, preparing for Great Britain's quarterfinal match against South Korea on Saturday.

After all, Beckham was instrumental in bringing the Olympics to London, calling it "one of the proudest moments I've been involved with." Giving one of the most famous and influential figures in English sports history a spot on the 18-man roster seemed like the right thing to do. Given the way Beckham, 37, has been playing of late, few would have seen it as a courtesy gesture. Beckham had every right to be on the team for on- and off-the-field reasons.

That is, of course, not how Great Britain manager Stuart Pearce felt in June when he opted to fill the three over-23 slots on his team with Liverpool's Craig Bellamy, Manchester City's Micah Richards and Manchester United's Ryan Giggs, who will turn 39 in November.

"Of course, I'm disappointed, but life goes on," Beckham said. "My family is healthy, I'm pretty healthy, so at the end of the day, I'll be there to support the Great Britain team."

Instead of being an Olympian at the Summer Games he helped attract to his country, Beckham played a central figure in last week's opening ceremonies and will again play a part in the closing ceremonies. He helped bring the torch to the Olympic Stadium while wearing one of his custom suits and driving a speed boat, in a scene that looked straight out of a James Bond film.

"I was out on the boat for a few hours, so it was good," Beckham said. "I had a few days during the week so I was prepared. It was good times. … Obviously being an East End boy and growing up there, having the Olympics in that part of London is a very proud moment for us all. But it was a great experience being part of it, being part of such a historic moment for England. It was special."


May, 7, 2012
5/07/12
5:37
PM PT
By
Scott French
| ESPNLosAngeles.com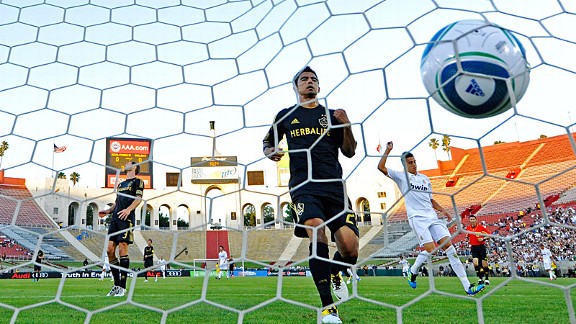 Kevork Djansezian/Getty ImagesA.J. DeLaGarza of the Galaxy reacts as the ball bounces in the net after a goal by Jose Callejon of Real Madrid during the Herbalife World Challenge at the L.A. Coliseum on July 16, 2011.
The Galaxy's Aug. 2 friendly against Real Madrid at Home Depot Center, which was announced Monday, will be the fourth meeting between the teams as Jose Mourinho brings the Merengues back to Southern California for the third straight preseason.

The last two were at far bigger venues -- 2010 at the Rose Bowl and last year at the Coliseum -- but this year's battle returns to cozy Home Depot Center, site of the first encounter, back in 2005.

Real Madrid is expected to play more games while in America, and soccer blog The Offside Rules reports that it will meet AC Milan in an Aug. 5 friendly in Las Vegas.

Here is a quick rundown of the first three Galaxy-Real Madrid games:

July 18, 2005, at Home Depot Center
Real Madrid 2, Galaxy 0
David Beckham makes his L.A. debut, in Real colors, but it's Zinedine Zidane's presence that makes this one of the most special occasions in Southern California soccer history. Zidane was mesmerizing in an hour's performance, and he set up Michael Owen's goal six minutes in. The dominance was greater than the margin of victory -- Roberto Soldado's second-half header doubled the advantage -- but L.A. clearly missed Landon Donovan, in his first year with the club, who was away on national team duty.
Att.: 27,000.

Aug. 7, 2010, at the Rose Bowl
Real Madrid 3, Galaxy 2
L.A. was on its way to an upset after Todd Dunivant and Donovan provided a two-goal lead by halftime, but then Real Madrid put in some of its bigger stars -- Cristiano Ronaldo, Gonzalo Higuain, Xabi Alonso and Iker Casillas included -- and tore apart the Galaxy. Higuain, coming off a superb World Cup performance for Argentina, scored twice, and Xabi Alonso netted the winner in the 71st minute.
Att.: 89,134.

July 16, 2011, at the Coliseum
Real Madrid 4, Galaxy 1
Real's quality overwhelmed the Galaxy, with Jose Callejon and Joselu scoring in the 15 minutes before halftime and Cristiano Ronaldo and Karim Benzema in the 15 minutes after the break to roll up a 4-0 lead. Fabio Coentrăo, newly arrived from Benfica, was the star among stars, repeatedly probing the L.A. defense and combining to create chances -- if not for Josh Saunders' and Brian Perk's play in the nets, Real might have scored seven or eight. Adam Cristman tallied in the 67th for the Galaxy.
Att.: 56,211.


July, 16, 2011
7/16/11
8:31
PM PT
LOS ANGELES -- Kaká played a sharp, serene through ball and José Callejón viciously put it away, drawing synchronized chants of "Ma-drid, Ma-drid!" and swarms of bright flashes across the Memorial Coliseum.

Real Madrid, even without stars Cristiano Ronaldo and Xabi Alonso in the starting lineup, would add another goal to lead the Galaxy, 2-0, at the half in their World Football Challenge opener Saturday night. There were plenty of oohs and aahs but, unfortunately for the locals, they came as a product of Madrid's brilliance.

It might have been an uglier halftime score if not for a handful of saves from Galaxy goalkeeper Josh Saunders. Callejón had a favorable one-on-one chance against Saunders in the 10th minute but had his shot blocked. Later, Saunders left his feet to make a stop on a missile from Marcelo.

The Galaxy, despite fielding its usual starters, had little going offensively. David Beckham had two opportunities on set pieces but neither threatened Iker Casillas.

A shot from 21-year-old striker Joselu deflected off Beckham and sneaked past Saunders, giving Madrid a 2-0 lead in the 40th minute. It produced another flurry of camera flashes and resonating chants of "Ma-drid! Ma-drid!"
July, 12, 2011
7/12/11
10:05
PM PT
By
Scott French
| ESPNLosAngeles.com
CENTURY CITY -- Real Madrid began its preseason work Tuesday morning at UCLA, the first steps, the Merengues hope, toward taking down European champion Barcelona in Spain's La Liga and UEFA's Champions League in the coming season.
They'll be in L.A. until July 22, with games Saturday night against the Galaxy at the Coliseum and next Wednesday against Guadalajara at San Diego's Qualcomm Stadium, before heading to Philadelphia for another match, back to Europe for matches in Germany and England, then off to China for more training and a couple of games.
Superstar manager
Jose Mourinho
has a serious crush on Southern California: This is the second straight year he's brought Real to L.A., and he previously held preseason camp in Westwood -- with his teams always squired next door in Beverly Hills -- with Chelsea and Inter Milan.
"We are very happy to come, first of all because Los Angeles has become our home, in terms of preseason," said Mourinho, who won just one of the three desired trophies -- the Copa del Rey, Spain's premier cup competition -- in his first season at Real Madrid. "We feel at home."
What's the allure?
"The training conditions are good," he said. "The freedom that we have is also good, because in Europe our life is difficult. Socially, it's difficult. Here the players, they feel some freedom. They can walk in the street, they can be together, they can share some time together, not like in Europe, where they close each other in their own room and they cannot communicate.
"At this moment, I think it's important for the players to build team spirit, to let [new] players come into the group. For me, this is an important part of the situation."
So are the matches, for which Mourinho, goalkeeper
Iker Casillas
and forward
Cristiano Ronaldo
joined Galaxy coach
Bruce Arena
, forward
Landon Donovan
and midfielder
David Beckham
to discuss Tuesday afternoon at Creative Artists Agency. They're part of the World Football Challenge, a series of exhibitions CAA and Major League Soccer, along with Soccer United Marketing, MLS's marketing arm, are producing.
Also part of the 14-match series: the Galaxy's friendly July 24 against England's Manchester City FC.
"It's exactly what you need, it's exactly what you want," Mourinho said. "I don't like preseason matches to win 10-nil. I don't like preseason matches to have some fun. I like serious matches, and they always give us that [in the U.S.] ... Of course, it's not the priority, but of course everybody wants to win and everybody tries to win every single match, every single tournament."
June, 23, 2011
6/23/11
5:30
PM PT
By
Scott French
| ESPNLosAngeles.com
Real Madrid's roster for its preseason U.S. tour, including an 11-day camp at UCLA, is out, and -- as one might expect from a preseason roster -- it features all of the club's biggest stars: Cristiano Ronaldo, Kaká, Iker Casillas, Xabi Alonso, Ricardo Carvalho, Mesut Özil, Karim Benzema, Pepe, Sergio Ramos and Sami Khedira.

The Merengues arrive July 11 in Westwood, where Portuguese coach Jose Mourinho will lead training sessions for the second straight year, and have two matches planned in Southern California, on July 16 against the Galaxy at the Coliseum and July 20 against Guadalajara at Qualcomm Stadium in San Diego.

Here's the list:

GOALKEEPERS
Antonio Adán (Spain)
Iker Casillas (Spain)

DEFENDERS
Raul Albiol (Spain)
Alvaro Arbeloa (Spain)
Ezequiel Garay (Argentina)
David Mateos (Spain)
Pepe (Portugal)
Sergio Ramos (Spain)
Ricardo Carvalho (Portugal)
Marcelo Viera (Brazil)

MIDFIELDERS
Hamit Altintop (Turkey)
José Callejón (Spain)
Lassana Diarra (France)
Roysten Drenthe (Netherlands)
Fernando Gago (Argentina)
Sergio Canales (Spain)
Kaká (Brazil)
Sami Khedira (Germany)
Pedro León (Spain)
Mesut Özil (Germany)
Nuri Sahin (Turkey)
Xabi Alonso (Spain)

FORWARDS
Karim Benzema (France)
Esteban Granero (Spain)
Cristiano Ronaldo (Portugal)
January, 10, 2011
1/10/11
6:21
PM PT
What we learned from FIFA's Ballon d'Or festivities Monday night in Zurich: Mongolians love Abby Wambach.
The Hermosa Beach-based striker picked up eight first-place votes in the Women's Player of the Year contest, and two came from Mongolian women's national team head coach
Ganjuur Bayartsogt
and captain
Sugar Bayar
.
It wasn't nearly enough to halt former L.A. Sol star
Marta
's romp to her fifth successive world's-best honor: The Brazilian forward, who led FC Gold Pride to Women's Professional Soccer's title and is now playing in Brazil for Santos, captured 151 of 266 first-place votes from 119 coaches, 121 captains and 26 media. She failed to make the top three on on only 52 ballots, and on two of those -- both from Brazil -- she was ineligible.
Argentina's
Lionel Messi
won the men's World Player of the Year award for the second straight year, beating Barcelona teammates
Xavi
and
Andres Iniesta
. The coaches of the year were Real Madrid's
Jose Mourinho
, who last spring guided Inter Milan to the UEFA Champions League title, and Germany women's national team coach
Silvia Neid
.
More interesting than who won is how everyone voted. FIFA won't make public the executive committee members' choices on a World Cup host, but every Player of the Year vote is online, both
men
and
women
.
U.S. men's captain
Carlos Bocanegra
(Alta Loma/Alta Loma HS and UCLA) voted Xavi first, Iniesta second and Dutch midfielder
Wesley Sneijder
(Inter Milan) third.
U.S. coach
Bob Bradley
(Manhattan Beach) went with, in order, Xavi, Sneijder and Messi.
December, 23, 2010
12/23/10
9:00
PM PT
By
Scott French
| ESPNLosAngeles.com
Our countdown of 2010's top 10 soccer stories and newsmakers -- from a Southern California slant -- continues.
Stories/No. 9: Real Madrid's visit
The gap between Major League Soccer's best and the world's finest clubs has rarely been more aptly illustrated than at the Rose Bowl last Aug. 7.
The Galaxy, en route to the Supporters' Shield (as MLS's regular-season champion), stood toe to toe with mighty Real Madrid through 45 minutes, taking a two-goal lead to the locker room at halftime.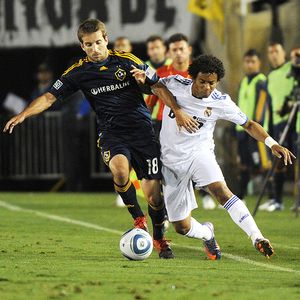 Mark Ralston/AFP/Getty Images
Real Madrid defender Marcelo, right, clashes with Galaxy forward Mike Magee during their friendly at the Rose Bowl on Aug. 7.
Then
Jose Mourinho
, the "Special One," unleashed his A side, bringing on World Cup stars
Cristiano Ronaldo
,
Gonzalo Higuain
,
Xabi Alonso
and
Iker Casillas
. Real Madrid, demonstrating a substantial superiority in skill, quickness of thought and ball movement, destroyed L.A. over the final 45 minutes, rallying for a 3-2 victory -- with Argentine forward Higuain scoring two of the goals.
The encounter delighted a crowd of 89,134 -- the second-largest crowd to watch a soccer game in Southern California this year, just off the 90,526 count for Mexico's Rose Bowl game against New Zealand on March 3. And it delighted the Galaxy, who considered it an honor to be on the same field with one of the globe's greatest clubs.