Los Angeles Soccer:

Indonesia national team
November, 30, 2011
11/30/11
7:38
AM PT
By
Scott French
| ESPNLosAngeles.com
The Galaxy's 50th game of 2011 had much in common with a lot of the first 49. They scored early, played some decent soccer and ground out a 1-0 victory -- their 13th of the year -- to start their postseason tour of Asia and Australia.

Robbie Keane provided all the offense L.A. needed in an often entertaining triumph over Indonesia's national team in a Jakarta friendly.

L.A. trotted out the same lineup from the MLS Cup title-game victory over Houston, made 11 substitutions -- one for injury -- and kept the crowd at Gelora Bung Karno Stadium happy by leaving David Beckham on the field into the 85th minute.

The victory leaves L.A. with a 29-9-12 record for the year, including ticketed friendlies, and 13-1 when the final score is 1-0. Josh Saunders and Brian Perk, both called upon to make important saves, combined for the club's 23rd shutout.

Beckham was the big draw, of course, and he went deeper than any other L.A. starter although the game contract called on him to play merely one half. He nearly gave the audience what it most wanted, putting a free kick just beyond the upper-left corner in the 76th minute.

He also gave Frankie Hejduk an open look at the right post six minutes into the second half, but the right back badly mishit the volley.

Keane scored the goal in the 14th minute after Adam Cristman cleated a ricocheting ball back above the penalty spot, and L.A. could have doubled it through Juninho and Sean Franklin -- both went wide -- or on a sequence in the 42nd in which Franklin hit the left post and Cristman ripped the rebound off the crossbar.


November, 29, 2011
11/29/11
9:33
PM PT
By
Scott French
| ESPNLosAngeles.com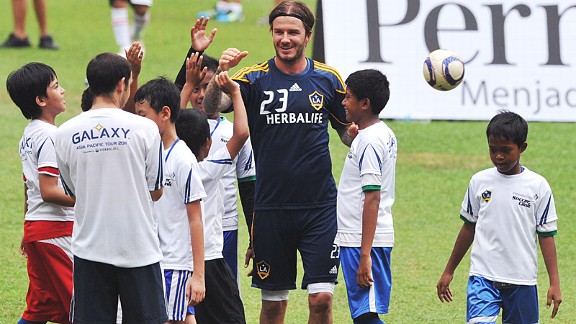 Adek Berry/AFP/Getty ImagesDavid Beckham and the Galaxy feel invigorated as they begin their Asian Tour in Indonesia.

The Galaxy are a couple days into their postseason tour and about to play the first of three games, and already they're having a blast. Jakarta has been most welcoming and they found the clinic with local kids, in the stadium in which they'll battle Indonesia's national team Wednesday, quite invigorating.

A certain 90 minutes a week and a half ago gets the credit.

L.A. is looking at its tour of Indonesia, the Philippines and Australia as a celebration after clinching an MLS Cup/Supporters' Shield double with a 1-0 triumph Nov. 20 over Houston.



"I think it would have been one awful trip if we would have lost [in the MLS Cup final]," Galaxy coach Bruce Arena said before the team departed California. "I think with a win we can go there in a little better frame of mind and relax and enjoy it."

This is the fourth and most elaborate postseason trip the Galaxy has taken in David Beckham's five seasons with the club, with stops ahead in Manila (for a game Saturday against the Philippines' national team) and Melbourne (for Tuesday's finale against the Melbourne Victory), and it feels a lot different than last year's trek to Newcastle, Australia.

"It's more exciting if we won than if we lost, like last year," defender A.J. DeLaGarza said. "Last year was terrible. We just lost to Dallas pretty bad [in the Western Conference final], and we had a long flight to Australia for just one game. Missing Thanksgiving and stuff with your family -- all those things added up."

"We knew if we slipped up [this year], it would have been one of those trips that would have been miserable," said midfielder Chris Birchall, who ended up skipping the trip, the team said, to deal with "non-team related matters." "We're going to go celebrate, because I think we've worked for it, but we're over there for a reason, as well, to promote the game and promote the MLS and really have a good time and show the fans we appreciate the support worldwide."

The Galaxy faces Indonesia's national team, with some under-23 players sprinkled in from the team that won silver at the South East Asian Games, in Wednesday's friendly at Gelora Bung Karno Stadium in Jakarta. (Kickoff is 4 a.m. PT; Fox Soccer Channel will televise.) Ticket sales have been slow -- promoters said only about 20,000 had been sold through Tuesday -- and fans have complained about the price of tickets for the second and third games of the tour.


November, 29, 2011
11/29/11
3:52
PM PT
By
Scott French
| ESPNLosAngeles.com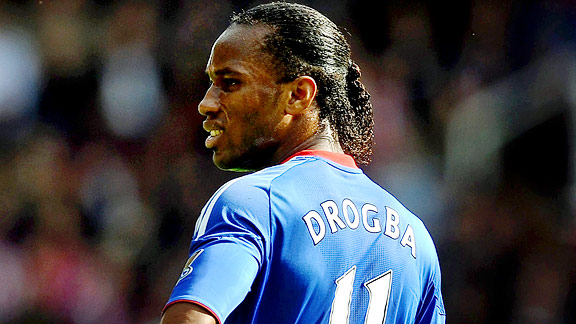 Laurence Griffiths/Getty ImagesDidier Drogba's agent says the "L.A. Galaxy are a possibility" in terms of where his client could next sign.

If David Beckham decides his future is in France, might Didier Drogba fill his shoes?

Drogba's agent suggested it could happen after the Ivorian striker declined to extend his contract with English Premier League giant Chelsea.



Drogba, 33, among the world's elite forwards, is expected to sign in Russia or Qatar, but Thierno Seydi, his Senegal-based agent, said he could end up with the Galaxy.

"L.A. Galaxy are a possibility, among many others," Seydi said, in comments published Tuesday in British tabloid The Sun. "He has been linked with Anzhi Makhachkala in Russia, as they pay well. But neither Didier nor I have had an offer from them."

The Galaxy has been linked in the media with many top players, including Ronaldinho, Frank Lampard, Alessandro Del Piero, Luca Toni, Guti -- and now German star Michael Ballack, too, according to a report in German tabloid Berliner Kurier. The club does not comment on potential signings and, unlike many top European clubs, does not campaign through the media.

Beckham's five-year contract with the Galaxy expires in December, and he'll decide after the club's postseason tour of Asia and Australia whether to re-sign with L.A., accept offers from Paris Saint-Germain or English club Tottenham or retire. He is not expected to retire.


November, 28, 2011
11/28/11
4:15
PM PT
By
Scott French
| ESPNLosAngeles.com
Promoters of the first leg on the Galaxy's postseason tour hope that
David Beckham
's arrival Monday morning in Jakarta can improve tepid ticket sales for Wednesday's friendly against Indonesia's national team.
The Jakarta Post
reported that only 5,000 tickets had been sold for the clash at Gelora Bung Karno Stadium, but the Galaxy's arrival Monday drew wide media attention in the Indonesian capital, and promoters would like to see that interest boost attendance.

"[Ticket sales] are rather sad," Mahaka Sport director
Hasani Abdul Gani
told the newspaper Monday. "As of last night, 10,000 tickets had been reserved but only 5,000 tickets have been paid for."
Mahaka Sport's aim is to sell at least 40,000, and Hasani said he was "still optimisitic. ... The arrival of Beckham will boost ticket sales."
Ticket prices range from $8.25 to $82.50.
The Galaxy head to Manila afterward for a game Saturday against the Philippines' national team, then wrap up the trip next Tuesday in Australia against the Melbourne Victory.
The Galaxy was greeted by a large crowd at Soekarno-Hatta International Airport, with media making note of Beckham's apparel (black shirt), tattoos and size of his security detail (six men). There were more on hand when the team's bus arrived at the Ritz-Carlton, in the Kuningan section of Jakarta.
The Jakarta Post
reported that the hotel has assigned 30 security guards to watch over the Galaxy. Beckham has his own security team, and the Galaxy always travels abroad with a security officer.