Los Angeles Soccer:

Irving Garcia
June, 29, 2012
6/29/12
1:32
PM PT
By
Scott French
| ESPNLosAngeles.com
UPDATE (3:15 p.m.): An official scoring change has been made, with Bright Dike losing credit for the second goal. Instead, it goes to Irving Garcia, with Dike picking up his second assist of the season. Garcia, who starred at UC Irvine and spent a season with the New York Red Bulls, has two goals this year.

ORIGINAL POST: Bright Dike scored two more goals but they only made the score more respectable for the L.A. Blues, who opened a six-day, three-game Atlantic Coast swing with a 3-2 USL Pro loss Thursday night to the Charlotte Eagles.

Dike, on loan from Major League Soccer's Portland Timbers, tallied in the 58th and 88th minutes, each time narrowing the Eagles' advantage to a goal.

That's six goals in the past six games for Dike, a fast, muscular striker who has found the net in five of seven appearances since joining the Blues (5-4-2). He'll look to add to the total Saturday night in crucial showdowns against the Wilmington (N.C.) Hammerheads and Tuesday against the Richmond Kickers.

The Kickers (4-5-5) are even on points with the fifth-place Blues, and Wilmington (5-5-4) is in fourth place. The top six teams advance to the playoffs.

Mauricio Salles converted a penalty kick after an Erlys Garcia hand ball to give Charlotte (4-8-2) a 28th-minute lead, and Christian Meza made it 2-0 four minutes later. Jorge Herrera scored the third one minute before Dike's second goal.

Blues coach Charlie Naimo was so unhappy with the Blues' play in the first half that he made four substitutions at halftime, changing three flank players and pulling former Chivas USA striker Maykel Galindo.

Charlotte (4-8-2) made seven changes in the team that lost to Chivas USA in a U.S. Open Cup quarterfinal two days earlier on the Blues' home field at Cal State Fullerton, then brought on four more Open Cup starters in the second half.


June, 15, 2012
6/15/12
11:45
PM PT
By
Scott French
| ESPNLosAngeles.com
FULLERTON -- The 10th time was the charm for the L.A. Blues, at least at Cal State Fullerton, where on Friday night they finally claimed victory on their home field.

It took 14 months and a brilliant second-half goal from Bright Dike, who put on a clinic as the Blues took down the Dayton Dutch Lions, 1-0, before a tiny crowd at Titan Stadium.

The Blues went 0-4-2 in their primary venue last season -- one of the losses was in the U.S. Open Cup, as a road team against the Galaxy -- and were 0-2-1 this season heading into the first of a two-game series with Dayton.

"The curse is dead," Blues coach Charlie Naimo exclaimed. "Now we can just play soccer. ... Now we can just get on with it, not come in here every day thinking, 'Are we cursed?' We won the game deservedly. We had all the chances in the game. ... We broke the curse, but we played a pretty good soccer game. That's what's important now."

The Blues climbed above .500, at 4-3-2, while dominating the winless Dutch Lions (0-6-5). They should have scored three or four goals, and Dike, on loan from Major League Soccer's Portland Timbers, easily could have had a hat trick.

The goal he scored, in the 56th minute, was a beaut, and he hit the crossbar with a powerful drive just two minutes earlier. He might have had another in the first half, when Dayton goalkeeper Matt Williams' clearance caromed off the athletic striker and rolled back, slowly scooting just past the right post.

"That's what I came here to work on, is get that sharpness," said Dike, who has three goals in five games since arriving in early May. "When you look at a game like that, you could have one or two, maybe even three. That's what I'm here for, and I'm in a good environment."

Dike's pace and strength caused the Lions' defenders trouble all night, and he destroyed them on the goal. He took a pass several yards inside the midfield stripe, raced alone to the box, then fired across the goalmouth and inside the right post.

Dike made it all out of nothing, more or less, and most impressive were how he dealt with Dayton's defenders on the play, holding one off as he collected the pass -- he then turned and sprinting right past-- and expertly turning his body against another in the box, protecting the ball as he shot.


May, 9, 2012
5/09/12
5:35
PM PT
By
Scott French
| ESPNLosAngeles.com
The Premier Development League season kicked off around these parts with a bunch of ties -- and one very intriguing storyline.

It involves star attacker Brent Whitfield, a former Chivas USA outside back from Long Beach (Poly HS/Cal State Fullerton) who has played for several top local clubs and was set to serve as a player-coach for L.A. Misioneros, a PDL team that's brought in some big talent in a bid to compete for a trophy.

Misioneros cut ties with Whitfield just before the season began -- it also cost them former Galaxy defender Mike Randolph, whom Whitfield had brought to the club -- and he has turned up with the Ventura County Fusion, a club he bolted two years ago to play for pay with Hollywood United.

The Fusion opened their season Saturday night at Ventura College against, wouldn't you know, the Misioneros, who took a lead midway through the first half through Edwin Miranda (Reseda/Reseda HS and Cal State Northridge), who played last year for the L.A. Blues.

Whitfield gave Ventura a share of the points, scoring just before halftime.

The other two games involving local teams also finished 1-1. Cal State Northridge's Christian Gonzalez Diaz (Mission Viejo/Mission Viejo HS) scored in stoppage Friday to lift Orange County Blue Star against visiting Pali Blues, which got a goal from UCLA's Evan Raynr (Calabasas/Viewpoint HS). Blue Star rallied against Misioneros in L.A. two nights later, with Loyola Marymount's David Ponce (Foothill Ranch/Trabuco Hills HS and UC Santa Barbara) scoring the equalizer.

Elsewhere in minor-league soccer:

USL PRO: The L.A. Blues got a home win last week, and, true to form, it came away from Cal State Fullerton's Titan Stadium. The 2-1 triumph over Wilmington at Fullerton College was their first victory of the season and just their fourth in what now is 16 league home games.

The record at CSUF is far worse: no wins in nine games (0-6-3), including a "road" loss to the Galaxy in last year's U.S. Open Cup. That includes Sunday's 2-2 draw with Wilmington in the second meeting of the weekend.

The Blues (1-2-1) climbed out of the third-division league's cellar, from 11th to 10th, two points ahead of the Dayton Dutch Lions (0-2-2), the only USL Pro team without a victory, and that after winning just two of 24 league games last year. Midfielder Allan Russell, who converted a penalty kick and assisted Matt Fondy's opener in Friday's win, was selected to the USL Pro Team of the Week.


May, 6, 2012
5/06/12
11:21
PM PT
By
Scott French
| ESPNLosAngeles.com
FULLERTON -- The L.A. Blues battled from behind again Sunday -- twice, this time -- and picked up another point, but a bigger addition arrives Monday.
Blues head coach/general manager
Charlie Naimo
said after his team's 2-2 USL Pro draw with the Wilmington Hammerheads that third-year Portland Timbers forward
Bright Dike
is coming in on loan.
With former star Chivas USA forward
Maykel Galindo
in the fold, and looking to get over a sprained ankle before next weekend's trek east, the speedy Dike's arrival ought to provide untold attacking dimensions for the Blues, especially with
Irving Garcia
pulling strings in midfield.
Garcia, a former UC Irvine standout who spent 2010 with the New York Red Bulls, was the catalyst Sunday, breathing real life into a dull affair after coming on in the 60th minute and scoring a brilliant goal as L.A. (1-2-1) rallied from its first deficit.
Cheun-Yong Park
also tallied, also a fine shot inside the left post, and nearly netted a stoppage-time winner as the Blues swapped out the direct style they started with -- and that drove them to a 2-1 comeback victory Friday over the Hammerheads (2-2-2) -- and pieced together some entertaining soccer for a crowd announced as 847 but probably half that.
"Game like today, it's good that we found a way not to lose here," Naimo said. "That's a step in the right direction. Four points on the weekend is not terrible -- we'd like to have had six -- and we've got reinforcements coming. We've got players coming into the team now who have got experience scoring goals at higher levels than this. And we're going to get out captain-type figure in [Iranian defender
Rahman
]
Rezaei
when he gets here. We're only going to get better."
Dike, 25, was a first-round pick by Columbus out of Notre Dame in the 2010 MLS SuperDraft, but he signed with the Timbers -- then a second-division team -- when he didn't make the Crew roster. He scored 10 goals in 23 D2 Pro League games that year, also netted a U.S. Open Cup hat trick against PDL power Kitsap Pumas and was one of the first players Portland signed when it joined Major League Soccer last season.
Dike played in 11 games for all of 175 minutes last year, scoring one goal. He hasn't played for the Timbers' first team this season but has started all three MLS Reserve League games and has two goals.
Jack Avesyan
(Hollywood/La Caņada HS) netted both goals off the bench for Wilmington, knocking home the rebound after Blues goalkeeper
Amir Abedzadeh
parried a shot by
Chukwudi Chijindu
(Fontana/Damien HS) in the 66th minute and heading home a corner kick from former Ventura County Fusion teammate
Hagop Chirishian
(Hollywood/A.G.B.U. Manoogian-Demirdjian School and Pasadena City College) in the 75th.
The second goal was made simple by atrocious marking at the near post. "Our defense on set plays was shocking," Naimo said. "If we could just defend a set piece, we win the game."
Garcia answered the first within two minutes, blasting a ball from just outside the area across the box and inside the left post. Park (Bethesda Christian University) netted the decisive goal in the 84th.
WORTH NOTING:
Play of the game: Abedzadeh's scrambling save to push a sensational, off-balance volley by
Bryce Taylor
past the right post in the 73rd minute. ... Avesyan had a significant cheering section, all wearing jerseys with his name and No. 22 on them, and they displayed an Armenian flag. "All my family was out there, all my cousins, everyone I know," Avesyan said. "This is my home, you know. This is what it's all about, the fans." ... Naimo, on Garcia: "Irving always steps it up when we're down. I don't know what it is, and it might not be always, but from what I've seen since he's been with us, he plays at a different pace and level when we're behind." ... Chijindu, who played last year for the Blues on loan from Chivas USA, departed with an ankle injury. ... The Blues have conceded the first goal in all four games. They play Friday at Dayton and Saturday at Pittsburgh. ... The Rochester Rhinos (4-0-0), which beat the Blues twice to open the season, have not yet given up a goal.
USL PRO
Titan Stadium, Cal State Fullerton
L.A. Blues 2, Wilmington Hammerheads 2
W -- Jack Avesyan 66
LA -- Irving Garcia (Ricky Waddell) 68
W -- Jack Avesyan (Hagop Chirishian) 75
LA -- Cheun-Yong Park (Bryan Burke) 84
L.A. Blues:
Amir Abedzadeh; Erlys Garcia (Israel Sesay, 46), Cory Miller, Ebrima Jatta, Sun-Hyung Cho; Allan Russell (Irving Garcia, 62); Bryan Burke, Carlos Borja, Ricky Waddell (Ladislas Bushiri, 82), Brian Farber (Shay Spitz, 58); Matt Fondy (Cheun-Yong Park, 46).
Unused subs:
Chad Bond, Jose Miranda.
Wilmington Hammerheads:
Alex Horwath; Troy Cole, Gareth Evans, Tyler Lassiter, Yahaya Musa; Mark Briggs, Paul Nicholson; Bryce Taylor, Daniel Roberts (Hagop Chirishian, 54), Andres Cuero (Jack Avesyan, 54); Andriy Budnyy (Chukwudi Chijindu, 56; Dylan Riley, 82).
Unused subs:
Manny Guzman, Tom Parratt.
Yellow cards:
Briggs 40, Jatta 43, Cole 63, Evans 64, Park 64, Lassiter 77, Spitz 82, I. Garcia 88.
Referee:
Reed Christy.
Att.:
847.
April, 21, 2012
4/21/12
12:53
AM PT
By
Scott French
| ESPNLosAngeles.com
FULLERTON -- The L.A. Blues' second outing this season went worse than the first, on and off the field. Another loss, this time by two goals, despite nearly constant possession during the first half and a flurry of chances at the end of the second.

The Rochester Rhinos took advantage of Blues miscues to score goals six minutes apart early in the second half Friday night to post a 2-0 triumph, dropping L.A. to 0-5-2 all-time at Cal State Fullerton's Titan Stadium and into the cellar in the third-tier USL Pro, at least until Wilmington and Harrisburg tangle Sunday.

"I'm baffled right now, I got to be honest," said Blues head coach/GM Charlie Naimo, whose team lost its opener last week to the Rhinos, 1-0. "We wasted a half -- the first half they were there for the taking, the energy wasn't there in their team, and we didn't take advantage of it. ...

"Not a poor performance. I can't look at it and say we're bad. We're not bad. We do things well, we just can't get that elusive goal."

Rochester goalkeeper Kristian Nicht came up big twice, making a diving stop on Irving Garcia in the 29th minute and parrying a Ricky Waddell free kick in the 73rd. The Blues' other chances -- a Garcia shot off the post, a deflected Bryan Burke blast that just went wide, and a Burke header that bounced past the upper-right corner of the net, all in the second half -- weren't on target.

"I'm a bit shell-shocked, to be honest, the fact that we lost, 2-0," said Waddell, the captain. "That's the way soccer is. Credit to Rochester, because they came out with a game plan, same as last week -- exact same -- sat [back] and came out and attacked us, and they've done very well, and we weren't good enough to cope with that. We've got to look at that carefully as a team to sort that out."


April, 20, 2012
4/20/12
12:46
PM PT
By
Scott French
| ESPNLosAngeles.com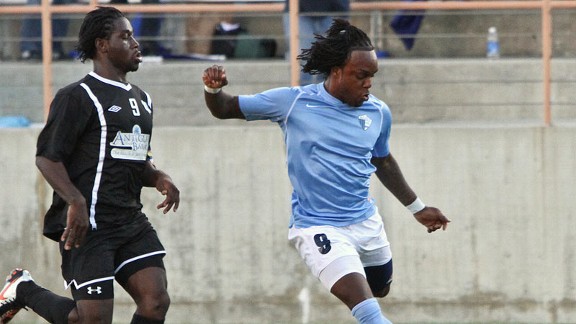 L.A. BluesFormer Chivas USA forward Chukwudi Chijindu, who played last year for the L.A. Blues, is with the Wilmington Hammerheads.

If you're looking for a local team to support in the USL Pro, the third-division league in American soccer's pyramid, the L.A. Blues aren't your only option.

There's also the Wilmington Hammerheads.

The North Carolina club, which will visit the Blues for a couple of games next month at Cal State Fullerton, have the largest collection of Southern California talent in the league: seven players from the area, another who played college ball here, and one more -- not sure he really counts -- who was with the Blues for a short spell last year.

They're among 32 players from Greater Los Angeles in USL Pro, which heads into its third weekend of games with Friday night's Blues-Rochester match at Fullerton.

The Blues, who featured a heavily local roster in their first season, have three players from the area (Anaheim's Carlos Borja, Newport Beach's Bryan Burke and Long Beach's Luis Gonzalez), four more from local colleges (UC Irvine's Irving Garcia, Cal State Fullerton's Shay Spitz and Bethesda Christian's Sun-Hyung Cho and Cheun-Yong Park), plus a former Galaxy winger who has called SoCal home since signing with MLS at 16 nearly five years ago (Israel Sesay).

The Rochester Rhinos, who won a league opener over the Blues last weekend, also have a decent contingent led by former UCLA star Mike Zaher and UC Santa Barbara products Conor Chinn and Tyler Rosenlund. All three, plus former Galaxy defenders Quavas Kirk and Troy Roberts, have MLS experience.

Orlando City has Palmdale's Maxwell Griffin, a UCLA alum whose performance for the champs last year led to a late-season loan deal to the San Jose Earthquakes. Pittsburgh has Long Beach's Tino Nuņez, from UC Santa Barbara, who spent a couple seasons with Real Salt Lake. Three goalkeepers are in the group: L.A.'s Kevin Klasila at Charlotte, Huntington Beach's Kyle Polak with Wilmington, and Laguna Hills' Eric Reed at Charlotte.

Wilmington's So Cal group includes former Chivas USA forward Chukwudi Chijindu, a Fontana product who spent last season with the Blues on loan from the Goats, plus Hollywood's Jack Avesyan and Hagop Chirishian, Laguna Hills' Trey Cole, Lakewood's Manny Guzman and Thousand Oaks' Dylan Riley.

Here's a full list of players with local ties in the USL Pro (with hometown and local high school/college in parenthesis, with local adult club following):


April, 15, 2012
4/15/12
8:01
PM PT
By
Scott French
| ESPNLosAngeles.com
Charlie Naimo wasn't pleased with the result, but he couldn't find much else not to be ecstatic about in the L.A. Blues' opener Saturday night at Cal State Fullerton.
The biggest crowd to see a Blues home game -- 2,432, more than half the total from 12 home games in last year's inaugural season (and more than three times bigger than the previous best) -- witnessed a dynamic, fast-paced battle between teams with USL Pro title aspirations. If the Rochester Rhinos' 1-0 triumph left an unsavory aftertaste, it was offset by the home team's performance, the quality of the game and the spirit bred by the atmosphere in Titan Stadium.
"I wouldn't be surprised to see us and the Rhinos at the end of it all," Naimo, who rebuilt the Blues roster -- to go along with a restructured front office -- after exiting in the first round of the playoffs following an 8-7-9 campaign in year one, told ESPN Los Angeles on Sunday afternoon. "[Defending champion] Orlando City is a great team, but teams have gotten better. I think it's a great league, a much better league than it was a year ago. If that's the kind of game we're getting week in and week out, that's pretty high-level stuff."
Former Colorado Rapids forward
Tam McManus
scored the lone goal, a 22nd-minute header aided by failure to pressure J.C. Banks' cross and inadequate marking in the box, but the game, most of it, belonged to the Blues. Former UC Irvine star
Irving Garcia
, one of three former Major League Soccer players on L.A.'s roster, and Scottish veteran
Ricky Waddell
directed the midfield dominance, and points would have been won had Korean striker
Cheun-Yong Park
been on target with an open header in the 25th minute or had a late frenzy been rewarded with a goal.
"I thought the guys were extremely sharp," Naimo said. "Honestly, we made one mistake. The marking wasn't tight at times, but we were clean. I will say this: The Rhinos are a great team. That game was the fastest-paced USL Pro game that I have been part of. It kind of felt like we were playing Chivas USA's reserves. ... It's a game of inches. Don't make mistakes, put that [Park header] in, and they're chasing the game."
April, 14, 2012
4/14/12
10:43
PM PT
By
Scott French
| ESPNLosAngeles.com
The L.A. Blues couldn't find the net in their USL Pro opener Saturday night and dropped a 1-0 decision to the Rochester Rhinos at Cal State Fullerton's Titan Stadium.

Former Colorado Rapids forward Tam McManus scored the goal against the run of play in the 22nd minute, his header from J.C. Banks' cross leaving teen goalkeeper Amir Abedzadeh no chance.

The Blues nearly evened the score three times, but Cheun-Yong Park headed Brian Farber's cross wide moments after the goal and two Irving Garcia corner kicks -- with Kristian Nicht clearing Farber's header off the line in the 65th minute and Erlys Garcia firing high in the 70th -- just missed connecting.

The match drew an announced 2,432 fans, more than half the Blues' season attendance over 12 home games last year.

The teams meet again Friday night at Titan Stadium.
April, 13, 2012
4/13/12
6:31
PM PT
By
Scott French
| ESPNLosAngeles.com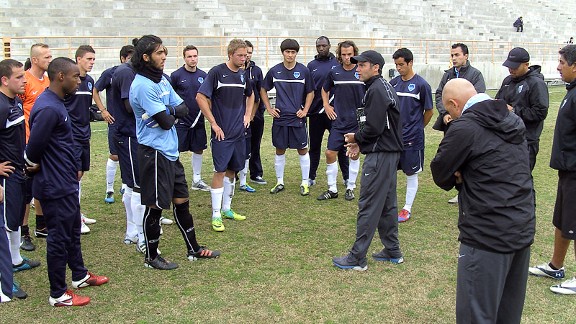 Blues Pro SoccerCharlie Naimo addresses his team during the buildup to the 2012 USL Pro season.

FULLERTON -- The Los Angeles Blues embark Saturday night on their second go-round in the USL Pro, looking to right what went wrong in the inaugural season, when their championship-caliber side unraveled after its big-name star abandoned ship.

Head coach/general manager Charlie Naimo and his staff gutted the team, keeping just four players and bringing in a mix of veterans and youngsters with perhaps not quite the flair of last year's group but with far more grit and resilience, and the Blues are thinking title as they kick off against the Rochester Rhinos at Cal State Fullerton's Titan Stadium.

The Blues want desperately to improve on last year's 8-7-9 campaign, followed by a first-round exit in the third-division professional league's playoffs, and challenge defending champion Orlando City SC and several prime contenders, including the Rhinos, who won the National Division last year, seven points ahead of third-place L.A.



But the real fight is off the field, where Steve Donner -- the club's new vice president of business operations -- is leading a charge to professionalize the organization, create for it a role on Southern California's crowded sports landscape, and create a foundation that will enable the Blues to survive and succeed for years to come. The most important move has been hauling the team's offices from Santa Monica to Fullerton, just a couple of blocks from the club's training ground at Fullerton College, and pledging its future to Titan Stadium after splitting a dozen league games last year among Cal State Fullerton and venues in Corona, Norco and Pacific Palisades.

Tickets are cheap, certainly in comparison with the Galaxy (and, less so, Chivas USA), parking is free and the soccer is better than decent. That's what Donner -- a sports marketing executive with extensive experience in hockey, minor-league soccer and lacrosse -- and his staff are trying to sell.

"A very convenient, very entertaining sports option in the Orange County and the L.A. Metro market: That's the niche we hope to create," said Donner, who was chief executive officer last year at Orlando City, which led the USL Pro in attendance. "It's going to take some time in order for people to understand what we really are."

That's because word didn't get out last year. A short lead-time to the club's debut -- the Tampa, Fla.-based United Soccer Leagues accepted the Blues for its top division in December 2010, and play began five months later -- had the organization scrambling from the start just to put on a season. Marketing was nearly nonexistent, sponsorship was sparse, and little more than 4,500 showed up for the entire 12-game home schedule, with just four crowds above 600.

A BAD START: "It couldn't have been worse last year," Naimo acknowledged. "It's really no one's fault. We started so late. Geographically, we were a constellation, and bottom line: You can't market to people you're not around."

"It did not work, as far as sponsorship, ticket sales," Ali Mansouri, who owns the club with his wife, Maryam, said at the close of last season. "We had a budget, what this thing is going to cost us. And we were very close to it. We were about 10 percent [above] what we estimated the cost is going to be. Very happy about that. But we also had an estimate of how much money we're going to bring in. We [made] 20 percent of that. That wasn't good."


February, 25, 2012
2/25/12
10:40
PM PT
By
Scott French
| ESPNLosAngeles.com
FULLERTON -- The L.A. Blues are still seven weeks from their USL Pro opener. Their preseason camp hasn't opened, not officially. So the effort the team gave in a 1-0 loss to Mexico's under-20 national team has head coach Charlie Naimo feeling good about what's to come.

The Blues absorbed nearly everything thrown at them by an El Tri side that featured up-and-comers from several of Mexico's biggest clubs -- Guadalajara, America, Tigres, Monterrey and Santos Laguna among them -- and might have achieved a better result if not for red cards three minutes apart to Mexican trialist Mike Lopez and Israel Sesay.

Lopez's 70th-minute red card, after a hip-check on Monterrey's Oscar Garcia, might have been warranted. Sesay, a former Galaxy player who inadvertently kicked Santos' Jesus Escoboza, could have gotten off with a yellow card, perhaps. No matter.

"I'm most proud of the way they fought and battled for each other, even two men down. They never quit," Naimo said following the match, which drew 2,864 to Cal State Fullerton's Titan Stadium. "You can really look at the heart and discipline this team will have this year, and we're still missing a bunch of guys. We haven't started preseason yet. I'm pleased.

"To play a fit group of soccer players like that, that pressed us for the whole game -- they're active, they're busy, they're technical. That's a great soccer team. The way that game went, I hate losing as much as anybody, but I felt our guys played with a winner's mentality tonight. We need to get better in our attack, but we'll figure it out."

The Blues have a mix of signed players -- the latest, not yet announced: former UC Irvine star (and New York Red Bulls midfielder) Irving Garcia, who played up front -- and those looking for jobs, and quite a few won't be in camp until preparations for the club's second season in America's third-division league begin, officially, on Thursday.

Naimo, whose club has been training all winter, likes the foundation, which ought to serve the Blues well after last season unraveled amid indiscipline and problems with chemistry.

"I saw some things tonight," he noted, "that said, 'OK, we've got this figured out, that figured out. We've just got to figure this out and then figure that out.' "


February, 10, 2012
2/10/12
10:58
PM PT
By
Scott French
| ESPNLosAngeles.com
CARSON -- Irving Garcia's trial with the L.A. Blues was in its first hour, and the Fullerton-based USL Pro club really wasn't looking for an attacking midfielder. But in just 45 minutes Friday afternoon, the former UC Irvine star changed everything.

The skilled Garcia, who spent a year in Guatemala after a frustrating rookie campaign in 2010 with the New York Red Bulls, was the biggest winner in the Blues' 0-0 draw with the Montreal Impact on one of the training fields east of Home Depot Center's main stadium.

The single half followed a full 90 minutes for the Impact against the Portland Timbers, also a scoreless draw, that was played on the field adjacent to the field on which the Galaxy and Houston Dynamo were facing off.

The Blues, preparing for their second season in America's third-division league, were making their second appearance against MLS opposition this winter, and this one -- added to the schedule Thursday -- was a lot better than last week's 7-2 loss to the Galaxy.

"So happy we got to play this match after last week," said Blues head coach Charlie Naimo. "You know that whole you're-only-as-good-as-your-last-game thing? And when you have that as your last game and there's not another game close? It was a blessing in disguise that [Impact coach] Jesse [Marsch]'s group called us to give their group a run. Helps us put things back in better perspective."

Naimo used a blend of contracted players and trialists, and there were several interesting players -- Korean signings Cho Suhyung and Park Jonghoon, former Pittsburgh forward Matt Fondy and former Cal State Fullerton midfielder Kevin Venegas, just released from Chivas USA's camp, among them -- on display, but Garcia's imprint was most substantial.

"Oh, he was special," Naimo said. "Kind of reminded me of [last year's Blues phenom Cesar] Rivera a little bit, but on both sides of the ball. Good workrate, a guy that's going to make guys around him better. There's a strong interest [we have] in him."


April, 17, 2011
4/17/11
10:15
PM PT
By
Scott French
| ESPNLosAngeles.com
Chivas USA opened its first MLS Reserve League slate since 2008 with a late goal Sunday afternoon for a 1-1 draw at Vancouver, a result that means practically nothing to the club in a game with importance that can't be underestimated.
It was first of 10 games for the Goats in a competition of sorts for MLS players deprived of first-team action whether because of injury, form or pecking order, but the Reserve League's larger role is as part of a maturing policy on player development.
It is why rosters have been lengthened to 30 players -- the last six in developmental slots -- and has generated promises that the problems of the previous Reserve League, which ran from 2005 through 2008, will not be repeated this time.


"It means a lot of things," said
Curt Onalfo
, the Galaxy assistant coach who will lead L.A.'s reserve side into its league opener next weekend against Portland at Home Depot Center. "It's an opportunity to develop some younger players, to keep guys in form that haven't been getting regular minutes, to help guys back from injury get back in form.
"It's the next step in the right direction, something we look certainly to take very seriously."
WINNING CULTURE:
Teams will be able to use players from its youth academy -- Chivas had had three in its lineup Sunday -- and approved trialists, enabling coaching staffs to observe players in real competition. Standings will be kept, in three self-contained geographic divisions, but no playoffs are planned. Winning does matter.
"Winning is the kind of thing that you want to make it part of your culture, so winning is certainly always the goal," Chivas head coach
Robin Fraser
said last week. "But simultaneously, you have a lot of little goals within that that you're trying to achieve."
Fraser accomplished several against Vancouver. He was able to get goalkeeper
Zach Thornton
and central defender
Michael Umaņa
, depose starters from last year, some action; bring
Mariano Trujillo
back from a hamstring injury; give several youngsters, including rising playmaker
Gerson Mayen
and teen prospect
Bryan de la Fuente
, extended action; reward a couple of players from the U-18 side, and take a look at a former MLS midfielder who's seeking work.
November, 23, 2010
11/23/10
1:10
PM PT
By
Scott French
| ESPNLosAngeles.com
Twenty-one players with Southland roots will be available to the Portland Timbers and Vancouver Whitecaps in Wednesday's Major League Soccer expansion draft.

The full list of available players can be found at MLS's Web site.

Here are the local guys on the unprotected list: