Los Angeles Soccer:

Isaac Acuña
January, 6, 2012
1/06/12
7:23
PM PT
By
Scott French
| ESPNLosAngeles.com
Mexico's Clausura, the second-half championship, kicks off in the Primera Division on Friday night, with Club Tijuana visiting Morelia.
The Xolos went unbeaten in their last eight games in the fall Clausura and hope that prods them up the table in the spring tournament -- they're looking to survive, since one club will be relegated to the second-tier Liga de Ascenso come May.
Here are seven things to follow in Mexico this spring:
July, 22, 2011
7/22/11
5:02
PM PT
By
Scott French
| ESPNLosAngeles.com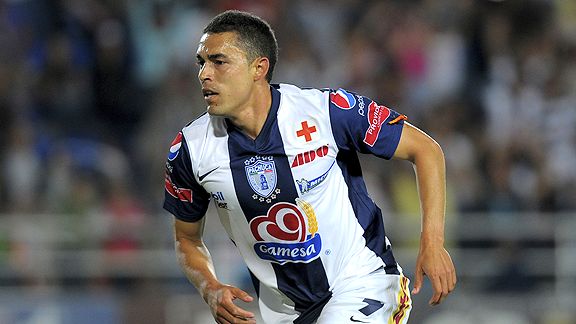 Jaime Lopez/Jam Media/LatinContent/Getty ImagesHerculez Gomez has moved from Pachuca to Estudiantes Tecos and is one of several Southern California's playing in Mexico's Primera Division.

Mexico's Primera Division kicks off the first of its twin 2011-12 seasons Friday night, and fans in this region have a new dog to cheer for. Literally.

The Xoloitzcuintles of Club Tijuana, who take their name and mascot from semi-mythical Aztec hounds that, more or less, have descended into Mexican short-hairs, bring the best league south of the border right to the border -- and soon, perhaps, into San Diego.

The Xolos were the best team in the second-tier Liga de Ascenso last season and won promotion to the Primera in May, and Mexico's third-largest city isn't the only winner. The opportunity for soccer fans in Southern California to see the region's best league -- and storied clubs such as America, Guadalajara and reigning champion Pumas UNAM, in real competition -- is unprecedented, although tickets will be scarce.

Tijuana's Apertura opener Saturday night against Morelia, another club with a large So Cal following, is sold out. There are plans, not the least formalized, to bring games against Guadalajara and America -- the two biggest clubs in Mexico -- to Qualcomm Stadium in San Diego, but that appears at least a year off, provided the Xolos survive their first year in the Primera. We've seen so many times the promoted club relegated after just one Apertura/Clausura cycle, including Necaxa last season.

There are several Southern Californians in the league, too, including Los Alamitos' Jonathan Bornstein (the former Chivas USA captain) at UANL Tigres, L.A.-born Herculez Gomez (the former Galaxy star) at Estudiantes Tecos, Orange's Michael Orozco Fiscal at San Luis, Calexico's Isaac Acuña at America and rising Tijuana winger Joe Corona, from National City.

A newcomer to the league is fading U.S. national-teamer DaMarcus Beasley, at Puebla.

The big change this year: No divisions. The two-season approach, with the fall Apertura and spring Clausura, remain, but now a single table will be used, with the top eight teams advancing to the postseason.

As always, every game, every team, will be televised in the L.A. area by Univision (KMEX/Channel 34), TeleFutura (KFTR/Channel 46), Telemundo (KVEA/Channel 52), Azteca America (KAZA/Channel 54), Galavision and, not quite as often, on ESPN Deportes and Fox Deportes. Select Liga de Ascenso games, usually involving Veracruz, also will be aired.

Here's a quick look at the Primera Division as the Apertura kicks off:
7 BETS TO WIN THE APERTURA
1. CRUZ AZUL (Mexico City):
The excruciating wait for a trophy weighs on the Cementeros, who have come so close so many times -- losing in three Primera finals and two CONCACAF Champions League title series since 2008 -- without winning anything of consequence. They've trimmed excess from the roster, sending out players on loan (two each to Pachuca, Puebla and Morelia), and added
Israel Castro
, who's becoming an institution in midfield for Mexico's national team. The key man, as always, is
Cristian Gimenez
, but there's enough talent everywhere to win the championship.
2. MONTERREY (Monterrey, Nuevo Leon):
The Rayados tumbled a bit last spring after capturing the Apertura title, and
Humberto Suazo
's shoulder injury had a lot to do with it. So did split focus -- Monterrey won the CONCACAF Champions League crown and will play in December's FIFA Club World Cup -- and often indifferent form. But only a couple of sides can match the depth or talent commanded by
Victor Manuel Vucetich
, the league's best coach.
3. AMERICA (Mexico City):
Mexico's biggest club hasn't been its best for some time, but manager
Carlos Reinoso
has inspired some stylish play, and Mexico City money has added to the talent.
Cristian Benitez
, from Santos Laguna, is the big acquisition, but the Aguilas' iffy defense will be aided by the additions of El Tri reserve
Paul Aguilar
at right back and holding midfielder
Jesus Molina
.
July, 13, 2011
7/13/11
11:19
PM PT
By
Scott French
| ESPNLosAngeles.com
CARSON -- Edgar Castillo was on the field for Club America on Wednesday night at Home Depot Center, his second start in as many preseason games for the Mexico City giant -- another chance to prove he belongs.
The New Mexico native, who first signed with the Aguilas 2½ years ago but has mostly been on loan since, to UANL Tigres, San Luis and Puebla, appears to be in the Aguilas' plans, perhaps at left back, his natural position.
He spent some time there and a little in midfield as America rallied for a 2-1 win over Primera Division rival Atlas, with another American -- Calexico's
Isaac Acuña
-- scoring the 63rd-minute equalizer.
Vicente Sanchez
netted the winner in the 88th.
"My hopes are high ...," Castillo, 24, said afterward. "I've been all over. Now I get to come back to America, and I'm telling you, I'm very happy to be back. They've given me a second chance to come back, and I've got to do things right to be a starter."
He looked solid as the Aguilas dictated play much of the night in a spirited encounter that drew 16,241 to HDC, just as he looked good in last week's 1-0 victory over the Portland Timbers up north.
Honduran forward
George Welcome
came off the bench to give Atlas a 50th-minute lead, scoring on a twisting header from
Francisco Torres
' free kick. Acuña headed home a cross from Oscar Rojas to pull America even, and Sanchez fired across the goal and inside the right post from
Rosinei
's feed for the winner.
March, 25, 2011
3/25/11
9:23
PM PT
By
Scott French
| ESPNLosAngeles.com
Mexico's Primera Division, like most leagues around the globe (but not Major League Soccer), is taking this weekend off for FIFA's international fixture dates.
El Tricolores, with 13 of 23 players from Mexico's top league and the rest from MLS (
Rafa Marquez
) and Europe (another dozen, including
Javier "Chicharito" Hernandez
and
Giovani Dos Santos
, are in California for games Saturday against Paraguay in Oakland and Tuesday night against Venezuela in San Diego.
(And Mexico has announced the fourth date on their annual U.S. tour: May 28 vs. Ecuador in Seattle.)
We're 11 weeks into the 17-game Clausura (spring) regular season, and here's some of what's transpired so far:
BEST TEAM:
Unbeaten Pumas UNAM (7-0-4) has done it with defense, naturally. The Cats have conceded just eight goals and shut out six foes, including five of the last seven, behind goalkeeper
Alejandro Palacios
, central defenders
Dario Veron
,
Efrain Velarde
and
Marco Antonio Palacios
, and central midfielder
Israel Castro
. All five have played every minute.
Others in the hunt:
Morelia (6-2-3) is a surprise at No. 2 in the overall table, outfiring foes, 22-9, since a 5-0 loss to Atlas in the opener. … UANL Tigres (5-1-5) have lost just once while surrendering five goals -- just one in the past seven games -- but attacking liabilities are a concern. … Never look past Cruz Azul (6-2-3), which has been very good; America (5-6-1), hit and miss; or Monterrey (6-4-1), inconsistent but improving. … Atlas (4-4-3) is fading after that fast start, but Atlante (5-5-1) is on the rise, with nine goals in its last two games.
BEST PLAYER:
We're tempted to go with with
Emanuel Villa
, who has been scoring important goals of great quality, but we prefer his Cruz Azul teammate
Christian Gimenez
, the most dynamic playmaker in the Primera Division. … Other candidates:
Angel Reyna
is in terrific form for America. …
Neri Cardozo
is evolving into a real star with Monterrey. …
Rafael Marquez Lugo
is eclipsing his namesake with a superb campaign at Morelia. …
Juan Carlos Cacho
was spectacular for Pumas before he was injured in a national team camp. … Nobody is better than Atlante's
Francisco "Kikin" Fonseca
at the moment.
March, 17, 2011
3/17/11
4:18
PM PT
By
Scott French
| ESPNLosAngeles.com
It's in no way certain that the winner of the Monterrey-Cruz Azul home-and-home will claim CONCACAF's club championship next month. Real Salt Lake, for one, has other ideas.
But the Mexican clubs' dominance in the competition, especially since the format change to group play/knockouts for the 2008-09 season, suggests that the Rayados or Cementeros will keep the trophy south of the border.
Monterrey is the odds-on favorite after eclipsing Cruz Azul, 2-1, in Wednesday night's semifinal first leg at its Estadio Tecnologico.
Neri Cardozo
and
Sergio Santos
scored the goals as the Rayados improved to 8-0-1 in the tournament.
They'll head to Mexico City for the April 6 second leg needing no more than a draw to reach the final. A 1-0 loss, however, would eliminate them on away goals.
Real Salt Lake, the first MLS team to reach the semifinals under the new format, won its home leg against Saprissa and takes a 2-0 lead into the April 5 decider in Costa Rica.
Mexican clubs have claimed 27 of 48 CONCACAF club championships -- Cruz Azul has five, but it's lost in the past two finals -- 10 of the past 14 and have a five-year winning streak going. Four of the past five finals have been all-Mexico affairs, including both "League"-era title series. Atlante won 2009 and Pachuca last year captured its third trophy in four years.
ACUNA MATATA:
Calexico's
Isaac Acuña
scored again, his third goal in five appearances, to help Gallos Blancos de Queretaro (3-5-2) to a crucial 2-1 victory over visiting Puebla.
March, 1, 2011
3/01/11
11:37
PM PT
By
Scott French
| ESPNLosAngeles.com
Look who's becoming a star. Calexico's Isaac Acuña, who had played all of four minutes of Mexican Primera Division futbol before Feb. 12, scored for the second successive week as Gallos Blancos de Queretaro battled to hold off Necaxa in the relegation fight.
Acuña, 21, took his time this week, not tallying until the seventh minute in a 1-1 draw Saturday with mighty Cruz Azul. He scored just three minutes into Gallos Blancos' 2-0 victory at Santos a week earlier. He debuted for the club, and made just his second top-flight appearance, the week before that.
Queretaro overcame two red cards to snare a point in a testy battle. There were four yellow cards in the first five minutes, and
Raul Ferro
was dismissed before a dozen minutes were up, which led to Acuña's departure in the 31st minute for tactical reasons.
The relegation battle appeared done when Gallos Blancos beat Necaxa on Jan. 29, but it has reignited as the streaking Rayos have posted three successive wins -- 1-0 over Santos Laguna last week -- and gone unbeaten in four games since
Sergio Bueno
took over after the loss to Queretaro.
"We must be aware of the situation, that we are still at the bottom of the percentage table and we need points ...," Necaxa midfielder
Paulo Cesar Chavez
told reporters this week. "The reality is we're the last in the percentage table, and it is urgent. We need to get out of there."
Gallos Blancos lost twice after beating Necaxa, and Acuña's productivity has helped keep the club from the bottom spot in the relegation table, a points-per-game standings over three full (fall/spring) seasons.
How close is it? If Necaxa wins at Cruz Azul and Gallos Blancos loses at Monterrey on Saturday, the Rayos will no longer be in the basement. The lowest team at the end of the season heads to Liga de Ascenso.
GAME OF THE WEEK:
America beat Toluca, 4-3, in a dynamite encounter that featured four goals in the first eight minutes of the second half -- two apiece, the last a gorgeous strike by America's
Daniel Montenegro
for a 3-2 advantage.
PLAYOFF REALITIES:
Pumas UNAM (5-0-3) and UANL Tigres (5-1-2) put some distance on the field with lopsided home victories, and, barring collapse, are headed to the postseason.
So is Cruz Azul (4-2-2) and, increasingly it seems, Morelia (4-1-3). Everyone else? We'll see.
February, 22, 2011
2/22/11
4:51
PM PT
By
Scott French
| ESPNLosAngeles.com
Calexico's
Isaac Acuña
is starting to flower, following his first Primera Division appearance in nearly a year with a game to remember.
Acuña, 21, scored in his first start in Mexico's top league to lead Gallos Blancos de Queretaro (2-4-1), who started the week at the bottom of the Clausura standings, to a stunning 2-0 triumph at Santos Laguna (3-3-1).
Acuña scored in the third minute -- he took a pass from
Eder Borelli
as he slipped past the backline, dribbled past goalkeeper
Oswaldo Sanchez
and knocked the ball into the open net -- and fed
Carlos Bueno
for the second goal just before halftime.
Santos' fans answered with jeers after a second successive 2-0 home loss, and coach
Ruben Omar Romano
, who guided the Torreon-based club into the Apertura final, was dismissed after cameras caught him making an offensive gesture to fans, after which he criticized the supporters.
"His behavior went against the values that the club stands for and promotes, which is why the decision was taken to end our working relationship with immediate effect," the club said in an announcement on its Web site. Said club president
Alejandro Irarragorri
: "This is a deeply hurtful decision, but we must be consistent with our values and responsibility as a model team. Ruben reacted negatively to pressure from the fans, and that's something we can't cover up."
Fellow Argentine
Diego Cocca
, 38, was hired to replace Romano. Cocca, a former right back who counts Atlas, Veracruz and Gallos Blancos among the nearly dozen clubs for which he toiled, previously has managed three Argentine clubs, most recently La Plata's Gimnasia y Esgrima.
Acuña, who is with Queretaro on loan from America, played 35 minutes in a 5-0 loss Feb. 12 to Toluca. He made his debut last April 10, playing five minutes for America in a victory over Jaguares.
SINCE 5-0:
The most alarming result of the Clausura occurred in week one, when Atlas, the worst team in the fall Apertura, throttled a decent (or so we thought) Morelia side, 5-0. After three games, Atlas had matched its fall win total and sat atop the overall table.
February, 14, 2011
2/14/11
11:41
PM PT
By
Scott French
| ESPNLosAngeles.com
Jonathan Bornstein has brought UANL Tigres some needed luck. Give Danilinho and Hector Mancilla some credit, too.
The club from suburban Monterrey, known more for its disappointments than its triumphs, are atop the Primera Division's Clausura standings after Danilinho set up one goal and scored another in a 2-0 victory Saturday over visiting Cruz Azul.
Up next: Clasico Regiomontano rival Monterrey, which won the Apertura crown in December and has prevailed in three of its last four games.
Bornstein, who joined Tigres after five seasons with Chivas USA, made his fourth start (going 45 minutes) for UANL (4-1-1), which is 4-0-0 with the UCLA/Los Alamitos High School product in the lineup and winless when he's left on the bench.
Danilinho, a Brazilian midfielder who arrived from Jaguares, and Mancilla, a Chilean forward acquired from Toluca, have been huge additions, and their partnership proved too much for Cruz Azul (3-2-1), which fell from third to fifth overall with the loss.
Mancilla scored the first goal, a one-touch finish in the 69th minute after Danilinho burst past two defenders to the right byline and sent in a cross. The Brazilian added the second deep into stoppage, setting up his shot with a superb first touch.
Monterrey (3-3-0, in ninth overall) also won, routing Jaguares, 4-1, as Chilean World Cup star
Humberto Suazo
had a hat trick -- giving him 19 goals for the fall/spring campaign -- and
Dario Carreño
set up two goals, one my
Aldo de Nigris
.
FALL FROM FIRST:
Pumas UNAM's time atop the overall standings was short. The Mexico City club dropped to third overall after an error by goalkeeper
Alejandro Palacios
and missed penalty kick by former Chivas USA forward
Francisco Palencia
allowed Guadalajara to escape with a 1-1 draw.