Los Angeles Soccer:

Jaguares
October, 11, 2011
10/11/11
5:55
PM PT
By
Scott French
| ESPNLosAngeles.com
The best team in Mexican soccer this year, even without a trophy to show for it, has been UANL Tigres, which under Brazilian coach
Ricardo "Tuca" Ferretti
has conceded just 18 goals while posting a 16-3-11 mark in regular-season action since the Primera Division's Clausura kickoff last January.
The club from suburban Monterrey is back atop the Apertura after crushing previous leader Pumas UNAM on the weekend, scoring four first-half goals en route to a 4-1 decision.
Tigres (5-1-6) is even on points with Cruz Azul (6-3-3), which was denied two should-be penalty kicks before
Javier Orozco
netted two second-half goals in a 2-0 win over Puebla.
Jaguares (5-3-4), which was ahead two weeks ago, fell from second to sixth with a 1-0 loss at Pachuca (6-4-2), which climbed to fourth, just one point off the lead, after its third win (with a tie) in four games since the 5-0 disaster Sept. 10 at Tigres.
Santos (6-3-2), still with a game in hand over everybody except Morelia, and Pumas (6-4-2) also are two points back.
The biggest surge forward this week was made by Monterrey (5-5-2), which won in league for the first time since August -- early goals from
Neri Cardozo
and
Dario Carreño
starting the Rayados toward a 3-2 victory at Estudiantes Tecos -- to jump from 13th to eighth, into the playoff zone.
1. WHITHER JOHNNY B.?
Local hero
Jonathan Bornstein
's time in his mother's native land isn't going as planned. He's an afterthought at Tigres -- and given the club's success, who can say Ferretti is wrong -- with not one minute of league time since the Apertura began in July.
Bornstein (Los Alamitos/Los Alamitos HS and UCLA), the former Chivas USA captain, has made Tigres' 18-player game roster just once, at the end of August, and has seen action only in three games with the club's under-20 side.
"It's definitely frustrating," he told Major League Soccer's website. "I keep plugging away in training and doing the work, and, hopefully, when the times comes, I'll get the opportunity."
September, 20, 2011
9/20/11
6:36
AM PT
By
Scott French
| ESPNLosAngeles.com
That's not a misprint atop Mexico's Primera Division standings. Unfancied Jaguares, the Chiapas club that dropped 12 of 17 games and finished last during the spring Clausura, is, indeed, No. 1.

A 5-3 triumph Saturday over visiting America, with Edgar Andrade scoring two goals and setting up another, vaulted Jaguares (5-2-2) to the top spot, ahead of giants Cruz Azul and Guadalajara on goal difference, following a third successive victory.

Since dropping its first two Apertura matches, to Monterrey and Guadalajara, Jaguares has been Mexico's finest club, going 5-0-2 to climb from 18th -- last -- to 16th to 12th to sixth to fourth to first.

Previous leader Guadalajara (5-2-2) did its part, losing to Puebla, and No. 2 Tigres (4-1-4) suffered its first loss, a 1-0 decision at Atlante.

Jaguares also leapt past Cruz Azul (5-2-2), which toppled Monterrey, 2-1, in the week's featured match.



1. ANOTHER CHANGE AT AMERICA

America's disastrous campaign finally hit bottom -- or close enough.

The Aguilas' loss at Jaguares cost technical director Carlos Reinoso his job, no surprise, and club legend Alfredo Tena has been brought in and asked to make things right.

There's plenty wrong at the Mexico City giant, which has won just one of its last eight league games -- and that over last-place Atlas -- and sits 16th of 18 clubs with the worst defensive record in the Apertura.

Reinoso, who took over for Manuel Lapuente last January after America opened last spring's Clausura with a 0-2-1 mark, was facing the ax when he submitted his resignation following the defeat in Tuxtla Gutierrez.


May, 19, 2011
5/19/11
9:38
PM PT
By
Scott French
| ESPNLosAngeles.com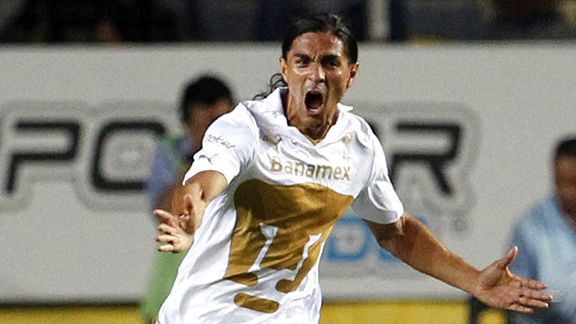 AP Photo/Eduardo VerdugoFrancisco "Paco" Palencia celebrates his goal for Pumas in the first leg of the Mexican league final Thursday.

Former Chivas USA striker Francisco "Paco" Palencia has scored plenty of goals in 17 years as a pro, but his blast Thursday night might have been the biggest. For at least five minutes.

Palencia, 38, rifled a shot to the upper-left corner to give visiting Pumas UNAM the advantage in Thursday's first leg of the Mexican Primera Division's Clausura final, but Morelia countered through Joao Rojas for a 1-1 scoreline heading into Sunday's finale in Mexico City.

Palencia, a former Mexican national-teamer who played in two World Cups and three Copa America tournaments, struck in the 68th minute. Efrain Velarde made a steal on the left flank, just above the Monarcas' box, and squared the ball to Palencia, who 25-yard, first-time rocket left Morelia goalkeeper Federico Vilar with no chance.

Rojas got the equalizer in the 73rd, racing forward to slot home a pass from Luis Gabriel Rey, beating Pumas netminder Alejandro Palacios from the top of the box to the lower-left corner.

Morelia, seeking its second title, nearly went ahead eight minutes later, but Rey's header sailed just past the left post.

Pumas, which has won six top-tier league titles, has a distinct advantage in the second leg. The Cats are 13-3-5 at home since the fall Apertura began last July and have lost just once at Estadio Olimpico Universitario, on May 1 to America, during the Clausura.

COPA CALL: Jaguares' unexpected run through Copa Libertadores is over. The Chiapas club was ousted in the quarterfinals, falling to Paraguay's Cerro Porteño, 1-0, in Asuncion for a 2-1 aggregate loss.

May, 13, 2011
5/13/11
12:25
AM PT
By
Scott French
| ESPNLosAngeles.com
A bad night for goalkeepers leaves Cruz Azul on the verge of its sixth final in four years and keeps Guadalajara alive after first legs in the Mexican Primera Division's spring Clausura semifinals.

Cruz Azul, seeking its first Mexican title since 1997 and only its second since 1980, dominated Morelia, 2-0, Thursday night as Argentines Christian Gimenez and Emanuel Villa, La Maquina Celeste's top attackers, scored first-half goals.

Guadalajara rallied for a 1-1 draw with visiting Pumas UNAM as Omar Arellano netted an 89th-minute equalizer.

Sunday's second legs will determine next week's finalists.

Club Tijuana and Irapuato drew, 1-1, in the first leg of the second-tier Liga de Ascenso's final.


May, 8, 2011
5/08/11
10:05
PM PT
By
Scott French
| ESPNLosAngeles.com
Guadalajara fans are celebrating this weekend: Their heroes knocked off the top seed in the Mexican Primera Division's playoffs, and hated rival America is out.
Mexico City's Cruz Azul and Pumas UNAM, and Morelia, a favorite in Santa Ana, also advanced to the Clausura final four, and Club Tijuana took another step toward joining Mexico's top league this summer.
Chivas completed its first-round upset of top seed UANL Tigres with a 1-1 draw Saturday in San Nicolas, outside Monterrey, advancing to a semifinal showdown with No. 2 Pumas UNAM on 4-2 aggregate. It's the third straight season in which the No. 1 seed failed to advance from the quarterfinals.
Hector Reynoso
scored for Guadalajara, knocking home the rebound after
Marco Fabian de la Mora
followed up off the post after his penalty kick was saved.
Morelia tamed America, Mexico's biggest club, using two
Joao Rojas
goals and a
Rafael Marquez Lugo
penalty kick in a 3-2 triumph Sunday nioght to finish a 5-3 aggregate triumph.
Morelia will face Cruz Azul, which held Atlante scoreless in Cancun after a 2-1 win in the midweek opener.
May, 5, 2011
5/05/11
10:53
PM PT
By
Scott French
| ESPNLosAngeles.com
UANL Tigres and Pumas UNAM dominated the Mexican Primera Division's winter/spring Clausura tournament. Both will need miracles to remain in contention for the title.
Top-seeded Tigres and No. 2 Pumas were stomped in playoff openers this week, both dropping 3-1 decisions in quarterfinal first legs. The other group winner, Atlante, also was beaten.
Third-seeded Morelia was the only away side to win, with
Joao Rojas
setting up
Manuel Perez
and
Rafael Marquez Lugo
in a 2-1 triumph Thursday over America in Mexico City.
Guadalajara, in one of its best performances this season, routed Tigres in Zapopan, Jalisco, using second-half goals by
Mario de Luna
and
Marco Fabian de la Mora
, on a penalty kick, to pull away after
Jesus Molina
's diving header pulled the visitors even just after halftime.
Osvaldo Martinez
and
Walter Ayovi
netted early goals, and Chilean star
Humberto Suazo
scored his 20th of the Apertura/Clausura as Monterrey, winner of the fall Apertura, buried Pumas. The Mexico City club lost its second in a row after falling just once in their first 16 Clausura games.
Cruz Azul also prevailed, beating Atlante, 2-1, on two
Christian Gimenez
goals. The Argentine standout could have had a hat trick, but Potros goalkeeper
Arturo Muñoz
stopped his penalty kick in the 68th minute. Former Chivas USA forward
Giancarlo Maldonado
scored for Atlante in the seventh minute, his third goal in as many games and fifth of the campaign.
Second legs will be played Saturday and Sunday.
LIGA DE ASCENSO: Alejando Molina
's finish leaves Club Tijuana just 270 minutes, if all goes its way, from promotion to the Primera Division.
April, 26, 2011
4/26/11
7:32
PM PT
By
Scott French
| ESPNLosAngeles.com
A wild weekend in Mexico's Primera Division solved little aside from eliminating three more no-hopers from playoff contention, and if there were few winners, there was clearly one loser.
Toluca.
If the Diablos Rojos fail to reach the Clausura playoffs -- and they're two points out with one weekend to go in the regular season -- it will be Sunday's 4-4 draw responsible for all the rolling heads.
Toluca, one of Mexico's most successful clubs the past decade and a half, skidded out of contention down the stretch during the fall Apertura, and now this: Surrendering a four-goal halftime lead at home in a 4-4 draw with lowly Estudiantes Tecos when a win would have vaulted the Red Devils to seventh or eighth, depending on the margin of victory.
A 47th-minute own goal, strikes in the 54th and 80th by former Chivas USA forward
Eduardo Lillingston
, and
Juan Carlos Leaño
's 84th-minute equalizer left Toluca (5-5-6) 10th overall and fourth in Group 2, two points away from the dividing line.
It's a tight fit heading into the final nine games, with five playoff berths still available and nine teams in the race. Guadalajara (6-3-7) and Cruz Azul (7-5-4), who played to a 1-1 draw Saturday, have 25 points; one of them definitely gets through, probably both.
Twenty-three points is the median at the moment, with Atlas (6-5-5) and Monterrey (6-5-5) above the line and America (7-7-2) just below. The most fluid race is in Group 2, which will supply two and potentially three teams to the quarterfinal field; five of the six teams are alive, with one point one point separating the top three.
March, 25, 2011
3/25/11
9:23
PM PT
By
Scott French
| ESPNLosAngeles.com
Mexico's Primera Division, like most leagues around the globe (but not Major League Soccer), is taking this weekend off for FIFA's international fixture dates.
El Tricolores, with 13 of 23 players from Mexico's top league and the rest from MLS (
Rafa Marquez
) and Europe (another dozen, including
Javier "Chicharito" Hernandez
and
Giovani Dos Santos
, are in California for games Saturday against Paraguay in Oakland and Tuesday night against Venezuela in San Diego.
(And Mexico has announced the fourth date on their annual U.S. tour: May 28 vs. Ecuador in Seattle.)
We're 11 weeks into the 17-game Clausura (spring) regular season, and here's some of what's transpired so far:
BEST TEAM:
Unbeaten Pumas UNAM (7-0-4) has done it with defense, naturally. The Cats have conceded just eight goals and shut out six foes, including five of the last seven, behind goalkeeper
Alejandro Palacios
, central defenders
Dario Veron
,
Efrain Velarde
and
Marco Antonio Palacios
, and central midfielder
Israel Castro
. All five have played every minute.
Others in the hunt:
Morelia (6-2-3) is a surprise at No. 2 in the overall table, outfiring foes, 22-9, since a 5-0 loss to Atlas in the opener. … UANL Tigres (5-1-5) have lost just once while surrendering five goals -- just one in the past seven games -- but attacking liabilities are a concern. … Never look past Cruz Azul (6-2-3), which has been very good; America (5-6-1), hit and miss; or Monterrey (6-4-1), inconsistent but improving. … Atlas (4-4-3) is fading after that fast start, but Atlante (5-5-1) is on the rise, with nine goals in its last two games.
BEST PLAYER:
We're tempted to go with with
Emanuel Villa
, who has been scoring important goals of great quality, but we prefer his Cruz Azul teammate
Christian Gimenez
, the most dynamic playmaker in the Primera Division. … Other candidates:
Angel Reyna
is in terrific form for America. …
Neri Cardozo
is evolving into a real star with Monterrey. …
Rafael Marquez Lugo
is eclipsing his namesake with a superb campaign at Morelia. …
Juan Carlos Cacho
was spectacular for Pumas before he was injured in a national team camp. … Nobody is better than Atlante's
Francisco "Kikin" Fonseca
at the moment.
January, 11, 2011
1/11/11
11:59
AM PT
By
Scott French
| ESPNLosAngeles.com
Atlas, the worst team in the fall, opened the second half of the Mexican Primera Division season with a stunning romp that underscores coach Benjamin Galindo's savvy eye for talent.
The Guadalajara-based club, which made several major additions to its roster during the winter break, opened the spring Clausura on Saturday with a 5-0 domination of visiting Morelia.
Gerardo Espinoza
matched his Apertura goals total, scoring twice, to lead the Zorros. Former Chicago Fire defender
Wilman Conde
scored in his Mexican League debut, and 19-year-old
Christian Diaz
(in his first top-tier game in more than a year) and
Daniel Osorno
(with his first of the season) also tallied.
"I congratulated the guys in the locker room because [there was] not a single player who did not have a good performance. It speaks well of the commitment that exists with the team," Galindo told reporters afterward.
"It's a good win which gives us confidence, but that's all. What we have to do is keep working with the same commitment that we had during the preseason."
Atlas went through three coaches in a 3-10-4 fall campaign, but Galindo, a former Mexican national-teamer, went shopping in four countries to strengthen the club. Conde, Brazilian midfielder
Lucio Flavio
(from Botafogo) and midfielder
Lucas Ayala
(from UANL Tigres) contributed to the win Saturday.
BIG BOYS BEATEN:
America got robbed. Monterrey got jobbed.
America, a sure title contender, saw two perfectly good goals erased on mistaken offside calls in a 2-0 home loss to Pachuca, which got goals midway through each half by
Yulian Anchico
and then
Edgar Benitez
.
Monterrey, which last month won the Apertura title, was outclassed at home by San Luis, also 2-0 -- with the Gladiadores' first goal, by
Osmar Mares
in the 71st minute, clearly offside.
Juan Carlos Medina
's sweet chip in stoppage, with the Rayados down a man, doubled the advantage.
November, 16, 2010
11/16/10
12:24
AM PT
By
Scott French
| ESPNLosAngeles.com
Pachuca's in, Toluca and Guadalajara are out, and Pumas UNAM scored a big victory to claim the final berth in the Mexican Primera Division's playoffs.
Pachuca, with three Americans, struck early to beat Necaxa, 2-1, on Friday night, then waited 24 hours -- through five games -- to celebrate, clinching a top-eight spot when Atlas rallied to tie UANL Tigres on Saturday night.
It was a wild final regular-season weekend in the Apertura, featuring four late comebacks -- two of them playing decisive roles in the playoff race -- and Guadalajara's finest moment of the campaign, which was far too little for one of Mexico's two most popular clubs.
A quick rundown:
WHO'S IN:
Jaguares (6-4-7), Pachuca (7-6-4) and Pumas (7-6-4) won the three available berths, all finishing one point ahead of Tigres (6-5-6), which saw its playoff hopes die on two penalty kicks.
Jaguares clinched with a 1-1 draw at Gallos Blancos, with
Jorge Rodriguez
's 81st minute equalizer providing the Chiapas club the required goal. Queretaro had gone ahead just two minutes earlier on a tremendous
Sergio Oreteman
drive to the upper-left corner.
November, 9, 2010
11/09/10
12:07
PM PT
By
Scott French
| ESPNLosAngeles.com
America is peaking at the best possible time. Toluca is crumbling when it counts. The impact on the Mexican Primera Division's Apertura campaign is massive.
The Aguilas clinched a berth in the eight-team playoff
Liguilla
with a 1-0 victory at Atlante, courtesy of
Matias Vuoso
's eighth goal of the season, and head into their final regular-season outing -- against Mexico City rival Pumas UNAM -- with three-game winning and six-game unbeaten streaks.
They've pulled through last month's attacking drought, in which they were shut out by first-place Cruz Azul, second-place Monterrey and archrival Guadalajara, scoring seven times in their past three games -- and that should be eight.
Pavel Pardo
converted a stoppage-time penalty kick against Atlante, but referee
Paul Delgadillo
ordered a retake for encroachment, and Potros goalkeeper
Moises Muñoz
saved Pardo's second attempt.
America, which is atop Group 2 and fourth overall, behind Santos Laguna on goal difference (plus-8 to plus-7), appears to have shored up its defensive problems, and the relationship among Vuoso, playmaker
Daniel Montenegro
and former Toluca star
Vicente Sanchez
has solidified just when it most matters.
"We're there, and we were able to get there," America coach
Manuel Lapuente
said after Saturday night's victory, according to
Reforma
. "We're playing well … we've finished the league well, although we have a game against Pumas to play, and we cannot lose at home. We're going to put a lot of effort into that game. This isn't over until it's over, and we're going to fight to climb one spot higher."
November, 4, 2010
11/04/10
11:55
PM PT
By
Scott French
| ESPNLosAngeles.com
With two weeks to go in the Mexican Primera Division's Apertura season, here's where we stand in the battle for the eight playoff berths:
WHO'S IN:
Cruz Azul, Monterrey and Santos Laguna -- Nos. 1, 2 and 3 nearly all season -- claimed spots during last week's "doble jornada"; the Cementeros are guaranteed a top-two seed, and Monterrey is on the verge of wrapping up the other.
So last week's showdown at Estadio Tecnologico was perhaps a title-series preview, and, in a small surprise, first-place Cruz Azul (11-2-2) romped to a 4-2 victory, handing the second-place Rayados (9-1-5) only their second defeat in 33 regular-season matches over 51 weeks.
Cesar Villaluz
, part of Mexico's 2005 U-17 World Cup-winning side, scored twice for the victors.
So ... who's the team to beat should both reach the final? Go with Monterrey, which won last year's Apertura. Cruz Azul has lost in the past two Apertura finals and in the past two CONCACAF Champions League finals.
October, 26, 2010
10/26/10
5:03
PM PT
By
Scott French
| ESPNLosAngeles.com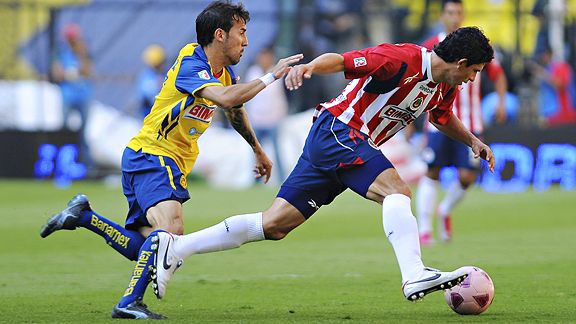 Jaime Lopez/Getty Images
Vicente Sanchez, left, of America vies for the ball with Jonny Magallon of Chivas during Sunday's game.
The rule of thumb is you play to win at home and to tie on the road, but Sunday's 0-0 draw at America in the 206th edition of Mexico's "Super Clasico" wasn't enough for Guadalajara, which faces a difficult path to get into the Primera Division's Apertura playoffs.
Chivas (3-3-7) are fourth in Group 1 and 11th overall, and they're only two points behind eighth-place America (4-3-6), which held onto its spot in the playoff zone despite its third successive draw. But the Goats finish with a brutal schedule, with games in this week's "doble jornada" against fifth-place (and reigning champion) Toluca and at third-place Santos Laguna, followed by showdowns with No. 1 Cruz Azul on Nov. 6 and at No. 2 Monterrey on Nov. 13.
Six clubs -- Pumas UNAM, Morelia, Pachuca, Puebla, Gallos Blancos in addition to Guadalajara -- are within three points of a top-eight slot, and only Cruz Azul and Monterrey are assured of playoff berths, realistically if not mathematically.
"Now we depend on what other teams do, and that is a very complicated position,"
Jose Luis Real
, Guadalajara's head coach, told the media following Sunday's draw. "But we can't surrender -- we are going to try to qualify. As long as we are alive, we will fight for the postseason."
Chivas have won just once in its last eight games and have picked up only seven of 12 points against the division's three worst clubs: They lost at Atlante in August, beat crosstown rival Estudiantes Tecos in early September, managed only a 2-2 draw with Atlas, their other Guadalajara rival, the first weekend in October, and beat Necaxa last week.
In games against eight of the nine clubs battling for the final four postseason berths -- Toluca is the ninth -- the Goats are 0-2-6, 0-2-2 at home.