Los Angeles Soccer:

Jair Marrufo
June, 1, 2012
6/01/12
4:17
PM PT
By
Scott French
| ESPNLosAngeles.com
David Beckham
has escaped punishment after railing against referees following the Galaxy's last two Major League Soccer defeats, but others in L.A.'s midfield were punished for infractions.
The league's disciplinary committee Friday suspended
Mike Magee
and
Michael Stephens
one match and assessed undisclosed fines for deeds during the Galaxy's loss last weekend at Houston.
Read the full story
at this link
.
May, 24, 2012
5/24/12
1:15
AM PT
By
Scott French
| ESPNLosAngeles.com
CARSON -- Let's make one thing clear: It wasn't referee Jair Marrufo who cost the Galaxy a victory Wednesday night, when the San Jose Earthquakes rallied from a two-goal deficit for a 3-2 Major League Soccer victory at Home Depot Center.

He just didn't help.

That's what the Galaxy thinks anyway, after a red card to Hector Jimenez and a penalty kick after a hand ball in the box by David Beckham helped fuel the Quakes' comeback.

Everyone agrees that Jimenez's red card was fair. And so, perhaps, was the penalty kick Khari Stephenson converted to tie the score in the 82nd minute. But head coach Bruce Arena noted in his postgame news conference that Marrufo "didn't call anything on their strikers all night" and that the referee's failure to award the Galaxy a penalty kick after San Jose defender Ike Opara handled the ball in his box after falling to the ground, was egregious.

"I'm told," Arena said, "their hand ball in the first half is not a hand ball, even though he basically got both hands on the ball. What can you say?"

Beckham was more direct in his criticism.

"Unfortunately, we had someone in control of the game tonight that, every time we've had him, he wants to be the star, and that's what happens when you have a referee who wants to be on 'SportsCenter,' " he said. "That was disappointing.

"Maybe the decision for the sending off, maybe it was. The penalty? Maybe it was. ... I just turned my back, and my arms were as close to me as they could be. They weren't outstretched -- yeah, it hit my hand, but it could have gone either way. [Opara] falls on the ball in the penalty area, rolls over it a couple of times, touches it with his hand a couple of times. Everyone else sees it apart from the 'star.' "

Strong words, and they'll probably cost Beckham a few dollars once the league gets wind of them. Oh, well. He can afford it.
November, 15, 2010
11/15/10
12:26
AM PT
By
Scott French
| ESPNLosAngeles.com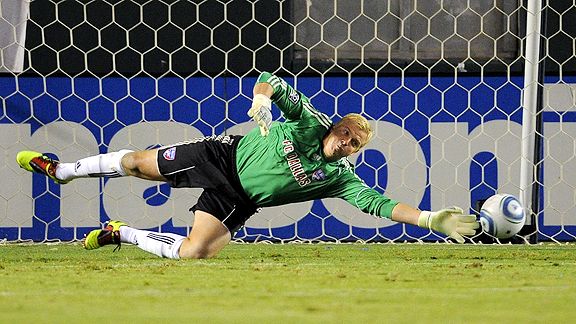 AP Photo/Mark J. Terrill
Former Galaxy goalkeeper Kevin Hartman, now the starter in Dallas, is a major reason why L.A. lost Sunday at home.
CARSON, Calif. -- It's fair to say that had
Kevin Hartman
not been so spectacular Sunday night, the Galaxy would be packing right now for an MLS Cup trek to Toronto.
The Palos Verdes product made four huge first-half saves -- on
Mike Magee
,
Juninho
,
David Beckham
and
Landon
Donovan
-- and had half of them found the net, the Western Conference final would have turned out very differently.
But Hartman is just one of several reasons FC Dallas dumped the Galaxy, 3-0, at the Home Depot Center to snare a spot in its first MLS Cup final, next Sunday against the Colorado Rapids in Toronto.
Here's what made the difference:
1. BE SHARP
The Galaxy wasn't all that bad. They limited Dallas to eight shots, just five on target, created some outstanding chances in the first half-hour or so, and battled hard from start to finish.
But they couldn't match the Hoops.
"We have no excuses ..." Galaxy coach
Bruce Arena
said to open his postgame news conference. "We were outplayed. We were beat on most matchups on the field, and we were outcoached. Dallas deserved the victory."
The Hoops utilized space better than L.A. did, using a quick transition and its speed on the flanks -- with both
Marvin Chavez
and
Brek Shea
making big imprints -- to stretch the Galaxy, especially after
David Ferreira
's 26th-minute opener against the run of play.
From that point on, it was FC Dallas' game.
November, 14, 2010
11/14/10
3:42
PM PT
By
Scott French
| ESPNLosAngeles.com
Galaxy fans know all about
Kevin Hartman
, who manned L.A.'s nets for a decade and had a tremendous year this season for FC Dallas. The goalkeeper from Palos Verdes was the difference for the Hoops this year, bringing stability to a defense that needed it -- no coincidence that the 19-game unbeaten streak started shortly after he became the No. 1 goalkeeper.


On the field, the most important players are 5-foot-5 playmaker
David Ferreira
, a 31-year-old Colombian who is expected to pick up Major League Soccer's MVP award this week, and central midfielder
Daniel Hernandez
, a 34-year-old Texan who started his pro career with the Galaxy (back in 1998) and played in Mexico for Necaxa, Puebla and Jaguares before joining FC Dallas last season.
Here's the best of what was said about Ferreira and Hernandez heading into Sunday's Western Conference final between the Galaxy at FC Dallas (Home Depot Center, 6 p.m., ESPN2 and ESPN Deportes):
On David Ferreira
"Good quickness, good endurance. He's tough. I think he's the heart of the team. I think he inspires them. I think his performance [in the second leg of the first-round series at Real] Salt Lake was outstanding, his performance when they beat [RSL] in the first leg was impressive, and he's the player who set up the winning goal.
Galaxy coach
Bruce Arena
:
"He's really an impressive player and a player that you can't lose your concentration against, because if you do, he'll take advantage of that."