Los Angeles Soccer:

Jamaica national team
July, 30, 2011
7/30/11
6:18
PM PT
By
Scott French
| ESPNLosAngeles.com
Jürgen Klinsmann has been on the job barely a day, and already he's got a World Cup plan -- thanks to FIFA.
Saturday's 2014 World Cup qualifying draw in Rio de Janeiro placed the U.S. in Group A for CONCACAF's semifinal round of qualifying, which will run from next June through mid-October 2012.
The Yanks will be teamed with Jamaica
and two countries who survive second-round eliminations, which begin in September and run through mid-November. The region's qualifiers began in June, with five minnows advancing to the second round.
The U.S and Jamaica will be joined by the victors in second-round groups E (Grenada, Guatemala, St. Vincent & the Grenadines and Belize) and F (Haiti, Antigua & Barbuda, Curacao and U.S. Virgin Islands).
Mexico and Costa Rica are seeded into Group B in the semifinal round, and Honduras and Cuba into Group C. The first- and second-place teams in each semifinal group will advance to the final round of CONCACAF qualifying, to be held from February through October 2013, with the top three nations heading to Brazil and the fourth-place finisher playing against Oceania's top team for another berth.
June, 19, 2011
6/19/11
9:24
PM PT
By
Scott French
| ESPNLosAngeles.com
Bob Bradley and the U.S. national team answered their critics Sunday with an exquisite performance, dominating Jamaica to set a rematch with Panama in the CONCACAF Gold Cup semifinals.
Jermaine Jones
' deflected volley at the start of the second half made the difference in the 2-0 triumph, and without the deflection -- and an unfortunate red card -- the opening quarterfinal in Washington would have gone to overtime and perhaps penalty kicks.
Galaxy goalkeeper
Donovan Ricketts
was
that
good -- easily the best player on the field, making six saves ranging from merely great to oh-my-God sensational to prevent the Yanks from ringing up an impressive scoreline.
Clint Dempsey
added a late goal, benefiting from the red card to Houston Dynamo defender
Jermaine Taylor
and the Reggae Boyz's need to push forward in search of an equalizer.
Panama, which stunned the U.S. in group play, did its part in the nightcap, winning on penalties after rallying for a 1-1 draw with El Salvador, which was supported by a vocal crowd of 45,423 at RFK Stadium in Washington.
A ninth-minute hamstring injury to
Jozy Altidore
, who was stretchered off the field with his face buried in his hands, marred a U.S. triumph that should -- but won't -- subside calls to end Bradley's tenure. The Manhattan Beach-based coach has always had his critics, but he's been particularly under fire after a disastrous showing in the pre-Gold Cup friendly with Spain was followed by poor performances against Panama and Guadeloupe.
Some of the criticism is on target. The U.S. has a knack for going behind early -- we saw it at the World Cup last year, and with better finishing Guadeloupe and Jamaica would have joined Panama with a quick lead. In a sport in which comebacks are difficult, it's a major concern, and it points to problems with preparedness.
The U.S. performance against Jamaica answers so many questions, and if it's something Bradley's boys can build upon -- if it is imbedded in the fabric of the team rather than a wonderful one-off -- it could open a path to unprecedented play and, perhaps, success.
But let's not get ahead of ourselves. As good as Jamaica has been in this Gold Cup -- watch out for the Reggae Boyz in World Cup qualifying! -- Mexico is a different animal, and El Tri won't sit back and counter, as the Jamaicans tried to do.
Play with this kind of verve, with all the possession and interchange, against Mexico -- and then against the Europeans and South America's giants -- and we might have something here.
A quick look at the 15th day in the region's nations championship:
SALUTING JONES:
Jones, the German-born and -bred son of an American serviceman, offered a Father's Day military salute after he volleyed Taylor's clearance from 25 yards to give the U.S. a 49th-minute lead.
June, 19, 2011
6/19/11
2:43
PM PT
By
Scott French
| ESPNLosAngeles.com
When it was over, Galaxy teammates Landon Donovan and Donovan Ricketts exchanged jerseys.
It's Ricketts who will be back in L.A.'s fold this week following Jamaica's 2-0 loss to the U.S. in a Gold Cup quarterfinal Sunday in Washington, a result that would have been far more lopsided if not for the big goalkeeper's play for the Reggae Boyz.
He made at least eight outstanding saves to keep Jamaica in the game. Second-half goals by
Jermaine Jones
and
Clint Dempsey
made the difference.
Donovan was left on the bench after flying to L.A. and back for Saturday's wedding of his twin sister, Tristan -- head coach
Bob Bradley
indicated the Galaxy captain would be used only if necessary -- and didn't come on until the 66th minute and the U.S. ahead, 1-0.
Donovan came face to face to Ricketts just one, and he flinched. It was in the 79th minute, and a through ball from
Sacha Kljestan
left Donovan 1-on-1 with the goalkeeper. Ricketts came off his line to the edge of the box, and Donovan spun and played the ball back to Dempsey rather than try to round his L.A. teammate. Dempsey's return pass found Donovan offside.
June, 16, 2011
6/16/11
10:06
PM PT
By
Scott French
| ESPNLosAngeles.com
Most of the Galaxy's players are clear on which teammate they want to see return to the team next week from the Gold Cup, and it has nothing to do with playing favorites. Or maybe it does.
Galaxy captain
Landon Donovan
leads the U.S. national team against Galaxy goalkeeper
Donovan Ricketts
and Jamaica's Reggae Boyz in a CONCACAF Gold Cup quarterfinal in Washington, and the loser will be back in training with L.A. when it's over.

"It's crazy," midfielder/forward
Mike Magee
said after training Thursday at Home Depot Center. "I wish them both the best. Obviously, I want USA to win, but hopefully U.S. wins, 1-0, so D doesn't get scored on too many times."
Jamaica, with Ricketts in the nets the first two group-stage games and given a rest for the third, didn't concede a goal while going 3-0-0 to win Group B. The U.S. has been a major disappointment, losing to Panama and failing to finish can't-miss chances in a 1-0 victory over Guadeloupe. The winner heads to the semifinals, against Panama or El Salvador, Wednesday in Houston, with the final a week from Saturday at the Rose Bowl.
"It'll be interesting. Two evenly matched teams," said Galaxy coach
Bruce Arena
, who guided the U.S. team from 1998 through 2006, taking it to two World Cups. "I still believe that the U.S. should win that game. Jamaica's had a good run. We'll see. Who knows? Never predict this stuff."
Defender
Todd Dunivant
praised Jamaica as "the best team so far in the Gold Cup" -- what about Mexico? "Mexico has been good, but I don't give them credit," he said -- and admits that no one in the Galaxy locker room is "rooting for Donovan [Ricketts], that's for sure." He might be wrong.
June, 13, 2011
6/13/11
10:31
PM PT
By
Scott French
| ESPNLosAngeles.com
Jamaica finished a perfect run through Group B, notching its third shutout in a showdown Monday night with Honduras, and Guatemala romped to claim one of two third-place berths in the CONCACAF Gold Cup's quarterfinals.
San Jose Earthquakes forward
Ryan Johnson
scored the lone goal in Jamaica's triumph, which also sent the Hondurans to the knockout stage, where they will meet the other Central American power, Costa Rica, in Saturday's quarterfinal opener in East Rutherford, N.J.
Jamaica will face the No. 2 team from Group C in Sunday's quarterfinal doubleheader in Washington. The likeliest foe: United States.
Chicago Fire midfielder
Marco Pappa
scored one goal and set up another to lead Guatemala to a 4-0 rout of Grenada in the opener at Red Bull Arena in Harrison, N.J.
A quick look at the ninth day of group play in the region's nations championship:
ROCKSTEADY REGGAE BOYZ:
Jamaica followed shutout victories over Grenada and Guatemala with a 1-0 triumph over the Hondurans, who started just four first-choice players from last year's World Cup squad and lost star forward
Carlo Costly
to a rib injury midway through the first half.
The group title is another achievement for the Reggae Boyz, who failed to reach the final round of qualifying for last year's World Cup, then bounced back to win the Caribbean Championship in January. Outsiders when the tournament began, they'll likely enter the knockout phase as the Gold Cup's No. 2 team, trailing only Mexico on goal difference.
Johnson netted his second goal of the tournament on a wild sequence in the 36th minute. His blast caromed down off the crossbar, smacked Catrachos goalkeeper
Noel Valladares
in the back of the head, and the ball bounced into the net.
June, 10, 2011
6/10/11
8:54
PM PT
By
Scott French
| ESPNLosAngeles.com
Jamaica claimed a quarterfinal berth with another shutout and Honduras found its dormant attack, sticking seven into the net against overmatched Grenada, as Group B in the CONCACAF Gold Cup sorted itself in Miami.

Demar Phillips scored 13 minutes apart in the second half to lead Galaxy goalkeeper Donovan Ricketts and the Reggae Boyz to a 2-0 triumph over Guatemala in the first game of the doubleheader at Florida International University. Carlo Costly had a hat trick and set up another goal in Honduras' 7-1 romp.

Jamaica, which will make its first quarterfinal appearance since 2005, lost Toronto FC defender Dicoy Williams to an eighth-minute leg injury.

CATRACHOS AWAKEN: After failing to score despite a two-man advantage in its group opener Monday night against Guatemala at Home Depot Center, Honduras overcame an early deficit to destroy Grenada behind Costly and Jerry Bengtson, who netted two. Oscar Boniek Garcia assisted goals by both and the stoppage-time finale by Alfred Mejia.

Grenada, 4-0 losers to Jamaica on Monday, looked ready for an upset early, with Clive Murray providing a 19th-minute lead by knocking in his rebound after firing off the right post, the first Gold Cup goal in Spice Boys history. But it was over by halftime -- Bengtson tallied in the 26th, Costly in the 28th and Bengtson again in the 37th -- and the Hondurans added four more, primarily from through balls, from the 67th on. Two of Costly's goals were simple tap-ins.

That's five four-goal-or-worse romps in the Gold Cup's first 10 matches, two by Mexico (5-0 over El Salvador and Cuba), another by Costa Rica (5-0 over Cuba) and the Grenada defeats.

REGGAE BOYZ ON SONG: Looking for an outsider that could reach the June 25 final if the U.S. or Mexico slips up? How about Jamaica, which followed a dominant showing against the Grenadians with another impressive victory. This one was much more difficult, but Phillips scored in the 65th and 78th minute, tucking the ball inside the right post from feeds by Keammar Daley and then New York Red Bulls winger Dane Richards.


June, 6, 2011
6/06/11
11:27
PM PT
By
Scott French
| ESPNLosAngeles.com
Jamaica met expectations but Honduras couldn't, even with a two-man advantage for a good 15 minutes, as the CONCACAF Gold Cup opened Group B play Monday night at Home Depot Center.
The Reggae Boyz hammered Grenada, 4-0, and could have had several more goals in a simple exercise that gave them command of the group heading into encounters with the Central Americans.
Guatemala, which lost two players in the second half to second yellow cards, thrilled most in a crowd of 21,507 by holding off World Cup finalists Honduras in a 0-0 draw.
A quick look at the second day of group play in the region's nations championship:
CARIBBEAN CLUBBING:
On the eve of the Group B openers, New York Red Bulls winger
Dane Richards
said Jamaica was "thinking we're going to play Spain tomorrow. That's how we're looking at the Grenada team."
The Reggae Boyz weren't nearly as sharp as they'll need to be when they come up against the bigger boys in the tournament, but if either team was carrying the World Cup champs' mantle, it was Jamaica.
Ryan Johnson
scored three goals, but only one of them counted as the Jamaicans dominated their Caribbean rival, running up a 23-2 advantage on shots and making Galaxy goalkeeper
Donovan Ricketts
' evening most uneventful.
June, 5, 2011
6/05/11
11:10
PM PT
By
Scott French
| ESPNLosAngeles.com
CARSON -- There's a lot of chatter that this team Jamaica has brought to the CONCACAF Gold Cup might be the best it's ever fielded, even better than the side that won a game at the 1998 World Cup in France.
Dane Richards
doesn't want to hear it. He just wants to spur some more.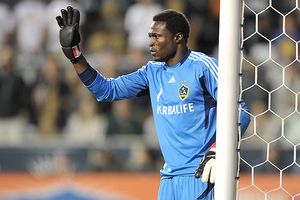 Drew Hallowell/Getty Images Donovan Ricketts

"All the talking, we can't pay attention to that," the New York Red Bulls winger said on the eve of the Reggae Boyz's CONCACAF Gold Cup opener Monday at Home Depot Center. "We just got to go there and do the job and make the people keep talking positive stuff."

They'll start their business in the region's nations championship against Caribbean rival Grenada, kicking off a Group B doubleheader at 6 p.m. Honduras, with a dozen players from last year's World Cup roster, faces Guatemala at 8. It's the only group-stage games in Southern California; the June 25 final is set for the Rose Bowl.

Jamaica, guided by former Reggae Boyz midfielder Theodore Whitmore, has big aspirations.

"Jamaica, we have special players," said Donovan Ricketts, the Galaxy's goalkeeper. "We are blessed with people that are very quick, so hopefully we can utilize that in the tournament and see how it goes."

What's special about this team?

"I don't know," he replied. "We're just special people, man. We have a fighting spirit. As you see, it's a small country, and anything you put [in front of us], we Jamaicans, we can do it.

"We don't have snow in Jamaica, yet we do bobsled."

June, 4, 2011
6/04/11
9:16
PM PT
By
Scott French
| ESPNLosAngeles.com
The CONCACAF Gold Cup begins Sunday, with a Costa Rica-Cuba/Mexico-El Salvador doubleheader in front of a sellout crowd at Cowboys Stadium in Arlington, Texas, and plenty is at stake.
There's the trophy, to be sure, plus the berth in the 2013 FIFA Confederations Cup -- that's the real prize, as the U.S., a 2009 Confederations finalist, can report -- and spirited competition to prepare for the start of qualifying for the next World Cup.
More vital could be the tournament's role in restoring credibility to CONCACAF, which is on its third president in a week after FIFA's corruption scandal exploded in the Caribbean.
HEAVY INTRIGUE:
It's been a wild week in the soccer world, and especially the confederation's New York offices, since a FIFA investigation into charges levied by CONCACAF general secretary
Chuck Blazer
that CONCACAF President
Jack Warner
, of Trinidad & Tobago, and fellow FIFA executive committee member
Mohamed bin Hamman
offered cash to Caribbean officials in exchange for votes in Wednesday's FIFA presidential election.
Warner and bin Hamman were suspended last weekend by FIFA's Ethics Committee -- bin Hamman was forced to withdraw from the election, and
Sepp Blatter
, unopposed, was reelected -- and Barbadan
Lisle Austin
took over as acting CONCACAF president. His first order was to dismiss Blazer, an American, leading to a legal skirmish, with the confederation telling Austin he didn't have the power to fire Blazer and Austin accusing Blazer of trespassing and stealing company resources by continuing at his job.
It hid a head Thursday, with Austin suspended -- and claiming his suspension wasn't legal -- Honduran
Alfredo Hawit
taking charge, and Blazer still on the job. Expect more fireworks shortly.
May, 23, 2011
5/23/11
11:13
PM PT
By
Scott French
| ESPNLosAngeles.com
The Galaxy will be without two players for most and perhaps all of June, and neither absence is unexpected.
Landon Donovan
, of course, is on the 23-man U.S. roster Bob Bradley unveiled Monday for the June 5-25 CONCACAF Gold Cup. Goalkeeper
Donovan Ricketts
is on Jamaica's roster.
Both figure to miss at least three Galaxy games -- June 3 against D.C. United and June 11 against Toronto FC, both at Home Depot Center, and June 18 at Colorado -- and hope to skip a fourth, June 25 at HDC against San Jose.
The Gold Cup quarterfinals are June 18 and 19, the semifinals are June 22, and the final is June 25 at the Rose Bowl. The U.S. is expected to reach the title game; Jamaica appears likely for the quarterfinals, and the Reggae Boyz's final-four chances depend on matchups.
The Galaxy also is slated to open U.S. Open Cup play on June 28, and both are likely to sit it out.
Jamaica, which has eight MLS players -- the largest contingent in the tournament, and that includes the U.S., which has seven -- will play in a June 6 doubleheader at HDC against Grenada.
No Chivas USA players were selected. The likeliest choice, defender
Michael Umaņa
, has seen just three minutes of action for the Goats this season and was left off Costa Rica's roster.
May, 23, 2011
5/23/11
11:11
PM PT
By
Scott French
| ESPNLosAngeles.com
There's one early-stage CONCACAF Gold Cup doubleheader slated for the these parts, and now we know who's coming.
CONCACAF released all 12 rosters Monday for its nations championship, which begins June 5 and ends with the final -- U.S.-Mexico is hoped for, certainly -- on June 25 at the Rose Bowl.
A Group B twinbill is coming to Home Depot Center on Monday, June 6, with a Caribbean showdown (Jamaica vs. Grenada) at 6 p.m. and a Central American matchup (Honduras vs. Guatemala) at 8.
Honduras' roster features a dozen players from last year's World Cup team, including four who played every minute for the Catrachos (goalkeeper
Noel Valladares
, defenders
Osman Chavez
and
Maynor Figueroa
, and midfielder
Wilson Palacios
), plus Sporting Kansas City left back
Roger Espinoza
, who was raised in Denver, and former Chivas USA midfielder
Ramon Nuņez
.
Guatemala is led by former Galaxy star Carlos Ruiz, now in Philadelphia, and Chicago Fire midfielder Marco Pappa.
The Jamaicans have eight MLS players, including Galaxy goalkeeper
Donovan Ricketts
and former Galaxy defender
Tyrone Marshall
, and 11 based in Europe, nine of them in Sweden or Norway. Grenada has Brooklyn-raised New England Revolution midfielder
Shalrie Joseph
, who would have played in two World Cups already had he chosen to play for the U.S.