Los Angeles Soccer:

Jamie Griffin
November, 18, 2011
11/18/11
11:37
PM PT
By
Scott French
| ESPNLosAngeles.com
UCLA rallied for an early deficit and stood one kick from victory, but it wasn't enough Friday night in the second round of the NCAA Division I women's soccer tournament.
The second-ranked Bruins' miscues from the penalty spot were deadly, and West Coast Conference co-champion San Diego took advantage to advance to the sweet 16, by a 3-2 tally, following a 1-1 draw.
UCLA (16-1-4) had won 30 successive NCAA tournament home games.
Long Beach State (17-5-1) will be the Toreros' foe in Sunday's third-round clash at UCLA's Drake Field after a 1-0 triumph over Miami in Friday's opener.
Freshman
Mariah Butera
gave San Diego (12-7-2) a lead less than a minute and a half into the game, and it held off the Bruins until the final minutes.
Jenna Richmond
's shot off the post in the 80th minute forced overtime, and penalty kicks followed 20 minutes of scoreless soccer.
Both teams missed their first two shots, but
Sam Mewis
and
Charney Burk
(Tustin/Foothill HS) connected to give UCLA a 2-1 advantage after four of five shootout rounds.
Caprice Dydasco
, with a chance to send the Bruins through, missed to start the fifth round, and
Stephanie Ochs
pulled USD even.
UCLA's
Chelsea Stewart
missed on the next shot, and the Toreros prevailed when
Elissa Magracia
converted.
Long Beach State, which last weekend at Pepperdine notched its first NCAA women's soccer victory, won on sophomore left back
Kelsey Wilson
's 40-yard blast inside the far post with about 10 minutes to go. Miami, which also won its first NCAA game last week, finished 10-8-1.
In other women's action:
Cal State L.A. (13-4-4) watched its season end on penalties after another defensive battle with California Collegiate Athletic Conference rival Chico State (12-6-5), which won, 4-3, on the eighth round of the shootout following a 0-0 draw. The Wildcats, who beat Cal State L.A. in the CCAA tournament, on Sunday takes on Abilene Christian (20-1-1), which in the first game rallied from a halftime deficit for a 2-1 victory over Dallas Baptist (16-6-1). Ashley Holton's goal six minutes into overtime was the difference.
November, 13, 2011
11/13/11
12:27
AM PT
By
Scott French
| ESPNLosAngeles.com
MALIBU -- Nadia Link has netted some wonderful goals this season, but few as sweet -- and none as important -- as her bending blast Saturday afternoon at Pepperdine.
Link fired into the far corner of the net with 13 seconds to go in the first overtime period to lift Long Beach State to a 1-0 triumph over the seventh-ranked Waves in an NCAA Division I tournament opener.
It was the first NCAA victory in 49ers history, and the first over a top-10 opponent, and it was product on Link's twisting shot and five big saves by goalkeeper
Kaitlyn Gustaves
.
"That's seven years of work -- seven and a half years ...," said Long Beach State coach
Mauricio Ingrassia
, who has the 49ers in the NCAA tournament for the third time in four years. "We had a couple of injuries [when we lost in the first round to San Diego] in '08. And last year we played our best game of the year against Santa Clara, but [their goalkeeper] had the game of her life. This year we felt we had the experience. It would have been very painful to be 0-3 in the tournament without scoring a goal."
The goal was a beauty. Link (Rowland Heights/Walnut HS) received a pass from midfielder
Sidney Garza
(Ventura /Buena HS), took the ball up the left flank, then cut inside along the top of the Waves box, where she found uncommon space.
She's a left-footer, but the shot was on her right, and it twisted away -- "corkscrewed," is how Pepperdine coach
Tim Ward
put it -- toward the upper-right. Waves goalkeeper
Roxanne Barker
(Irvine/Woodbridge HS) never had a chance.
"The team was asking why did I wait so long," said Link, who tied the school record with her 16th goal of the season. "I saw the pass coming from Sidney Garza, and all I heard was Mauricio saying, 'Take it down the line!' And I remember thinking, 'That's a long way.' ... It went in, and I don't even remember celebrating. I was too busy crying."
Said Ward: "A moment was going to decide the game, and that moment [belonged to] Nadia Link. ... A great player scored a great goal to beat us."
Link described the odd path of her shot as "the unpredictability of my right foot."
The strike brought a dramatic end to a tight, thrilling clash marked by superb defense in the boxes, with Long Beach State's backline -- especially center back
Jordan Nelson
(Garden Grove/Pacifica HS and Loyola Marymount) -- doing well to get in the way of shots by
Lynn Williams
and
Laura Cole
(Whittier/La Habra HS).
Gustaves (Long Beach/Wilson HS) came up big five times, including a double-save, the second with her foot, on
Amanda LeCave
after an uncharacteristic giveaway by defender
Alex Balcer
. The goalkeeper followed up by snagging a long shot by right back
Michelle Pao
, Pepperdine's most dangerous attacker, then made two diving saves on Williams in the second half.
Long Beach advances to a second-round clash Friday against Miami (10-7-1), a 3-2 winner over Alabama, at UCLA's Drake Stadium.
In other women's action:
Freshman Kylie McCarthy knocked home a 65th-minute rebound as No. 2 UCLA (16-1-3) scored a 1-0 victory over visiting New Mexico (12-5-4) in an NCAA Division I first-round game. The Bruins limited the Mountain West Conference champion to three shots, just two on target, in a dominant performance en route to a second-round clash Friday in Westwood against San Diego.
October, 29, 2010
10/29/10
6:44
AM PT
By
Scott French
| ESPNLosAngeles.com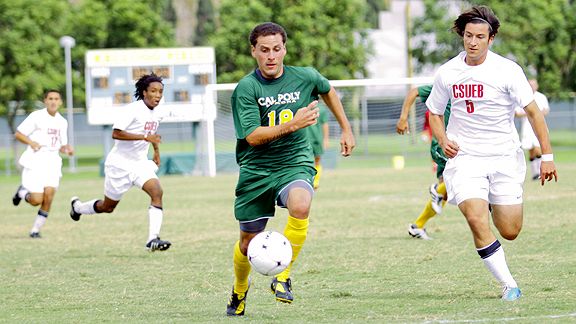 Pedro Corona/Courtesy of Cal Poly Pomona athletics
Cal Poly Pomona's Luis Gonzalez had four goals and two assists against Cal State East Bay last week to set a CCAA points record.
Cal Poly Pomona's
Luis Gonzalez
was unstoppable in a 7-0 romp over Cal State East Bay last Sunday, totaling 10 points -- on four goals and two assists -- to set a California Collegiate Athletic Conference record.
It made for a five-goal, three-assist week for the junior forward from Millikan High School in Long Beach -- our Player of the Week -- who also had a goal and assist in a 2-1 victory Friday over UC San Diego. The Broncos (9-6-1 overall, 7-6-1 CCAA) need victories this weekend at Cal State Dominguez Hills and Cal State L.A. -- and help elsewhere -- to claim a berth in the CCAA tournament, which begins next Friday.
The four goals tied a CCAA record set last year by teammate
Tyler Reinhart
.
Gonzalez, who leads Pomona with 11 goals and seven assists, is a two-time junior college All-American who scored 51 goals in two seasons at Cerritos College and led the Falcons to the this year as the reigning national junior college Player of the Year. Gonzalez, who scored 51 goals with 35 assists in two seasons at Cerritos College (leading the Falcons to the 2008 state JC title). He was the NSCAA's JC Division III Player of the Year in 2009.
GREATEST GOAL:
What a sweet finish by USC freshman
Autumn Altamirano
(Tustin/Beckman HS) in the 86th minute to beat UCLA, 1-0, last Friday in front of an NCAA women's regular-season record crowd of 8,527 at the Coliseum.