Los Angeles Soccer:

Jason Banton
February, 9, 2012
2/09/12
3:24
PM PT
By
Scott French
| ESPNLosAngeles.com
Aston Villa's request to extend Robbie Keane's loan deal beyond Feb. 25 has been turned down by the Galaxy, according to reports Thursday in England.

The Birmingham-based club, which acquired Keane in mid-January on a 6 ½-week loan, asked the Galaxy to allow the Irish striker to remain in England through Villa's March 3 game at Blackburn, English wire service The Press Association and West Midlands daily Express & Star reported without sourcing.

Keane will join the Galaxy following Ireland's European Championship prep Feb. 29 in Dublin against the Czech Republic. The Galaxy plays March 7 in a CONCACAF Champions League quarterfinal first leg at Toronto FC and March 10 in their Major League Soccer opener at Home Depot Center against Real Salt Lake.

Keane has been superb for Aston Villa, anchoring the English Premier League club's attack and scoring three goals in four starts. The club is spending a reported $775,000 for the fee and Keane's salary during the loan.

His final game with Villa will be Feb. 25 at Wigan Athletic.


December, 28, 2011
12/28/11
12:55
PM PT
By
Scott French
| ESPNLosAngeles.com
If reports that Ronaldinho could be coming to Major League Soccer are more than just speculation or posturing, then don't be too surprised if he ends up somewhere other than the Galaxy.
That's the latest from France, where some of the Brazilian superstar's representatives are based: that the "big offer" being prepared is not with L.A.
Ronaldinho, 31, has been linked to the Galaxy for some time, and there were reports in Europe and Brazil that he was bound for L.A. before signing last January with Rio de Janeiro-based Flamengo following a decade in Europe with Paris-Saint Germain, Barcelona and AC Milan.
Reports have resurfaced, claiming the attacker could be the replacement if
David Beckham
signs with Paris Saint-Germain, as French media claim he will do shortly after New Year's, but MLS-News, a French website that covers MLS and is an "official partner" of University Elite Athletes USA -- a French management agency working to move Ronaldinho to the U.S. league -- says that might not be so.
"Yes, we're trying to bring Ronnie to the league, but there may be a surprise in which club he could play for," said
Jerome Meary
, a University Elite Athletes USA representative the website said was "handling the case jointly with MLS."
"We are preparing a big offer, but it is not with Los Angeles."
Meary told MLS-News that the Galaxy has right of refusal on Ronaldinho. The player's French adviser
Michael Wiesenfeld
, founder of the New York-based European Football Group agency (and a former marketing assistant at PSG), last week told the website that negotiations with the Galaxy had begun last summer and "are intensifying."
June, 16, 2011
6/16/11
8:07
PM PT
By
Scott French
| ESPNLosAngeles.com
Chivas USA general manager
Jose Domene
's focus these days is on finding somebody, preferably a forward, who can make the Goats a better team.
The transfer window is set to open July 15, players around the world are searching for and signing with new clubs, and Chivas has a list of talent it's considering -- but Domene and head coach
Robin Fraser
aren't about to divulge any names on it.

One name that could enter discussions is 18-year-old English forward/winger
Jason Banton
, who impressed during a week-long trial in April but wasn't signed. Banton was released Wednesday by Liverpool FC and could join the Goats on a free transfer, if they want him and a deal can be worked out.
Fraser acknowledged Thursday he hadn't been aware of Banton's departure from Liverpool, which signed the Londoner to an academy contract in January.
"To be honest, I haven't thought about Jason since he wasn't here," Fraser said. "We have a lot of other players we've been looking at. It's something we can definitely talk about."
Chivas has talent and depth throughout its roster, especially in midfield, but it could use a target forward with a nose for the net.
Alejandro Moreno
, who is away with Venezuela's national team for the next month or so, is more of a worker-bee striker, good at holding the ball, making runs that open space for teammates and setting up chances for others.
Justin Braun
and
Marcos Mondaini
are capable of scoring, at times in bunches, but neither is a true target man.
April, 15, 2011
4/15/11
9:06
PM PT
By
Scott French
| ESPNLosAngeles.com
Jason Banton
won't be joining Chivas USA -- at least not right now.
The Goats decided to pass on signing the 18-year-old English winger/forward before Friday's close of the transfer window to bring in players under contract to foreign clubs, but they have placed him on their "discovery" list and will continue to monitor his development.

It is possible Chivas might sign the Liverpool FC academy player during the summer transfer window, which is open July 15-Aug. 15, a club official said.
Banton showed his quality during a weeklong trial with the Goats, and he scored one goal and set up another in the Chivas reserves' 2-0 victory last weekend over the L.A. Blues, but his age worked against him -- and so apparently did the opportunity to acquire U.S. national team midfielder
Benny Feilhaber
, who transfered Friday to Major League Soccer from Denmark's AGF Aarhus.
The club ultimately decided that Banton's youth made him a risk as the club rebuilds under Fraser, who was hired in early January.
Chivas USA, atop MLS's "allocation" table, has first dibs on Feilhaber, an attacking midfielder from Irvine, and must decide by Tuesday afternoon whether they will sign him. Head coach
Robin Fraser
declined to discuss the Feilhaber opportunity Friday night as he worked on final preparations for Saturday afternoon's match at Vancouver.
April, 15, 2011
4/15/11
3:50
PM PT
By
Scott French
| ESPNLosAngeles.com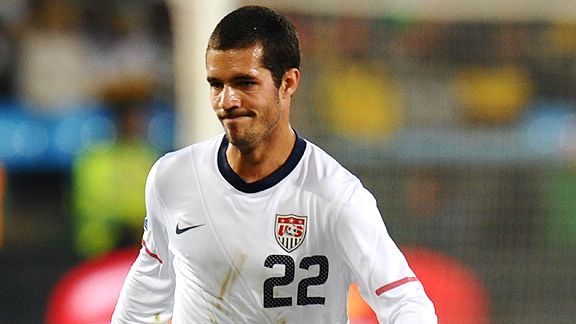 Vincenzo Pinto/AFP/Getty ImagesBenny Feilhaber, an Irvine native, could be coming back to SoCal to play for Chivas USA.
Benny Feilhaber, a U.S. World Cup midfielder who has made his living in Europe since leaving UCLA before his junior season, is headed to Chivas USA -- if the Goats want him.

The Irvine product signed Friday with Major League Soccer and will be assigned according to the league's "allocation" rankings, on which Chivas is at the top. The club has until Tuesday afternoon to put in a claim for Feilhaber, and general manager Jose Domene said through a spokesman that team officials were evaluating what they should do.



It seems simple and would be were Feilhaber a forward, where the Goats have the most need. They've got great depth, if not yet perfect health, in midfield and must consider salary cap and the makeup of the roster before committing to the attacking midfielder.
The Brazilian-born Feilhaber, 26, who played at Northwood High School and for Irvine Strikers, has been with Denmark's AGF Aarhus since August 2008. His transfer fee would figure into the budget charge Chivas would face if they choose to claim him.
The Goats also could claim and trade him, which would drop them to the bottom of the "allocation" rankings, or pass on him, which would enable them to keep the No. 1 slot.
This development also could impact their decision on whether to sign English winger/forward
Jason Banton
. The transfer window to sign players under contract with foreign clubs closes Friday, and the Goats are weighing whether they should bring him in.
Feilhaber came off the bench in three of four U.S. games at the World Cup last year in South Africa. He has made 38 appearances for the U.S. national team since 2007, after turning down an offer to play for Austria, his family's homeland.
Feilhaber, who was roommates with former Chivas USA captain
Jonathan Bornstein
at UCLA, burst upon the international scene at the 2005 FIFA U-20 World Cup in the Netherlands and signed with Germany's Hamburger SV that summer.
He saw scant playing time the next three seasons, in Hamburg and then with England's Derby County, but has been influential for AGF and has scored seven goals in 21 games, all competitions, this season for the runaway leader in the Danish second division.
April, 14, 2011
4/14/11
6:53
PM PT
By
Scott French
| ESPNLosAngeles.com
Chivas USA head coach
Robin Fraser
says he hasn't made up his mind yet whether to add English winger/forward
Jason Banton
to his roster, but he'll have to. Quickly.
The transfer window closes Friday, after which Major League Soccer clubs will be unable to bring in players under contract to foreign clubs until the summer window opens July 15. Banton's rights are owned by Liverpool FC, and the Goats likely will bring him in on loan, if they bring him in.

The 18-year-old attacker, who scored a goal and set up another in Chivas' reserve side's 2-0 victory last weekend over the L.A. Blues, has returned to England, which typically means one of two things: He's gone. Or he's home to get his work visa, a necessary step in the transfer process.
"It's a big puzzle (building a team)," Fraser said after training Thursday at Home Depot Center. "You never really feel like you've seen enough, but you've got to go with your gut feeling at some point, and like I said [last weekend], it's how the money, everything fits into the puzzle."
Fellow trialist
Kerry Baptiste
, a 29-year-old Trinidadian forward, is not under contract, so Chivas can take its time in determining whether he's a good fit for its goal-lite attack. He also played in the game against the Blues.
"Kerry's done all right this week," Fraser said. "He did pretty well in our 11-v-11 yesterday. He's a forward who likes to be in front of the goal, which is good, and we'll have to make a decison on him shortly as well."
INJURY UPDATE:
Central defender
Jimmy Conrad
is still trying to get through a week without symptoms following his concussion sustained March 26 against Colorado. That's the first step in MLS's post-concussion protocol.
April, 10, 2011
4/10/11
5:43
PM PT
By
Scott French
| ESPNLosAngeles.com
Chivas USA's search for someone who can score and create goals has unearthed a real prospect, and now the Goats are figuring out whether they can afford him -- and whether he fits into the master plan.
Teen attacker
Jason Banton
, on trial the past week from Liverpool FC's youth academy, put on a show Sunday as Chivas' reserves toppled the L.A. Blues, 2-0, in a friendly at Home Depot Center's Track and Field Stadium.
He set up the first goal, hammering off the left post from a corner kick for defender
Andy Boyens
to finish, then scored the second, effortlessly beating Blues goalkeeper
Oscar Dautt
from a
Victor Estupiñan
through ball.
Can he play at the Major League Soccer level? Yes. Would Chivas like him on its roster? Sure. Will a deal be done? We'll see.
"It's a matter of deciding if his asking price is something that we can afford or should afford," head coach
Robin Fraser
said after Sunday's game. "He's a talented young player, for sure, but like any or most 18-year-old players, there are some concerns. So we just need to weigh the whole thing and decide what is right."
Fraser said he likes that Banton is "forward thinking, he likes to run and guys and he's pretty good at taking people on." His concerns: "He's young, and while the boxscore will show you the goalscorer and that sort of thing, it doesn't tell the whole story. It's really a snapshot of the game. There's a statistic out there: You only have [the ball at your feed] for, like, two minutes of the 90 minutes you play. So what are you doing the other 88 minutes? These are all the things that go into that decision."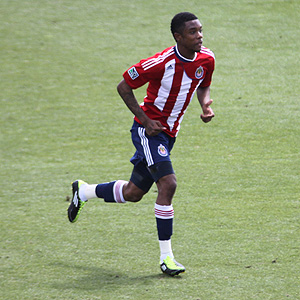 ESPNLA.comJason Banton, 18-year-old English forward/winger playing on the Chivas reserve squad.


Banton, London-born and -bred, has played in Arsenal's, Blackburn's and, since January, Liverpool's academies. He says he told his agent he wanted to look for a club overseas, and that his first choice was MLS, and less than two weeks later he was headed to Los Angeles.

"I thought I needed a change, and I need some first-team football, ..." said Banton, who played at forward, in central midfield and in his favored position on the left flank against the Blues. "We're looking for me to stay on; obviously, just negotiating a few things, but hopefully stay on, but looking positive so far.

"It's a great club, great staff, great manager, great background. So hopefully stay on and push forward."

Banton has seen a few Major League Soccer games. He was at Arsenal when Thierry Henry was setting standards for the Gunners and has watched a couple of his games with New York, and he's seen David Beckham with the Galaxy.

The Blues team Banton faced Sunday, which is preparing for its debut in third-tier league USL Pro next weekend, was dotted with former MLS players and a few with experience in Mexico, so if it wasn't a true reflection of what he'd face in the league, it offered at least a hint.

April, 6, 2011
4/06/11
11:47
PM PT
By
Scott French
| ESPNLosAngeles.com
Robin Fraser, who hasn't been shy about bringing players in on trial since Chivas USA's camp opened in January, is looking at a promising English forward this week as he continues to look to strengthen his roster ahead of the next week's close to the transfer window.
Jason Banton
, 18, arrived from Liverpool's youth academy for a weeklong stint with the Goats, who could use more talent at the attacking end. He also can play on the left side of midfield and has impressed the Chivas coach.
"Jason's a talented young kid," Fraser said Wednesday. "He's got good ability to run at people [with an] aggressive attacking mindset [and is] someone who fits the mold of a good attacking player in this league."
Banton, who joined Liverpool's academy in January after playing for Arsenal's and Blackburn's youth teams, was discovered by Chivas USA general manager
Jose Domene
. Fraser saw tape of him for the first time "a couple of weeks ago."
Chivas has five players Fraser has brought in, at least nominally, on trial, three with MLS experience (midfielder
Francisco Mendoza
, in his second stint with the Goats, and New Zealanders
Simon Elliott
and
Andy Boyens
), plus Argentine winger
Marcos Mondaini
and Ghanaian defender
Seth Owusu
. Many more have come in for a trial, then been released.
Where does Fraser find these players?
"I can't give away all my secrets," he says.
How about one or two?