Los Angeles Soccer:

JC State Championships
December, 2, 2011
12/02/11
7:42
PM PT
By
Scott French
| ESPNLosAngeles.com
Mt. San Antonio College is 90 minutes from a third straight state community college men's soccer championship after battering the City College of San Francisco in a semifinal Friday in Sacramento.
The Walnut-based Mounties, ranked No. 1 in the nation, extended their unbeaten streak to 37 games with a 2-0 trumph at Cosumnes River College and will face Hartnell (19-2-3), from Salinas, in Sunday's title game.
Luis Fuentes
(Baldwin Park/Sierra Vista HS) provided a 37th-minute lead with his 20th goal of the season -- and 34th in two seasons for the Mounties -- and
Edgar Padilla
(Baldwin Park/Baldwin Park HS) added his 13th in the 76th.
Mt. SAC (21-0-3) takes a seven-game winning streak, the last four by shutout, into the match with Hartnell, which romped to a 3-0 win over Santa Barbara City College (18-2-4) as
Max Estrada
netted a pair of goals.
The Mounties lost to Cerritos in the 2008 state final, then beat Taft in 2009 and College of the Canyons last year.
In women's action:
Valerie Barrios (Chino Hills/Chino Hills HS) and Jennifer Martin (La Mirada/Sunny Hills HS) scored first-half goals to lead Santiago Canyon (22-2-1) to a 2-0 victory over San Francisco (20-2-2) and into Sunday's final. The Hawks won titles in 2006 and 2009 and lost in the 2007 final.
Cypress' bid for a third state title ended against Santa Rosa (19-1-3), which received first-half goals from Erica Cunningham and Cara Curtin for a 2-0 semifinal victory. The Bear Cubs are in their third final in four years after falling to Cerritos in 2008 and San Bernardino Valley last year. Cypress finishes at 14-5-5.
December, 1, 2011
12/01/11
11:47
PM PT
By
Scott French
| ESPNLosAngeles.com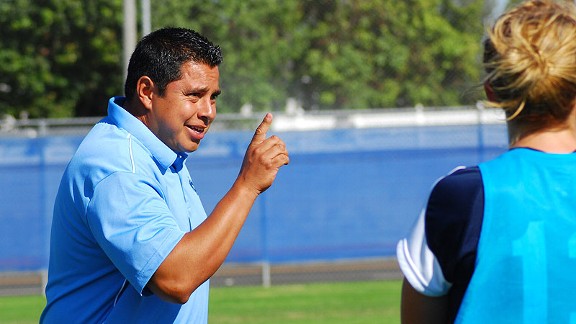 Cypress College Sports InformationCypress College women's coach Randi Martinez hopes to shake the back luck of the last four seasons.

CYPRESS -- Cypress College had lost three women's soccer games in the same season only three times in 20 years -- more just once -- and this team did so in its first seven games.

If the Chargers were going to get back to the state final four, a birthright not so long ago, this wasn't going to be the team to do it.

But then a late-maturing side found some leadership, a top forward ended a self-imposed exile, and a big win over the unbeaten archrival bred needed confidence, and Cypress, among the most storied programs in California junior college soccer, went on the kind of run it's known for.

It's led where the Chargers (14-4-5) believe they belong, among the final quartet at this weekend's state championships in Sacramento. It has been five years since they last got this far after doing so for 12 straight years, winning titles in 1998, 1999 and 2004.

And here's a real kicker: They didn't lose a postseason game the whole time.


December, 5, 2010
12/05/10
5:02
PM PT
By
Scott French
| ESPNLosAngeles.com
SANTA CLARITA -- When star forward Evelyn Calderon went down with a knee injury just nine games into the season, San Bernardino Valley's women's soccer team could have given up.
Calderon's 25 goals had fueled the Wolverines' unprecedented run to a regional final last year, and as they set their sights on something more, she was expected to be the hero.
So SBVC's triumph in Sunday's state junior college title game -- a 1-0 decision over Santa Rosa at College of the Canyons -- had to feel awful special, right?
"Right now, this feels great," Wolverines coach
Kristin Hauge
said. "Tomorrow, I start recruiting. Well, as soon as I get off the field, I'll start texting."
Title-game MVP
Crystal Sanchez
(Bloomington/Bloomington HS) converted a 72nd-minute penalty kick to provide the difference in a defensive standoff that saw just one shot -- Sanchez's PK -- placed on target.
Mariela Ortega
(Desert Hot Springs/Desert Hot Springs HS) earned the spot kick, bumped down from behind by Santa Rosa's
Lauren Romano
after running onto a space-finding pass by
Angela Young
(San Bernardino/Cajon HS).
"I knew we were good defensively, but I knew they're very good defensively," Hauge said. "We knew that one goal, whoever got it, had a real good chance of winning."
December, 5, 2010
12/05/10
2:06
PM PT
By
Scott French
| ESPNLosAngeles.com
SANTA CLARITA -- There was no stopping Luis Fuentes on Sunday, and so Mt. San Antonio College is celebrating its second successive state junior college men's championship.
Fuentes (Azusa/Sierra Vista HS) scored a hat trick as the Mounties (19-1-4) defeated host College of the Canyons, 4-0, in an all-Southern California affair that was more lopsided than the score suggests.
Mt. SAC took the lead in a tight game on Fuentes' 25th-minute penalty kick --
Michael Chavez
(Riverside/Arlington HS) drew the foul from
Jose Reyes
(Sylmar/Sylmar HS) -- and then took command, dominating midfield primarily through
Adrian Padilla
(West Covina/West Covina HS) and applying heavy pressure on Canyons' defense the rest of the way.
Fuentes, who set up both Mounties goals in Friday's semifinal win over West Valley, struck again in the 54th and 70th minutes, and Cal Poly Pomona transfer
Javier Castro
(Pomona/I Poly HS) added the fourth in the 78th.
Fuentes, a freshman whose speed on the flanks played havoc on Canyons' back line, called winning -- and with three goals, no less -- "one of my dreams come true," and coach
Juan Sanchez
said he "enjoyed this one more than last year, because I didn't know how to react [last year], and this year this group of players was just great."
December, 4, 2010
12/04/10
7:59
PM PT
By
Scott French
| ESPNLosAngeles.com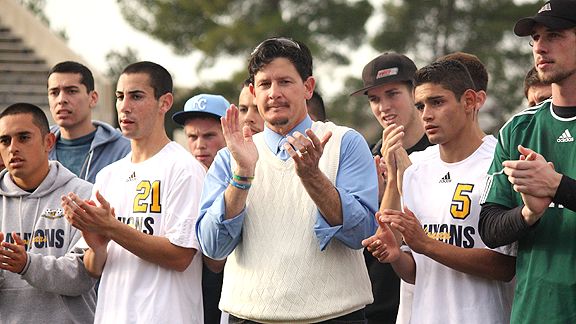 Celina Baguiao/College of the Canyons athletics
Coach Phil Marcellin started the College of the Canyons' women's program in 1998 and the men's team in 2003.
SANTA CLARITA -- A 1-16-6 campaign had been followed by a 4-16-3 season, and College of the Canyons men's soccer coach
Philip Marcellin
and his staff sat in their home stadium and watched Cerritos College capture and celebrate the 2008 state junior college championship.
It left them with a most sour taste -- and a resolution.
"We said: We're not hosting [the state final four] again," Marcellin said, "without making every effort we can to get in it."
Jump forward two years. The state finals have returned to Canyons, and Marcellin's Cougars are on the cusp of history.
Riding an 11-game winning streak and improbable, or so it seemed, romps over state powers Santa Ana and Fresno City, they've made it to their first state title game and will take on reigning California champion Mt. San Antonio, from Walnut, Sunday morning at 10.
It is, Marcellin notes, "a dream matchup: Home field, defending state champs. … Whatever side we end up on, I don't think we can ask for anything more than that."
December, 3, 2010
12/03/10
6:40
AM PT
By
Scott French
| ESPNLosAngeles.com
The state's junior college soccer championships kick off Friday morning at College of the Canyons in Santa Clarita. Mt. San Antonio men's coach
Juan Sanchez
is seeking a second successive title. Cerritos women's coach
Ruben Gonzalez
is aiming for his third trophy in four years.
Their link goes far deeper than that.
Sanchez was a midfield creator and Gonzalez a backline anchor for Cal State L.A.'s men's team in the early 1990s -- a breeding ground, it turns out, for outstanding coaches.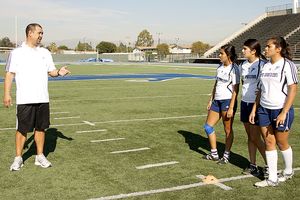 Kelly Kwan/Courtesy of Cerritos CollegeCerritos College coach Ruben Gonzalez.
They're among several Golden Eagles from the era, all prodigies of former Mexican national-teamer Leo Cuellar, who have gone on to guide title-winning teams, and the jobs they've done this year -- no matter what occurs this weekend -- have been among their best.

Sanchez returned just five players from last year's champions for what was supposed to be a "restructuring" campaign. His Mounties are 17-1-4, ranked second in the state and fourth in the nation, and one victory -- Friday morning at 10 against Northern California's West Valley College (16-4-2) -- from an opportunity to defend their title on Sunday.

Gonzalez's Falcons (22-1-2) have more experience but are somewhat of an underdog, forced to knock off the nation's Nos. 1 and 3 teams to reach the final four. They're no favorite at Canyons, either: NorCal powerhouse Santa Rosa (17-0-5), the state's lone unbeaten side, is their foe in Friday's 4 p.m. semifinal.

The other games: Canyons (16-5-2) vs. Fresno City (15-4-3) in a men's semi at 1 p.m., and San Bernardino Valley (17-1-3) vs. Fresno City (19-2-2) in a women's clash at 7 p.m.