Los Angeles Soccer:

Je-Vaughn Watson
July, 23, 2011
7/23/11
11:56
PM PT
By
Scott French
| ESPNLosAngeles.com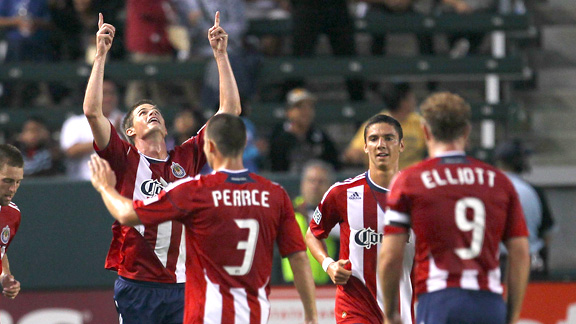 Stephen Dunn/Getty ImagesJustin Braun raises his arms in triumph celebrating one of his three goals Saturday. Braun has two hat tricks this seaosn.

CARSON -- A new formation -- or, rather, an old one revisited -- and a spectacular night from Justin Braun has put Chivas USA in postseason position. No kidding.

Braun's second hat trick of the season, on three superbly taken goals, delivered a comprehensive 3-0 triumph Saturday night over the Houston Dynamo, vaulting the Goats (6-7-8) into sixth place in Major League Soccer's Western Conference -- and into 10th overall, good enough to snag the last playoff berth if the season stopped now.

That would mean more in a couple of months, but head coach Robin Fraser, who altered his alignment, changed a couple of assignments and welcomed back from injury a pivotal performer, wasn't complaining.

"More than anything right now, it means we're within striking range," he said after Chivas pushed its unbeaten streak to five games. "Certainly, we want to make sure we're always in striking range."

Braun, taking to heart some lessons on how to be more precise in the final third, scored in the 31st, 40th and 86th minutes, benefiting mightily from Fraser's alterations. He came into the game with just four goals -- three of them in the May 15 victory at New York -- but finished as the club's No. 2 all-time goal scorer.

His third of the night was his 19th as a Goat, one more than Maykel Galindo tallied in his time in red and white and 11 off Ante Razov's club record.

"It's cool to get another hat trick," Braun said. "I kind of went through a dry spell there, but it's nice to get that weight off my shoulders. But the most important thing is that the team came out, we played well collectively and got three points tonight, which we needed."

The Goats notched their third shutout of the last four games and might have scored more. Michael Lahoud -- back in midfield, on the right flank, with Zarek Valentin back at right back -- forced a diving save from Dynamo goalkeeper Tally Hall in the 14th minute.

Valentin was back on the right because Ante Jazic was back from a calf injury -- and he was outstanding on the flank, setting up the first and third goals with outstanding balls from the left.

Fraser went back to a 4-1-4-1 alignment, as he used in preseason and at season's start, pairing Nick LaBrocca and Blair Gavin atop a midfield triangle with Simon Elliott underneath. It made a possession side more possessive.

"We felt like when we possess really well, we are most dangerous," Fraser said. "Our midfield certainly has had moments where they have been very, very good in possession, so it was just a thought to go back to that and try to regain more possession.

"We're a little bit more mature and a little further ahead than we were at the beginning of the season [and] we felt very strongly that this group of midfielders would be able to take some possession and turn it into dangerous opportunities. Certainly nice when you get it right."

A quick look at Chivas' victory:

BEST PLAYER: How do you not go with Braun? He scored three very fine goals, caused problems for the Dynamo defense from start to finish, and showed great discipline in his runs and positioning as he went for goal.


June, 5, 2011
6/05/11
11:10
PM PT
By
Scott French
| ESPNLosAngeles.com
CARSON -- There's a lot of chatter that this team Jamaica has brought to the CONCACAF Gold Cup might be the best it's ever fielded, even better than the side that won a game at the 1998 World Cup in France.
Dane Richards
doesn't want to hear it. He just wants to spur some more.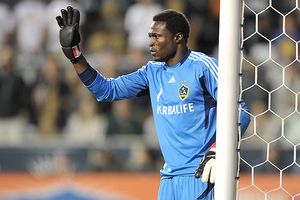 Drew Hallowell/Getty Images Donovan Ricketts

"All the talking, we can't pay attention to that," the New York Red Bulls winger said on the eve of the Reggae Boyz's CONCACAF Gold Cup opener Monday at Home Depot Center. "We just got to go there and do the job and make the people keep talking positive stuff."

They'll start their business in the region's nations championship against Caribbean rival Grenada, kicking off a Group B doubleheader at 6 p.m. Honduras, with a dozen players from last year's World Cup roster, faces Guatemala at 8. It's the only group-stage games in Southern California; the June 25 final is set for the Rose Bowl.

Jamaica, guided by former Reggae Boyz midfielder Theodore Whitmore, has big aspirations.

"Jamaica, we have special players," said Donovan Ricketts, the Galaxy's goalkeeper. "We are blessed with people that are very quick, so hopefully we can utilize that in the tournament and see how it goes."

What's special about this team?

"I don't know," he replied. "We're just special people, man. We have a fighting spirit. As you see, it's a small country, and anything you put [in front of us], we Jamaicans, we can do it.

"We don't have snow in Jamaica, yet we do bobsled."