Los Angeles Soccer:

Jermaine Jones
August, 16, 2012
8/16/12
12:43
AM PT
By
Scott French
| ESPNLosAngeles.com
MEXICO CITY -- It was an historic victory, the first by the United States at Estadio Azteca in a series that dates to the 1930s, and those responsible couldn't have been more pleased with what they achieved.

The Americans got a superb performance from their backline, at least two heroic saves from Tim Howard and one fortuitous goal to claim a 1-0 triumph Wednesday night over Mexico.

And they weren't shy about proclaiming how important was the result ... even if didn't really mean a thing.

"At the end of the day, we won't win any trophies for winning tonight or won't get any points for it," said Galaxy captain Landon Donovan, who made an imprint defensively before departing at halftime. "But considering the history, and who knows what happens in the future, [a first win here] can never happen again. We're going to enjoy it tonight."

They should. Beating Mexico at Azteca is nearly impossible: It has happened only once in an official game, a World Cup qualifier against Costa Rica in 2001, and in a handful of friendlies. Indeed, this was just the third defeat for El Tri in an international exhibition since 1973.

That the U.S. squad didn't perform particularly well -- defense aside -- is beside the point.

"It's a wonderful moment, because winning a game against a very, very good Mexico team that we have lots of respect for, at Azteca Stadium, that means a lot to us.," said U.S. coach Jurgen Klinsmann. "Obviously, when we analyze the game, we'll find many, many things that we want to do better. Obviously, in the first half, we had big problems to keep the ball, to get the ball into zones up front, but Mexico, too, had no chances in the first half at all. Second half, they had more chances, really more chances, than we had, and it became difficult."

"I think it's important for us to understand that we can compete with big teams at their stadiums, at their locations," he said. "Very special occasion and we want the players to appreciate that. I want the players to take it all in, because you never know if you can have an occasion like that. That's what we told the players. We said you have nothing to lose, give it all you have. Can we play better? Yes. Can we play technically cleaner? Yes. But moments like this are really important."

The U.S. generated nearly no offense until the 80th minute. Brek Shea, who had been on the field all of two minutes, ran from the left flank past Mexico right back Severo Meza and winger Elias Hernandez and into the box. He then sent the ball into the goalmouth, where it bounced around a little until Terrence Boyd's backheel put it on the goal line. And Michael Orozco Fiscal, who had come off the bench three minutes earlier, poked it home.

"I never thought that would happen," said Orozco Fiscal, an Orange Countian who plays for San Luis in Mexico. "It's a dream come true."

That aside, the Americans struggled to possess the ball, couldn't connect passes and for the most part -- save for performances by Jermaine Jones in midfield, Howard in the net and, especially, Geoff Cameron and Edgar Castillo on the left side of the backline -- failed to offer a whole lot.

There were reasons for the lack of chemistry: Pachuca's Jose Torres was out of position in midfield; Fabian Johnson, a natural left back, was on the right side; and Santos Laguna's Herculez Gomez was often stranded up top in a 4-2-3-1 formation until Boyd joined him at forward in the second half; more than half the first-choice lineup wasn't present. Mexico applied heavy pressure, especially in midfield, and would have won if not for Cameron (who owned Javier "Chicharito" Hernandez in the first half, stopping him cold three times), Club Tijuana's Castillo (a statement-making performance) and Howard (who flew to stop Hernandez twice after Orozco Fiscal's goal).

The U.S. insists things were better than they appeared.


May, 27, 2012
5/27/12
5:17
PM PT
By
Scott French
| ESPNLosAngeles.com
Landon Donovan's phenomenal performance in the U.S. national team's rout of Scotland on Saturday night rang loud and true, each of his three goals providing context to his remarks last week that intimated he no longer has the hunger, the commitment, to succeed at the highest levels of his sport.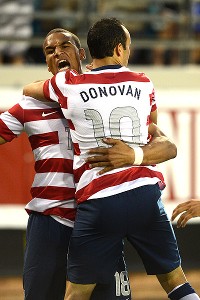 Gary Bogdon/Getty ImagesLandon Donovan gets a congratulatory hug from teammate Terrence Boyd after Donovan scored the first goal for Team USA against Team Scotland at EverBank Field in Jacksonville, FL.
It's been a challenging 12 months for Donovan, who battled injuries as he never has while leading the Galaxy to the greatest season in Major League Soccer annals, enjoyed another superb spell in England with Everton, celebrated his 30th birthday and struggled to find his best form as L.A. followed up last year's titles with a horrid start to the current season.

He'd been away from the national team since last September, declining call-ups because he was hurt or ill or exhausted, and, having crossed into his fourth decade, has been forced to consider how much time he has left on the field.

His showing Saturday night in Jacksonville, Fla., with a hat trick priming the Americans' 5-1 romp over the Scots, suggests he remains the most potent force for the national team, no matter Clint Dempsey's stature. As U.S. coach Jurgen Klinsmann noted afterward: "Now we have Landon back, and he gives us the goals. We can't complain tonight."

Donovan set another U.S. record with his 125th international start, and he extended his record goal total to 49 -- and his record assist total to 48 by setting up Jermaine Jones' goal -- while proclaiming he doesn't "want to be mistaken for not caring. I care, and I like being a part of this team. I'm a professional, and I know how to do my job. I've been doing this a long time."

Donovan is fiercely intelligent, sharply introspective and uncommonly honest, if not quite as open as he was before Grant Wahl's book on David Beckham appeared a few years ago. Detractors have long questioned his commitment, largely because he hasn't made playing in Europe a priority, even as he has set standards for Americans with the quality of his play, ability to see the game and drive for success, in MLS and with the U.S. team.

His commitment and hunger faced heavy scrutiny after he spoke candidly Wednesday in a roundtable interview with journalists in Florida about the challenges in maintaining the focus necessary to prosper at the top levels of the game.

"That's a part that's always a challenge for athletes: trying to keep the passion alive while knowing it's still your job," Donovan said. "There's no question that at some point, probably sooner rather than later, I'll be pretty burned out. And when that time comes, then I'll take a step back and take a look at it and see if I want to keep going."


January, 13, 2012
1/13/12
11:27
PM PT
By
Scott French
| ESPNLosAngeles.com
CARSON -- The foundation Jurgen Klinsmann and Caleb Porter are building this month at Home Depot Center will support U.S. Soccer's primary men's teams through what could be a pivotal year for the sport in America.

The start of qualifying for the 2014 World Cup and the London Olympics dominate the calendar, but as important as results might be, more crucial is the steps forward the national team looks to take in Klinsmann's first full year in charge and the role the under-23 national team will play in developing talent for the top side.

The teams tangoed late Friday afternoon on Glenn "Mooch" Myernick Field, right outside HDC's main stadium, with the full nats -- starting the So Cal portion of their annual January camp -- scoring four times in 15 minutes late in the first half for a 4-0 victory over the U-23s.

They'll scrimmage one more time at HDC before Klinsmann's group returns to Phoenix for next weekend's friendly against Venezuela, with University of Akron coach Porter's younger group, which is preparing for the Olympic qualifiers in March, sticking around through Jan. 25.

The national team has the usual January collection of top MLS talent and secondary players from European leagues with winter breaks, with two midfielders from the 2010 World Cup side (New England's Benny Feilhaber and Eintracht Frankfurt's nearly forgotten Ricardo Clark) and two players from the preliminary World Cup squad (Chivas USA defender Heath Pearce and Real Salt Lake goalkeeper Nick Rimando).

They've been working the past 10 days in Phoenix, with a lot of fitness work, and will focus on technical and tactical work before the games Jan. 21 against Venezuela and Jan. 25 at Panama.

"This scrimmage gives us an idea of how they are comfortable on the field," Klinsmann said afterward. "How they shift. How they take a couple of guidelines that we gave them and implement them. And now we can real the players a bit better. Because you never know when you get a fresh group coming in how their understand is of each other, how they read reach other. We know about their personal capabilities, but not in the context of a team, so that's why we need those games to see that.

"And then we can go ahead and modify training sessions and talks where we kind of want to guide them towards on the tactical side as an entire team together."

There is some crossover between the national team and the U-23s. Freddy Adu, who has been called into only one full camp under Klinsmann after a stirring performance in the CONCACAF Gold Cup title-game loss last summer, is the most prominent name on the roster, but the most important players are with Klinsmann's bunch.

Juan Agudelo, the 19-year-old New York Red Bulls forward, is the most significant -- Klinsmann calls his abilities "special" -- and Sporting Kansas City forward Teal Bunbury are age-eligible for the Olympic team, and so is FC Dallas winger Brek Shea, who is drawing considerable interest from Europe. D.C. United's Bill Hamid and Chicago's Sean Johnson, both goalkeepers, also can make the U-23 roster.


June, 24, 2011
6/24/11
8:40
PM PT
By
Scott French
| ESPNLosAngeles.com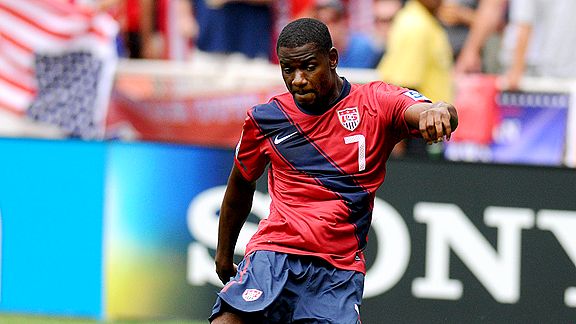 Evan Habeeb/US PresswireMaurice Edu, a Southern California native, will have plenty of family and friends in the stands at the Rose Bowl for Saturday's Gold Cup final.
Maurice Edu has played against Mexico once before, in the 2-2 draw in a Houston friendly not quite 3½ years ago, and the memories remain vibrant.

"The stadium was crazy," he says. "A ton of green, definitely."

The midfielder from Fontana is expecting another indelible experience Saturday evening at the Rose Bowl, when the U.S. national team takes on Mexico in the CONCACAF Gold Cup final. Some 90,000-plus will be on hand -- the game sold out early Wednesday, before either finalist had been determined -- and most of them, again, will be garbed in green.

But not all of them.

"I'm expecting it to be crazy," said Edu, 25, a fixture in the middle for Scottish champions Rangers FC. "I know Mexico will have large support. I think we should have a good turnout as well. There's a lot of anticipation. Hopefully, we go out there and make it a game to remember, and hopefully we come out on top."

Edu, who played at Etiwanda High School and for club powerhouse Mission Viejo Pateadores, will have plenty of family and friends on hand, and he hopes he can influence the outcome. That's up to U.S. coach Bob Bradley, who has three first-rate holding center midfielders to choose from and has made it rather clear that Edu isn't in his preferred pairing.

Bradley has teamed his son, Michael, with German-born and -bred Jermaine Jones in the Americans' first five games of the region's nations championship, with Edu trotting out for the final 10 or 15 minutes in the wins over Canada, Guadeloupe and Jamaica.

He'd prefer to start, of course, but is ready for whatever role he's given.

"Michael and Jermaine have been playing, and it's just about going out there and training and showing what you can do, and I've done that," Edu said. "All I can do is work hard and try to show that I'm a guy [Bradley] can be confident in."

Edu, who played at the University of Maryland and was the No. 1 overall selection in the 2007 MLS SuperDraft and Rookie of the Year at Toronto FC before joining Rangers in summer 2008, has made his point. He has been in the national teams program since his first year as a pro and played a pivotal role for the U.S. under-23 team in qualifying for and at the 2008 Beijing Olympics, but he emerged as an important figure with the full national team after recovering from a knee injury that sidelined him seven months later that year and into 2009.

Coach Bradley included Edu in the World Cup team last summer, and he made three appearances with one start -- and one glorious goal that would have beaten Slovenia had it not been unfairly waved off -- in South Africa.


June, 19, 2011
6/19/11
9:24
PM PT
By
Scott French
| ESPNLosAngeles.com
Bob Bradley and the U.S. national team answered their critics Sunday with an exquisite performance, dominating Jamaica to set a rematch with Panama in the CONCACAF Gold Cup semifinals.
Jermaine Jones
' deflected volley at the start of the second half made the difference in the 2-0 triumph, and without the deflection -- and an unfortunate red card -- the opening quarterfinal in Washington would have gone to overtime and perhaps penalty kicks.
Galaxy goalkeeper
Donovan Ricketts
was
that
good -- easily the best player on the field, making six saves ranging from merely great to oh-my-God sensational to prevent the Yanks from ringing up an impressive scoreline.
Clint Dempsey
added a late goal, benefiting from the red card to Houston Dynamo defender
Jermaine Taylor
and the Reggae Boyz's need to push forward in search of an equalizer.
Panama, which stunned the U.S. in group play, did its part in the nightcap, winning on penalties after rallying for a 1-1 draw with El Salvador, which was supported by a vocal crowd of 45,423 at RFK Stadium in Washington.
A ninth-minute hamstring injury to
Jozy Altidore
, who was stretchered off the field with his face buried in his hands, marred a U.S. triumph that should -- but won't -- subside calls to end Bradley's tenure. The Manhattan Beach-based coach has always had his critics, but he's been particularly under fire after a disastrous showing in the pre-Gold Cup friendly with Spain was followed by poor performances against Panama and Guadeloupe.
Some of the criticism is on target. The U.S. has a knack for going behind early -- we saw it at the World Cup last year, and with better finishing Guadeloupe and Jamaica would have joined Panama with a quick lead. In a sport in which comebacks are difficult, it's a major concern, and it points to problems with preparedness.
The U.S. performance against Jamaica answers so many questions, and if it's something Bradley's boys can build upon -- if it is imbedded in the fabric of the team rather than a wonderful one-off -- it could open a path to unprecedented play and, perhaps, success.
But let's not get ahead of ourselves. As good as Jamaica has been in this Gold Cup -- watch out for the Reggae Boyz in World Cup qualifying! -- Mexico is a different animal, and El Tri won't sit back and counter, as the Jamaicans tried to do.
Play with this kind of verve, with all the possession and interchange, against Mexico -- and then against the Europeans and South America's giants -- and we might have something here.
A quick look at the 15th day in the region's nations championship:
SALUTING JONES:
Jones, the German-born and -bred son of an American serviceman, offered a Father's Day military salute after he volleyed Taylor's clearance from 25 yards to give the U.S. a 49th-minute lead.
March, 30, 2011
3/30/11
11:37
PM PT
By
Scott French
| ESPNLosAngeles.com
The U.S. national team was hit and miss during the friendlies against Argentina on Saturday and Paraguay on Tuesday, and it has nothing to do with the scorelines.
The Americans rallied to tie
Lionel Messi
-led Argentina, 1-1, in East Rutherford, N.J., a flattering result that provides no suggestion of how dominant were the Albiceleste. The U.S. was much better against Paraguay in Nashville, dictating large swaths of action, but couldn't overcome an early deficit in a 1-0 defeat.
Bob Bradley
's team, 1-2-4 since the World Cup, is preparing for the CONCACAF Gold Cup, where there are weighty expectations (the U.S. must make it to the June 25 final at the Rose Bowl, likely against Mexico) and a big prize (the winner heads to the 2013 Confederations Cup in Brazil).
The bigger picture, of course, is 2014, the next World Cup, and Bradley has blooded more than two dozen players, with a handful demonstrating that they might have a real future at the international level. The U.S. coach already has had 58 players in camp since August and used 51 in the games against Brazil (2-0 loss, Aug. 10 in East Rutherford), Poland (2-2 draw, Oct. 9 in Chicago), Colombia (0-0 draw, Oct. 12 in Chester, Pa.), South Africa (1-0 win, Nov. 17 in Cape Town), Chile (1-1 draw, Jan. 22 at Home Depot Center), Argentina and Paraguay.
Here are five things we learned, or saw confirmed, in the games the past week:
1. IT'S WISE TO KEEP THE BORDERS OPEN
U.S. Soccer once scrambled for every U.S.-eligible player that could be found in Europe -- every serviceman's son (
Thomas Dooley
,
Earnie Stewart
,
David Wagner
, etc.), every player married to a Yank (
Roy Wegerle
,
David Regis
-- too bad we missed out on
Juergen Klinsmann
!), every U.S.-born, foreign-raised talent (can't think of any off hand, sorry).