Los Angeles Soccer:

Jermaine Taylor
November, 20, 2011
11/20/11
8:50
PM PT
By
Scott French
| ESPNLosAngeles.com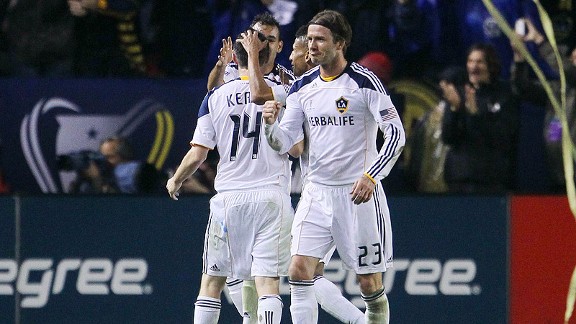 Jeff Gross/Getty ImagesDavid Beckham reacts while teammates celebrate Landon Donvan's second-half goal.

CARSON -- Landon Donovan finished a feed from Robbie Keane in the 71st minute, and the Galaxy completed arguably its best campaign, claiming its third MLS Cup championship with a 1-0 victory Sunday night over the Houston Dynamo.

Donovan, who had last scored in early September, slipped Keane's pass inside the far post as the Galaxy, dominant from the opening whistle, thrilled a crowd of 30,281, the largest to see a soccer game at Home Depot Center.




The Galaxy added the trophy, named after its owner, Philip Anschutz, to those won in 2002 and 2005 -- and to the Supporters' Shield they captured as Major League Soccer's regular-season champion.

Todd Dunivant's throw-in from the left wing led to the goal. David Beckham got his head to it, nodding it onto Keane's path heading toward Houston's goal. Keane stepped past Dynamo center back Bobby Boswell, then split Boswell and Geoff Cameron with a little ball for the streaking Donovan.

Donovan, who moved up front when Chris Birchall came on for Adam Cristman in the 57th minute, redirected the ball past goalkeeper Tally Hall and inside the the right post.

The goal was Donovan's record 20th in MLS postseason play and his fourth in an MLS Cup final -- to go with three scored in San Jose's 2001 and 2003 title-game wins.


November, 20, 2011
11/20/11
5:58
PM PT
By
Scott French
| ESPNLosAngeles.com
CARSON -- The lineups for MLS Cup are out, and kickoff is a little less than a half-hour away. Absolutely nothing unexpected -- the Galaxy has slotted in
Adam Cristman
for
Chad Barrett
up top, and Houston has stuck with
Corey Ashe
in
Brad Davis
' spot on the left wing and
Jermaine Taylor
in Ashe's usual left-back post.


The lineups:
Galaxy:
Josh Saunders; Sean Franklin, Omar Gonzalez, A.J. DeLaGarza, Todd Dunivant; Landon Donovan, David Beckham, Juninho, Mike Magee; Adam Cristman, Robbie Keane.
Bench:
Gregg Berhalter, Chris Birchall, Paolo Cardozo, Frankie Hejduk, Jovan Kirovski, Michael Stephens, Donovan Ricketts.
Houston Dynamo:
Tally Hall; Andre Hainault, Bobby Boswell, Geoff Cameron, Jermaine Taylor; Danny Cruz, Adam Moffat, Luiz Camargo, Corey Ashe; Calen Carr, Brian Ching.
Bench:
Will Bruin, Colin Clark, Carlos Costly, Tyler Deric, Hunter Freeman, Eddie Robinson, Je-Vaughn Watson.
November, 20, 2011
11/20/11
10:28
AM PT
By
Scott French
| ESPNLosAngeles.com
CARSON -- The paths the Galaxy and Houston Dynamo have taken toward Major League Soccer's 16th championship game are eerily similar. It's just the strides haven't followed in step.
The Galaxy are three seasons into a mammoth rebuild, a
work of startling brilliance
by
Bruce Arena
, America's best soccer coach doing the best work of his career.
The Dynamo are where the Galaxy sat two years ago, Arena's first full season in charge. Head coach
Dominic Kinnear
has made radical changes to his roster and didn't get the lineup right until September, and now -- well ahead of schedule -- his team is playing for a trophy that looked wholly out of grasp just a couple of months ago.


It's the makings of a classic MLS Cup final: two of the league's most storied franchises, led by two of the league's most respected coaches (one a former U.S. national team boss, the other a potential U.S. manager down the line), both fighting back from franchise lows and emerging just 90 minutes or perhaps 120 (and maybe penalty kicks, too) from the most coveted silverware in the American game.
Now throw in all of the side chatter -- Will
David Beckham
return to MLS? Oh, no,
Brad Davis
can't play! -- and remember the clubs share ownership. (AEG owns half of the Dynamo.)
The Dynamo have American soccer's most enduring dynasty -- four titles and three coulda-beens since 2001, starting when the team played in San Jose. And it's been pointed out a few times that this Galaxy team could be, should be -- surely is -- the finest side in league history, and that it comes in, playing at home and all, as massive favorite.
"I think this is going to be a lot better game than people expect it to be," said Davis, the Dynamo's star winger, an MVP finalist who will sit out after tearing a quadriceps muscle in the Eastern Conference title-game triumph two weeks ago in Kansas City. "I think people expect L.A. to come out and just beat us and walk all over us. I don't think that's the way it's going to be at all.
"I think they have a very good team, but anybody knows you come down to these games, it's how you show up that day. They could be the best team all year, but I believe the mentality and the attitude and the way we've been playing of late has been some of the best that I've been on with the club."
Davis has been with the Dynamo since their last season, 2005, in San Jose, and was a contributor to thebteams that won MLS Cups the first two seasons in Houston. Two more players -- forward
Brian Ching
and reserve defender
Eddie Robinson
-- also were Earthquakes, as were Kinnear and some of his staff.
It was the legacy started in San Jose, with MLS Cup titles in 2001 and 2003 and a Supporters' Shield in 2005, that the Dynamo sought to connect with after missing the postseason last year.
Houston followed its twin titles by winning the Western Conference in 2008 but was upset in the opening round of the playoffs. A year later, the Dynamo played for an MLS Cup berth, losing controversially to the Galaxy in the Western Conference final at the Home Depot Center. With better luck, they might have won four successive championships.
November, 17, 2011
11/17/11
9:19
PM PT
By
Scott French
| ESPNLosAngeles.com
LOS ANGELES --
Bruce Arena
calls Home Depot Center a "neutral" ground, at least for Sunday's MLS Cup final, but nobody's buying that -- even if the Galaxy, as their coach says, will be seated on the north "visitors" bench rather than their usual digs on the other side of the midfield stripe.


The Galaxy haven't lost at home this year. They haven't lost any match at HDC, going 17-0-6, including the road game against Chivas USA, three CONCACAF Champions League victories, and the friendly with Manchester City.
Think that's intimidating? Not for the Dynamo.
Houston went 15 road games without a victory this season, finally winning at FC Dallas on Sept. 24. They've been perfect away since, winning at Portland in mid-October then claiming playoff victories at Philadelphia and, in the Eastern Conference title game, at Sporting Kansas City.
"Before the playoffs started, we were pretty [poor] on the road," Dynamo head coach
Dominic Kinnear
noted during the MLS Cup news conference Thursday afternoon at the Bonaventure Hotel in downtown L.A. "It took us 16 games to get our first road win this year. It wasn't due to lack of playing well -- sometimes we didn't, and sometimes we did, but results didn't go our way."
The victory at Dallas "gave us a lot of confidence" and the victory in Portland "was crucial for us," Kinnear said.
And it all paid off in the postseason.
November, 6, 2011
11/06/11
6:16
PM PT
By
Scott French
| ESPNLosAngeles.com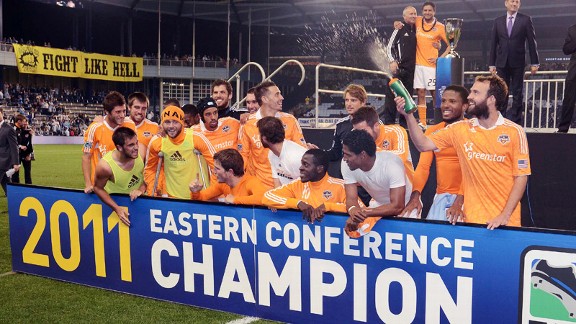 John Rieger/US PresswireThe Houston Dynamo celebrate their 2-0 victory over Kansas City in the Eastern Conference final.

CARSON -- Houston's return to the MLS Cup final couldn't have come more fittingly, the pivotal goal in its victory over Sporting Kansas City coming from, naturally, from a set piece.

Only thing was Brad Davis wasn't there to deliver it.

The Dynamo's 2-0 triumph over host Sporting Kansas City in the Eastern Conference final, sending them to the Nov. 20 MLS Cup title game at Home Depot Center against the winner of Sunday night's Galaxy-Real Salt Lake showdown, was marred by a thigh injury to Davis.

Davis, a left-sided midfielder who led Major League Soccer in assists this season and is among the primary contenders for the MVP award, limped off after tangling in midfield with K.C.'s Graham Zusi in the 35th minute. He fell to the turf clutching his right thigh and resisted letting his right leg touch the ground as he was escorted to the sideline.

After the game, he celebrated with teammates while on crutches, and as they jumped up and down with the Eastern Conference trophy, Davis again made certain to put no weight on the leg.

He told Fox Soccer Channel after the game that the injury was a "freak thing" and that his status for MLS Cup won't be clear until the injury is evaluated early this week.

"It's too early to tell right now," he said on the FSC telecast of the match. "I'm not sure, but we'll see in a few days."

The Dynamo return to MLS's title game for the first time since winning back-to-back championships in 2006 and 2007, the first two seasons in Houston after relocating from San Jose. The club had won titles as the Earthquakes in 2001 and 2003 and won the Supporters' Shield in 2005 while posting the best post-shootout era record in league history (64 points), a mark eclipsed this season by the Galaxy (67).


June, 5, 2011
6/05/11
11:10
PM PT
By
Scott French
| ESPNLosAngeles.com
CARSON -- There's a lot of chatter that this team Jamaica has brought to the CONCACAF Gold Cup might be the best it's ever fielded, even better than the side that won a game at the 1998 World Cup in France.
Dane Richards
doesn't want to hear it. He just wants to spur some more.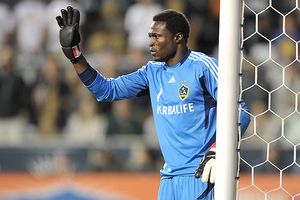 Drew Hallowell/Getty Images Donovan Ricketts

"All the talking, we can't pay attention to that," the New York Red Bulls winger said on the eve of the Reggae Boyz's CONCACAF Gold Cup opener Monday at Home Depot Center. "We just got to go there and do the job and make the people keep talking positive stuff."

They'll start their business in the region's nations championship against Caribbean rival Grenada, kicking off a Group B doubleheader at 6 p.m. Honduras, with a dozen players from last year's World Cup roster, faces Guatemala at 8. It's the only group-stage games in Southern California; the June 25 final is set for the Rose Bowl.

Jamaica, guided by former Reggae Boyz midfielder Theodore Whitmore, has big aspirations.

"Jamaica, we have special players," said Donovan Ricketts, the Galaxy's goalkeeper. "We are blessed with people that are very quick, so hopefully we can utilize that in the tournament and see how it goes."

What's special about this team?

"I don't know," he replied. "We're just special people, man. We have a fighting spirit. As you see, it's a small country, and anything you put [in front of us], we Jamaicans, we can do it.

"We don't have snow in Jamaica, yet we do bobsled."

February, 16, 2011
2/16/11
4:52
PM PT
By
Scott French
| ESPNLosAngeles.com
There are numerous procedures to acquire talent in rule-crazy (lawyer-rich) Major League Soccer, and we saw one of them enrich the league's best club and mete out a little justice this past week.
Weighted lotteries dispersed three top young players into the league. Two of them have the potential to be big stars. The third is a highly regarded outside back pegged for a long, productive career.

Real Salt Lake, arguably the finest side in the league, came up the big winner, claiming former Wake Forest forward
Cody Arnoux
against all odds.
Former University of Virginia forward
Chris Agorsor
, who also has star potential, went to Philadelphia, and teen right back
Korey Veeder
was picked up by Columbus.
Neither the Galaxy nor Chivas USA entered the lotteries, for which a team's chances are based on its record in its past 30 games in relation to the other teams involved.
Arnoux, who scored 32 goals in his sophomore and junior seasons at Wake Forest, returned last summer from a year with English club Everton's reserves and seemed to settle in nicely with the Vancouver Whitecaps in their final season as a D2 club.
That's what the Whitecaps figured: They tried to sign Arnoux for their MLS side, but the league wouldn't have it. MLS uses lotteries for players coming out of college who sign after the draft or for players who previously turned down a league offer. Arnoux had been aggressively pursued before he left Wake Forest following his junior season, so to Friday's lottery he went.
RSL won despite just a 5.4 percent chance of success.
"Miracles never cease," quipped GM
Garth Lagerwey
to MLS's website.
Arnoux is renowned for his work rate and his nose for the net, and he said he hoped he could step in for
Robbie Findley
, the World Cup forward who moved to England's Nottingham Forest.
"I never stop working -- that's what I build my game around," Arnoux told the league's website. "I'm not the guy who's going to make the right pass every time or make the right decision. But I'm good in front of goal and have confidence in front of goal and that has to be built back up because I've been off for a while.
"I'm a hard worker, and that's something English fans like. Even though I wasn't playing with [Everton's] first team, they appreciated that a lot, and I know American fans appreciate that a lot. That's the kind of player I am. I've not always been the best, but I've always had to try to work harder to beat everyone else."