Los Angeles Soccer:

Jessica Olafsen
September, 9, 2011
9/09/11
2:13
PM PT
By
Scott French
| ESPNLosAngeles.com
Cal State Fullerton not so long ago was a regional power in men's soccer, with nearly annual treks to the NCAA Tournament -- including a final four appearance in 1993 and a run to the quarterfinals the following season.

It's been rough going since the Titans last made the playoffs back in 2000, with 10 successive losing seasons, but their performance last weekend at Cal State Northridge's annual event signals that a renaissance could be at hand.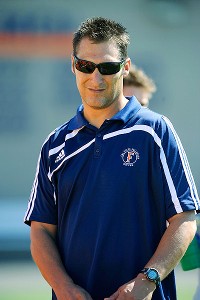 Matt Brown/CS Fullerton athleticsBob Ammann is looking for his first winning season -- and first NCAA appearance -- in his sixth season in charge at Cal State Fullerton.
Fullerton (2-0-1) set the terms with a physical game plan for a 0-0 draw against defending NCAA champion Akron, then displayed its considerable skill in a 5-1 dismantling of UNLV to win the tournament title.

Head coach Bob Ammann, a goalkeeper and assistant coach at CSUF before taking the reins following the 2005 season, has always fielded talented, competitive teams that so often controlled matches but came out one-goal losers. This year looks like it might be different -- he's got a a senior-heavy side featuring 10 returning starters, a little more grit to go with the style, and a belief that it can battle Big West Conference giants UC Santa Barbara and UC Irvine.

"We're confident in where we're at," said Ammann, who started the campaign with a 34-56-9 record. "It's a group that's been with each other for awhile now. We went through our times, obviously, and as I'm constantly preaching to them: Those are the things that grew our skin."

The Titans were a much better team at the end of last season than they'd been most of the fall, upsetting UC Irvine in the Big West tournament semifinals to highlight a 7-12-2 campaign.

Ammann's core group features five seniors: All-Big West first-team forward Nick Posthuma (Pasadena/St. Francis HS) and midfielder Kevin Venegas (Lakewood/Los Alamitos HS) and honorable mention goalkeeper Trevor Whiddon, plus midfielders Oscar Aguero (Anaheim/Katella HS) and Michael Denny. Posthuma led the Titans with nine goals last year; Venegas was the top player at CSUN's tournament.

Also making imprints are juniors Jonathan Birt (Santa Ana/Calvary Chapel HS), the lone returning starter on the backline, and Jesse Escalante (Placentia/Valencia HS), a rising forward first seen in one of Ammann's youth camps.

The Titans' approach -- ball on the ground, keep possession -- and flair required to follow it have impressed opponents all along, but defensive liabilities have hurt. The addition of Englishman Roberto Vernaschi, who transferred from Delaware -- aided by the returns of Mario Alvarez and Bobby Reiss (Palmdale/Quartz Hill HS) after missing last season through injury -- has added steel to Fullerton's game.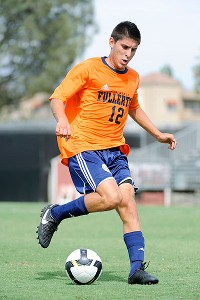 Matt Brown/CS Fullerton athleticsKevin Venegas factored in three goals in the Titans' win over UNLV, which clinched Cal State Northridge's tournament title.
"He's got that kind of bad-boy mentality," Ammann said. "He's got that 'I'm not afraid to tell you what I'm going to do to you.' That's something we've lacked, and the other players are feeding off that."

That was apparent against Akron. The Titans' physical game plan neutralized the Zips, and Fullerton had the better scoring opportunities if less of the game.

"I thought their spirit was good," said Akron coach Caleb Porter, whose team dropped from second to fourth in the NSCAA rankings this week. "I really liked their energy and their attitude and their edge. They have a chip on their shoulder, and they showed that against us, and that was good for our guys to see -- these teams weren't intimidated by Akron. These teams play the UCLAs and UC Santa Barbaras, so playing us isn't going to intimidate them."

Ammann credits depth -- "Now we can bring in guys, and we really don't drop the standard," he says -- and the ability to play both ways.

"We've always been able to score and create, but we've leaked too many goals," he said. "We're really limiting the opportunities of our opponents. This is ultimately going to be the difference. I believe we can score, and as long as we defend and we gain that confidence that we can lock the game down and finish it when we do score, we've got some potential."

Fullerton, which plays this weekend at UNLV's tournament, was third in the Big West coaches preseason pool, behind UC Santa Barbara and Cal Poly but ahead of UC Irvine, which is ranked ninth in the nation. The NCAA tournament is within reach.

"That's something we've been talking about for awhile," Ammann said. "This is definitely the team with the progress. The guys who are seniors now are the first group to come freshman through. And that pays big dividends in college soccer."

August, 27, 2011
8/27/11
12:07
PM PT
By
Scott French
| ESPNLosAngeles.com
UC Riverside's women's soccer team won one game and scored three goals in 2010. The Highlanders matched that Friday night.
Aaren Casimiro (Murrieta/Chaparral HS) and Deborah Musa (La Verne/Bonita HS) scored first-half goals two minutes apart and Andrea Morales added a second-half tally as UC Riverside (1-1-1) routed Mississippi State, 3-0, in its annual Women's Soccer Invitational.
It's a big step forward following last year's 1-14-3 campaign, in which UCR was outscored, 25-3, and after five seasons of decline since going 11-4-6 and playing in the NCAA tournament in 2005.
Head coach Veronica O'Brien, who took charge when the Highlanders made the jump to Division I in 2001, posted double-digit victories in five straight seasons, through 2006, but her teams have won just seven Big West Conference games in five years and is 1-13-2 the past two.
She's got nine starters back and loads of newcomers -- 17 freshmen are on the roster, with midfielder Brianna Gonzalez (Victorville/Sultana HS) and redshirt goalkeeper Jessica Olafsen in the starting lineup Friday -- as the rebuild begins in earnest.
UCR meets San Jose State in Sunday's tournament finale. The Spartans lost, 2-1, in overtime to No. 13 UC Irvine in the event's opener. Amanda Hardeman (Laguna Niguel/Dana Hills HS and Santiago Canyon College) scored the 101st-minute winner, a blast that ricocheted off the crossbar, off goalkeeper Meghan Maiwald's back and into the net.
WILLIAMS TOPS TITANS: Freshman Lynn Williams scored in the final minute to force overtime and again in the extra period, lifting Pepperdine to a 2-1 victory at Cal State Fullerton. The Waves (3-0-0) rallied quickly after Stacey Cox (Simi Valley/Royal HS) scored a would-be winner in the 84th minute for the Titans (1-1-1).