Los Angeles Soccer:

Jhonatan Bravo
May, 24, 2011
5/24/11
5:58
PM PT
By
Scott French
| ESPNLosAngeles.com
Chukwudi Chijindu's two-goal-plus-assist performance in the L.A. Blues' 3-0 victory Sunday at Pittsburgh was honored with the USL Pro's Player of the Week award.
The forward from Fontana, on loan from Chivas USA, netted his second and third goals of the campaign as the Blues (5-2-2) opened a seven-point lead atop the third-tier league's National Division.
Forward
Jhonatan Bravo
, who scored in Friday's 1-1 draw at Dayton, also made the USL Pro Team of the Week. Orlando City's
Max Griffin
, from Palmdale; former Galaxy defender
Troy Roberts
, with Rochester; and short-lived Blues defender
Gareth Evans
, with Wilmington, also made the week's-best team.
May, 20, 2011
5/20/11
8:08
PM PT
By
Scott French
| ESPNLosAngeles.com
The L.A. Blues are in a skid of sorts, with just one win in five games after a 3-0-0 start to the USL Pro season. They managed only a 1-1 draw Friday night at winless Dayton, their first outing against a National Division foe.
Jhonatan Bravo
gave L.A. (4-2-2) a sixth-minute lead, but
Kolby LaCrone
's equalizer in the 60th gave the Dutch Lions (0-4-1) a share of the points in Bellbrook, Ohio.
The Blues, who play Sunday at Pittsburgh (1-3-2), retain a four-point lead in the National Division on the Rochester Rhinos (3-3-1), who played a scoreless draw Friday night with Orlando City FC.
May, 1, 2011
5/01/11
9:33
PM PT
By
Scott French
| ESPNLosAngeles.com
Charlie Naimo spoke last week to the importance of first impressions, and when his L.A. Blues finally got to make one, the message came garbled.
There was plenty of good but much too much that wasn't in the club's home opener Sunday, a 1-0 USL Pro defeat to Antigua Barracuda before a small but appreciative crowd at Cal State Fullerton.
The Blues (3-1-1) lacked sharpness in Barracuda's box without late scratch
Walter Gaitan
, who failed a pregame fitness test after tweaking a quad muscle last week, and suspended forward
Cesar Rivera
and got far too little from their overwhelming advantage in possession.
Barracuda (4-2-0), which overtook L.A. atop the third-tier USL Pro's International Division standings, was content to sit back -- but with a high and effective restraining line -- and counter, and forward
Peter Byers
might have had a hat trick, or more, had he finished as well as he beat defenders.
Stefan Smith
scored the goal, in the 24th minute, knocking home a rebound after a giveaway by
Nelson Akwari
led to a
Lawson Robinson
shot, but the Blues surely would have prevailed with better precision in the final pass or finish.
"We were good at the things Walter would've helped us be good at, which was keeping possession and creating chances," said Naimo, the Blues' head coach and vice president. "Cesar's that guy that if we had high amongst [Barracuda's] backline … [he's] so strong on the ball, you get him that ball in those areas, central, he's gonna turn you, he's gonna spin you, and he's also extremely creative. I think he would have made a difference.
"Obviously, Walter could have made a difference. But you know what? At the end of the day, whatever we had on the field tonight, I thought the guys did a good job. We lacked efficiency in the final ball, whether it was the service or the finish. We created some beautiful chances tonight.
"It had to be a great game to watch, but, obviously, you come up short, you come up short."
OPENING NIGHT:
The crowd count was 696, which is smaller by 7,157 than the gathering that saw the Blues' second team, playing in the lesser Premier Development League, in Fresno on Friday night.
April, 15, 2011
4/15/11
4:44
PM PT
By
Scott French
| ESPNLosAngeles.com
It's a new team in a new league, stuck by its lonesome out here, thousands of miles from its rivals, and guided by a coach who has worked exclusively with women the past dozen years.
The makings of a success story? The L.A. Blues hope so, and as they embark on their inaugural season in USL Pro -- American pro soccer's third tier -- they've got greater designs than putting out an affordable and entertaining alternative to the Galaxy and Chivas USA.
"We want to make the playoffs and get in the championship," says midfielder
Josh Tudela
, one of eight Blues with Major League Soccer experience. "We're not going to settle for anything less than that."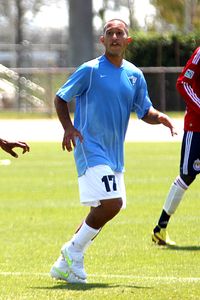 Chivas USAGerardo Bravo will be one of the key players for the L.A. Blues this season.


It's big talk, but the Blues, on paper, at least, have the makings of a contender. They've got Argentine midfielder Walter Gaitan, a superstar of mammoth proportion at this level of the game, veterans such as Tudela and defender Nelson Akwari, rising players like Chivas USA loaner Chukwudi Chijindu and some local-league stars head coach Charlie Naimo says he believes will make their names with the club.

"I feel we've done a pretty good job of putting together a very good roster for this level," said Naimo, who has won three titles in United Soccer Leagues' women's league and was general manager of the L.A. Sol, the short-lived Women's Professional Soccer club partially owned by the Blues organization. "So they need to find some strength in that, then say, 'Hey, we've got the group, now we have to win.' "

If they're not as good as the Galaxy, they might be more fun to watch. The plan is to play a pretty possession game, weaving passing patterns past foes to create chances for Chijindu and the other forwards.

"Everybody wants to play that way," Naimo said, "so time to put up or shut up. Do what is required, and a lot of what I see is when it doesn't work, it's the guys off the ball who aren't working hard enough to get into good spots. You've got to make the game easy for your teammates.

"We're certainly not afraid to pass the ball to guys that are contested. We're certainly not afraid to ask for the ball when guys are on us. It's just a matter of getting those people in a little bit spot, a matter of of making that pass a little bit better so they can escape. And then you discourage that high pressure. That's the only way to slow a game down. Otherwise, what stops the other team from chasing you, from running you over for 90 minutes? You've got to be able to step on the ball. … It's obviously attractive if it comes off."

The Blues open their season Friday night in Juncos, Puerto Rico, where the begin a four-games-in-nine-days sweep of the Caribbean, facing their four International Division rivals. First up: Sevilla FC Puerto Rico, which has weak ties to its Spanish namesake, followed by matches Sunday at Antigua Barracuda, Wednesday at Puerto Rico United and next Saturday against River Plate Puerto Rico.

The home opener is May 1 against Barracuda at Cal State Fullerton's Titan Stadium, and home games also will be played at Centennial High School in Corona and College of the Canyons in Santa Clarita.


February, 24, 2011
2/24/11
9:49
PM PT
By
Scott French
| ESPNLosAngeles.com
The L.A. Blues spilled their worst-kept secret Thursday, announcing that Argentine attacker Walter Gaitan has signed a one-year contract with the USL Pro side.
Gaitan, who has played for Boca Juniors in Argentina and Villarreal in Spain and while with UANL Tigres led Mexico's Primera Division in scoring for the 2005 Apertura, could be a huge star in the third-division USL Pro, a new league under the United Soccer Leagues' umbrella. The Blues, a new pro club, will play home games at Cal State Fullerton, Centennial High School in Corona and -- just once -- College of the Canyons in Santa Clarita.
The season begins April 15, and the Blues play their home opener May 1 at Fullerton against Barracuda FC from Antigua.
"We are extremely excited to add a world-class player like Walter," Blues head coach/vice president
Charlie Naimo
said in a statement. "Breaking down defenses and scoring goals is not easy, and throughout his career Walter has proven success doing it."
Gaitan, who also played with Necaxa and Veracruz in Mexico, turns 34 next month. He said he hoped to serve as a mentor to Blues' lesser-experienced players.