Los Angeles Soccer:

Jill Ellis
January, 26, 2012
1/26/12
11:07
PM PT
By
Scott French
| ESPNLosAngeles.com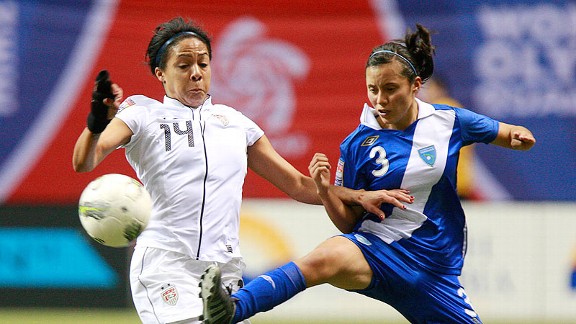 Jeff Vinnick/Getty ImagesSydney Leroux, left, battles against Guatemala recently -- a game in which she scored five goals.
MANHATTAN BEACH --
Sydney Leroux
was a little girl with a big dream that, following many years of hard work and sacrifice, is starting to come true.
Don't mistake her story for a fairytale.
The three-time UCLA All-American is taking her place among the stars on the U.S. women's national team -- her five-goal extravaganza the other night at the regional Olympic qualifiers is, by all accounts, just the beginning -- but the journey hasn't been simple.
Whether it has been worth it might be open to debate, but the only opinion that matters is Leroux's, and she's in a good place. Some six years after leaving her native Canada in pursuit of soccer stardom -- enduring catcalls of "Judas!" and "Traitor!" from her countrymen, battling depression during a brutal high school existence in Arizona, following astonishing international success with defeat more devastating -- the 21-year-old striker has, just like that, crossed a chasm from promising could-be to genuine contributor.
It's rather fittingly the product of more turbulence, she reports -- the end of a relationship with Toronto Blue Jays third baseman
Brett Lawrie
-- and it's had an immediate payoff: A victory in Friday's CONCACAF semifinal against Costa Rica (in, of all places, Vancouver, British Columbia, her hometown) sent the U.S., and likely Leroux, to next summer's London Games. (The U.S. faces Canada in Sunday's regional final.)
It's what she has been dreaming about since she was 6, not long after she'd kicked her first ball. She had the genes -- her father was a former major-league pitcher, her mom a standout on Canada's national softball team -- and she had the drive, and as she developed into a strong, fast, athletic attacker, she got noticed.
Leroux was the youngest player, just 14, at FIFA's 2004 Under-19 Women's World Cup, getting into two games as Canada made it to the quarterfinals. A year later, she was off to America, and nothing would ever be the same.
"It's crazy to me. It was not easy," Leroux said earlier this month as the U.S. was finalizing preparations for the Olympic qualifiers. "It was probably one of the most difficult things I ever had to do, move away from everything that I knew and was comfortable with to something that I had no idea about. Not having any family around. Doing it on my own. As a 15-year-old, that's kind of hard.
"I had to grow up really fast. I look back at it now, and I'm like, wow, I cannot believe I did that. It was hard. It was very hard. And I don't think I realized how hard it was. But I guess it's all worth it. Now I have a chance to prove myself, and that's what I enjoy, and that's why I did what I did."
TWELVE HUNDRED MILES:
Leroux grew up more baseball player than soccer star. It was in the blood -- her dad, never really in the picture, was former Angels right-hander
Ray Chadwick
-- and she was a center fielder with great speed who matched or surpassed the boys, at least until adolescence.
"I thought I was actually going to be the first girl in the MLB," Leroux said. "And then everyone, like, grew up, and I didn't. I stayed at my height and size, and I said, 'Maybe this isn't going to work.' "
She had soccer to fall back on, fortunately, and it was clear very early that she was a special player, one who might spur Canada to unprecedented success. Leroux had other ideas. She was going to play for the U.S. Because her father was American, so was she.
August, 19, 2011
8/19/11
12:04
AM PT
By
Scott French
| ESPNLosAngeles.com
B.J. Snow
knows well the expectations that exist for UCLA's women's soccer program. Seven straight trips to the NCAA College Cup final four and eight in 10 years created a standard that must be met. No trophies leaves a void that must be filled.
Snow is aware of all of this, and everything else he ought to to know heading into his debut as the Bruins' head coach. He has spent five years in the program, the past two as
Jill Ellis
' assistant head coach, and his masters in Westwood are expecting a seamless transition.

So is Snow, who contributed to four of those final-four appearances and has at his command the kind of exceptional talent the Bruins always possess, even if they run a little young this year. They've had almost no time to prepare for Friday night's opener at Cal State Northridge, but they're ready for their first test. And Snow is ready for his.
"I've been able to be head coach at UCLA in a number games when Jill was out of town or couldn't be there," Snow, who also assisted Ellis on occasion with U.S. youth national teams, said Thursday. "It certainly helps me make the transition smoother. But when the clock hits 6:59 and the game is about to start, I'm sure the emotions will be stirred up, that I'll be excited and nervous. If I wasn't, I guess that would be a bad thing."
Snow has ample pedigree. He starred for two NCAA championship teams under legendary coach
Jerry Yeagley
at Indiana University and, after joining UCLA as a voluntary assistant in 2006, rapidly evolved into Ellis' right-hand man. He's a rising star in the coaching game, and his first team -- built, of course, with Ellis, who resigned in January to take a player-development post for U.S. Soccer -- has the tools to return to the College Cup after falling short in a difficult campaign last year.
BOUNCING BACK:
The Bruins endured an injury epidemic and posted an uncharacteristic 13-8-2 mark, finishing fourth (at 5-4-0) in the Pac-10, suffering three home losses (the first ending a nation's-best 73-game unbeaten streak, dating to 2005) and exiting in the NCAA's round of 16 (with a 3-0 loss to Stanford).
"Last year was an interesting year," Snow said. "It probably has zero impact on what we're doing now. We have more new players than returning players, and they had nothing to do with what happened last year.
January, 6, 2011
1/06/11
4:36
PM PT
By
Scott French
| ESPNLosAngeles.com
B.J. Snow
has served admirably the last five years with UCLA's women's soccer program, and Tuesday he received his reward.
The 33-year-old coach, whose mentors include Indiana University legend
Jerry Yeagley
, was handed the reins of the Bruin women, taking over for
Jill Ellis
, who resigned to take a post with U.S. Soccer.

It's a plum assignment: UCLA is among the nation's premier women's soccer programs, and the administration's decision to promote someone with negligible head-coaching experience says plenty about its respect for Snow and the work he did alongside Ellis.
"It's an opportunity you hope for throughout your lifetime," said Snow, 33, who joined Ellis as a volunteer assistant in 2006, was added to the staff full-time in 2007 and was promoted to assistant head coach in 2009. "It's where I wanted to be at the right time. I couldn't be more excited to build on what Jill started the last 12 years and hit the ground running."
Ellis, who built UCLA into a powerhouse after taking command of the program in 1999, called Snow "a tremendous guy, a tremendous coach" and predicted his skill-set would well serve UCLA.
"I think it's two-fold," Ellis said. "He's entrenched in the program, understands the demands and expectations here, the type of player who does well here. And his natural properties, his brain, his strengths in recruiting -- all these things will make him very successful here.
"But the big thing is it's not a mystery to him. He's been here. He understands the expectations and the level of excellence demanded. … I think B.J. has a very bright future ahead of him."
Ellis on Wednesday was announced as the development director for U.S. women's youth national teams, a newly created post.
Snow, who is married to U.S. women's national team forward/midfielder
Lindsay Tarpley
, expects a seamless transition and wants to continue the work Ellis started.
"We don't need to change a whole lot," he said. "We can continue to have the same quality that Jill built the program around. Certainly, there will be touches that are my own, but we'll continue to bring into the program people with character, the best soccer players we can possibly bring in, and try to create an environment for them to excel, in the classroom and on the soccer field."
January, 6, 2011
1/06/11
11:58
AM PT
By
Scott French
| ESPNLosAngeles.com
Jill Ellis, who guided UCLA's women's team to seven successive NCAA College Cup final four appearances and eight in 10 years, has resigned to become development director of U.S. Soccer's women's youth national teams program, the school announced.

B.J. Snow, who has been on Ellis' staff since 2006 and was promoted to assistant head coach in 2009, will take charge of the Bruins.

Ellis, who became UCLA coach in 1999, posted a 229-45-14 record in 12 seasons at Westwood, transforming the Bruins into a national power with final-four appearances in 2000 and 2003-09, reaching the final in 2000 and 2004-05. UCLA was 13-8-2 and reached the third round of the NCAA tournament last season.

She has extensive experience with the U.S. youth national teams and was head coach of the side that reached the quarterfinals of the FIFA U-20 Women's World Cup last year.

"Today is so bittersweet for me," Ellis said in a statement released by the school. "While I am excited and energized for the new challenges ahead with U.S. Soccer, it is also sad to depart an amazing university with so many wonderful friendships and memories. UCLA has been my home for the past 12 years and college soccer my life for more than 21 years, but I am ready to help U.S. Soccer in its commitment to continue the evolution of the women's game."

Former UC Irvine women's coach April Heinrichs, a former U.S. women's national team captain and coach, will be the technical director of the national teams, the top position. Hers and Ellis' posts are newly created.

Snow, who is married to U.S. women's national team forward/midfielder Lindsay Tarpley, was a standout defender at Indiana University in 1996-99, helping the Hoosiers to four Big Ten Conference titles and NCAA championships in 1998 and 1999. He was an assistant coach to Ellis with the U.S. under-20 team and has served as the Bruins' head coach when Ellis has been away with national teams.

Across town at USC, Harold Warren -- head coach Ali Khosroshahin's top assistant -- has departed to become head coach at Alabama-Birmingham.
December, 3, 2010
12/03/10
12:05
AM PT
By
Scott French
| ESPNLosAngeles.com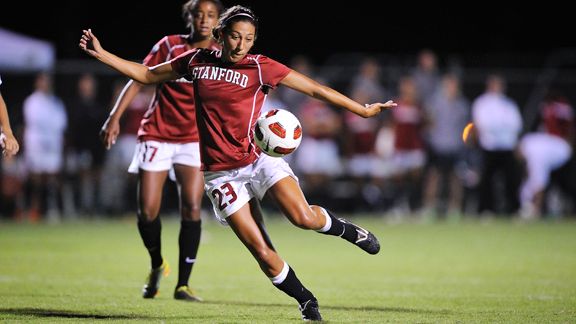 Richard C. Ersted/Stanford Athletics
Christen Press possesses nearly every meaningful record in the annals of Stanford University women's soccer -- except the one she most desires.
The senior striker from Palos Verdes Estates has been the nation's most prolific scorer over the past four years, and her exploits in front of the net have played a huge part in prodding the Cardinal to three successive College Cup final fours.
Now it's time to win.
Press, who leads the nation with 26 goals in 22 games, leads top-ranked Stanford (20-0-2) into this weekend's College Cup in Cary, N.C., and after falling to North Carolina in last year's title game, only one outcome is acceptable.
"We were all very disappointed [to lose last year], and I think we're in a season where it's the national championship or be disappointed again," she said. "It's not impossible to have a successful year [without the title]. It would just be unsatisfying."
The Cardinal takes on Boston College (17-6-1) in a semifinal Friday (ESPNU, 3:30 p.m.), with a title-game matchup against Notre Dame (19-2-2) or Ohio State (17-4-1) looming Sunday (ESPN2, 9 a.m.).
Press, the only serious contender for every national player-of-the-year award, has been virtually unstoppable this season: She's had a goal or assist in all but four of the Cardinal's games, posted seven multigoal games -- three in her last seven outings -- and dazzled foes as the signature player in a deep, talented Stanford lineup.
Her 26 goals tied the school single-season mark set last year by
Kelley O'Hara
, and she set career records for goals, points and assists this season. The single-season assist record is hers, too, with 16 last year.
"Christen has been amazing all four years at Stanford," Cardinal coach
Paul Ratcliffe
said. "She's got the highest level of skill that you can have, I think. Great striker of the ball with both feet, and she's a goalscorer. She's got that knack. And that's hard to teach."
November, 11, 2010
11/11/10
11:33
PM PT
By
Scott French
| ESPNLosAngeles.com
UCLA survived its first test in the NCAA Division I women's tournament, but just barely.
The Bruins needed goal-line heroics from defender
Lauren Barnes
, two saves from goalkeeper
Chante' Sandiford
and a perfect spot kick from
Elise Britt
to beat BYU on penalties following a 0-0 draw Thursday at Drake Stadium.

"This is the character that I've been waiting to see in this team," UCLA coach
Jill Ellis
told the school's website. "I was blown away by the way we competed. It's just constant belief that it can go your way, and that's honestly what it comes down to."
Burgeoning U.S. women's national-teamer
Sydney Leroux
nearly tallied twice for UCLA, but she hit the post at the end of the first half and was stopped on a 108th-minute breakaway.
UCLA (12-7-2), which is seeking an eighth successive College Cup final four appearance, on Saturday will face Central Florida (15-4-3), a 2-1 winner over Fresno State in the second game of Thursday's doubleheader.
The Bruins could be without star star midfielders
Jenna Richmond
and
Kylie Wright
(Rancho Santa Margarita/Tesoro HS). Richmond, a U.S. under-20 national-teamer, was stretchered off in the 17th minute with a knee injury; Wright had to be carted off 11 minutes later with an ankle injury.
October, 22, 2010
10/22/10
1:18
PM PT
By
Scott French
| ESPNLosAngeles.com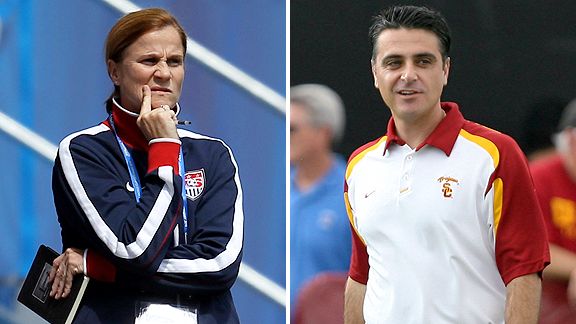 Icon SMI, Getty Images
USC coach Ali Khosroshahin, right, says UCLA coach Jill Ellis, left, has an unfair advantage by being able to coach players in the national team system.
Expect fireworks when USC's and UCLA's women's soccer teams renew their feud Friday night at the Coliseum -- and not only because it's USC and UCLA.
USC coach
Ali Khosroshahin
, who guided the Women of Troy to the NCAA title in his first season in charge, has decried the "competitive advantage" he says his UCLA counterpart,
Jill Ellis
, enjoys through her association with the U.S. national teams program.
"It needs to be said," Khosroshahin said on the eve of this campaign, in which his team is 8-4-3 (1-2-1 in the Pac-10) and has been in and out of the national rankings. "Everyone talks about it, but no one's willing to come out and say it. I'm willing to say it now."
And Ellis, who has taken the Bruins to seven successive College Cup final fours and eight in 10 years, isn't completely dismissive of Khosroshahin's allegations. But the force of his comments naturally bothers her, and it will be interesting to see how civil is their pre- or postgame handshake.
Khosroshahin said he was unhappy with the direction of the U.S. national teams program, with which Ellis has been associated since 2000, and that her 19-month tenure as head coach of the U.S. under-20 women's national team -- and ongoing position as an assistant to full U.S. women's national team coach
Pia Sundhage
-- has afforded her time with elite UCLA players during times the NCAA doesn't allow coaches contact with their players.
NCAA provisions allow national team coaches to work with their players at these times -- primarily during the summer -- within the national team programs. Ellis' team that reached the quarterfinals, a disappointing finish, at the FIFA U-20 Women's World Cup in Germany included three UCLA players: junior forward
Sydney Leroux
, sophomore midfielder
Zakiya Bywaters
and freshman midfielder
Jenna Richmond
.