Los Angeles Soccer:

Jimmy Asprilla
March, 1, 2011
3/01/11
9:39
AM PT
By
Scott French
| ESPNLosAngeles.com
Chivas USA is bringing in Argentine midfielder Marcos Mondaini on loan from Uruguay's CA Fenix, filling out the squad, at least for the moment, on Major League Soccer's roster-compliance date.
Mondaini's acquisition, it turns out, was a done deal when he arrived in camp last week. He played 29 minutes on the right flank in the Goats' 0-0 draw Friday against D.C. United.
Mondaini, 25, is from Boca Juniors' system and also has played for Emelec and Barcelona in Ecuador, Nacional in Uruguay and Atletico Nacional in Colombia.
The club expects to announce the loan deal before Tuesday's noon scrimmage against Canada's under-23 team at Home Depot Center's track and field stadium, a team official said.
Chivas has a full allotment of players -- 30, including Ghanaian defender
Seth Owusu
, who had not arrived in camp as of Monday -- and four trialists. Coach
Robin Fraser
has said Colombian defender
Jimmy Asprilla
is a possible signing, if he fills a genuine need. Trinidadian striker
Stern John
, a former MLS star who spent more than a decade in England, just joined camp, but we're hearing whispers he isn't likely to stay.
All teams must have no more than 30 players, six in developmental slots, and be under the $2.675 million salary cap.
The Galaxy, which has 28 players on its roster, are expected to make no moves.
LAHOUD HURT:
Midfielder
Michael Lahoud
will be out for about three weeks after undergoing surgery to repair a deep cut on his right knee sustained in a collision goalkeeper
Dan Kennedy
in training Sunday.
Lahoud, a third-year pro out of Wake Forest, played all over Chivas' midfield under former coaches
Preki
and
Martin Vasquez
but is being groomed for the defensive midfielder role by Fraser's staff.
February, 25, 2011
2/25/11
9:37
PM PT
By
Scott French
| ESPNLosAngeles.com
The guy hammering balls to the upper-V in Chivas USA's postgame training session Friday afternoon looked vaguely familiar, but putting a name with a face wasn't so simple. Good thing Goats coach
Robin Fraser
was around.
"You joking?" Fraser said when asked the identity of the club's newest trialist. "None of you [media] guys know? ... Uh, helluva goal scorer in this league 12 years ago."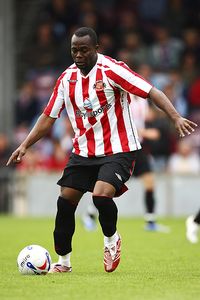 Michael Steele/Getty ImagesStern John is back in MLS trying to earn a spot with Chivas USA.
Ah. Trinidadian striker Stern John, probably the finest forward to play in Major League Soccer's first half-decade, when he netted 44 goals over the 1998 and 1999 seasons for the Columbus Crew. John, now 34, took off for England after the '99 campaign and has suited up for nine clubs there, mostly below the Premier League, and scoring at a decent rate in stints with Nottingham Forest, Birmingham City, Coventry City and Southampton.

John, who played last season for Crystal Palace and on loan for Ipswich Town, is coming off a knee injury and not yet ready for game action, but there was no questioning the power and accuracy of his shot.

"He was really looking for an opportunity to get in with a club," Fraser said. "As you can tell, he doesn't look like he's necessarily quite ready, but when a guy who's scored goals in places he has [comes along], you take a look at him."

John, who as a young MLS player impressed with his quickness, power and knack in front of the net, was just fantastic in 1998, scoring an MLS-best 26 goals. He then tied for the league lead with 18 in 1999.

"One of [MLS's best]. Absolutely one of them," said Fraser, who was a center back for the Galaxy when John was in the league. "I know I had my battles with him, and it was funny: Carlos [Llamosa, a Chivas USA assistant coach and former MLS defender] said the same thing, and then Jimmy [Conrad] afterwards said the same thing. We've all had to deal with him for sure."

Also new in camp is Argentine midfielder Marcos Mondaini, 26, who came out of Boca Juniors' academy and has played, on loan from the Buenos Aires giant, for Ecuadoran clubs Emelec and Barcelona, for Nacional in Uruguay and most recently for Colombia's Atletico Nacional. He played the final 29 minutes on the right flank in Friday's 0-0 draw with D.C. United at Home Depot Center.

"He's just a player I've kind of watched for a while," Fraser said. "Quick, crafty ... definitely an interesting player who's done pretty well in a couple different countries. We're just going to see where it goes and see how it is and see how he fits into the group and how he does."

A club official said Friday night that Mondaini likely will be signed in the next few days.


February, 22, 2011
2/22/11
8:28
PM PT
By
Scott French
| ESPNLosAngeles.com
By March 19, when it kicks off its Major League Soccer campaign, Chivas USA might have the deepest backline in the league. Another defender is on his way.
The Goats are finalizing a loan agreement to bring in rising Ghanaian left back
Seth Owusu
, and head coach
Robin Fraser
expects him in camp sometime this week.
Owusu, who will be 22 next week, has been playing for Kessben FC in Ghana's Glo Premier League. The club's license was purchased in December by Medeama SC, and the defender has since been on trials in France and Poland without attracting a contract offer.

"He's a player we have great interest in," Fraser said after training Tuesday morning, the Goats' first session since returning from a weeklong camp in Arizona. "He's probably one of the two best outside defenders I've seen while scouting professionally in the last, what, four years?
"He's also a very capable central defender, so I think he adds some athleticism and experience. … I feel like physically he's going to be another strong defender for us."
Owusu appears on the fringe of Ghana's national team. He was called into the Black Stars' camp before an African Cup of Nations qualifier against Sudan in October but did not play in the match.
The deal would expire in December; no word whether there will be options to extend to loan or purchase the contract. It sounds like Medeama will be holding out for bigger bucks than MLS will spend.
"We are confident this will help the young chap gain experience for a bigger move to Europe," Medeama president
Moses Armah
said on his club's Web site. "This is only the beginning, and we will to wish him well at his new club. He has the experience and knows what is ahead of him, so he can't disappoint. We expect him to come back better than he's leaving us."
Chivas just acquired
Heath Pearce
, a left-footed outside back (who can play on the right or in midfield, too), a week ago, and it signed center back
Andrew Boyens
about a week before that. Center back
Jimmy Conrad
, of course, arrived in December's re-entry draft, and
Zarek Valentin
, who can play inside or on the right, was the Goats' top pick in last month's draft. Colombian right back
Jimmy Asprilla
is in camp, and there's a good chance he'll be signed, too. Three backline starters return, although
Mariano Trujillo
likely will play, when he plays, in midfield.
"At the end of the day, we're trying to bring in as many good players as we can," Fraser said. "And we're not Chelsea or Real Madrid, where we have the luxury of plucking every single player we want. So when we get good players, we have to bring them in."
ACROSS THE BACK?:
What might Chivas' starting backline look like? Maybe … Asprilla on the right, Conrad and Owusu in the middle, Pearce on the left. Or Owusu on the left with Valentin in the middle with Conrad, and Pearce in midfield. Or Valentin on the right, with Conrad and
Michael Umaņa
in the middle. Or Conrad and Owusu in the middle and
Ante Jazic
on the left flank.
February, 12, 2011
2/12/11
10:35
PM PT
By
Scott French
| ESPNLosAngeles.com
Chivas USA had three new faces on the field for its scrimmage Saturday against the Seattle Sounders, and perhaps the most promising is an asset from Robin Fraser's appointment as head coach.

And we're not expecting him to make Chivas' roster.

Eriq Zavaleta, a U.S. under-20 national-teamer and high school senior from Westfield, Ind., was on Goats' backline for the final 30 minutes of the 1-0 defeat in Casa Grande, Ariz.

Zavaleta, who will be a freshman at Indiana next fall, moved last month from Real Salt Lake's academy in Arizona to Chivas USA's academy. His uncle is former Galaxy defender Greg Vanney, who had been director of RSL's Arizona outfit before coming in as Fraser's second-in-command just after New Year's.

He's certainly a prospect. He's got size (6-foot-1), experience (two years at U-17 residency in Florida, starting job for the U.S. at the 2009 U-17 World Cup in Nigeria) and accolades (NSCAA, ESPN Rise and Parade All-America, considered the class of '11's top defender).

And no matter how good he looks, no matter what he does, during Chivas' weeklong stay in Arizona, there's no chance, near as we can tell, that he'll be on the roster come April 19's Major League Soccer opener against Sporting Kansas City.

As we understand it, he does not qualify as a "Home Grown Player" -- clubs may sign players who have been in their academy systems for at least a year -- and would be dispersed into the league by lottery were he to sign a Generation adidas contract.

And it was only Monday that Indiana announced its recruiting class, with Zavareta.

OTHER TRIALISTS: Midfielder Guillermo "Memo" Torres, younger brother to U.S. national team midfielder Jose Francisco Torres, and Colombian defender Jimmy Asprilla also played the final 30 minutes for the Goats.

Asprilla, 30, who was at right back, has spent his career in South America and mostly at home, with three stints for Once Caldas, two more with Deportivo Cali and most recently with Millonarios. Torres most recently was with Pachuca in Mexico, his brother's club.